When walking into Sephora, people don't usually think of whether a brand does animal testing or uses animal-derived ingredients, but they should.
Everyone loves queen Rihanna and her makeup line, but is Fenty Beauty vegan?
We'll share all the info you need, so next time you're in Sephora, make sure to look at the full ingredient list while buying that powder!
Let's see if vegans can enjoy this makeup brand!
Quick Summary
Fenty is cruelty-free because they don't test their products on animals.
The best Fenty beauty vegan-friendly products are fly liner longwear liquid eyeliner, pro filt'r soft matte long wear foundation, and pro filt'r hydration longwear foundation.
Having been launched in 2017, Fenty is yet to be PETA certified cruelty free.
Fenty products have not been linked to health or skin issues.
About the Fenty Beauty Brand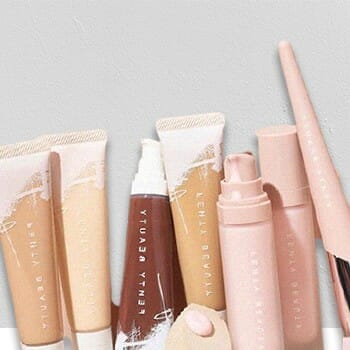 Launched in 2017, Fenty Beauty is a relatively new beauty brand.
It quickly gained massive popularity because of its founder — Rihanna, and the makeup quality and wide selection of foundation and concealer shades, suitable for all genders and skin tones.
At first, the Fenty Beauty foundation was released in 40 shades, but ten more shades were added to the palette very quickly.
The inclusiveness earned Fenty the Time magazine "Best Invention" award in 2017.
Is Fenty Beauty Vegan?

No, Fenty Beauty is not a vegan brand. However, there is a good selection of vegan products that many vegans love.
Vegans turn to vegan Fenty Beauty products primarily because of the distinctness, which clearly states whether a product contains ingredients of animal origin.
2 Non-Vegan Ingredients
The brand uses some standard not vegan ingredients such as beeswax and carmine in most of their products. These ingredients include:
1. Beeswax
While beeswax is considered vegetarian, it's not considered a vegan product. It doesn't contain animal or insect flesh, but many (not all) beekeeping companies harm, injure or disrupt the bees while harvesting the beeswax, so vegans refrain from using it [1].
2. Carmine
Many Fenty products contain this ingredient. It's a red dye made essentially from crushed bugs. Reports reveal that over 70,000 beetles are killed to make just one pound of dye [2]. Explaining why this ingredient isn't vegan is redundant.
Of course, many of their products are free from carmine and beeswax.
Fenty Beauty Vegan-Friendly Products
As I mentioned, Fenty Beauty doesn't have a vegan line, but it offers vegan products free of animal-derived ingredients.
The following products are vegan:
Pro Filtr Soft Matte Longwear Foundation (all shades)
Pro Filt'r Hydrating Longwear Foundation (all shades)
Pro Filt'r Instant Retouch Concealer
Pro Kiss'r Luscious Lip Balm
Pro Kiss'r Lip Loving Scrubstick
Full Frontal Volume Lift and Curl Mascara
Flyliner Longwear Liquid Eyeliner
Is It Cruelty-Free?
Yes! Fenty Beauty is cruelty-free. So, if you care about cruelty-free beauty, Fenty is the brand for you. They don't test on animals, and the brand representatives share:
"Never. Fenty Beauty is a cruelty-free brand. We never test products or ingredients on animals, nor do we allow suppliers or affiliates to conduct testing on our behalf."
Even though they're not a vegan brand, it's reassuring to see that they're at least cruelty-free.
Is Fenty PETA Cruelty-Free Approved?
No, Fenty is not PETA certified cruelty-free yet. This is the main reason many consider it to be in the grey zone of cruelty-free brands.
They claim they're a cruelty-free brand, but they're not certified cruelty-free by PETA or Leaping Bunny.
We trust the brand, but these certifications would give them more credibility.
Related Posts:
Where is It Made?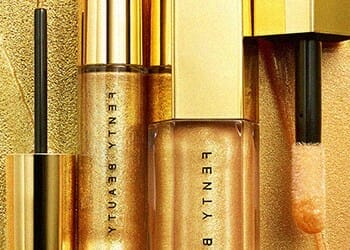 Fenty is made in the US and Europe. Its parent company — LVMH (Moët Hennessy Louis Vuitton), is unfortunately not cruelty-free.
The parent company status is crucial for many vegans and cruelty-free conscious people, so this information may avert them from brands related to it.
Is It Paraben-Free?
Yes, Fenty Beauty is paraben-free. Research has shown that parabens are related to endocrine disruption and fertility issues in women.
Parabens are FDA-approved and present in small quantities in most products, from food to vegan beauty.
Fenty Beauty uses other preservatives that don't cause severe health issues and skin problems.
FAQs
No, Fenty Beauty isn't organic, and they don't make such claims. Many people assume that just because Fenty Beauty is cruelty-free and doesn't test ingredients on animals, they're also organic, but that's not the case here.
Yes, Fenty is sold in China. However, even though they sell in China, their products aren't sold in mainland China where animal testing is required by law.
So, Fenty Beauty is sold in China, but no animal testing is involved; they're still a cruelty-free makeup brand.
Does Fenty Test on Animals?
No, Fenty doesn't test on animals. Their policy is clear — they don't conduct animal testing on their products or ingredients.
Fenty Beauty also doesn't allow its retailers to conduct animal testing. No Fenty products are tested on animals.
Yes, Fenty is gluten-free.
Is Fenty Phthalates-Free?
Yes, they're phthalates-free. Like parabens, phthalates are also scrutinized. They're common in cosmetics as they improve products' texture.
Most brands use both phthalates and parabens, but not Fenty Beauty — cruelty-free and toxic chemical-free haven.
Is Fenty Non-Comedogenic?
Yes, they're one of the rare brands that offer non-comedogenic products.
So, Is Fenty Beauty Cruelty-Free and Vegan?
When it comes to cruelty-free and vegan, Fenty Beauty offers little.
Even though Fenty Beauty is one of many cruelty-free brands that don't test on animals, they're not 100% vegan-friendly.
However, they offer some vegan-friendly products.
Have you tried them? Feel free to share your thoughts in the comments!
---
References:
https://www.healthline.com/nutrition/is-beeswax-vegan#vegan-status
https://www.peta.org/living/personal-care-fashion/carmine-makeup/
Was this article helpful?