There are many ways to set up gym rings at home, but it mostly depends on your room or home gym setup.
As a fitness trainer, I didn't always have time to complete my workout at the gym because of my client schedule, so I started working out at home with my gym rings.
I have found the five best ways to set up your gym rings at home so that you can get the most out of your workouts.
Quick Summary
Setting and hanging most fitness rings at home requires you to have enough space around them.
Hanging plastic rings in an apartment isn't the best idea because you must drill holes in the ceiling.
Always evaluate if the object the rings hang from can withstand your weight.
5 Ways to Set Up Gym Rings at Home
Below are the five best ways to place gym rings at home.
The second and last option is my favorite because they require the least effort to set up.
However, the option you choose will mainly depend on your house setup.
"If I had to select just one piece of training equipment for the rest of my life, it would easily be a set of gymnastic rings."

- Lindsay Camerik, Certified Personal Trainer.
1. Hang Gym Rings From Your Ceiling
The most well-known method for hanging fitness rings at home is from the ceiling. You can place the rings on the rafter if you have a home gym in the garage.
They need to be able to support your full weight.
There are many benefits to hanging your rings from the ceiling.
The first one is that hanging them from a permanent spot on the ceiling enables you to choose the exact spot you want them to be.
This is important if you have a lot of equipment or things in your room. In addition, this means you can hang them in a spot that gives you plenty of space to do different exercises.
Some of those exercises can be ring rows or Rear foot elevated split squats, which are excellent for building unilateral strength in the lower body [1].
You must have space between the hanging rings and the ceiling to perform muscle-ups.
However, if you live in an apartment, you must drill holes in the ceiling, which may not be the best option.
Furthermore, you may not be allowed to drill holes in your ceiling due to the bad construction. You should consider talking to a home construction expert before doing anything.
2. Hang Gym Rings From Your Pull-up Bar
This is my favorite way of setting up rings at home, but it requires you to have a pre-installed pull-up bar.
I like this method because you don't have to drill holes in the ceiling. You only need to look at the rings over the bar and are ready to go.
It is even better if your home gym has a rack with a pull-up bar because it will be sufficient to withstand your weight.
Wall-mounted pull-up bars are also an excellent option that requires no effort for setup.
However, you may experience some problems with a shorter rack since your legs may touch the ground when performing distinct exercises. Some of those exercises are muscle-ups and pull-ups.
If you face this problem, you can always install a wall-mounted pull-up bar higher on your wall. And always remember to ensure your rack stays stable to avoid getting injured [2].
Related posts:
3. Hang Gym Rings From Your Deck
If you have a deck, looping hang rings through the planks in your deck is a valid option.
However, many people don't have a deck at home. Also, if your deck is too high off the ground, you may experience difficulty exercising.
You could potentially perform pull-ups, but dips and push-ups will be limited. In addition, you need to have space to thread your ring straps through the deck.
This might not be possible if the boards are tight.
Also, you will have to set the rings up and take them down after every workout because of the chance of bad weather.
You can leave the straps, but the hang rings are susceptible to rusting.
However, you can enjoy training outside if you have an appropriate deck. In my opinion, it is one of the best ways to work out [3].
4. Hang Gym Rings From a Swingset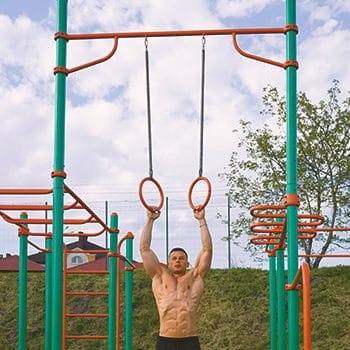 This comes into consideration if you have kids and bought them a swingset. It doesn't need to be a swingset but any piece of equipment with a horizontal bar or frame.
Make sure the swingset or any horizontal bar can withstand your body weight. This will ensure you avoid getting injured.
Don't forget that hanging and swinging are two different things, and the latter produces more force, meaning you need to test the weight training bar while you swing or do pull-ups.
The problem here is you can't precisely know if your swingset can withstand your body weight without swinging on it.
You may find manufacturer information about the material if you have the swingset warranty.
Consider contacting a local expert to know how much weight your swingset can withstand.
5. Hanging Gym Rings From a Tree
My second favorite method is hanging my gym rings from a tree because I can train outside.
Like the last method, you must evaluate the strength of the tree branch before setting up the rings.
Most of the time, you will instantly know if the tree branch can withstand your weight, but you want to test it so as not to get injured.
Lastly, avoid hanging your gym rings on a tree branch with a rough surface or sharp edges.
This is because sharp edges can wear out your strap and cut through it.
Related: How to Build an Outdoor Home Gym
Things to Consider When Installing Your Rings
Below are a few things to consider when installing your home gym rings.
These were all compiled based on my personal experience.
Height of the Rings
The rings' height will determine where you can eventually place them. The higher the rings, the higher the ceiling you will need.
Otherwise, you must place your rings outside, for example, on a tree branch or swing set.
If you still need to buy the rings, check the ceiling height so you can easily place them in your home gym.
Width of the Rings
Here, the width of the fitness rings is the space between two rings while hanging. The bigger the distance, the more space the fitness rings will occupy.
Also, some exercises are challenging to do when the width of the rings is too big.
Set the proper distance between the rings if you plan to place them on the ceiling.
This is because you want to avoid drilling new holes again and messing up your room's construction and overall look.
The Surrounding Space
Make enough space around your wooden rings to perform any exercise.
You don't want to get injured because you set up your wooden rings wrong in the first place.
A general rule is to leave at least one meter of space around the rings.
This is enough for most bodyweight exercises but not for extreme swinging.
Sturdiness
Avoid buying plastic or PVC (polyvinyl chloride) rings.
High-quality material, like the one monkey bars are built from, will ensure your wooden or metal rings are long-lasting, and you won't get injured in the middle of an exercise if the ring breaks.
Space Requirements for Your Rings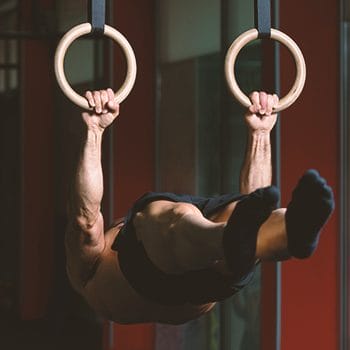 Some general rule is to leave 2.75-3.75 meters of height. This will be enough to perform most exercises, including dips, muscle-ups, etc.
Also, as we mentioned, 1-1.5 meters around the gymnastics rings will be enough for most exercises.
You need that space to avoid injury and perform certain exercises without interruption.
However, this is individual and will depend on your height, too. Make sure to measure it yourself.
FAQs
How Do You Put Gymnastic Rings on a Door?
You will need a special attachment to put gymnastic rings on a door. You can use s-hooks connected to eye bolts drilled into a beam horizontally to hang loft hatch rings.
How High Should Gymnastic Rings Be?
Gymnastic rings should be at least 5.75 meters above the floor. This will ensure you can perform most calisthenics exercises.
Where to Hang Gymnastic Rings Outside?
You can hang gymnastic rings outside on a tree branch or a swing set. In addition, you can hang them from a deck if you have one.
Why Do You Need High-Quality Gym Rings at Home?
You need high-quality rings to ensure a long-lasting piece of equipment and enjoy your workout without getting injured or being limited.
We created a guide on the best gymnastics rings for 2023 to help you choose the ones that suit you best.
Let us know which one of the options above is your favorite for setting up gym rings at home.
---
References:
https://www.ncbi.nlm.nih.gov/pmc/articles/PMC4314602

/

https://www.ncbi.nlm.nih.gov/pmc/articles/PMC5005555/

https://www.ncbi.nlm.nih.gov/pmc/articles/PMC3710158/
Was this article helpful?