Many individuals struggle with a low ceiling inside their home gym. This can pose issues, especially with over-the-head exercises.
As a certified personal trainer, I went through a couple of research and visited and consulted a few of my colleagues who have home gyms with low ceilings to get and understand the tips and ideas on how to make a home gym with a low ceiling.
After a few weeks, I gathered much information I would share in this article.
Quick Summary
To establish a home gym in a low-ceiling space, you may need to make some ventilation, lighting, mirrors, and flooring modifications and pick the correct equipment.
Consider the space you have and how you prepare and design the area, which will go a long way to the success of the home gym.
Choose a flooring style that checks durability, traction, and shock absorption.
How To Prepare Your Room To Be a Home Gym
The first phase is the space itself. Setting up the area for success from the beginning is one of the keys to getting the most out of a tiny low, ceiling room.
"The room's height is the second most difficult obstacle individuals face while building a home gym."

- Danielle Hildreth, Certified Personal Trainer
How you prepare and design the space will go a long way toward creating a successful gym. It will also help you enjoy going to the gym when you use it.
1. Improve Your Walls
Let's start with the walls.
While you can do nothing to make your home gym taller, there are a few things to make it appear larger.
One problem people overlook when creating a home gym in a lower ceiling space is that it may become quite crowded.
It'll be less fun to utilize if the environment does not feel inviting and open.
These are two possible solutions:
Paint your walls: Paint your surfaces a light color if you can. Brighter and lighter colors help to open up a space. A light-colored layer of paint may significantly enhance a confined and dark area [1].
2. Consider the Flooring
Start by installing the right home gym flooring to accommodate your equipment, such as rubber gym flooring.
Any style of gym flooring that checks these three criteria would perform perfectly.
Durable: It should survive the wear and tear caused by sweat, dirt, and heavy weights getting dropped on it.
Traction: You and your equipment should have adequate traction. You don't want to slide on a concrete slab, especially with a 100-pound barbell over the head.
Shock absorption: If you slip, this will safeguard you. Being as stable as a pole will ensure you don't end up with joint pains.
Below are a couple of the most common options:
Hardwood or Laminate Flooring
Hardwood or laminate flooring is not usually preferred for a low-ceiling home gym.
But there is no reason why it can't be employed. Hardwood is both visually appealing and long-lasting.
However, there are several aspects to consider. For example, select hardwood with a high Janka rating [3].
The Janka rating is the pressure required to dent a hardwood board with a steel ball.
The Janka grade of maple wood is around 1650, which is excellent for household usage.
But not that good for a gym floor. Some synthetic wood is rated up to 3000. However, the greater the rating, the higher the price.
"A home gym floor can be made from wood or laminate. Use a lifting platform beneath your mats and racks under your cardio equipment to safeguard it from any heavy equipment. Consider utilizing very durable laminate flooring rather than more fragile hardwoods."

- Timothy Steward, Certified Personal Trainer
Laminate may be a good choice if you're not using heavy loads. Yoga, Calisthenics, and Spinning classes are the greatest settings for laminate.
Plywood Subfloor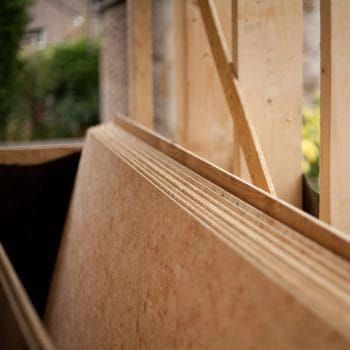 Plywood flooring is usually between the concrete slab and the top layer (rubber mat).
This is often done to prevent the hard floor from breaking and dents caused by dropping weights on it [4].
Another application is when the floor isn't flat, but you want to level it.
Some individuals place a plywood floor beneath the squat power rack/cage.
If you perform strength exercises and any load-dropping happens in that area of the gym, that could be a decent addition.
Rubber Flooring
Rubber flooring is your best flooring option for home gym. It can be put on any flooring, has excellent grip, absorbs vibration, and can handle whatever you throw at it [5].
Extra points for being less expensive than anything else.
These come in a variety of thicknesses as well. So, if you don't want to lose an inch of overhead height, you don't have to get inch-thick flooring.
Half-inch thick flooring performs equally well, especially when paired with a concrete floor.
7 Steps in Building a Low-ceiling Home Gym
1. Measure Ceiling Height
Knowing that the gym area where you intend to put up your training gear has a low ceiling height will not help you design the layout or choose the equipment.
You must use a measuring tape to determine the ceiling height.
You may estimate the ceiling height reasonably by comparing it to your height.
Taking precise measurements will allow you to pick tall equipment such as power racks more efficiently.
You have the upper bound for the gym device height and the limit for your arm and free weight motion when you estimate the ceiling height up to the last inch.
This will assist you in picking the best squat rack, benches, and so forth.
2. Acquire a Low-power Rack
The power rack is the highest piece of equipment in most home gyms. Obtaining one that fits is critical because you'll use it for various activities.
There are two variables to keep in mind when determining the height of the power rack:
Is the rack large enough to fit beneath your ceiling?
Do you fit underneath the rack?
The first point is easily addressed. Is the rack's overall height less than the ceiling? If so, it is suitable. If not, you'll have to find another.
The other requirement is that you fit inside the rack.
The fact that you can squat within the cage is essential.
If you're tall, make sure the height of the bar on your back is lower than that of the upper bar.
While squatting outside the cage is acceptable, with a low-ceiling home gym, you will work out alone, which means you may not have a spotter.
As a result, being able to squat within the cage is critical.
3. Acquire Cardio Equipment
A nice piece of cardio equipment is required for every home gym.
It might be warm-up gear, workout devices for one day a week, or the sole gym machine in one's home gym.
Cardio equipment burns calories and may be used as a full-body training machine.
Because of their simplicity of use and ability to provide excellent full-body exercise, treadmills, ellipticals, rowing devices, and stationary bicycles are the most common cardio equipment.
4. Use Smaller Weights
The overhead press (OHP) and pull-ups are the activities most prone to cause ceiling problems.
If you're lacking some inches of height on the overhead press, the first step you can take is to use smaller weights. I don't mean lighter, but smaller.
The diameter of 45-pound plates is relatively large.
Smaller diameters are common with smaller plates. You can save some inches by utilizing 10-pound plates rather than 45s.
This may provide you with adequate space to OHP in the home gym.
5. Lower the Pull-Up Bar
To do perfect pull-ups, you must have 18" of headroom over the pull-up bar.
Preferably you want to have your feet off the floor without having to bend them when you're hanging.
You can't accomplish both things simultaneously if you have a low-ceiling gym.
You cannot adjust the 18" height above the bar.
That implies you'll have to lower the bar till you have 18" of headroom. In most low-ceiling settings, you must tweak your pull-up form slightly.
The simplest method is to bend the legs at the knees. That will provide most people with sufficient height to execute pull-ups.
6. Acquire an Adjustable Bench
Most upper body exercises will be performed sitting when working out in a low ceiling gym.
As a result, you must have a high-quality adjustable weight bench to focus different muscle areas.
7. Make Use of Recessed Lighting
You must add appropriate lighting while converting a low-ceiling room to a home gym. You must use recessed lighting.
This saves a few inches of protruding space from the ceiling.
Just hanging a light from the ceiling reduces the height of your room.
If your ceiling is low, it might drop lower enough to hit your head.
Hanging lamps, chandeliers, or even pop-out lighting would not suffice.
Building a Home Gym With Low Ceiling
Having a gym available at home has always been beneficial.
You can lift in your free time, avoid bottleneck congestion, and keep an arm's length away from possibly contaminated surfaces.
A home gym is a must-have. One that will provide several benefits, such as these:
1. Health
A home gym helps you to stay on track with your fitness objectives.
You have one less incentive to skip a workout when you have a home gym, regardless of the equipment. Regularly working out will therefore enhance your health.
2. Convenience
You are not anymore constrained by time or job schedules. Whether you finish work late at night or it's -5 degrees outside, you go to the home gym.
3. Perceived Value
A gym is similar to a swimming pool. For certain kinds of homebuyers, it might raise the perceived worth of your house.
Even if you have no intentions to sell your home anytime soon, consider it an investment in your health.
Do Most Home Gyms Have Low Ceilings?
Most of the home gyms have low ceilings.
If your home was built per the International Residential Code (IRC), you most likely have an 84" ceiling.
The breadth (dimension) might vary based on the size of the home. Some are as tiny as 650 square feet, and others are as huge as 5000 square feet.
The difficulty is the shortage of vertical space.
Some homes may have significantly lower ceilings, mainly if exposed beams and girders are present. But the possibility of the size being more than 7 feet is small.
You'll need to consider whether 7 feet of overhead space is sufficient for vertical workouts with a complete range of motion.
Pros and Cons of a Low Ceiling Gym
Let's explore a few of the drawbacks and benefits of a home gym with a low ceiling.
Pros
Most people prefer setting up home gyms in the basement, and most are always low-roofed.
A low-ceiling basement gym may have benefits such as comfortable temperatures and excellent space use.
Here are some of the advantages:
Almost soundproof: Home basements are virtually naturally soundproof because of the massive concrete exterior walls and the adjacent ground. While not wholly impenetrable, it's doubtful that you'll wake up the neighbors in the wee hours as you test the limits of your new workout equipment.
Excellent space utilization: In many homes, the basement is a dark and dirty storage area for all things extra. In other words, a glorified storehouse. Making it into a basement gym is a far better use of the existing space.
Floor made of concrete: It will crush your heart before the floor splits if you fail mid-rep and drop that loaded barbell on your cherished Maple wood floor. Basements have slabs of concrete as flooring. Even if you don't want to invest money in gym flooring, you may be confident that falling weights will not cause any damage.
Comfortable temperatures: Basement gym temperatures will always be higher than outside in summer or winter. An unfinished basement is cooler in the summer and somewhat warmer in the winter. The heat will be stable all year if you have a completed basement gym.
Cons
Here are a few downsides of a low-ceiling basement gym:
Setting it up: Carrying your equipment down a tight stairwell may be challenging while setting up your home gym unless it has a separate entrance from the side. However, most gym equipment nowadays comes disassembled in individual boxes.
Low ceilings: Low ceilings no longer limit the functioning of your basement (thanks to specific basement gym equipment); certain activities are hard to complete if you are 6 feet or taller. That's even with modern equipment.
Moisture: Rust is always the result of water and iron. If you haven't already, you must repair the venting before setting up the gym.
The Three Essentials of a Home Gym
So many individuals are hooked on what they believe a gym should be.
They entirely neglect some fantastic solutions that would be ideal for their objectives.
As an example, rather than attempting to fit a power station and a treadmill into a low-ceiling gym, it's best to take a step back and instead consider how to include the following three things:
A training area
Resistance to workout with
An indoor cardio alternative
A nearly endless number of items might be added to that list. There will still be a power station and a treadmill.
What if you're converting a basement into a home gym, and the cantilevered ceiling makes the typical gym setup impossible?
In such instances, it is necessary to consider other options.
FAQs
How Do You Lift Weights With a Low Ceiling?
You lift weights with a low ceiling using smaller plates, performing Z presses, seated, kneeling, and split stance overhead presses.
How High Does the Ceiling Need To Be for a Home Gym?
For a home gym, the ceiling needs to be 8 feet high. It needs to be high enough for the equipment and the type of workout you execute.
Will Tonal Work With 7-Foot Ceilings?
Yes, tonal will work with 7-foot ceilings. Tonal's adjustable arms may extend if the overhead clearance is 7 feet 10 inches.
Building a Home Gym With Low Ceiling
If you have a dormant low-ceiling room and want to convert it to a home gym, I hope the information above motivates you to set it up.
However, the most critical thing to consider is the type of equipment you'll incorporate in the gym. Consider checking our best home gym equipment for small and tight spaces.
We've put numerous high-quality home gym equipment through their tests and compiled a list of the best for a small, tight at-home workout space.
Their durability, construction, storage, and load-bearing capacity are excellent and reasonably priced.
---
References:
https://www.ncbi.nlm.nih.gov/pmc/articles/PMC8790380/

https://pubmed.ncbi.nlm.nih.gov/18691827/

https://www.mdpi.com/2075-5309/12/11/1862

https://www.researchgate.net/publication/264015027_

https://www.acoustics.asn.au/conference_proceedings/AAS2015/papers/p69.pdf
Was this article helpful?