Being a professional fitness coach, over the years, I have learned some practical and creative ways to store home gym gear tucked away safely and out of sight.
In this guide, I'll cover some popular options that keep your workout space neat while giving you easy access to everything you need.
I'll also toss in a few tips on maximizing limited space so that even within a small area, the equipment can be organized. Let's get started.
Quick Summary
Once you determine how much space you have to work within your home gym, there are dozens of ways to organize and store workout equipment that is practical and efficient.
With gym storage ideas like using stylish racks, you can turn items like yoga mats into decorative pieces.
Your gym shouldn't have an empty wall; take advantage of these areas for home gym storage, mirrors, and wall-mounted equipment to maximize space.
Where Should I Put Gym Equipment in My Home?
You should put gym equipment in your home's spare room or space with enough room for the equipment and adequate ventilation to ensure proper airflow.
Additionally, try to place the workout equipment away from windows or direct sources of sunlight since this could cause damage over time.
When considering storage options, you want to ensure your gear is easily accessible while maintaining an organized look.
Let's take a look at some popular home gym storage ideas.
1. Storage Units
With careful planning and creative thinking, storage units can offer an efficient solution for home gym storage.
Storage units come in many shapes, sizes, and materials that can accommodate any size home gym.
Before you purchase a unit, know how much space you have and what weight capacity you need.
If you have a small space, consider the footprint of the storage unit so it doesn't take up too much valuable floor area.
Once you have found the ideal unit for your home gym space, it is time to start organizing.
Organizing equipment by category saves you from searching through everything to find what you need during a workout.
If you want to store heavier pieces, make sure it is a heavy-duty unit with at least two sturdy shelves with the capacity to hold heavier equipment.
Other gym equipment's we've reviewed:
2. Utilize Wall Space
One of the best gym storage ideas is using walls, which keep workout equipment organized and out of the way.
Wall-mounted racks are great for smaller items like dumbbells and resistance bands, while vertical barbell racks can help save floor space and maximize organization.
Installing shelves can allow you to organize workout equipment like lighter weights in easy-to-reach categories for a smooth workout transition.
Whether purchased or DIY, a yoga mat rack is a solution for keeping exercise mats and foam rollers neat, tidy, and easily accessible. A frame with a top shelf is an excellent place for yoga blocks or a plant.
"Place the tree-style rack in a corner or along a wall. It will spruce up any gym while keeping things organized and under control."

- Toni DeBella, Lifestyle writer
Pull-up bars are another great way to utilize vertical space in your home gym because they usually don't take up too much room.
Choosing a bar with multiple grip options ensures you can complete different exercises.
Overhead pulleys may require professional installation and are a great home gym storage solution for heavy equipment such as kettlebells.
Lastly, investing in wall-mounted trays or hooks for storing accessories like gloves, straps, bands, water bottles, or other light gym stuff will make it easily accessible during a workout.
3. Repurpose Furniture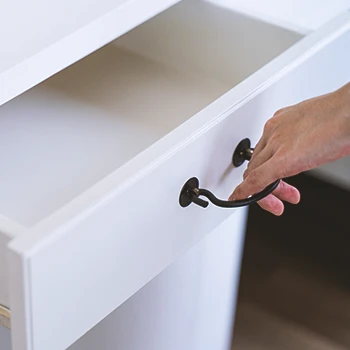 Using furniture that you already have can be a great way to store home workout equipment and keep your space organized while not spending much money.
A spare dresser or armoire is an excellent storage solution for your home gym, with the capacity to hold various workout gear, including jump ropes, exercise bands, towels, and workout clothes.
For example, if you have an armoire with drawers, you could create a designated drawer for each type of weight or band, keeping things organized and making it easier to find what you need without much searching.
Let's stick with the armoire example. If your armoire doesn't have drawers, use the shelving to store the items instead.
Use one shelf for medicine balls and another for lighter weights and resistance bands. Placing hooks on the inside of the door allows for even more storage.
Repurposing other furniture like an old trunk or filing cabinet is a great way to store heavier items like kettlebells and iron plates.
4. Baskets and Crates
Baskets and crates are an ideal storage solution for smaller exercise equipment, like gloves, straps, and bands, while keeping your space tidy and organized.
Baskets and crates can be hung, placed on shelves, or tucked out of sight in a closet. If you want to store heavier pieces like kettlebells, make sure the unit is sturdy.
To maximize efficiency, consider organizing your equipment into categories, such as free weights, accessories, and oversized items.
Labeling them by category will ensure you have what you need when you need it without a lot of searching.
Not only are baskets and crates efficient home gym storage, but they can also be decorative pieces in your home gym, creating an aesthetically pleasing environment.
Baskets and crates come in various colors or stylish wood finishes and sizes to suit your style and match the rest of your home gym decor.
Other Home Gym Organizing Ideas
Home gym storage can be challenging, but with the right strategy and ingenuity, you can create an efficient and inviting space for working out.
Let's look at a few more great ideas:
Several gym-specific storage racks include a corner section allowing you to use every inch of space.
A storage rack on wheels or casters is another great idea that allows you to quickly move your equipment out of the way for workouts, particularly if your space is compact.
A DIY modular pegboard is another excellent home gym storage solution that is inexpensive and keeps your space clutter-free. You can customize this unit to your specific needs, like hanging a water bottle, towels, yoga mat roll, or bands that will be convenient during a workout.
A weight rack is a practical storage solution to organize dumbbells with many size options available. There are some stylish ones and compact ones to accommodate a small room.
FAQs
How Can I Hide My Home Gym Equipment?
You can hide your home gym equipment by storing it on some sturdy shelves in a closet or display it as part of your decor. Additionally, using baskets or bins can help keep workout equipment handy yet out of sight.
Is Gym Equipment Okay in a Garage?
Gym equipment is okay in a garage if you take the proper steps to ensure a temperature-controlled environment with insulation, heating, and cooling units; otherwise, humidity and moisture, like sweat, can wreak havoc on workout equipment [1]
Final Thoughts on How to Store Home Gym Equipment
Creating an effective home gym with proper storage that gives you enough space to work out in your own home doesn't require a professional organizer but creative thinking and planning.
One of the gym storage ideas I mentioned was dumbbell racks.
We tested and approved the best dumbbell racks from compact to multi-tier to accommodate any size home gym.
Click the link to find a new rack to tidy up your workout space.
---
References:
https://www.sciencedirect.com/science/article/abs/pii/S0010938X72912425
Was this article helpful?