You only need to look at some photos of Michelle Lewin to understand that she knows a thing or two about exercise and eating healthy. In fact, she is one of the leading role models for both men and women in the fitness world.
We received requests from our readers about covering the Michelle Lewin Fitness Platform. Well, after intense research, I have compiled details about Lewin's fitness platform.
At the end of this reading, you will understand the reason Lewin has managed to maintain an excellent body and fitness level for years.
Quick summary
The Lewin fitness platform is exercise equipment that uses resistance bands and allows you to do over 150 exercises.
Triceps, shoulder presses, sitting rowers, and plank to ab crunch are examples of routines you can perform with the Lewin fitness platform.
The Lewin fitness platform is highly portable.
You can adjust resistance levels in the Lewin fitness platform for different fitness goals.
What Is The Lewin Fitness Platform?
The Lewin Fitness Platform is exercise equipment that uses resistance bands. The entire package includes a platform and a secure attachment for the bands.
It also comes with a balance and wheel attachment that allows you to perform several core and leg exercises.
In total, Michelle Lewin claims that it would allow you to do 150 different exercises.
The included videos will show you how to start at an easier setting and then gradually work your way up to the highest intensity.
Let's take a closer look.
How Does The Lewin Fitness Platform Work?
The Lewin Fitness Platform works by allowing users to perform different exercises conveniently using the platform and the resistance bands.
If you've ever used bands before, then usually you'd have to try and stand on them. The problem with this is that if you need to create loops for more tension, it's quite difficult to get it right.
With the Michelle Lewin Platform, that problem is basically solved.
From a standing, squatting, or even sitting position, you have endless options of how you make your movements. And by increasing the resistance levels, you'll end up with a versatile range of workouts.
From light cardio to intense muscle toning, it seems to work well for a home workout.
And with the added balance and wheel attachments, you could spice things up a bit more and get some targeted core exercises into your workout routine as well.
Benefits Of The Lewin Fitness Platform
So, after about two months of testing at the office and with a few of our clients, we were able to sum up the benefits of the Lewin Fitness Platform like this.
1 - Highly Portable
For the number of exercises you could get out of one device, we think you'd struggle to find anything more portable.
One of my clients travels a lot for work, and she finds it easy to pack in her luggage to use in her hotel room.
2 - Don't Get Bored With The Same Exercises
We actually went through all the video instructions and confirmed that you could get 150 different exercises from the one product. We even found a few more as well, so it's unlikely that you'd get bored from doing the same thing every time.
3 - No Need For Weights
Weights like dumbbells are not just expensive, but they take up a load of space. And by using a resistance band set, you end up with way more options for your workouts than a basic set of weights would do.
Read our comparison review about the resistance band and dumbbells here.
4 - Adjust Resistance Levels For Different Fitness Goals
From beginners to superfit athletes, this product should allow you to change the resistance to your specific fitness goals. At the lowest setting, it should even be suitable for some rehab and physio training [1].
Using progressively heavier weights or increasing resistance makes muscles stronger. This kind of exercise increases muscle mass, tones, muscles, and strengthens bones. It also helps you maintain the strength you need for everyday activities.

- Harvard Health Publishing
Does It Have Any Disadvantages?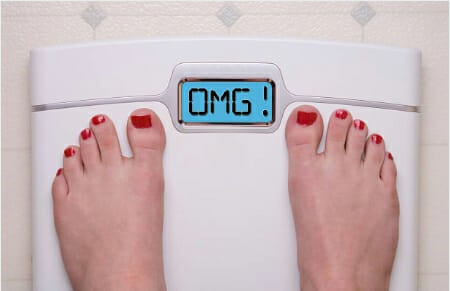 One thing I would mention is that we couldn't get confirmation of the official weight capacity.
Between our team and clients, we did push it to 220 lbs.
I'm not sure if I would feel comfortable with the balance attachments with anything heavier than that.
The other thing to mention is that it's quite a bit more expensive than just buying a resistance band set.
However, I would say that it could provide a lot more flexibility and options when it comes to planning different exercises.
Pros
Very precise video instructions for each exercise
It provides a full-body exercise plan
High-quality resistance bands
Cons
The price is not very affordable
Who Is It Suitable For?
The Lewin Fitness Platform is suitable for anyone who wants to enjoy the advantages of a home gym without spending thousands of dollars.
And if you're stuck for space, then most other workout equipment might be too bulky.
Our team has found it quite useful for clients who want to do a bit more cardio workout or toning but simply struggle to get out of the house more regularly.
Michelle Lewin has also done a pretty good job with the video instructions. Even total beginners should find them easy to follow along.
Sample Michelle Lewin Workouts
We already mentioned that Michelle Lewin has come up with 150 different exercises, both with and without resistance bands.
Here are just a couple of examples that should show how different the options might be.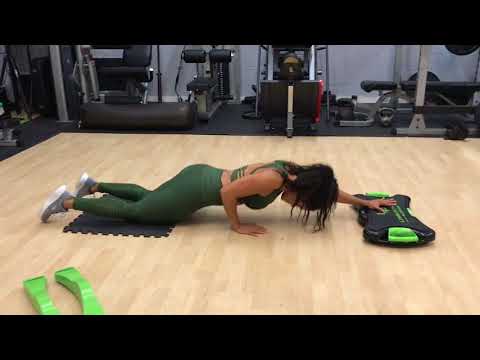 1 - Triceps
Stand with one foot on the board, the other leg stretched out behind you and lean forward.
With your upper arms parallel to your body, stretch the arms behind you, feeling the resistance in your triceps.
2 - Shoulder Press
With both feet on the board, get your hands in front of you about shoulder-high. Alternate each arm by extending it straight up.
3 - Plank To Ab Crunch
Attach the wheels to the board, and start in a kneeling position with your knees on the board. Move the board backward until you're in a plank position and then pull them up to your hands.
4 - Sitting Rowers
This is a great exercise for the core and upper body. Simply sit on the ground with your legs slightly bent. Place the platform under your feet and start a normal rowing motion.
FAQs
Does The Lewin Fitness Platform Help You Lose Weight?
Yes, the Lewin Fitness Platform can help you lose weight if you stick to the workout plan and a healthy diet. Based on all the feedback and reviews, it seems like a great way to burn some extra calories.
Is the Lewin Fitness Platform Good for Building Muscle?
Yes, the Lewin Fitness Platform is good for building muscle and toning. You've got lots of options for gradually increasing resistance levels, which has been shown to be an effective way to sculpt your body [2].
Should You Buy The Lewin Fitness Platform?
If you're looking for a convenient tool to do a bit of extra cardio or muscle toning, but don't want to spend a ton of money on workout equipment, then I think Michelle Lewin's platform is a good investment.
I have seen some high-performance athletes happily use it for some diversity. And if you're just starting out with a weight loss workout, then I think this is one of the better choices you could make.
Once you've tried it out, make sure you report back to us with your results.
Our #1 Recommendation
Pros
Full-body exercise plan
Superb video explanations of every exercise
Great manufacturing quality of resistance bands
Was this article helpful?