Bored to death of treadmills and stationary bikes but still like high-impact training they can provide?
Good news:
There's a unique, inventive, full-body workout solution that combines upright cycling and boxing, offering an entertaining and challenging strength-cardio training combo.
Don't believe it's possible to shed excess pounds, build muscle, improve coordination, focus, endurance, speed, and much more in a playful way?
Our in depth review of the LifeSpan CYCLE BOXER reveals everything you need to know before figuring out whether to add this compact interactive machine to your home gym arsenal to spice up your workout routines.
What Is The Cycle Boxer From LifeSpan?
LIfeSpan is an upright exercise bike with a punch pad has a solid construction and is fully adjustable and easy to operate.
"I have a lot of experience in cognitive performance training. Combining exercise and brain training provides lasting benefits for our bodies and our minds. That's why CYCLE BOXER is so breakthrough."

- David Friedman, Fitness Specialist and ACSM-CPT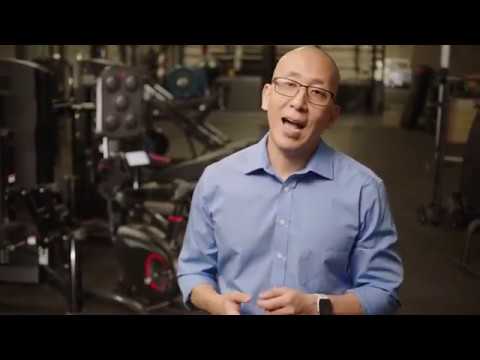 Cycle Boxer Pros and Cons
Before we get into the details of this exercise bike from LifeSpan, here's a quick rundown of its pros and cons.
Pros
CYCLE BOXER is a sturdy, adjustable exercise machine with a compact footprint
It activates and strengthens both upper and lower body muscles in a seating position
16 resistance levels for cycling, plus 12 boxing levels make it challenging enough for beginners and advanced users
Strong and durable boxing panel with punching sensors withstanding heavy and light strikes
Touchscreen LCD showing your current workout metrics can sync with CYCLE BOXER application or your cell via Bluetooth allowing you to track your previous workout results
Comes with accessories enabling wireless heart rate monitoring
Boxing gloves fitting most hands included
30-day money-back guarantee
Cons
The seat could be more comfortable and adjustable for users taller than 6ft4in
User weight capacity could be higher than 300 lbs
The warranty could be longer
Now let's get into the nitty-gritty.
Bike Frame
The black, welded, steel bike frame engineered by LifeSpan feels secure, sturdy, and durable.
The beam with solid coils supports the boxing panel, providing an upright cycling position so that you can generate maximum force and keep your core activated and balanced while boxing.
Although it's made of steel, the frame of this machine doesn't weigh much and is lighter than other similar fitness equipment.
At the same time, it's strong enough to safely withstand athletes' weight capacity up to 300 lbs.
Besides being light, this fitness machine is also compact. Its small footprint makes it perfect for a home gym.
We also have an article about the best compact rowing machines, if you are looking to spice things up.
Plus, it has wheels and a handle behind the seat, enabling you to move it around if you lack training space at home.
Flywheel
The heavier the flywheel, the smoother the cycling feel, and the stronger overall resistance.
The CYCLE BOXER flywheel weighs 13.3 lbs, which is at the lower end, but typical for many upright exercise bikes.
Still, the magnetic eddy current system provides smooth cycling resistance, enough to keep your legs engaged while you're boxing, and it's quiet, so you don't hear the noise when pedaling.
Cycling Resistance Levels
The CYCLE BOXER offers 16 levels of cycling resistance (separately from 12 punch levels), giving you a wide variety of more or less challenging workout intensity levels to choose from, depending on your fitness goals and needs.
You can play, mix, and match until you customize your workouts to your capacity for burning calories, weight loss [1], strengthening and toning your muscles [2], and other goals while improving cognitive function [3], cerebrovascular and overall health [4] at the same time.
Unlike boxing programs, this fitness machine doesn't offer any preloaded cycling programs.
Seat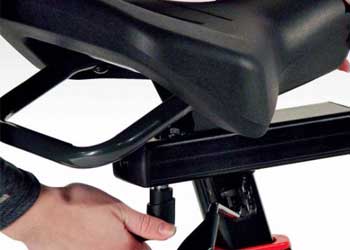 LifeSpan's made the seat with a wide, contoured saddle without a backrest to encourage users' upright riding position for enhanced core stability and better balance when punching.
There's also a handy lever below the seat, allowing you to adjust the saddle height conveniently while sitting on it.
Anyone who's tried to hit the right seat height while standing on the side of the bike knows how big a plus this is.
Another adjustable pop-pin lever for moving the saddle forward and aft enables horizontal seat adjustment.
This allows users to find their most comfortable sitting position for providing the best possible workout experience.
However, users of different heights may have different experiences, so some users with long legs, taller than 6ft5in, complained that they lack enough seat height.
In general, this exercise machine could be the best fit for those between 5ft and 6ft3in in height.
Many users have also said they could do with some more padding because sitting on this saddle may become painful after half an hour.
Unfortunately, you cannot swap it out, but you can always add an extra seat cushion or a folded towel on the seat as a quick fix if you feel so uncomfortable that you lose focus or your workout gets disrupted.
Pedals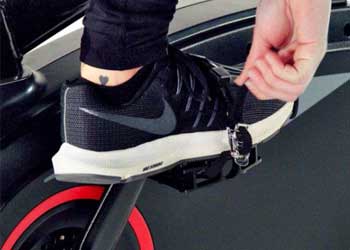 The flat metal pedals on the CYCLE BOXER are designed with toothed edges and adjustable comfort straps so that they can hold any athletic shoe in a secure position no matter how fast you're cycling.
Also, they allow you to feel safe while cycling both forward and backward.
Stabilizers with Wheels
The CYCLE BOXER also comes with the stabilizers with two transport wheels on the front of each. They allow you to tip and roll the machine wherever you want to place it since it's not so heavy (only 121 lbs).
Handlebars
LifeSpan's made the CYCLE BOXER with two non-adjustable rubberized handlebars providing a comfortable grip.
They're placed beside the console, below the boxing panel, to provide support when you want to focus on pedaling rather than punching.
Related Articles:
Sensors with Colored Lights and Shapes
There are five sensors with various colored lights and shapes on the boxing panel. It's quite strong to absorb the impact of powerful boxing strikes easily, also responding to light taps.
Depending on the boxing program you select, the colored lights underneath the sensors shine to indicate which sensor to punch with which hand.
The colored shapes are a bit more challenging to respond to when displayed, whereas the combination of flashing lights and varying shapes is the most challenging even for people with fast hand-eye coordination.
Adjustment Points
Besides other adjustable features CYCLE BOXER offers, the boxing panel can also be raised or lowered to accommodate different physiques better.
The lever behind the handlebars enables the height adjustment of the boxing panel from 63in to 74in, allowing a proper punch pad connection and reach during workouts.
Touchscreen Display
The large, full-color touchscreen monitor with a bright background and the black font is interactive, providing easy to see readouts for your training parameters.
This include details like speed, distance cycled, total calories burnt, your hit accuracy, pulse, and more allowing you to always know how far from achieving your fitness goals you are.
The monitor also automatically loads whenever you turn on the fitness machine, allowing you to select the boxing program and tempo you want (more about it further in the text).
It's a lot of fun, but also quite challenging to cycle while simultaneously focusing on punching various randomized patterns and shapes.
This is not a piece of fitness equipment you can use while watching your favorite Netflix series. Unlike other exercise bikes, it provides fully engaging cardio and strength training for your whole body and mind.
Bluetooth
Bluetooth enables syncing the console with your cell, tablet, or any other device, as well as connecting the machine to the chest strap (more about it later).
That's how you can easily monitor your pulse, track your fitness progress, and transfer the data to the desired device.
CYCLE BOXER App
You can download the free LifeSpan app from the Apple or Google Play store, and sync it easily with the fitness machine console to check your workout metrics after each round and record all your stats to keep an eye on your overall progress.
Pre-Programmed Workouts with Tutorials
The CYCLE BOXER from LifeSpan also includes some pre-programmed workouts with tutorials to get you started.
From Quick Start to preloaded User Challenge programs at Easy, Medium, or Hard difficulty levels, allowing you to choose a pattern based on Colored Shapes and Lights you'd like to follow.
Some programs also require that you punch lights on particular sensors with either left or right hand, varying the types of punches, and speed. And, you score points when you meet the targets.
These features LifeSpan's incorporated in the CYCLE BOXER can make your home workout experience rewarding, fun, and challenging.
Storage Space
LifeSpan offers limited storage space on the CYCLE BOXER.
One pocket on the top tube is large enough to hold your cell and a small bottle, whereas another smaller pocket on the other side is convenient for storing small items like keys.
However, there isn't enough space for storing other things like a large bottle or your towel, so you'll have to put them on the floor or over the handlebars.
Boxing Gloves
When you purchase the CYCLE BOXER, LifeSpan also includes a pair of specially designed boxing gloves that are comfy and adjustable to fit most hand sizes.
A wide velcro strap keeps the gloves secured to your wrists.
Also, the elastic finger loops enable a secure hold for all your fingers, leaving your thumbs free to move.
With this you can grab a water bottle or answer the phone without taking the gloves off in the middle of your training sessions.
The thick padding protects your fists even when hitting the boxing panel with great force, and the sensors in the gloves tell the panel whether you're punching it with your left or right hand.
A Chest Strap for Wireless Heart Rate Monitoring
LifeSpan also includes an adjustable chest strap in the CYCLE BOXER package.
It automatically syncs to the console allowing you to monitor your heart rate displaying the readings on the screen so that you always know your heart health condition, which is particularly important during high-intensity cardio workouts.
Assembly
Assembling the CYCLE BOXER is pretty straightforward because most of its parts already come pre-assembled. Plus, the equipment comes with a manual and an essential tool kit. Good job there, LifeSpan.
So, it shouldn't take more than one hour to add the seat, the pedals, the handlebars, the console, and the boxing panel, especially with a friend's help.
Other Relevant Product Specifications
Footprint: 43.6 in (L) x 27 in (W) x 63 in – 74.5 in (H - with adjustable boxing panel height)
Net. Weight: 121 lbs
Max. User Weight Capacity: 300 lbs
Seat adjustment: 34.25 in x 42.12 in (with 4 in fore/aft adjustment)
Resistance System: Magnetic Eddy Current brake and resistance system with 16 resistance levels and 12 punch levels
Warranty: frame - lifetime, parts and labor - 1 year
Is Cycle Boxer Worth the Investment?
Definitely!
Lifespan's CYCLE BOXER provides users with unique, entertaining workouts. Using it doesn't feel like exercising, but more like gaming, which gives you sweat and requires you to pay attention all the time.
Although the seat might be uncomfortable, I think this innovative machine can provide a fantastic total-body engagement challenging your muscles from head to toe even more than other exercise bikes and similar equipment.
It helps sculpt muscles, trim fat, improve your mental and physical performance, concentration, hand-eye coordination, and heart health while having fun.
Give it a go and tell us how you liked it.
Our #1 Recommendation
CYCLE BOXER is a sturdy, adjustable exercise machine
It activates and strengthens both upper and lower body muscles
16 resistance levels for cycling, plus 12 boxing levels
Touchscreen LCD showing your current workout metrics
Get the BEST PRICE until the end of September
Click For Best Price

HAVE QUESTIONS OR COMMENTS?
Join the discussion here on Facebook.
About the author
You may also like