You've heard many fitness enthusiasts talking passionately about the orangutan, gorilla, chimp, and the other cool "beasts" but didn't quite get it. Why has almost every serious athlete been raving about these apes?
And then you've finally figured out that they're not talking about animals in the zoo.
Woohoo! The whole new world opened up for you.
This review will help you learn how the badass ONNIT Primal kettlebells can beast up workouts in your home gym.
What You Get With ONNIT Primal Kettlebells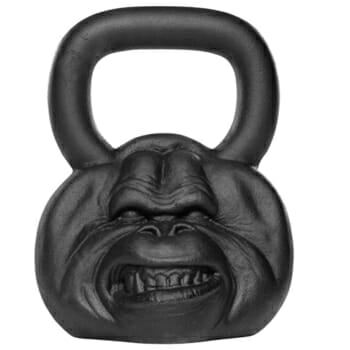 The Primal Bell beast boys come in different sizes, weights, and faces, with the whole set currently including:
Howler - 18lbs (0.5 pood)
Chimp - 36lbs (1 pood)
Orangutan - 54lbs (1.5 pood)
Gorilla - 72lbs (2 pood)
Bigfoot - 90lbs (2.5 pood)
(One pood - a Russian mass unit - equals 36.11lbs.)
They're all made from solid, rust and chip-resistant coated iron of premium quality.
And they're precisely balanced with enlarged handles providing a strong, secure grip to ensure safe and effective professional-grade weight training if your technique is right.
Take a peek at Keith Weber's "Extreme Kettlebell Cardio Workout" [1] to see how even the smallest Howler bell can give you a killer workout.
Visit the ONNIT YouTube channel and website to find plenty of useful information and ideas on how to implement this kettlebell series into your workout to engage your whole body by doing different kettlebell lifts at different angles, including swings, squats, snatches, deadlifts, cleans, leg raises, side planks, and more.
ONNIT's useful Kettlebell Starter Guide [2] also covers everything you need to know to inspire you to stick with long-term kettlebell training and start making gains immediately.
Or you can watch some ONNIT Academy videos to help improve your beginner to advanced kettlebell techniques.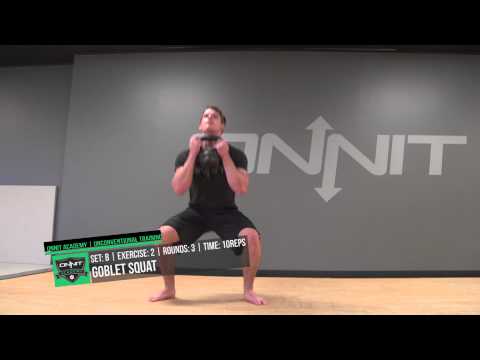 ONNIT Primal Kettlebells Features
The Primal kettlebell stylized series' unique, realistic primate look makes each item stand out among generic, boring-looking competitors bells.
They're meant to awaken your primal nature, motivate and challenge you to exercise for long due to their extremely durable chip-resistant cast iron construction.
The varying weight range offers easy progressions at all fitness levels.
The extra-large, thick, sturdy handle provides enough room for both hands, allowing for enhanced grip strength and better balance.
The optimal handle clearance is perfect for work gripping the horns/sides, while chip-resistant iron with coating gives a smooth, gentle feel (but not slippery).
Other training equipment:
Pros
Superior build quality
Lifetime durability
Manufactured by a highly respected company in the fitness industry
Perfectly balanced and fully functional
Various weights available
Sturdy handles with a smooth, non-slippery, easy-to-grasp surface for a secure, wide grip
Unique, inspiring primal design to awaken inner strength in you
Cons
Costlier than similar standard products
Available only online
Who Are They Best For?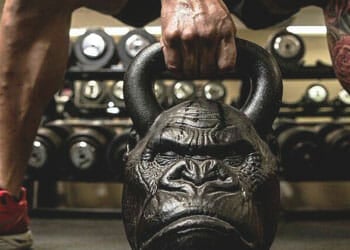 ONNIT Primal kettlebells are best for bodybuilders or other hardcore athletes who use kettlebells regularly in their grueling daily workout routines and are tired of constantly replacing cheap fitness equipment.
However, the ONNIT Primal bell collection is designed for beginner to experienced athletes with an alpha brain.
I.e. anyone who wants serious, intense workouts to push themselves to higher levels continually, plus make an impression with the amazing appearance.
Where Can You Buy Them?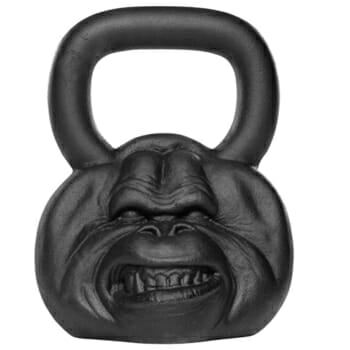 You can buy Primal and other unique ONNIT kettlebell models directly from the company's website.
Each Primal bell is sold separately and available as the whole collection, while the prices vary depending on the weight.
They're best-selling kettlebell models despite being pricier than most standard kettlebells.
Dissatisfied with your kettlebell?
Return it within 90 days from the purchase date. Just send your feedback to the ONNIT customer service email address or submit the Refund Request Form.
Wanna save more bucks?
You may join and leave ONNIT Subscribe & Save program whenever you want without penalty and get the lowest possible prices (at least 15% off).
Customer Ratings and Reviews
ONNIT is a respected brand some of the best sports stars endorse, and it's a popular product with the highest customer ratings and reviews.
The fact that professionals like Adam Dowell, AJ Hawk, Ben Greenfield, Mitch Blackburn, and others use this equipment in their workout sessions says a lot.
"Want a guaranteed better butt, six pack and strong, powerful core and hamstrings? Grab a Primal Bell and do 100 swings a day. Boom. Done." - Ben Greenfield, Triathlete, Coach, and Author
Most users love the Primal kettlebell line for its superior quality, craftsmanship, wonderful finish, and functionality. They say this gear is solid, well balanced for heavy work, well worth its value, and provides an excellent weight range for various exercises with plenty of space for both hands.
Some individuals have claimed that these ONNIT kettlebells are sturdy enough to be used as a push-up stand for a 200+lbs-guy (provided that he has good wrists).
Another benefit satisfied kettlebell enthusiasts have mentioned is that they get hyped up to work harder just by looking at the mad apes' faces, which makes working out more fun.
Plus, these works of art look cool and are great Halloween decorations on your shelf, desk, or gym rack when not in use.
Are ONNIT Primal Kettlebells Worth It?
Yes.
Primal kettlebell set is ideal for athletes serious about their intense home workouts who want to invest in long-lasting, awesome-looking bells.
But, it might be too expensive for ordinary people who rarely use them just for quick and easy warm-ups.
These beasts of weights can take your lifting to the next level and help you gain strength, build stamina, burn calories, get fit and lean quickly, enabling you to go through an efficient full-body workout anytime, anywhere.
No more monotony and hassle of gym visits, paid memberships, or fancy gear.
Put some personality into your training with this product. Then, share your impressions with us.
ONNIT Primal Kettlebells
Our #1 Recommendation
Superior build quality
Lifetime durability
Manufactured by a highly respected company in the fitness industry
Perfectly balanced and fully functional
Various weights available
Get the BEST PRICE until the end of June
Click For Best Price
HAVE QUESTIONS OR COMMENTS?
Join the discussion here on Facebook.
About the author