FTC Disclosure: This post contains affiliate links. We receive customer referrals fees from companies on this website/post. All data & opinions are based on our experience as a paying customer or consultant to a paying customer.
Ever since the first iPhone release, there have been ever-growing numbers of fitness, health app, and diet tracking apps for people who have a goal to lose weight.
One of those that has been a success is the weight loss app Noom which combines two excellent features: calorie tracking of foods and personal diet coaching. As a coach like myself, I was instantly intrigued.
Many of my clients have been using the Noom wealth loss app and showing me some of the helpful functionality and advice they are getting. So I decided to try out Noom myself as well as diving deeper into other online Noom reviews and forums to see what it's all about.
Read on to find out more.
What Is the Noom Diet?
According to the company's website, one of their main motto is "making healthy living easy."
What their app essentially does is make it easier for people to keep track of what they are eating and find ideas to improve their diet.
The app aims to help you lose weight by focusing more of your attention on what you eat and fixing bad eating habits.
You'll obviously still need to exercise, but if you keep in mind that losing weight is 70% diet and 30% exercise, then an app like this can go a long way towards getting the 70% portion right.
Looking at the app Noom feature list, it's not just the calorie counting and meal ideas that stood out the most. What the company also offers through a subscription plan is a personal coaching service with a real human being.
Essentially, you have access to a dietitian right there on your phone.
This intrigued me, and I started digging deeper into the program Noom reviews to see what people were actually saying about it.
Our #1 Recommended Health App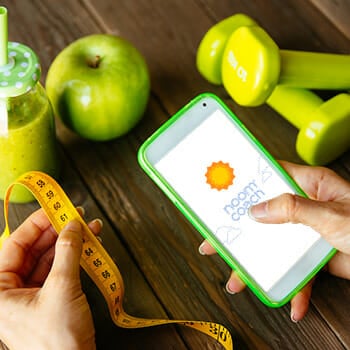 Noom
We earn a commission if you click this link and make a purchase at no additional cost to you.
How Does Noom Work?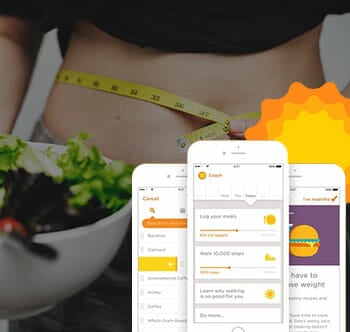 Getting set up with Noom is actually quite simple.
First of all, you download the app for free either on the App Store or Google Play.
When you first launch it, you will need to register to a free account, but don't worry, you won't have to pay anything.
During the sign-up process, you'll be asked a few simple questions about your goals, current weight, age, etc. This is needed to get your profile set up so that the app can make more tailored recommendations.
On the main screen, you can then easily see your daily calorie intake, meal logs, and step tracker (if linked to a Noom pedometer).
You can also manually add any training you did, or connect to activity tracking services.
Related Article: What Apps Does Noom Sync With?
One thing most Noom weight watchers reviews pointed out as being helpful and motivational is the coaching courses you can choose.
You go through a few multiple-choice questions, and the app will recommend some available courses.
When you then sign up for the subscription, you'll be assigned a personal health coach who will help keep you motivated and advise you on your meals and exercising routines.
One Noom coach review specifically mentioned the unlimited access, along with the everyday challenges and healthy habits as one of the best features of Noom.  Access to the support group as well as communication with goal specialists provided the motivation to keep going beyond the initial goals.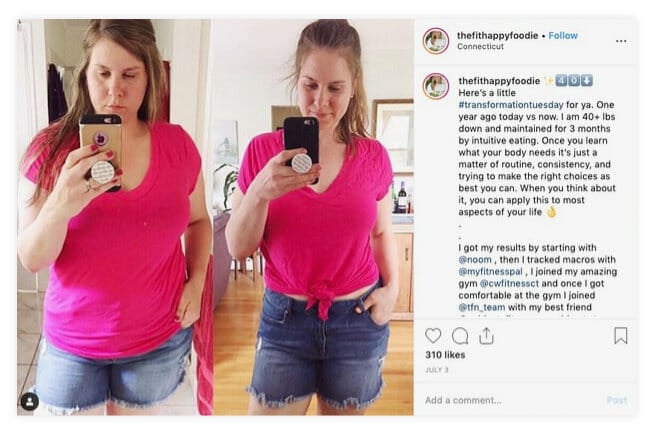 What We Liked About Noom
1. Behavior Change Approach
Achieving long-term sustainable goal weight loss is all about creating healthier habits. (1) And this is something that Noom users seem to understand, especially when you review their blog posts and the way the weight loss app is designed.
Your journey starts with keeping track of everything you eat so that you can actually put some numbers in place and see what your energy intake and output is.
Having this full understanding of what you're eating allows you to make changes that you can actually measure.
And the app makes it easier for you to keep track of what you eat by showing you exactly what your calorie intake is, which can support proper tracking and monitoring.
2. Food Database
According to Noom, their database has grown to over 3.7 million options. I don't think I could list out a thousand different foods one could eat, so it looks like they should have every possible edible product available.
What you do is simply go to the Log Your Meals section and use the search functionality for what you ate. Then add the amount, and the app will start counting calories (and everything else) for you.
Different foods are color-coded in green, yellow and red, with green foods having the lowest calorie count, red foods the most, and yellow foods fall somewhere in between.
A lot of users say that this functionality alone is helping them reduce their calorie intake enough to start losing some body weight.
You can see the full Noom food list here.
Our #1 Recommended Health App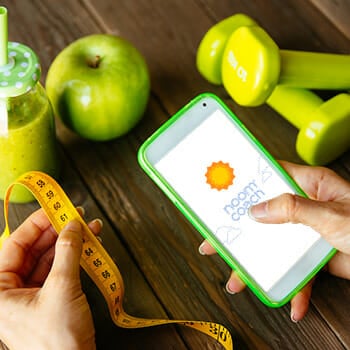 Noom
We earn a commission if you click this link and make a purchase at no additional cost to you.
3. Programs
Within the weight loss app, you can choose from two different programs:
1. Healthy Weight Program
In this program, the main focus is on getting you to reduce your calorie intake, eat more green foods and dense foods, and avoid the red ones. You're assigned a daily calorie budget, and you have to stay below it.
With a subscription to Noom's Healthy Weight Program, they will send you daily articles about healthy foods and exercise habits, as well as regular challenges to really get you into a mindset of changing your lifestyle for your weight loss goals.
2. Diabetes Prevention Program
In this program, the focus is less on calories and more on carbohydrates. This doesn't mean you can simply ignore the counter, but if you suffer from diabetes, then tracking and maintaining your blood glucose levels through limited carbs throughout the day will be a lot more important.
4. Individualized Coaching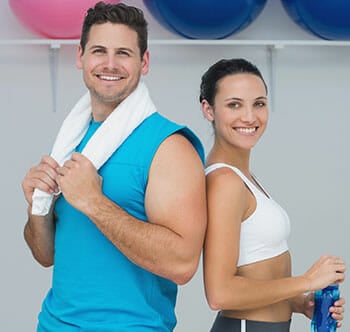 By signing up for the subscription service, you will have a real person review your current habits and diet to identify mistakes you're making and any nutrition you may be lacking.
Based on the feature description, you then receive a Noom meal plan with tips and recipes to guide you through your day.
The company makes a big deal out of the fact that you have unlimited access to a dietitian who will constantly monitor your progress and update your plans, which is as good as a weight loss program.
All coaches have to go through training provided by "Noomiversity." This might sound like just some clever marketing, but there are very stringent criteria to qualify for the program.
Applicants must have an associate's degree or higher, as well as health-related certifications (e.g., nursing, registered dietitian or nutritionist, paramedic). It does look like they are very strict on who they want on the team.
Based on hundreds of Noom weight loss plan reviews, we have found that this is proving to be a very motivational service that people really enjoy using Noom.
5. Group Support
Another feature that is advertised a lot is the group chat support community. While having a dietitian available for all types of questions is great, a lot of people find that being able to reach out to others that might have the same problems is another great way to find support and advice.
It's also an option that many customers use to hold each other accountable. You can share your goals with other people and post updates as you achieve milestones. In many cases, reporting about your successes will motivate others to keep moving towards their own goals as well.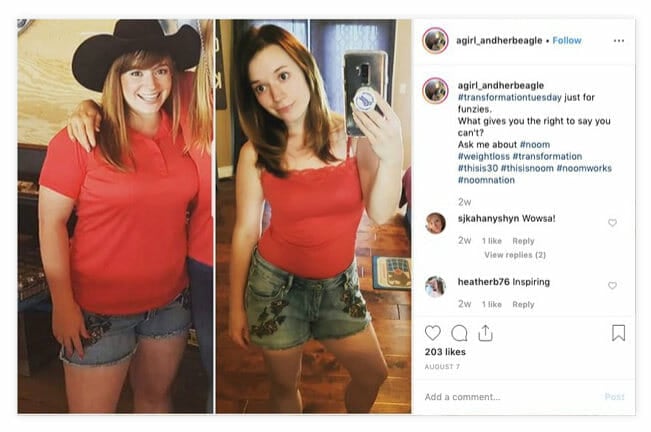 6. Fitness Tracker Syncing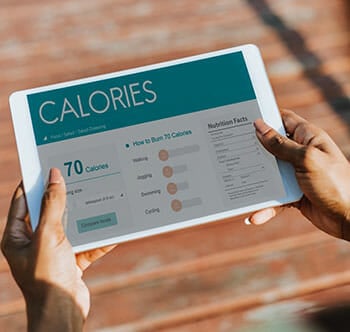 Within the settings area of the app, you can connect the Noom app to other activity tracking services.
Noom will count the steps you take if you have a Noom pedometer, but more advanced devices like Fitbit can monitor a lot more types of activities.
Based on the customer service page, all you need to do is link your activity tracker through the settings area in Noom, and it will download the data on a regular basis.
As a result, you have all your energy in and energy out all in one place to see whether your net is actually negative. Watch more in this video below.
How Much Does The Noom Subscription Cost?
How do you get started and how much does Noom cost? The list prices of Noom weight loss program with professional diet advice costs $59.99 per month.
There are options available where you can save money by choosing a 2-month subscription for $99 and a 12-month subscription for $199.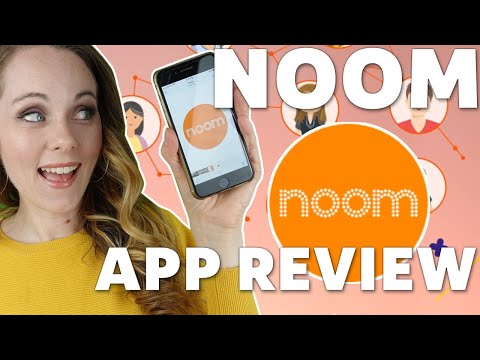 What We Didn't Like
Like any other weight loss program, the Noom weight loss app still has its pros and cons.
Some of the customer reviews say that syncing with other fitness trackers can have some delays.
In most cases, it will update within about 5 minutes, but according to Noom, there are some services that have delays of up to an hour. Apparently, this is imposed by other services and not something Noom can influence. Despite this, you will have a full picture of your activity by the end of your day.
Also, downloading the app from Apple store won't make all the useful add-ons available to you.
And in some reviews, consulting your coach only once a week is seen as an inconvenience, as well as the fact that group conversations don't start till week three.
Another pro is that Noom addresses social eating and allows you to do things like plan ahead for events—like a party, holiday, or vacation. This is also something I address with clients that fosters true long-term behavioral change.
- Cynthia Sass, Registered Dietitian
Frequently Asked Questions
Is Noom good for losing weight?
Yes, Noom is a good service for losing weight, as well as long-term lifestyle changes. Whether you sign up for the Noom weight loss program or simply use it to keep a food log and find new ways of cooking healthier dinners, endless reviews point to the fact that it's a great way to keep yourself accountable.
Yes, the Noom app itself is free. However, the Noom meal plan and coaching services require a subscription. The company does offer a 2-week trial period for only $1 where you don't get billed the full amount if you cancel within 14 days. It's an excellent way to test out the benefits before you commit. Read more about how this works here.
Yes, Noom is easy to use. Users receive easy-to-follow tasks and timely reminders to track their progress throughout the day. Unfortunately, food logging in Noom is still done manually,  but its friendly user interface makes it less problematic than similar weight loss programs like Weight Watchers and MyFitnessPal.
According to the president and co-founder Artem Petakov, Noom is not some sort of acronym nor a name, but is simply moon spelled backwards.
He mentioned that "the moon is calm, wise, and always there for the whole world", which means that the moon is always there to guide you to the right direction when you are lost. He also said that Noom works in many languages.
Is Noom Worth Buying?
Based on my own personal experience and chatting with my clients, I do think that the Noom weight loss program is worth a try.
The biggest win for me was the individualized coaching with health and wellness coaches. Having a professional review of my eating habits and lifestyle to identify any mistakes was worth every penny.
If you've tried loads of similar services before, you might be wondering what does Noom do that other apps don't?
The best way to summarize it is that it is NOT a fad diet. It simply promotes changes in your behavior towards food and exercise so that you can achieve long-term and healthy weight goals.
It does require a little effort to make sure you honestly enter everything you eat. But with just a little bit of effort and advice from your goal specialist, you could be creating lasting changes in your life.
Our #1 Recommended Health App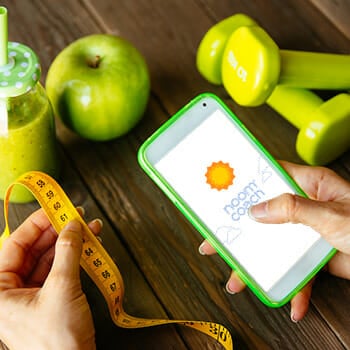 Pros
Personalized calorie breakdown based on a several lifestyle questions
In-app 1-to-1 health coaching during business hours
Track the foods you eat by searching a database or scanning barcodes
Cons
Limited integration with wearable fitness trackers
About the author
You may also like