As a fitness expert with more than 6 years of experience, I understand the brain isn't that excited about a hard, challenging workout when it's short on mental performance and stressed out.
This is where nootropics for bodybuilding come into play. Our team gathered 20 clients to investigate and put the best nootropics (or smart drugs) for muscle building to the test.
Here's our roundup of 10 best nootropics for bodybuilding on the market.
Editor's Choice
Mind Lab Pro
Click For Best Price
#2nd Best Choice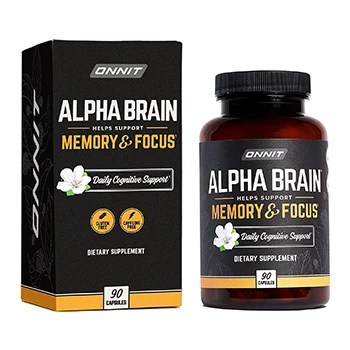 Onnit
Click For Best Price
#3rd Best Choice
Gorilla Mind
Click For Best Price
Our Top Best Nootropics for Muscle Growth (September 2023)
1 - Mind Lab Pro (Editor's Choice)
Bodybuilding requires a high level of concentration. Simply put, it means putting aside distractions so you can concentrate on the task.
Mind Lab Pro can enhance mental clarity and guard against memory loss since it contains phosphatidylserine [1].
Mind Lab Pro also promises to eliminate brain fog and improve attention and concentration.
It includes both L-theanine and L-tyrosine, which can improve your mind-muscle connection at the gym while also increasing your energy levels [2].
With Mind Lab Pro, I saw an immediate change in my concentration, memory, and focus, helping me complete workouts without crashes.
Citicoline : 250 mg
Bacopa Monnieri : 150 mg
Lion's Mane Mushroom : 500 mg
Acetyl-L-Tyrosine : 175 mg
Pros
It has a natural nootropic formulation
It enhances cognitive function
It has a clinical research support
It does not include caffeine
2 - Onnit Alpha Brain
Onnit Alpha Brain supplements contain nootropics, which improve cognitive abilities.
Alpha Brain works by assisting an individual in reacting more quickly to stimuli, focusing on complex tasks such as weight lifting, achieving mental clarity even under stress, and eliminating brain fog.
Onnit Alpha Brain nutritional nootropic supplements assist users in entering the zone state, characterized by an ideal form of awareness. In this state, the brain generates more alpha waves, which manifesting enhanced productivity gains.
I felt the benefits of Onnit Alpha Brain after about half an hour of using it, and though it's not that potent, its effects lasted for about four to three hours.
Onnit Focus Blend : 240 mg
Onnit Flow Blend : 650 mg
Onnit Fuel Blend : 60 mg
Pros
It can be used in conjunction with practically any dietary requirement
It has a longer flow state than other nootropics
It aids in concentration and increases the attention span
3 - Gorilla Mind Smooth
Gorilla Mind Smooth offers improved focus and clarity towards your workout.
You will be able to complete your reps and sets without the jitters.
Gorilla Mind Smooth is devoid of harmful stimulants, allowing for a smoother, less intense level of energy while optimizing the brain power you want in a nootropic solution.
The formula's complementing nootropics work together to regulate mood, promote well-being, and boost general motivation and productivity levels.
After using Gorilla Mind Smooth for two weeks, I saw a difference: it eliminated my brain fog and gave me stronger mental clarity.
Alpha GPC : 600 mg
Bacopa Monnieri : 165 mg
Ginkgo extract : 180 mg
Kanna : 250 mg
Pros
It does not contain any stimulants
Helps calm down the brain while maximizing mental clarity
It has herbal ingredients that have been clinically tested
Cons
Its ingredients are a bit low dosed
4 - Noocube
Noocube is a dietary supplement that can prevent brain cell degradation linked with aging and maintain the brain functionally and effectively for much longer.
Noocube will help you improve attention, learn to focus, have enough energy, and be more motivated to work out.
Its constituents are dosed to provide optimum benefits while minimizing side effects.
Although it took a while to feel Noocube's effects, I stuck with it, and it finally made me feel motivated and focused on my workouts and other activities.
Tributyrin : 1000 mg
Sunfiber : 200 mg
Bacillus : Coagulans 16 mg
Pros
It leads to an increase in neurotransmitters such as serotonin
It does not contain stimulants and is GMO-free
It enhances the gut-brain axis and stabilizes mood and memory
Cons
It takes almost a week to feel the effects
5 - Hunter Focus
Hunter Focus is a tried-and-true nootropic with advantages such as better memory/recall, increased focus, and boosted mood thanks to each amino acid in its formula.
Other nootropic benefits include enhanced creativity, better energy levels for training, and improved learning.
Since Hunter Focus doesn't include caffeine, the premise is that you will experience the boost throughout the day without any crash at the end.
It contains natural compounds such as L-theanine, which boosts motivation while encouraging brain cell development, performance, and activity [3].
"L-theanine works on numerous fronts, including increasing inhibitory neurotransmitter levels in the brain and encouraging relaxation."

- Paul Salter, Master of Surgery
While on Hunter Focus, I was able to complete my workouts on time due to the increased focus, mental energy, and motivation to train.
Caffeine Anhydrous : 100 mg
L-theanine : 200 mg
Citicoline : 250 mg
L-tyrosine : 500 mg
Pros
It has higher, more potent doses than other nootropics
There are no additives or artificial tastes in it
It contains amino acids and natural herbs
Cons
It is not a vegan or vegetarian-friendly supplement
6 - Centrapeak
Centrapeak feeds your body with natural nutrients that lower cortisol levels and relieve stress, while improving low testosterone levels.
Besides boosting free testosterone, enhancing your sexual life, and relieving anxiety, Centrapeak may aid in sharpening your intellect, improving cognitive function, boosting stamina and strength, bul, and promoting weight loss.
Its active element, zinc citrate, is necessary for maintaining normal serum testosterone levels and increased energy levels for immune system strengthening, optimal sports performance, and muscle mass growth.
"Zinc is a trace mineral, which means that only minimal amounts are required. It plays an important role in the formation of DNA, cell proliferation, protein synthesis, the repair of damaged tissue, and the maintenance of a healthy immune system." - Harvard School of Public Health.
I noticed an increase in energy on my second bottle of Centrapeak that enabled me to focus, reduce stress hormone (cortisol), and do more intense workouts.
Ashwagandha : 200 mg
Rhodiola Rosea : 100 mg
Phosphatidylserine : 100 mg
L-tyrosine : 150 mg
Pros
Non-GMO, soy-free, gluten-free, preservative-free, and free of any other harmful or unnatural brain chemicals
GMP-certified and manufactured in an FDA-approved facility
Has a fully transparent and incredibly effective formula
7 - Nootropics Depot Cognizin
Nootropic Depot Cognizin's essential nutrients assist the brain in creating electrical impulses, maintain healthy brain cells, and safeguard neurons from damage caused by free radicals.
Cognizin Citicoline maintains adequate levels of acetylcholine, a substance that aids brain function [4].
Cognizin promotes proper mitochondrial activity, which is necessary for the massive amounts of energy required for strenuous exercise performance and sports [5].
It also enhances cell membrane production and maintenance.
In my experience, this nootropic reduced my brain fog, increased concentration and made it easy to workout in the morning.
Pros
It contains natural ingredients that are scientifically formulated
Enhances attention, concentration, and motivation toward your workout
It can be stacked with other nootropics
Cons
It is considered expensive
8 - Double Wood Supplements Uridine
For an effective and successful workout to grow your muscles, your brain will need to be at its peak for the focus and concentration required.
Double Wood Supplements Uridine is a key building block used in synthesizing RNA, thus reducing toxic brain cells [6].
Uridine also promotes the synthesis of brain phosphatidylcholine helps to support cholinergic function, and may help promote synaptic connections in the brain.
After utilizing Uridine for four days, my mental alertness was elevated, and I had better thought formulations.
Pros
Made from natural ingredients, making it safe to consume
Devoid of GMOs, gluten, additives, soy, and caffeine
Raises choline levels in the brain, which improves cognitive performance
Cons
May cause severe headaches
9 - Focusaid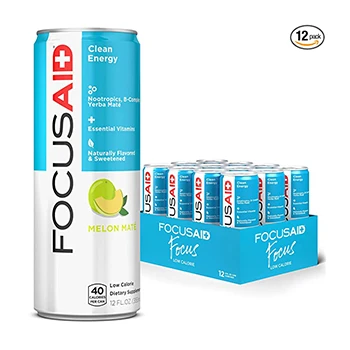 Focusaid contains substances that may promote brain health and athletic performance during strenuous activity.
The substance provides users with the mental and physical vigor required for increased productivity while avoiding the anxiety and exhaustion caused by coffee.
Focusaid contains ginseng, which may aid with fatigue. It keeps you calm and focused throughout strenuous physical exercise like HIIT gym workouts [7].
I love that Focusaid enhanced my focus and energy without crashes or jitters.
Niacin : 16 mg
Biotin : 120 mcg
Pantothenic Acid : 5 mg
Pros
It is effective to reduce stress hormones
Its components have been third-party tested
It has no artificial sugars
Cons
Not suitable for caffeine-intolerant people and has proprietary blends
10 - Host Defense Lion's Mane
Host Defense Lion's Mane clears your mind and improves your memory and immunological health.
Among this nootropic benefits, you can find that it promotes mental clarity, attention, and memory while supporting the brain and neurological systems. Lion's mane enhances the motivation and energy required to complete a strenuous activity.
This nootropic can be taken with or without meals.
However, I like taking it on an empty stomach first thing in the morning to optimize its absorption and get me started on my daily routines.
Lion's Mane Mushroom : 550 g
Pros
Vegan and vegetarian-friendly supplement
It contains Lion's Mane mushroom mycelium that improves memory and immune health
It promotes a balanced mood
Cons
Causes side effects such as abdominal discomfort and skin rash
Buyer's Guide
It is important to focus on a few key areas that distinguish the products to find the best nootropic.
If you feel the need to conduct more research, the following considerations might assist you in selecting the best one for you.
1. Nootropic Safety
The FDA does not authorize certain nootropics, so it is critical to inspect the item for safety. Check that the formula has no GMOs, artificial chemicals, preservatives, or common allergies.
It's also important to check website reviews first to learn about other people's positive and negative experiences.
When taking a product for the first time, begin with the lowest feasible dosage and watch how it impacts your body.
2. Nootropic Ingredients
Several compounds have been shown to have an effect on brain cells as well as cognitive ability.
As per our study and testing findings, the following compounds appear to provide the best effect:
Lion's Mane
Ashwagandha
Citicoline
L-theanine
L-tyrosine
Bacopa Monnieri
If you can find one or two nootropics to match them, you should notice a significant increase in your mental health.
Related Articles:
3. Nootropic Price
A high cost does not always imply great quality.
You may not want to purchase the cheapest nootropic online either, because the components may be inefficient or the potency is insufficient to generate brain function benefits.
The finest nootropic pills on our list are standard or slightly above average, with well-researched, high-quality brain-boosting components.
Who Should Take Nootropics For Bodybuilding?
You should take nootropics for bodybuilding to boost your cognitive performance, mental clarity, focus, and energy to aid your workout and build muscle mass.
These nootropics can directly influence neurological systems, making it much simpler to focus on everyday duties and workouts.
Who Shouldn't Take Nootropics for Bodybuilding?
You shouldn't take nootropics for bodybuilding if you are pregnant, nursing, or under 18.
People suffering from high or low blood pressure or other medical condition should reconsider using these nootropics.
FAQs
Do Nootropics Help Build Muscle?
Yes, nootropics can help build muscles as it supercharges your body by powering up your brain for a particular workout and enables you to take your gains to the next level.
What Is Nootropic Bodybuilding?
Nootropic bodybuilding is a natural nutritional supplement designed to strengthen your brain and provide mental power for hard workouts.
Is Creatine a Good Nootropic?
Yes, Creatine is a good nootropic, as oral administration may improve healthy individuals' reasoning and short-term memory.
Our #1 Nootropic for Bodybuilding
Our testing team concluded that Mind Lab Pro is the best nootropic to counteract brain fog and enhance mood toward muscle building.
Mind Lab Pro offers some of the top components for increasing bodybuilding strength, motivation, and overall gains.
If you're experiencing brain fog as a result of whatever life throws at you, Mind Lab Pro will help you get back on track.
The high-quality ingredients aid in improving cognitive function, short and long-term memory, attention, and energy required for intense workouts.
Its constituent, vitamin B complex, supports red blood cell production and boosts energy levels.
Our #1 Recommendation
Click For Best Price

Pros
It has a natural nootropic formulation
It enhances cognitive function
It has a clinical research support
It does not include caffeine
Get the BEST PRICE until the end of September
Was this article helpful?