37
Supplements
Considered
110
Hours
of Research
61
Reviews
Examined
8
Experts
Interviewed
Protein powders are beneficial to a woman's health in many ways.
It can help facilitate weight loss and muscle gain, help speed recovery after a vigorous workout and increase stamina.
While you'll still need to eat right and put in the time to exercise, pairing your efforts with the right protein powder can help you break performance barriers and help you achieve your desired physique.
That, in turn, will help you avoid a slew of maladies that tend to befall those who let their conditioning slide.
You have a lot of choices today, but we've done the research and sifted through the jungle for you. The result is our list of the best protein powders for women to lose weight.
Editor's Choice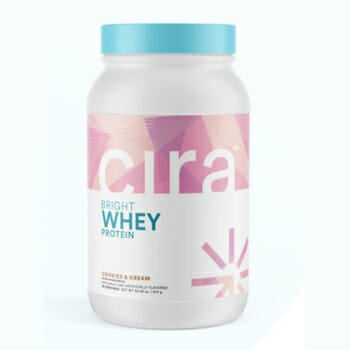 Cira Nutrition
Click For Best Price
#2nd Best Choice
Transparent Labs
Click For Best Price
#3rd Best Choice
FitMiss
Check Current Price
Top Protein Powders for Women (2022)
1 - Cira Nutrition Bright Whey Protein (Editor's Choice)
If I'm being shallow, it's the dainty, pastel brand colors for me.
But on a serious note, Cira Bright Whey deserves the top spot on our best protein powder for women list because it's low carb, packed with protein, and it tastes good.
Apart from the 25 grams of protein, it also contains 125mg of calcium per serving, so you're not only giving your muscles a boost while working out but taking care of your bone health as well.
And if you're craving something tasty without messing up your diet, this is a good option.
It comes in 2 interesting flavors -- cinnamon swirl and cookies and cream.
Pros
Contains 25 grams of whey protein
Comes in 2 delicious flavor options
Low carb and sugar-free
Has a good amount of calcium and potassium
Cons
Contains some artificial flavoring
The only thing that you might be conscious about is the artificial flavoring added. But considering the taste, I think it's worth it.
2 - Transparent Labs Grass-Fed Whey Protein
A good protein powder is essential for women looking to lose weight or gain muscle, but taste can be a huge deterrent when deciding which protein powder to use.
That's why the ProteinSeries 100% Grass-Fed Protein Isolate by Transparent Labs is likely a good choice for women.
Each serving provides 28 grams of pure protein per serving and all of the nine essential amino acids your body needs to recover quickly after a strenuous workout and build new, more responsive, and durable muscles.
Each serving is also low in calories and contains only 15 mg of cholesterol.
Pros
28 grams of protein per serving
Comes in four flavors: chocolate, strawberry, french vanilla, and salted caramel
No artificial sweeteners, preservatives, or colors
Cons
Not available as an unflavored option
It will make you feel even better knowing that the ProteinSeries contains no artificial sweeteners, preservatives, or colors making it diet friendly. This is also why it's our recommended protein powder for diabetics.
3 - FitMiss Delight for Women
With FitMiss Delight, you will likely get a favorable complement of protein and other essential nutrients.
FitMiss is low in calories, gluten free and low carb. If you're on the keto diet (and even if you're not) those features should sound pleasing to you.
FitMiss has been around for a while and built a solid reputation for offering high-quality supplements. Their FitMiss Delight is one of those supplements.
With plenty of probiotics to help promote a healthy digestive system and vegetable-based protein that will help curb your appetite, it creates shakes that are real health food.
Pros
Perfect for weight loss or muscle growth
Aids in weight management
​Maintains muscle growth and recovery
Gluten-free and low-carb
Cons
Doesn't always mix that easy
FitMiss Delight contains Solathin which helps you feel full faster. That is essential if your weight reduction efforts are going to be successful.
4 - Garden of Life Raw Organic Fit
Plant based protein is known to provide a higher degree of bioavailability than its animal-based variants.
It also tends to taste better and need few if any of the artificial flavor enhancers you'll find in many animal-based proteins.
Raw Organic Fit delivers 28 grams of high potency plant based protein per serving. But that's not all.
It's an organic pea protein powder with green coffee bean extract, organic cinnamon, and chromium to help stabilize blood glucose levels and promote healthy weight management.
Pros
28 grams of high potency pea protein per serving.
Contains branched chain amino acids for fast recovery.
Helps promote weight loss and stabilize blood sugar.
100% dairy, soy, GMO and gluten-free
If your goal is to become slimmer, then Garden of Life should be considered on your shopping list.
5 - Naked Whey Protein Powder
Whey protein is derived from cow's milk which means the type of cow that provides the milk is crucial if you're to get a supplement that's pure and potent.
Naked is sourced from grass-fed, pasture-raised cows that are never subjected to hormone treatments or bombarded with antibiotics the way most dairy cows are.
Every serving of Naked has only one ingredient: whey protein from grass-fed cows. That's it.
Pros
​Pure women's protein powder from natural sources
No genetically modified organisms, gluten or soy
​5.9 grams of beneficial BCAAs per serving
No sugar, artificial flavorings or fillers
Cons
​Isn't always easy to mix
It is also made without sugar, stevia, fillers, flavor enhancers or superfluous ingredients.
You want a pure, effective female protein powder to help you achieve better health? Then, this should be it.
6 - Bodylogix Natural Whey
Women's nutritional needs are different than those of men, and it's only right that any supplement marketing itself to ladies who should take that into consideration and some companies do while others don't.
One that does is Bodylogix which contains not only pure, high potency whey protein, but enough of a woman's recommended daily intake of calcium in every serving.
Pros
100% free of sugar, gluten, artificial sweeteners and GMOs
Available in natural dark chocolate or natural vanilla flavors
Makes favorable protein shakes for women to lose weight
Cons
No added vitamins or minerals just straight protein
Costs more than some other brands
Calcium is essential for a woman to maintain a healthy skeletal system and strong bones are even more essential if you plan on building muscle. The good news is that, Bodylogix is one of the few that take that into consideration.
7 - Bob's Red Mill Protein
If you want one of the most potent forms of protein available, Bob's Red Mill should be considered on your nutritional radar.
The people at Bob's Red Mill put in a lot of time and effort making sure their product is derived from the highest quality organic sources and as a result, this pea-based powder is among the most potent supplements on the market today.
Bob's makes sure that a good organic base isn't sullied with genetically modified organisms, artificial flavors, color enhancers, or sweeteners that may help the flavor but stunt any nutritional value.
Pros
Sourced from organically grown peas
Plenty of branched chain amino acids and probiotics
One of the great-tasting protein supplements for women
Cons
May want to add fruit to thicken it up
Red Mill is also packed with natural probiotics and mixes easily with your favorite beverage.
Benefits of Protein Powders for Women
Protein based shakes and smoothies are an essential component of any health and fitness strategy. [1] Here are a number of ​benefits why that is:
They help you control your weight - These help you feel satiated which enables you to avoid the food cravings that torpedo so many women's weight loss efforts. Clinical studies confirm that those who drink protein shakes in conjunction with a diet and exercise regime are more likely to lose weight than those that don't have it.
They help build lean muscle - Let's face it, without protein there is no muscle growth. And that's true for both women and men. These will enable you to not only meet your body and health goals but to replace fat with taut, responsive muscles.
They provide what you need in a convenient package - Eating healthy can be quite an involved process but adding a protein shake or two per day to your diet helps provide you with the essential, high-quality nutrients you need all in one place.
... protein can also help you get slim, help you stay lean, help you recover fast, and help you boost your immune system for better overall health.

- Lindsey Mathews, Head Trainer and Nutritionist at IdealFit
Tips When Buying ​Women's Protein Powder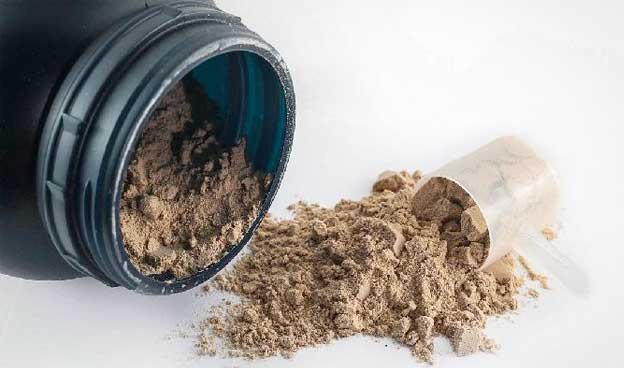 It's easy to conclude that you need to add more nutrients to your diet, especially if you engage in regular exercise.
What's not easy is trying to determine which protein powders are worth the investment.
Here are some things to keep in mind when looking for best protein powders for women.
How much do you need? - On average, most women need around 12-15 grams of protein per meal. But that number increases if you engage in vigorous workouts. If you plan to use powder to enhance your health goals and workout efforts, you'll want to make sure that it contains 20-25 grams per serving.
What else is in it? - The goal of using this supplement is to enhance your overall well-being. You'll have a difficult time achieving that goal if the protein powder you are using is loaded with genetically modified organisms, artificial sweeteners and colors, sugar and carbs. In addition, the general rule is less is more. Some products also includes essential vitamins and minerals such as vitamin D, C and E.
Remember who you are - Are you lactose intolerant? If so, be aware that many products are sourced from cow's milk or any type of dairy products or milk proteins. Are you vegan? Again, the best protein shake for women made from whey or animal protein are going to give you problems. Are you diabetic? If so inspect the labels very carefully looking for sugar, fructose or other sweeteners.
Do you prefer organic? - Many women understandably seek out a product that is organically sourced. If you are one of them, don't ever assume that the women's protein powders you have your eyes on are one of them. Chances are they aren't. Read the label carefully.
Enjoyed this post? You might want to see our article on the best protein-filled bars for women.
FAQs
What is the best protein powder to build muscle for women?
The best protein powder to build muscle for women is protein sourced from grass-fed cows. It is digested very quickly and provides the full range of essential amino acids that your muscles need in order to repair and build new fibers.
If you're looking for a plant-based protein powder alternative, I highly recommend pea or soy protein. Another plant-based source containing complete nine essential amino acids is hemp protein.
Is too much protein powder bad for women?
Yes, too much protein powder is bad for women because large volumes of protein can cause some stomach upset. Even with a fast digested whey protein, your stomach will struggle to process very large volumes which can cause an imbalance in your gut flora and result in nausea and cramping.
Is it okay for women to take protein powder every day?
Yes, it is okay for women to take protein powder every day, but make sure to stick to the recommended dose and skip rest days. Excessive amounts of protein can become hard to digest, and you won't actually get any real muscle benefits on rest days.
Other resources: 
Are there any side effects for women to taking protein powder?
Women when taking protein powder experience only few side effects. These are mainly caused by exceeding the recommended dose and food intolerances or allergies. In such cases, stomach upset, nausea, and cramps may occur.
What's the difference between protein powders for men and for women?
The main difference between protein powders for men and women is the amount of protein provided in each serving. Generally speaking, women require less protein to support muscle recovery and growth, so there is no need to include a large dose per scoop.
And Our #1 Protein Powder for Women Is...
The best protein supplement for women is one that provides plenty of protein, delivers all important nutrients necessary, and still tastes good.
And that's why you should consider the Bright Whey Protein from Cira Nutrition.
This protein powder contains 25 grams of protein per serving and the cinnamon and cookies and cream flavors taste so good.
If you're looking to lose weight or gain muscle with a yummy protein powder that doesn't seem like a chore to take, then give Bright Whey a try.
Our #1 ​Protein Powder for Women
Cira Nutrition Bright Whey Protein
Click For Best Price

Pros
Contains 25 grams of whey protein
Comes in 2 delicious flavor options
Low carb and sugar-free
Has a good amount of calcium and potassium
Get the BEST PRICE until the end of May
Cons
Contains some artificial flavoring
Was this article helpful?
About The Author