Most of our clients inquire about the best nootropic supplement among the many available brands, and Forebrain is the one we've seen getting advertised a lot.
With the help of my dietitian, I spent a week learning about the contents of the product and reading about the potential risks and benefits each of them may contribute to.
Finally, to determine whether this product is worth your money, I tested it myself and recorded the actual result I experienced after several weeks of supplementing.
In this Force Factor Forebrain review, we'll give you the full details on the product, what it contains, and if you should try it out.
Let's get into it.
What Is Force Factor Forebrain?
Force Factor Forebrain is a supplement with an effective nootropic formula that is designed to promote superior mental function and may help you achieve optimal brain function.
That said, Forebrain is a special blend of cognitive function enhancers that may help you keep your mental fitness by reducing brain fog.
It contains carefully selected quality ingredients that work together to help you effectively reach your potential.
How Does Forebrain Work?
Force Factor Forebrain improves memory, boosts focus and mental energy, and supports cognitive performance by integrating substances like caffeine, huperzine A, and bacopa.
This unique formula requires only one little capsule daily, with strong ingredients collaborating to provide several brain health advantages.
The Forebrain supplement contains three proprietary blends:
MemorySafe: It contains extracts like Vitis vinifera that improve cognitive ability, recollection, and information processing speed for better decision-making [1].
ThinkUp Advanced: Contains zumXR, extended-release caffeine that promotes clear mental power, focus, and consciousness while balancing the adaptogenic benefits of bacopa monnieri extract, keeping you alert and active. Thinkamine, a quality dose of Vincamine, is also included to enhance acetylcholine levels throughout the brain, further boosting cognition and memory by strengthening neurotransmitter activity [2].
BioBrain+: This blend is added to aid in the absorption of the essential constituents of the Forebrain supplement.
Force Factor Forebrain's Ingredients
Forebrain is composed of scientifically tested ingredients. The formula itself promises improved concentration and memory.
That said, based on the components, you may experience enhanced focus and overall brain health advantages.
We will look at the three blends: Memory Safe, ThinkUp Advanced, and BioBrain+.
1. Memory Safe
Ingredients contained in this blend are the following:
Bacopa monnieri extract: It includes active chemicals known as bacosides that have been proven to have antioxidant properties, particularly to the brain. It increases dendritic length and branching, which enhances cognitive performance. Dendrites are brain nerve cell sections that are strongly associated with improved memory and learning [3]. It may also aid in the reduction of anxiety and stress by increasing mood and decreasing cortisol levels.
Grape extract: Also known as Vitis vinifera, it is a natural extract that promotes healthy brain aging and boosts the immune system by exhibiting anti-acetylcholinesterase, anti-inflammatory, anti-oxidative, and anti-amyloidogenic actions [4].
2. ThinkUp Advanced
This blend contains the following ingredients:
Thinkamine vincamine: This substance is employed to prevent and treat cerebrovascular diseases and insufficiencies. It is proven highly potent in the neurological and cardiovascular systems. Also used to improve memory and boost brain metabolism [5].
Huperzine A: It raises the level of acetylcholine, a neurotransmitter. This appears to aid in treating diseases that impair memory and cognition. Individuals who have Alzheimer's disease or other kinds of dementia take huperzine A to enhance cognitive function [6].
Caffeine: It helps to provide clear mental energy, attention, and attentiveness all day without causing jitters [7].
3. BioBrain+
The ingredient contained in this blend is:
Piperine: It may aid in nutrient absorption, blood glucose stabilization, cancer cell proliferation prevention, inflammation decrease, as well as cognitive function enhancement [8].
Other key ingredients contained in the mentioned Force Factor Forebrain supplements include:
Gelatin: It is high in glycine, which is linked to improved brain function. According to one study, consuming glycine increased cognition and certain elements of focus [9].
Silicon dioxide: It is a food additive that acts as an anti-clumping agent to prevent sticking. Its purpose is to keep the powdered materials from clinging together [10].
Titanium dioxide: It lowers inflammation in the brain and neuronal synaptophysin and decreases blood-brain barrier dysfunction. In addition, it increases cerebral blood flow [11].
Forebrain Benefits
Force Factor Forebrain promises the following benefits to people who use their product:
Contains substances, such as vincamine, that are essential in preventing cerebrovascular diseases.
Has a high level of caffeine which enhances focus.
Improves memory recall, development, and function, by raising the levels of acetylcholine.
Improves mental health by facilitating nutrient uptake and supply.
Protects the eye from diseases and injury and lowers brain inflammation and neuronal synaptophysin.
After taking the product for six weeks, I did notice some changes regarding my morning brain fog.
However, my focus would slowly subside during the day.
Pros
Contains clinically tested ingredients
The product is safe and affordable compared to other nootropic supplements
Enhances neurotransmitters function
It may give you more energy all through the day
Cons
Not suitable for individuals with severe attention and cognitive impairment
Not recommended for pregnant or lactating mothers
Does Forebrain Have Side Effects?
Force Factor Forebrain may cause side effects like migraines, vomiting, insomnia, and blood pressure.
The side effects are discussed in detail below.
Bacopa monnieri has been associated with increased calcium levels in the blood. It may also affect neurotransmitter levels such as GABA and serotonin [12].
Bacopa may also induce stomach cramps, migraines, fatigue, and increased bowel movement.
Vincamine can cause vomiting, dizziness, and adverse gastrointestinal or stomach problems [13].
High levels of caffeine have been linked to insomnia, fast heart rate, restlessness, and dependency (the need to take more of the product to feel the same results) [14].
Huperzine A has been found to increase urine and high blood pressure and cause loss of appetite and twitching of the muscle fibers [15].
Vitis vinifera, a grape extract, may cause dizziness, migraine, nausea, and an itchy scalp [16].
Having this in mind, I did experience some migraines and felt nauseated after taking the supplement. This lasted for a couple of days, but I felt better once my body adjusted.
"Piperine's chemical structure is similar to that of several cancer-causing agents. As a result, taking too much piperine might pose risks."

– Michelle Blackwood, R.N.
How to Use Forebrain?
The manufacturer of Force Factor Forebrain recommends taking one capsule every day with breakfast. You ought to use the product only as indicated.
If you're pregnant or breastfeeding, have a medical issue, or use prescription drugs, consult your healthcare practitioner before using this product.
We discovered that taking the supplement for more than six months is not advised.
The suggested amount of this product comprises around half a mug of coffee's worth of caffeine.
Therefore, you should restrict your intake of caffeine-containing drugs and drinks while using this product because excessive caffeine can induce restlessness, irritability, insomnia, and a fast heartbeat.
Who Should Take Forebrain?
You should take Force Factor Forebrain if you want to give your focus a boost and support memory, concentration, and alertness.
Anyone from athletes, the elderly, and students to bodybuilders can take Forebrain supplements.
Related Articles:
Who Shouldn't Take Forebrain?
You should not take Forebrain if you are allergic to any form of caffeine and grapes. The supplement contains Vitis vinifera, which is a grape extract.
Pregnant women and lactating mothers should also avoid using Force Factor Forebrain supplements.
Where to Buy and Price
You can buy Forebrain at their official website or other sites like Amazon and Walmart.
The price varies and ranges between $18 to 25$.
Now, if you decide to buy Force Factor Forebrain in packs, you can get it at a lowered price.
Moreover, some of my clients used to buy Forebrain regularly, and in that case, the website offers a 9% discount for repeated purchases.
Forebrain Review: Shipping and Delivery
Focus Factor Forebrain offers free worldwide delivery of its product. Shipping is done within 4–5 working days.
For international shipping, the time may be extended depending on the address.
In our experience, we received the products three days after making our order.
Other Users' Testimonials

"This Force Factor Forebrain is not inexpensive, and it really works. I have included it as a regular part of my supplement regimen. Since using it, I am thinking better and more clearly and am more focused."

- Reginald, United States
"I was having minor issues remembering words on occasion and being stuck trying to complete a sentence. Not at the time, but often. After about ten days of taking this it seems like everything has improved. After a couple of months, I'm still taking it, and I'm good. What else can I say?"

– Manuel, United States
"I have ADHD, which I take meds for, but Forebrain was an excellent supplement! It helped give my focus a boost, and I was even able to skip my afternoon dose of ADHD meds. This was wonderful!"

– Rebecca, Maryland
Comparison to Other Products
After testing a few products for a couple of years, here is how some compare to Forebrain.
Mind Lab Pro
Mind Lab Pro is a compound that boosts cognitive capacity without the usage of stimulants or synthetic products.
Like Forebrain, Mind Lab Pro is intended to aid with anxiety reduction, clarity of mind, and cognitive function enhancement.
However, when compared to Forebrain, which takes weeks to produce the benefits, Mind Lab Pro generates effects in a few minutes.
To be specific, 30 minutes is the average time for a significant impact to occur.
"Mind Lab Pro supplement's goal is to alleviate brain fog and anxiety while enhancing mental sharpness and motivation in a person."

– Ben Corner, M.D.
Alpha Brain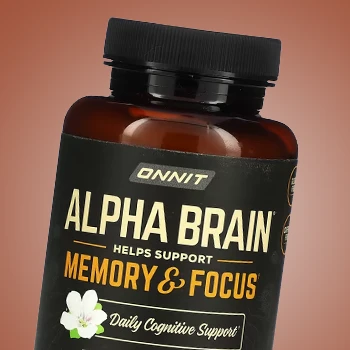 Both Forebrain and Alpha Brain supplements contain proprietary blends. However, Forebrain has caffeine, whereas Onnit Alpha Brain is stimulant and gluten-free.
Alpha Brain has various patented blends, although each blend contains no more than three ingredients.
That alone indicates that it might have better-dosed substances.
Gorilla Mind Smooth
Unlike Forebrain, which has proprietary blends, Gorilla Mind Smooth is transparent with all its ingredients.
Both supplements come in capsule form, but Forebrain recommends taking one every day.
On the other hand, Gorilla Mind Smooth requires three capsules a day, which can be a bit time-consuming.
FAQs
Does Forebrain Have Caffeine?
Yes, Forebrain contains 50 mg of zumXR, which is a type of extended-release caffeine.
What Is Included in Forebrain?
Force Factor Forebrain includes ingredients like caffeine, huperzine A, piperine, and bacopa monnieri that work together to boost cognitive function, focus, and mental clarity.
Force Factor Forebrain Review: Should You Try It?
Force Factor Forebrain is a supplement that contains potent scientifically engineered ingredients that may improve your focus and memory.
However, it contains too much caffeine and may lead to some severe effects like gastrointestinal discomfort and lucid dreams.
If you are looking for a focus supplement with all the benefits and less severe effects, I recommend trying Mind Lab Pro.
Mind Lab Pro has clinically verified ingredients, like Lion's Mane Mushroom, that stimulate the production of nerve growth factors (NGF) and reduce inflammation.
We Recommend This Instead
Click For Best Price

Pros
Great combination of herbs and amino acids that work as a cognitive enhancer
Added B vitamins to support red blood cell production and boosted energy levels
Great feedback from users that it can help with relieving anxiety
Get the BEST PRICE until the end of March
Cons
The capsules are not the smallest ones to swallow
Was this article helpful?