I recently lined up all the supplements, vitamins, and minerals I take on a regular basis, and it was quite a sight, I have to admit.
While my dietitian has formulated every part of that nutritional supplement stack, it did strike me that there should be an easier way than sourcing everything from about 7 different companies.
That's when I decided to investigate ONNIT's Total Human product that claims to cover every possible mineral, vitamin, and herb that your body might need.
Let's take a closer look.
What Is ONNIT Total Human?
ONNIT Total Human is a nutritional supplement stack that combines all the ONNIT products to help you with focus, energy, endurance, and a boosted immune function.
It comes in two packs that allow you to spread out the supplements throughout the day and night so that your body may get a more consistent supply of vital nutrients.
It's mainly geared towards people who already take the same types of supplements individually or from the ONNIT stack.
ONNIT claims that all of the ingredients are completely natural and have all been clinically studied to support their use for making you healthier and more effective.
It certainly seems to be more than a random selection of vitamins, minerals, and herbs, so let's take a closer look at what's in the packs.
Suitable For Men & Women
ONNIT Total Human
We earn a commission if you click this link and make a purchase at no additional cost to you.
Total Human Ingredients
So, Total Human contains 10 different ONNIT supplements, and they are split into two different packs.
Here's a breakdown of what each of them contains and claims to do.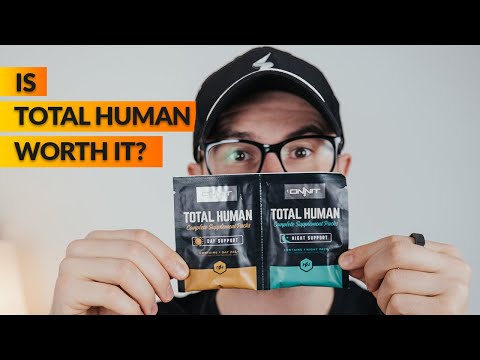 Total Human Day Pack

1. Alpha Brain
Alpha Brain is ONNIT's nootropic supplement which claims to work by using clinically studied herbs and amino acids to get your brain into a more focused state.
Alpha Brain seems to be a great addition to the day pack to kick start your day, especially if you need to work through a lot of mental activities.
See the complete ONNIT Alpha Brain Review.
2. Shroom Tech Sport
I've been taking a similar supplement, and what Shroom Tech Sport claims to do is support energy and endurance at the cellular level.
It's probably not a pre-workout replacement, but it might help fuel your other tasks throughout the day to stay on track.
See the complete ONNIT Shroom Tech Sport Review.
3. Stron Bone
This is one of the ONNIT supplements that I wasn't familiar with, but Stron Bone has a mineral formula that should be able to support your body to build up stronger bone structure.
While exercise itself may help to improve your bone density, some studies have shown that specific supplements might provide better results [1].
4. Total Human B-Complex
B vitamins play a key role in energy production, and metabolism, the reason why ONNIT has focused on creating a specific combination for athletes [2].
The main ones you need are vitamin B6 and B12, and getting a boost from Total Human B-Complex first thing in the morning might transform how you feel for the whole day.
Total Human Night Pack
1. New Mood
The first part of the Night Pack is a nutritional supplement called New Mood that combines natural herbs like valerian root and chamomile to help you relax and unwind after a stressful day.
See the complete ONNIT New Mood Review.
2. ViruTech
As the name suggests, ViruTech claims to boost your immune function with vitamin C, zinc, and selenium. Studies have shown these to be the most important supplements to help your body deal with infections and diseases [3].
3. Key Minerals
Key Minerals is an extensive combination of micronutrients that athletes may become deficient in. With calcium, iodine, magnesium, and boron, among others, this should give your body everything you might be struggling to get through food alone.
See the other recommended multivitamins.
Both Packs

There are 3 ONNIT supplements added to both the Day and Night Packs.
1. Shroom Tech Immune
Shroom Tech Immune claims to use a combination of mushrooms, herbs, and turmeric in a concentration that further supports your immune health.
It seems like it may be focusing on the immune function in your gut, which isn't a well-known focus point for many people when they choose ONNIT supplements.
2. Krill Oil
Krill oil is a great alternative to fish oil to get all your omega fatty acids. Using krill oil for the ingredients tends to provide a better purity with less heavy metals, and it's a more sustainable supplement source as well.
See the complete ONNIT Krill Oil Review.
3. Spirulina & Chlorella
Spirulina & Chlorella provides a combination of algae, which you might find difficult to add to your meals. If you've ever tasted raw algae, then you know what I'm talking about.
How Does It Work?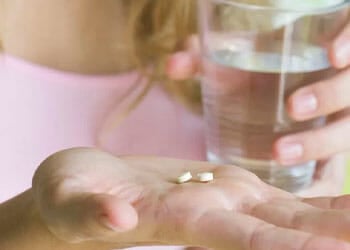 Total Human works by providing you with the optimum micronutrients to support your body's needs both day and night.
While a carefully planned diet with the help of a nutritionist might give you most of your daily needs, you could still end up with occasional deficiencies that might impact your immune function.
Yes, each supplement pack contains quite a few pills and capsules to get all the ingredients, but each of the products tend to be easy on the stomach.
Just keep in mind that it's not an instant boost, but we heard from several clients who started taking Total Human a few weeks ago that they already notice a difference.
Pros and Cons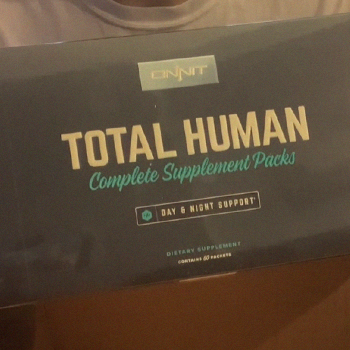 We really like the Day Pack as it may provide a boost of natural energy production.
This might help with early morning exercise or a busy job.
We also heard from clients who had good things to say about the night packs, which seem to work well to help them unwind and recover from their exercise routines.
Our dietitian also had positive things to say about the product combination from an immune boost point of view.
Pros
All-in-one solution for all your health and energy needs
Combining all products reduces the overall costs
Broad boost of B vitamins, vitamin C, and minerals for your immune system
90-day money-back guarantee for peace of mind
Cons
You may need to set a timer for the different packs
Suitable For Men & Women
ONNIT Total Human
We earn a commission if you click this link and make a purchase at no additional cost to you.
Just keep in mind that there are quite a few supplements to take, and you might want to set a reminder on your phone to spread them out a bit.
Where Should You Buy It?
We have heard from a few readers that they have seen Total Human on a few different online stores, but I would suggest that you only buy it directly from ONNIT.
There have been too many reports of fake and counterfeit supplements out there, and all it takes is one of the ingredients to be dodgy, and you could mess up your health.
You'll also find the best subscription deals on the ONNIT website, and this is also the only place where you'll get the full money-back guarantee if you're not 100% satisfied with it.
Total Human Side Effects
We had a dietitian and nutritionist analyze each of the ingredients for possible side effects. The good news is that they are all generally deemed safe products.
What I would suggest, though, is that you don't take each of the packs all in one go to start with.
Ideally, spread out the day pack over a few hours in the morning, and do the same with the night pack later in the day. 
This way, you'll give your body the opportunity to get used to the boost it gets from each of the products.
Customer Reviews

We want to show you a few Total Human review comments we found online that seem to support our test results.
She is now into her second month of taking Total Human and has managed to get used to the many capsules. Jenny has noted a lot more energy during the day and felt significant health benefits.  - Jenny from Annapolis
Switching to a product like this has resulted in some huge savings for Cheryl, and it seems to make her supplement planning a lot easier as well. - Cheryl from Quebec
Drew noted that his sleep quality and recovery times from training seemed to have improved the most. And he has avoided the common cold and flu for the past 12 months as well.  - Drew from Denver
FAQs
1. Does Joe Rogan Promote Total Human?
Yes, Joe Rogan promotesTotal Human and has often spoken about the stack on his podcast. He particularly likes that it combines all the products he thinks play a key role in his health.
2. Is Alpha Brain in Total Human?
Yes, Alpha Brain is in Total Human as part of the day pack. Getting that daily boost early in the morning could be why so many people think they get through all their tasks a lot more efficiently as Alpha Brain is a nootropic supplement.
Do We Recommend ONNIT Total Human?
Yes, we have started recommending ONNIT Total Human to all our clients and readers.
Based on the feedback from clients, team members, nutritionists, and the hundreds of Total Human reviews we read, we think this is the best way to give your body everything it needs for health and vitality.
Order your first box today with the knowledge that you have a free trial period with a money-back guarantee if it doesn't work as you expect.
WE APPROVE
Pros
All-in-one solution for all your health and energy needs
Combining all products reduces the overall costs
Broad boost of B vitamins, vitamin C, and minerals for your immune system
90-day money-back guarantee for peace of mind
Cons
You may need to set a timer for the different packs
About the author
You may also like