The core is the body's powerhouse, the epicenter of stability. A strong core can improve posture, balance, and strength, making daily movements and physical activities easy.
After extensive research and witnessing countless client transformations, we've compiled the top core workouts to help you build a rock-solid center.
These exercises are not just another set of trendy moves but have proven benefits beyond a toned stomach.
Quick Summary
The best exercises include planks, bicycle crunches, Russian twists, bird dogs, dead bugs, mountain climbers, side bends, and scissor kicks.
Core movements should engage all major core muscles, such as the rectus abdominis, obliques, and transverse abdominis.
The exercises improve posture, increase stability and balance, and enhance athletic performance.
Top 12 Exercises For Core Strength and Stability

Through careful research and observation of clients, we have identified these exercises as the most effective for maximizing your gym time.
Related: Best At-Home Core Workout: From Beginner to Advanced
1. Plank
Planks, the king of core workouts, engage more than just your abs. They improve posture, reduce back pain, and increase flexibility.
Plus, they can be modified for an extra challenge, making them versatile exercises for any fitness level.
To perform a plank: 
Begin by lying on the ground, facing down.
Place your palms on the floor and push your body up.
Open your shoulder blades and avoid hunching them over your ears.
Keep your neck in line with your spine.
Press the balls of your feet onto the floor and squeeze your glutes to activate lower body muscles.
Engage your midsection by taking a deep breath in and exhaling hard.
2. Bicycle Crunch
Bicycle crunches activate your entire core and obliques and can burn quite a lot of calories. It's like riding a bicycle, but for your abs.
Here's how to perform a bicycle crunch:
Bend your left knee and straighten your right leg.
Lift your right shoulder off the ground and bring your right elbow towards your left knee.
Lower your right shoulder and bring your right knee towards your chest as you extend your left leg.
Lift your left shoulder off the ground and bring your left elbow towards your right knee as your right knee moves in.
Repeat steps 2 to 4 for the opposite leg.
3. Russian Twist
The Russian twist is a core exercise that targets the obliques.
It's named after wrestlers from the Soviet Union who used the movement to build rotational strength.
Here's how to perform it:
Sit with your feet flexed, heels on the floor, and knees bent before you.
Hold your hands to your chest and lean back until you feel your abdominal muscles engage.
Add a dumbbell for an extra challenge.
Slowly twist your torso from right to left.
Throughout the exercise, keep your core tight and remember to breathe deeply.
4. Leg Raise
Leg raise, also known as leg lift, involves lifting your legs while lying on your back.
It targets your lower abs and hip flexors. You can add ankle weights or hold a dumbbell between your feet to make it more challenging.
To perform leg raises:
Lie flat on your back and lift your legs in the air to a 90-degree angle with your feet together.
Keep your arms flat on the ground beside you and your chin tucked in.
Keep your core engaged and firm with your back flat on the ground, preventing a hand from being placed underneath it.
Slowly lower your legs to just above the floor.
Return to the starting position.
"It's [leg raises] going to help with your hip mobility, which will help with all different areas of your fitness journey, not just strengthening your abs."

- Emily Jacques, Master Fitness Trainer
5. Dead Bug
The dead bug involves moving the opposite arm and leg towards each other without losing core engagement, creating a challenging stability exercise.
It improves balance, coordination, and stability while engaging your entire body.
How to perform:
Lie on your back with your knees bent and feet flat.
Raise your arms so they're above your chest.
Straighten one leg and lower the opposite arm towards the floor while keeping your core engaged and your lower back pressed to the ground.
Pause briefly, then return your arm and leg to the starting position.
Repeat with the other leg and opposite arm.
6. Bird Dog
The bird dog exercise works the deep core muscles, upper body stabilizers, shoulders, and hip flexors.
The movement resembles a bird dog pointing at its prey, hence the name.
Here's how to perform it: 
Get on all fours, with your hands under your shoulders and your knees under your hips.
Engage your core muscles and keep your back straight.
Extend your right leg behind you and lift it to hip level.
Extend your left arm in a straight line until it's at shoulder level.
Hold for a few seconds, careful not to arch your back or let your hips sag.
Slowly return to the starting position and repeat the exercise with your left leg and right arm.
7. Reverse Crunch
The reverse crunch is a core exercise that targets the lower abdominals.
It involves lifting the hips off the ground and bringing the knees toward the chest, focusing on contracting the abs.
To perform a reverse crunch:
Begin by lying flat on the floor with your legs bent at a 90-degree angle.
Keep your back pressed against the floor as you engage your core and draw your knees slowly towards your face.
Lift only your hips and lower back off the floor as you curl.
8. Mountain Climbers
This exercise is named after the climbing motion to scale a steep mountain.
The quick, repetitive movements mimic climbing, building core strength, endurance, and agility.
To perform it:
Begin in a plank position with your hands under your shoulders.
Contract your core and keep your back straight while lowering your right knee towards your chest.
While returning your right leg to its initial position, lift your left knee towards your chest.
Keep switching legs continuously.
9. Side Bend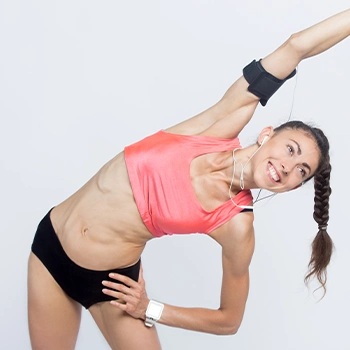 The side bend works the oblique muscles, which help with twisting and bending movements.
It can be done with weights or a resistance band for added difficulty in your core workout.
Here's how to perform it:
Begin in a side plank with your right hand on the floor under your right shoulder, and your feet staggered or stacked.
Tighten your core and glutes, and let your left arm rest at your side.
Lower your hips toward the floor, then raise them to complete one repetition.
Perform all repetitions on one side before switching to the other side.
10. L-Sits
The L-sits are a challenging isometric exercise that engages the entire body, especially the core and triceps.
They require strength, balance, and flexibility, making them popular among gymnasts and calisthenics enthusiasts.
"It is simple, but it's also one of the most challenging core exercises there is. For a little comparison, I've held a plank for 23 minutes, but my longest L-sit that I have recorded is 45 seconds."

- Kari Pearce, Fittest Woman of the U.S. (2018)
How to perform an L-sit:
Start by sitting on the floor with your legs extended in front of you.
Place your hands on the floor, slightly outside your hips, and fingers pointing forward.
Press down through your hands and engage your core to lift your legs.
Straighten your legs and point your toes so your body forms an "L" shape.
Keep your shoulders down and your chest lifted.
Hold this position for 10–20 seconds, then lower your legs to the floor.
11. Ab Wheel Rollout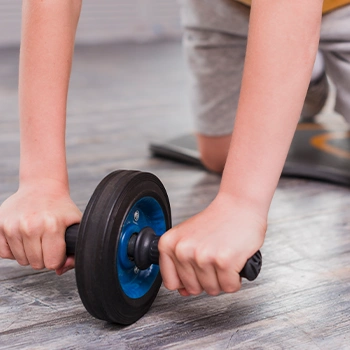 This exercise was initially designed as a physical therapy exercise and gained popularity as a challenging core exercise that can also engage multiple muscles, including the chest and triceps.
To perform this exercise:
Start by kneeling on the ground and positioning the ab roller before you.
Grab the handles of the wheel and place your weight on the wheel.
Slowly roll the wheel forward with arms extended until you feel your back starting to arch.
Pause in this position for a moment.
Engage your abdominal muscles to roll the wheel back to the starting position slowly.
Also Read: Best Bench Ab Exercises Workout
12. Scissor Kick
Scissor kicks are a great exercise to target your abs and hip flexors. The scissor-like movement also engages your legs, adding an extra fat burn to your ab workout.
Here's how to perform them:
Lie on your back on a mat with your arms by your sides and palms down.
Engage your core by pressing your lower back into the mat and tucking your pelvis.
Lift both legs off the ground to about a 45-degree angle and maintain this position throughout the movement.
Lower one leg toward the floor while lifting the other to start the "scissoring" motion.
Continue the scissoring motion by slowly alternating your legs up and down for the recommended repetitions.
What Muscles Make up This Part of the Body?
The rectus abdominis, transverse abdominis, internal and external obliques, erector spinae, and multifidus make up the core.
Let's quickly explain each of them:
Rectus abdominis: This is the "six-pack" muscle in the front of the abdomen that flexes the spine and stabilizes the pelvis.
Transverse abdominis: This is the deepest abdominal muscle that wraps around the torso like a corset, providing core stability and support for the spine and internal organs.
Internal and external obliques: These are the muscles on the sides of the abdomen that rotate, stabilize, and laterally flex the spine.
Erector spinae: This is a muscle group that runs the length of the spine, extends the back, and maintains an upright posture.
Multifidus: These are a group of small muscles located deep in the back that stabilize the spine and maintain proper alignment.
Why Train Your Core?
You should train your core because it has numerous benefits, such as improved posture, balance, stability, and reduced risk of injury in daily activities and sports [1].
Research has shown that core training can improve lower back pain, facilitate recovery from injury, and increase running performance [2].
A strong core looks impressive and improves your body's functionality and health.
Learn More: Best Bodyweight Core Exercises for Stronger Abs
Common Mistakes To Avoid
Here are some common mistakes to avoid when performing any core exercise:
Holding your breath: It's important to breathe properly during the workout. Holding your breath can increase your blood pressure and reduce the oxygen your muscles receive [3].
Relying on momentum: Avoid swinging your body or using momentum during the core workout. This can decrease the effectiveness of the exercise and increase the risk of injury.
Arching your back: Be careful not to do so during exercises like planks and crunches. This can cause strain on your lower back and lead to discomfort or injury [4

].
FAQs
What Are the Best Core Exercises for Beginners?
The best core exercises for beginners include planks, bridges, bird dogs, and crunches. They strengthen the muscles in the abdominals, lower back, and hips, which can improve posture and stability.
Can I Do Core Exercises Every Day?
Yes, you can do core exercises every day as long as you vary the exercises and don't overwork the muscles. However, allowing at least one day of rest per week is recommended for muscle recovery.
Do I Need Equipment To Do Core Exercises?
No, you do not need equipment to do core exercises. Some of the best core exercises, like planks, mountain climbers, and bicycle crunches, can be performed using just your body weight.
How Long Does It Take To See Results From Core Exercises?
It may take a few weeks to months to see results from core exercises. If you do them regularly, you'll see noticeable results in core strength, stability, and appearance.
Is It Better To Train Abs or Core?
It is better to train the whole core rather than focus just on the abs. While ab exercises can help tone and strengthen the abdominal muscles, the core muscles include other regions, such as the back, hips, and pelvis, which are also crucial for stability and posture.
---
References:
https://journals.lww.com/nsca-scj/Abstract/2007/04000/Core_Training__Stabilizing_the_Confusion.1.aspx
https://pubmed.ncbi.nlm.nih.gov/24149162/
https://www.ncbi.nlm.nih.gov/pmc/articles/PMC5709795/
https://www.ncbi.nlm.nih.gov/books/NBK542314/
Was this article helpful?