As a personal fitness coach, I often recommend that my clients go to CrossFit classes to build up more endurance through movements they would otherwise not do. But CrossFit can also provide great options for integrating dumbbells.
So, I got together with a certified CrossFit instructor to test out a few different CrossFit WODs over three weeks.
I also brought a few clients along to see how they coped with these CrossFit dumbbell workouts. We then analyzed how the exercises helped them build muscle and lose weight.
Here's what we found.
Quick Summary
CrossFit dumbbell workouts are a fantastic way to build strength and stamina with movements like dumbbell snatches, dumbbell clean, and
Unlike bodyweight exercises like pull-ups and bar dips, dumbbell CrossFit workouts give you a lot more control over which muscles you activate.
In order to support your CrossFit dumbbell WODs, you will also need to consider how to design your supplement stack for maximum results.
5 Dumbbell Exercises for CrossFit
The first time you do these CrossFit workouts, make sure you pick light dumbbells just to get used to the movements.
Once you've completed a round, you can raise the weight loads and feel the burning sensation build up faster.
Helton
The aim here is to complete three rounds in time:
800-meter run
30 dumbbell squat cleans (35 lb.)
30 burpees
The goal is 35 lb, but you can start off lower and then gradually build up to more than 35 lb.
It's a simple workout but highly effective for building endurance [1].
Nick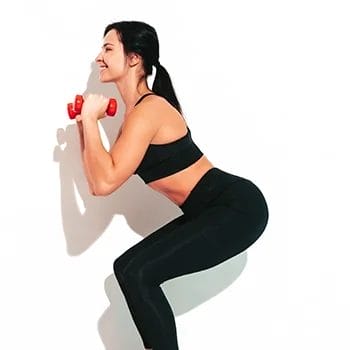 The Nick WOD involves completing 12 rounds for time.
Each round is quite short, but don't let that fool you:
10 dumbbell hang squat cleans
6 handstand push-ups while balancing on dumbbells
This is a more advanced workout, as you need the balance of a gymnast to do these push-ups.
You'd also want to be comfortable with the strength and endurance required for a Hero WOD, as this will test your body.
Painstorm
We're getting into serious pain territory here, and you'll notice the increasing reps for each workout.
Complete seven rounds for time:
10 man makers (dumbbell push-up, squat clean thruster, and renegade rows)
20 dumbbell deadlifts
30 alternating dumbbell snatches
40 single-arm dumbbell overhead lunges
50 dumbbell swings
You need to pick one dumbbell to do the full round, so make sure you pick it wisely.
Makimba
You will be doing three rounds, covering 15-10-5 reps for time:
Dumbbell thrusters
Air squats
Burpees
Overhead squats
You're going to use a single dumbbell, so make sure you pick a suitable one for both the dumbbell thrusters and squats.
Tumlison
You're aiming to do eight rounds for time, so make sure you pick the dumbbell wisely.
The first few rounds might seem easy, but it's quickly going to burn:
200-meter sprint
11 dumbbell burpee deadlifts
Don't underestimate the burpee deadlifts with dumbbells, as they really make this workout count.
Timing and Integration With Your Routine
If your regular workout routine is a mix of weight lifting and cardio, then I would recommend mixing one or two of the above workout routines each week.
For intermediate athletes, I would suggest replacing a cardio day with the Tumlison or Helton WODs, as they are more about endurance than building strength.
And you can pick any of the other above workout routines to replace an upper body day.
I've had a few clients who also switched to doing only CrossFit for a few weeks if they needed to work on their endurance levels for different sports, and that can work extremely well.
Related articles:
Support Your Efforts With Supplements
When you work hard with dumbbells, you're going to get to the end of a workout with muscles like jelly.
And to get the best results and performance improvements, there are two supplements you need to consider.
First, you'll need to give your body high-quality protein to help build up and repair muscle tissue.
The better the quality, the more effective your recovery period will be [2].
You should also consider benefits of taking a pre-workout supplement. .
These won't turn you into a superhero overnight or ready for a professional CrossFit event. But small boosts in strength and stamina will add up over the months.
"Since it's the building block of muscle tissue, it's not surprising that protein helps bulk up your muscles. And while it's important to eat sufficient protein in your overall diet, it's especially beneficial for muscle growth after a workout."

- Barbie Cervoni MS, RD
FAQs
Can You Do Crossfit With Just Dumbbells?
Yes, you can do CrossFit with just dumbbells. However, most WODs that involve dumbbells also introduce bodyweight exercises to provide a bit of variety.
What Are the Most Common Dumbbell Weights for Crossfit?
The most common dumbbell weights for CrossFit are 35 pounds for women and 50 pounds for men. This all depends on the movements, as some will require significantly lighter dumbbells.
Start a New Training Approach With Dumbbells
The great thing about the above CrossFit workouts is that you're not doing the same old shoulder press or overhead press.
You're introducing new movements like dumbbell snatches, and even when you take a short rest for your upper body, you'll fill those times with air squats.
One thing I would recommend you do from the start is to take one of the pre-workouts we tested to support these routines:
They can provide just enough of a boost in strength and energy to help you achieve better results.
---
References:
https://my.clevelandclinic.org/health/articles/24754-cardiovascular-endurance

https://www.ncbi.nlm.nih.gov/pmc/articles/PMC6142015/
Was this article helpful?