The triceps comprise a whopping 60% of your arm's muscles. But they often get neglected due to a tendency to focus on working out more visible muscle groups like the biceps and forearms.
Through research and practical application in fitness clients' training, I've curated a list of the most effective triceps exercises to help you maximize your workouts and achieve the results you desire.
These exercises have been tried and tested, and I have seen firsthand how they can help build and tone the triceps muscles.
Let's get started.
Quick Summary
The killer triceps workout routine includes both isolation and compound movements, including a narrow-grip bench press, reverse grip pushdown, incline barbell tricep extension, and decline skull crushers.
The triceps form the bulk of muscle mass in the posterior upper arm, originating from the scapula and upper arm bone and inserting at the tip of the forearm bone.
A holistic approach to triceps workout requires hitting all three tricep heads separately and maintaining a mind-muscle connection to build strength and stability.
7 Killer Tricep Exercises for Massive Arm Gains
Here are the seven best tricep exercises you can fit into your workout for arm muscle gains.
1. Close-Grip Bench Press
This exercise uses a narrower grip than the traditional bench press. It recruits the triceps and chest muscles to allow for heavier weightlifting and greater strength development.
Follow these steps to perform this exercise:
Lie on a flat bench with the bar above your head, making sure your head is close to the bar.
Grip the bar with hands slightly wider than shoulder-width apart and tuck your upper arms tighter to your body.
Unrack the bar and retract your shoulder blades.
Slowly lower the bar in a controlled manner until it touches your chest in line with your nipples.
Keep your elbows tucked in and push the bar back to the starting position.
Related articles:
2. Reverse Grip Triceps Pushdown
The reverse grip triceps pushdown is a popular triceps exercise among athletes and has been proven to build strength in the medial triceps.
To perform this isolation exercise:
Stand with your feet shoulder-width apart, facing a cable pulley machine.
Grip the handles with your palms facing up and your elbows tucked in tight.
Contract your triceps to extend the arms fully as you bring the handles down.
Pause and squeeze your triceps tightly at the bottom of the movement.
Slowly release the resistance.
3. Incline Barbell Triceps Extension
This exercise places significant tension on the triceps and engages the stabilizing muscles of the shoulder girdle.
To perform incline barbell triceps extensions:
Adjust the backrest of a weight bench to a 45-degree angle.
Load a barbell with weight and grip it with an overhand grip.
Lie on the bench with your back against the pad.
Lower the barbell behind your head, bending your elbows.
Lower until you feel a deep stretch in the long (inner) head of your triceps.
Contract your triceps to return to the starting position.
Related: Best Barbell Tricep Workouts
4. Standing Overhead Triceps Extension
The standing overhead tricep extension strengthens the triceps by allowing for a full range of motion and a good stretch on the tricep muscles.
Here's how to perform this move:
Attach a rope handle to the top pulley of the cable station.
Stand facing away from the machine, holding the handle at shoulder height.
Extend your arms overhead by moving them forward and upward over your head until fully extended.
Return to the starting position with arms at a neutral triceps extension.
5. Decline Skull Crushers
This tricep extension is performed on a decline bench, which increases the tension on the tricep, making it particularly effective in achieving gains.
Follow these steps to perform decline skull crushers:
Lie down on a decline bench and grasp a barbell with a pronated shoulder-width grip, holding it straight up at chin level.
Maintain still upper arms with tucked elbows, and lower the barbell slowly towards your forehead while exhaling.
Push the barbell back up towards the starting position using your triceps, stopping just before locking out your elbows at the top. Inhale during this phase of the movement, and repeat for reps.
6. Triceps Pressdown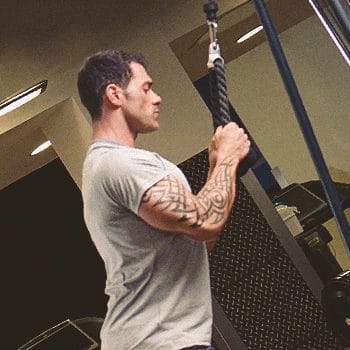 While typically performed using a cable machine, this killer triceps exercise can also be done with a resistance band as a versatile option for home or on-the-go workouts.
Here's how to perform this exercise:
Stand facing a high-pulley cable and grab the straight bar with an overhand grip.
Keep your knees slightly bent, lean forward at the waist, and position your elbows close to your sides.
Hold your forearms parallel to the floor, keeping your back flat and your abs tight.
Flex your triceps and lower the bar towards the floor until your arms are straight.
Squeeze your triceps before returning to the starting position.
7. Triceps Kickback
This is a pure isolation movement that allows for targeted muscle development in the triceps, which can help to create a more defined and detailed appearance in your arm muscles.
Here are the steps to perform triceps kickbacks:
Place the right foot on a platform and rest the right forearm on the thigh to support your back.
Hold a weight in your left hand and raise your elbow up to the level of your torso.
Keep your elbow in that position and extend your arm behind you, concentrating on contracting your triceps.
Lower your forearm until it reaches a 90-degree angle, and repeat.
Related: How To Do Cable Kickbacks
Anatomy of the Triceps
The triceps is a three-headed muscle located on the back of the arm that extends the forearm at the elbow joint [1].
It's composed of the following parts:
Long head: It emerges from the scapula and runs posteriorly to insert on the back of the forearm bone. This head extends and adducts the arm at the shoulder joint.
Medial head: It originates from the posterior surface of the humerus and allows for more precise movements that require lower force [2].
Lateral head: This head emerges from just above the medial head and is responsible for movements that require occasional bursts of high-intensity force.
Benefits of Working Out Your Upper Arm
Besides giving you a horseshoe-shaped arm to flex, triceps training provides the following functional benefits:
Help in pressing lifts: Triceps are pushing muscles, and developing them can assist in pressing lifts, aiding the pecs and shoulders.
Perform powerful movements: Triceps play a vital role in generating power for throwing and pushing movements such as baseball pitching, basketball shooting, and volleyball spiking [3].
Upper body strength and stability: Training the triceps is crucial for supporting muscle mass and preventing shoulder injuries due to a lack of stability.
Insider Tips
Here are some insider tips to enhance the strength of your triceps exercises.
Hit all three heads: To work the long fibers, overhead triceps extensions are the best exercise. The triceps pushdowns work the lateral head, and exercises that require a reverse grip target the medial head.
Include compound exercises: An isolation approach is not always the best for your triceps routine. Compound movements use heavy weights, apply greater tension to the triceps muscles, and build them better.
Maintain a mind-muscle connection: The key to effective triceps workouts is to establish a strong mind-muscle connection. Avoid rushing through the exercises or compromising the range of motion.
"It's important that you do full movements for your triceps, because locking out is when your triceps work their hardest. Flex and squeeze at the contraction of each rep to hit all three triceps heads."

- Kevin Levrone, IFBB Bodybuilder
FAQs
How Do You Hit All 3 Heads of the Triceps?
You hit all three heads of the triceps with isolation exercises that target each head separately. Overhead triceps extensions hit the long head, triceps pushdowns target the lateral head, and exercises involving a reverse grip work the medial head.
Are Triceps the Hardest Muscle To Grow?
No, the triceps are not the hardest muscle to grow. Different people may have varying levels of difficulty developing different muscles depending on factors such as genetics, training methods, and nutrition.
What Is the King of Tricep Exercises?
The close-grip bench press is the king of triceps exercises. It emphasizes the triceps muscles by placing them under significant tension throughout the movement.
To lose tricep fat, a combination of regular exercise, a balanced diet, and a calorie deficit is recommended.
Get Sleeve-Busting Arms With These Killer Triceps Workouts
If you're looking to add some variety to your triceps workout and break away from your usual routine, consider trying out the triceps exercises that we've detailed.
Give your muscles time to recover between workouts and maintain a balanced, high-protein diet to support muscle growth, supplemented by protein powder.
Our analysis of these protein powders revealed that they don't contain any shady ingredients or contaminants while containing the necessary nutrients to support muscle growth and recovery.
Refer to the lists and select the one that best fits your requirements.
---
References:
https://www.ncbi.nlm.nih.gov/books/NBK536996/

https://pubmed.ncbi.nlm.nih.gov/19598170/

https://www.ncbi.nlm.nih.gov/pmc/articles/PMC5827912/
Was this article helpful?