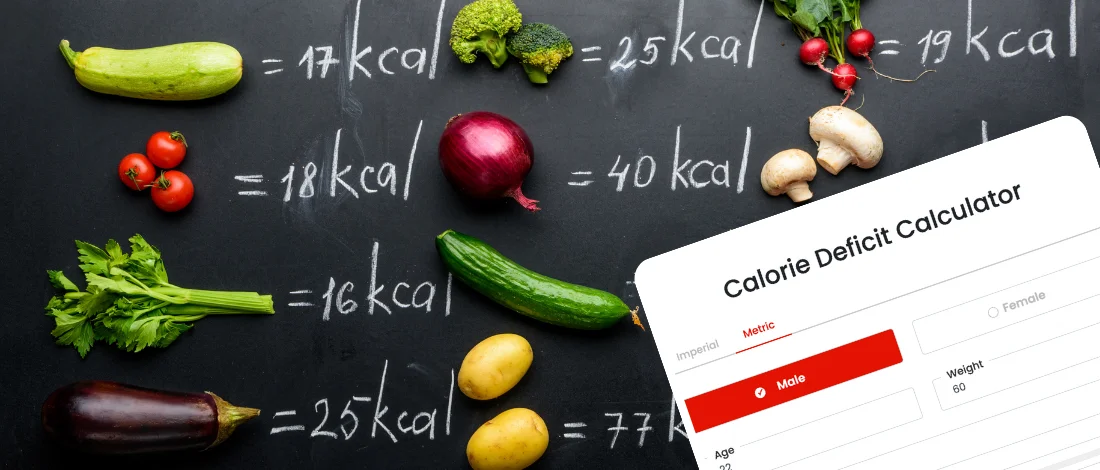 Calorie Deficit Calculator
The calorie deficit calculator is an excellent tool that can help you discover how much weight you need to lose for weight loss.
You primarily only need to enter your goal and body details to get the information.
Furthermore, the calculator will generate tables and graphs showing you the daily calorie intakes and estimated times for reaching your goals.
Keep reading below to learn everything about calorie deficit calculators, their benefits, how to use them for weight loss and more.
Quick Summary
A calorie deficit means you consume fewer calories than required for the basic functions of your body and daily activities.
A calorie deficit is the surest way to lose weight, but proper exercise and diet plans are necessary too.
You can calculate calorie deficit by subtracting the calories your body needs to maintain your weight and activity levels from the calories you consume daily.
What Is a Calorie Deficit?
A calorie deficit is a term that refers to consuming fewer calories than the amount required to fuel your essential functions of the body and daily activities. Your body breaks body fat and muscle faster when in a calorie deficit to get the additional energy it needs.
This often results in significant weight loss, depending on your calorie deficit.
For example, if you burned 2000 calories yesterday but only ingested 1500 calories for the entire day, you will be in a 500-calorie deficit.
This means your body will break down additional fats and muscles to release the extra 500 calories needed for the day. However, the weight loss will mainly depend on the source your body used to release that energy, meaning fats or protein-muscle.
How to Calculate Calorie Deficit?
To calculate calorie deficit, you need to subtract the number of calories your body needs to maintain your weight and activity levels from the number of calories you consume every day.
Here is the calorie deficit equation:
calorie deficit = calorie(in) − calorie(out)
Calorie(in) refers to the number of calories we consume every day through drinks or food.
Contrary, calorie(out) refers to the number of calories our body needs to maintain our current weight and sustain daily activity levels.
If calorie(out) is bigger than calorie(in), you are in a calorie deficit.
However, if your calorie(in) is more significant than your calorie(out), you are in a calorie surplus, and you will gain weight.
Do You Lose a Pound a Week With a 500 Calorie Deficit?
No, you don't lose a pound a week with a 500 calorie deficit. This is mainly thought to be true due to the 2500-kcal rule, which assumes body fat contains approximately 3500 calories of energy per pound.
However, the problem arises because the 2500-kcal rule doesn't consider factors such as physiological changes that occur during weight loss. This means that eating 3500 fewer calories won't translate into burning 2500 calories worth of body fat.
Furthermore, you will lose muscle mass when in a calorie deficit, but that mainly depends on your body composition.
For example, there is a rule that people with higher initial body fat will burn more fat from the energy imbalance versus muscle tissue than those with lower body fat.
Also, the significant contributor to BMR is muscle mass, meaning as muscles decrease, so does the number of calories you will burn on a daily basis. This is why regular exercise and a balanced diet with sufficient protein are essential when losing weight. If you're wondering how to burn more calories than you eat?, it's crucial to understand these dynamics.
How Low of a Calorie Deficit Should I Go?
How low of a calorie deficit you should go will mainly depend on your goals. However, a general rule is that women shouldn't eat less than 1200 calories a day and men not less than 1500 calories a day.
In addition, nutritionists will usually tell you that nutrient recommendations and food group targets won't be met below those levels. Also, eating fewer calories can make your weight loss journey slower and more difficult because it can slow your metabolism.
This is because your body can know when it is short in supplies and will slow down your metabolic rate to try to protect you from starvation. Furthermore, this even occurs if you are overweight, meaning you will still have a slower metabolic rate, therefore, a slower calorie burn. If you're looking to determine the right deficit for your goals, using a calorie weight loss calculator can be a helpful tool.
How to Eat in a Calorie Deficit?
To eat in a calorie deficit, you should pay attention to what you eat and drink every day. This is because monitoring your daily food intake is the only way to create a calorie deficit.
However, this doesn't mean you should immediately start to deprive yourself of food. This will make you more miserable, hungry, and lethargic. Instead, you should aim to eat food that is primarily nutrient-rich but low in calories.
Here is what a healthy diet should include:
Protein such as legumes, eggs, seafood, nuts, dairy products, and more
Vegetables and fruits
Healthy fat sources such as coconut oil, olive oil, and similar
Whole grains
However, it is also useful to follow certain recommendations for reducing the calorie content of your meals, such as:
Increasing water intake
Avoid consuming trans fats and too much sugar
Eating more fiber
Switching high-calorie foods with lower-calorie food
Following these recommendations ensures a healthy weight loss journey without side effects or health problems.
Calorie Counting as a Means for Weight Loss
Here is how to count calories if you intend to lose weight:
Determine your BMR
Determine your weight loss goals
Choose a method to track your calories
Track your progress over time and adapt the strategy
Keep it up
The above steps represent the most basic attempt to burn calories. You should also know that calorie counting is not an exact science and can become very complex.
The general rule is that animal foods and processed plants are more conducive to healthy weight loss and maintenance.
To make it even more simple, calories consumed minus calories expended will result in weight loss if the result is negative and in weight gain if the result is positive.
This is also where the thermic effect of food comes into play. Choosing harder-to-digest and chewed foods will make your body burn more calories to process them.
Calories in Common Foods
Fruit
Banana
Apple
Orange
Grapes
Pear
Watermelon
Strawberry
Pineapple
Peach
Serving size
6 oz.
4 oz.
4 oz.
1 cup
5 oz.
1 cup
1 cup
1 cup
6 oz.
Calories
151
59
53
100
82
50
53
82
67
kJ
632
247
222
419
343
209
222
343
281
Vegetables
Tomato
Eggplant
Lettuce
Cucumber
Broccoli
Carrots
Asparagus
Serving size
1 cup
1 cup
1 cup
4 oz.
1 cup
1 cup
1 cup
Calories
22
35
5
17
45
50
27
kJ
92
147
21
71
188
209
113
Proteins
Cooked shrimp
Cooked catfish
Cooked pork
Tofu
Egg
Regular cooked beef
Cooked chicken
Serving size
2 oz.
2 oz.
2 oz.
4 oz.
1 large
2 oz.
2 oz.
Calories
56
136
137
86
78
142
136
kJ
234
569
574
360
327
595
569
Snacks and common meals
Butter
White bread
Caesar salad
Hamburger
Cheeseburger
Sandwich
Rice
Potato
Pizza
Corn
Dark Chocolate
Serving size
1 table spoon
1 slice
3 cups
1 sandwich
1 sandwich
1
1 cup cooked
6 oz.
1 slice
1 cup
1 oz.
Calories
102
75
481
250
285
200
206
130
285
132
155
kJ
427
314
2014
1047
1193
837
862
544
1193
553
649
Dairy and Beverages
Coca-Cola Classic
Beer
Diet Coke
Milk (2%)
Milk (1%)
Yogurt (non-fat)
Yogurt (low-fat)
Apple cider
Milk (Whole)
Orange Juice
Serving size
1 can
1 can
1 can
1 cup
1 cup
1 cup
1 cup
1 cup
1 cup
1 cup
Calories
150
154
0
122
102
110
154
117
146
111
kJ
628
645
0
511
427
461
645
490
611
465
Energy From Common Food Components
Food
components
Carbohydrates
Proteins
Fat
Fiber
Polyols(sweeteners and sugar alcohols)
Organic acids
Drinking alcohol
kJ per
gram
17
17
37
8
10
13
29
Calorie (kcal)
per gram
4.1
4.1
8.8
1.9
2.4
3.1
6.9
kJ per
ounce
482
482
1049
227
283
369
822
Calorie (kcal)
per ounce
116
116
249
54
68
88
196
FAQs
Why Is Calorie Deficit So Important?
Calorie deficit is so important because many people complicate weight loss with special diets and workout regimes.
Essentially, no matter what you eat or do, you will lose weight if you are in a caloric deficit. However, it is essential to implement an appropriate diet plan workout plan to make this as safe as possible and without any side effects.
Combining diet, exercise, and caloric deficit is the best way to ensure a safe weight loss journey.