30
Supplements
Considered
110
Hours
of Research
63
Reviews
Examined
10
Experts
Interviewed

We always hear (especially from gym rats, like me) that protein powders are necessary for that extra oomph in the gym.
It's true, and science has backed that up.
But I understand why some are hesitant even to try taking protein powders -- most of them taste like straight-up trash (harsh, but I feel you), especially the unflavored protein powder options.
If you're still unsure which flavorless protein powder will tickle your taste buds, we've done the research and assembled some of the best-unflavored protein powders on the market today.
Believe me, there's a lot of them. And this list may encourage you to at least try a protein powder that you'll finally like.
Editor's Choice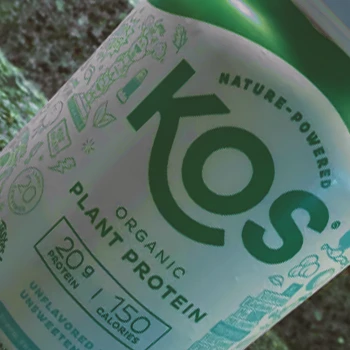 KOS Organic Plant Protein
Click For Best Price
#2nd Best Choice
Naked Whey
Check Current Price
#3rd Best Choice
BulkSupplements
Check Current Price
Ready to give your shake and smoothie an extra energy kick? Now, let's get into the list!
Top 8 Unflavored Protein Powders (September 2023)
1 - KOS Organic Plant Protein Unflavored & Unsweetened (Editor's Choice)
The beauty of KOS Organic Plant Protein powder is that it contains 20 grams of pea protein and loads of vitamins and minerals, allowing you to use it as a meal replacement one or two times daily to help manage weight.
Unflavored and unsweetened gives you the freedom to take this product in a way that is best suited for you. Mix it with water for a traditional protein shake, or add it to a smoothie for a protein boost. Either way, it ensures you do need not to worry about artificial-tasting drinks whenever you partner this supplement with your favorite beverage.
The manufacturer's website states you can also use it in baking.
Though priced at a per-serving premium, you have 60 days to decide if this protein powder is for you and request a refund if it isn't.
Ordering off the manufacturer's website will get you a discount for a multiple-bottle purchase or signing up for their monthly subscription service. Consider these deals if you want a consistent supply of high-quality protein shakes.
Calories : 140
Protein : 20g
Carbs : 5g
Fat : 6g
Pros
It contains 20 grams of organic pea protein
A soy, dairy, and gluten-free product made in the U.S.A.
All-in-one protein powder and multivitamin
Cons
It contains tree nuts, one of the most common food allergies
2 - Naked Whey
Naked is justifiably proud of the quality of its low-sugar, low-carb unflavored protein powder.
This unflavored protein powder is sourced from the milk of grass-fed cows and subjected to minimal processing so that it gets to you in its purest possible state.
These are some of the highest quality unsweetened whey protein powders you can buy, and the unflavored state means you are free to add whatever type of natural flavoring elements you want to fit your taste.
Even if you go naked with it, you'll still benefit from the full complement of essential amino acids, branched-chain amino acids, and glutathione it provides per serving to buttress your muscle-building efforts.
Calories : 120
Protein : 25g
Carbs : 3g
Fat : 2g
Pros
High-quality unflavored protein powder gleaned from USDA certified grass-fed dairy cows
Completely free of hormones or other destructive additives
5.9 grams of BCAAs per standard serving
Contains all the essential amino acids
It's an unsullied unflavored protein powder with no genetically modified organisms, gluten, soy, or hormones.
3 - BulkSupplements
BulkSupplements has always been light on the packaging and heavy on the quality, and their entry is a worthy addition to their product line.
This product is of unusual potency and purity, containing 90% protein per serving.
If you want muscle-building progress, you can see and feel, BulkSupplements unflavored protein powder should be considered on your list of essential supplements.
All BulkSupplements products are tested by an independent 3rd party lab for quality and are manufactured in an FDA-certified facility to the highest standards.
BulkSupplements is also my number one choice for the best soy protein powders.
Calories : 115
Protein : 27g
Carbs :
Fat :
Pros
Has a high degree of bioavailability
Unsweetened, high-quality, unflavored protein powder
Contains glutamine peptide to bolster the immune system
Made in the USA
4 - Isopure Zero Carb
This unflavored whey protein isolate powder from Isopure allows you to meet the elevated needs of your physically active lifestyle. From the first sip to the last, you'll experience a favorable taste from this product.
Isopure Whey Protein Isolate Zero Carb is also free of carbs.
So, even those on the restrictive keto diet will be able to take advantage of the nutrients, vitamin, and mineral blend employed here to help repair and build new, bigger, and stronger muscles.
Calories : 100
Protein : 25g
Carbs : 0g
Fat : 0g
Pros
Zero carbs for keto dieters
Effective flavorless whey protein isolate
Free of gluten and genetically modified organisms
Flavor-free for maximum dietary flexibility
Easily mixed with any type of liquid
Cons
Be sure to mix it thoroughly
This unflavored whey protein isolate powder provides 25 grams of protein for one serving. It won't produce any of the lactose-related side effects you can get from casein, and it's gluten-free and non-GMO.
Other related articles:
5 - PlantFusion Complete Protein
PlantFusion is a plant-based protein powder designed to provide nutritional content like the essential amino acids your body needs to recover quickly and effectively from the most strenuous workout.
It includes L-glutamine to help create durable connective tissues for those new larger muscles and plenty of inulin and cynarin for a healthy liver and stomach.
Its branched-chain amino acid content is what stressed-out muscles are craving after a tough workout.
If you don't give it to them, you'll not only fail to see progress; you may well suffer setbacks as the muscle tissue fails to answer the call next time.
Calories : 120
Protein : 21g
Carbs : 2g
Fat : 3g
Pros
Completely free of soy, animal products, gluten, and dairy
Plant-based powder for pre-and post-workout drinks
Chock full of the BCAAs, your hungry muscles need
Cholesterol free with a low glycemic load
Cons
Moderate fructose content
PlantFusion will help ensure you stay on the path toward your ultimate health goals.
This powder is certified non-GMO and gluten-free. The company also stands by its "Purity Promise" by making this product free of dairy, soy, whey, rice, eggs, nuts, and many other major allergens.
Also Read: Best Soy-Free Protein Powders
6 - ProMix Grass-Fed Whey Protein
The ProMix plant-based, unflavored protein powder contains only 2 grams of carbohydrates and no fat per serving, making it ideal for those seeking to lose weight and build muscle.
It's denatured and cold-processed to protect vital naturally occurring factors. This means you get more CLAs, L-Carnitine, and lactoferrin with each serving of this powder.
There are plenty of complimentary B12 in this plant-based powder as well to help facilitate muscle growth and a healthy dose of iron to help bolster your immune system [1].
Unlike some other protein powders that slip artificial sweeteners into the mix, ProMix grass-fed whey protein is 100% free of sweeteners, including sugar or fructose, and has minimal glycemic impact.
Calories : 120
Protein : 25g
Carbs : 3g
Fat : 1.5g
Pros
Vegan-friendly, highly pure, plant-based protein powder
Low carb load (for keto dieters) and high protein and certified no taste
Free of artificial flavors, sweeteners, soy, lactose, and gluten
Cons
Doesn't blend as easily as some other unflavored protein powder
Related Article: Best Vegan Fat Burners
It's also one of the best-unflavored protein powders on the market derived from plant sources, which means it exhibits a high degree of bioavailability.
7 - TGS Whey Protein Powder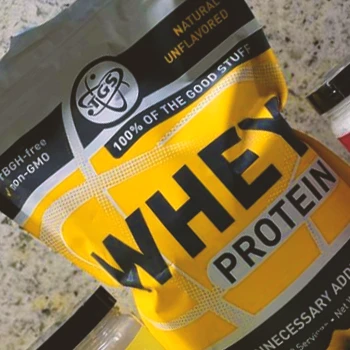 The Good Stuff, mostly known as TGS, offers a 100% all-natural whey protein powder that men and women will surely love taking after a grind at the gym.
TGS sources its clean ingredients from healthy US farms and uses its advanced micro-filtration system to process their whey proteins without denaturing them.
Cool, right?
This protein powder is made purely of whey and has no added preservatives, or sweeteners, making it an ideal clean alternative to organic protein powders.
Since this product is low in calories, it can be used for weight loss plans and meal replacement shakes. It's also great for cooking and baking protein-packed sauces and pastries.
Calories : 130
Protein : 25g
Carbs : 2g
Fat : 2g
Pros
Made with 100% undenatured whey protein
Unflavored, ideal for cooking and baking protein-packed bars
Helps build or maintain lean muscles
Cons
Contains dairy; watch out if you have allergies or any adverse reaction
Each scoop (approximately 25 g) is packed with all essential amino acids and branched-chain amino acids (BCAAs) that help build muscle. And since it is an unflavored powder, you can always recreate the flavor according to your liking.
8 - Pure Label Nutrition Whey Protein Concentrate
With its unadulterated, cold-processed whey protein powder from grass-fed cows, Pure Label Nutrition claims that it can help you develop and maintain a healthy lifestyle as its product supports your body's overall development and weight loss.
Each scoop of this unflavored protein powder contains essential amino acids, low-calorie content, and organic proteins.
This creamy powder mixes easily and tastes delicious, which is a rare quality in many protein powders. This one truly makes for an enjoyable health drink, making it a great breakfast staple if you want more energy throughout the day.
Calories : 130
Protein : 24g
Carbs : 2g
Fat : 2.5g
Pros
Supports muscle development with only a few calories
Boosts immune health
No synthetic additives or sweeteners are added, and it also mixes well
Cons
Dairy content may cause allergic reactions
See more related articles:
They believe that supplement timing is crucial to acquire the best results. So, as directed, add one scoop to at least 6 ounces of water, juice, or milk and stir well or shake it using a shaker bottle. Consume one serving before and after the workout.
Our #1 Unflavored Protein Powder
In recent years, individuals, many of our clients included, have moved toward organic, plant-based protein powders to be healthy and avoid harmful additives and added sugars while still getting the protein their muscles need to repair and recover.
KOS Organic Plant Protein offers an unflavored protein powder packed with 20 grams of pea protein and countless vitamins and minerals that make it suitable to replace one or two meals daily.
We recommend adding KOS Organic Plant Protein to your organic supplement lineup.
#1 Unflavored Protein Powder
KOS Organic Plant Protein Unflavored & Unsweetened
Click For Best Price

Pros
It contains 20 grams of organic pea protein
A soy, dairy, and gluten-free product made in the U.S.A.
All-in-one protein powder and multivitamin
Cons
It contains tree nuts, one of the most common food allergies
Was this article helpful?