37
Supplements
Considered
192
Hours
of Research
91
Reviews
Examined
10
Experts
Interviewed

When you're working hard towards your fitness and weight loss goals, it's all about tough workouts and cutting out unhealthy foods.
But that doesn't mean you can't enjoy some delicious post-workout recovery protein shakes.
Unfortunately, through my years of experience as a fitness coach, I have to say that so many chocolate protein powders are utterly terrible. Some taste great but are full of sugars and empty calories.
And then there are those with excellent nutritional values but a fake chocolate taste.
So, our team here at Total Shape set out on a mission to bring you the best tasting chocolate protein powder options.
Editor's Choice
Transparent Labs
Click For Best Price
#2nd Best Choice
Essential Elements
Click For Best Price
#3rd Best Choice
PaleoPro
Check Current Price
Our Top Tasting Chocolate Protein Powders (September 2022)
1 - Transparent Labs Whey Protein Isolate (Editor's Choice)
Of all the chocolate-flavored protein powders we tested out, we all agreed that Transparent Labs Whey Protein Isolate is one of the best tasting protein powders.
The extreme milk chocolate-flavored whey protein shake contains high-quality ingredients favored by many athletes to help muscle growth and reduce post-workout fatigue. You can mix it with almond milk for best flavor and nutritional results.
Pros
24 grams of grass-fed whey protein isolate per serving
Contains no sugar or artificial sweeteners
A popular choice for weight loss as it contains no carbs
Certified gluten and GMO-free for extra peace of mind
Cons
Currently not available in larger tubs
The only downside I can note is that it would be great if this protein powder was available in larger tubs. After all, I found it hard to stop taking this chocolate-flavored protein supplement regularly.
2 - Essential Elements Protein
The Essential Elements formula contains proteins derived from plant sources like yellow pea protein, brown rice, pumpkin seed, and sacha inchi seed.
The brand claims its protein powder can enhance workout performance, promote muscle recovery, and ensure your body's protein supply doesn't run low. This one also has Acacia Prebiotic to support digestion.
While this tasty protein shake contains beneficial ingredients, some users reported that the powder clumps up and has an unpleasant taste.
Calories : 70
Protein : 15g
Carbs : 2g
Fat : 0.5g
Pros
Free of dairy, gluten, soy, and preservatives
Vegan-friendly
Contains prebiotics to support digestion
3 - PaleoPro Protein Powder (Ancient Cacao)
This is one of the top paleo protein supplements we recommend for anyone on the paleo diet, but other non-vegan athletes may also gain benefits from the collagen it contains.
Studies have shown that collagen may help with joint pain [1].
I wasn't a big fan of the texture straight from the shaker, but the powder works well in a blender.
Pros
26 grams of grass-fed beef protein
Sourced from hormone and antibiotic-free cattle
Helps avoid common soy, dairy, and gluten reactions
May provide a natural boost of collagen
Cons
Texture may be a little grainy when mixed with water
4 - Ora Organic Vegan Protein Powder (Chocolate)
I'm a big fan of organic protein powder supplements, and this vegan powder is an excellent choice to make.
You're only getting muscle benefits with no fillers or artificial sweeteners.
The only negative side is that it's best to blend it for optimum taste and consistency.
Pros
22 grams of organic pea protein
No fillers or artificial additives
Low in sugar, fat, and calories to support dieting efforts
Use of organic cocoa creates a popular chocolatey flavor
Cons
You may want to plan blending it
5 - MyProtein Impact Whey Protein Concentrate (Chocolate Smooth)
With only 100 calories per serving, Impact may be an ideal protein powder if you're on a calorie-restricted diet.
Of all the chocolate protein powders we researched, this whey protein concentrate has one of the lowest calories.
Many users, us included, love the smooth tasting texture that we don't normally get from powdered supplements.
Pros
18 grams of whey protein concentrate per serving
One of the lowest calories we found
Low fat and sugar content makes it suitable for most diets
Many positive reviews about the smooth tasting texture
Cons
Despite only having a gram of sugar, some users find it too sweet
So, if you're staying away from sweets, this might trigger some cravings.
6 - Legion Whey+ Protein Powder (Chocolate)
What made this one stand out from all the other protein powders was the processing technique used.
Legion uses a cold filtration process as standard, which claims to have less of a negative effect on the structure of the proteins.
Pros
22 grams of grass-fed whey per serving
Claims to use unique cold filtration to reduce protein breakdown
GMO and hormone-free for added peace of mind
Available in large bulk order tubs
Cons
Some reviews point out that it may be a bit sweet tasting
On the downside, we did find that it was one of the sweeter tasting natural chocolate flavor powders during our testing.
7 - Yuve Vegan Plant-Based All-in-One Shake (Chocolate)
This protein supplement is another good vegan chocolate flavor option that combines rice and pea protein to get the full nutritional benefits of a complete amino acid profile.
Some people say it's an excellent protein powder due to the included superfoods, digestive enzymes, and fiber, which may help with immune and digestive health.
Most users find the complete protein powder effective in suppressing their appetite in the morning without feeling bloated or gassy.
Pros
15 grams of pea protein
Added superfoods for bonus vitamins and minerals
Many comments that it tastes like a chocolate milkshake
Contains 8 grams of dietary fiber to help with digestion
Cons
It's not the best-tasting flavor
This rice and pea protein powder is slightly fake-tasting of all the chocolate flavored protein powders we tried out.
8 - Optimum Nutrition 100% Gold Standard Whey (Double Rich Chocolate)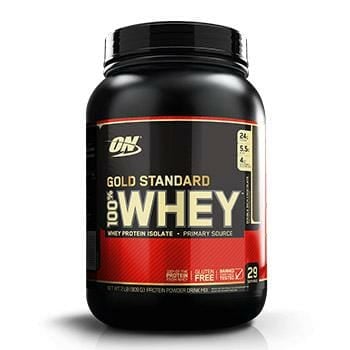 Gold Standard is possibly one of the most recognized sports nutrition brands, and this whey isolate protein powder has a nice taste that doesn't require a blender.
It's also a low-carb and calorie option to help support losing body weight.
Pros
24 grams of whey protein
Only 120 calories in each scoop with very little carbs and fat
Many positive reviews that it mixes easily in a shaker
Very good bulk-order tubs available
Cons
Not suitable for mixing with hot drinks as it may curdle
Just avoid using it with hot water and beverages, as it does tend to curdle a little.
9 - Muscle Pharm Combat Protein Powder (Chocolate Milk)
The final one of our tested chocolate protein powders that made this list is Muscle Pharm.
It's the only one with a certificate for not containing any banned substances, which may be important for professional athletes.
Pros
25 grams of whey, casein, and egg protein
Combination of 5 quality proteins may help with a graduated release
Tested and certified for banned ingredients
Provides a boost in BCAAs that may help with muscle building and recovery
Cons
It's a little high in cholesterol and sugar
While it has an excellent blend of 5 different proteins, it is a bit higher in cholesterol than all the other complete protein powders above.
10 - Performance Lab Protein Powder (Brown Rice Chocolate)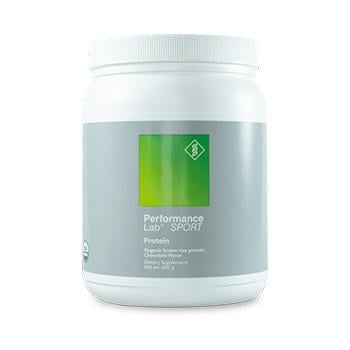 This Performance Lab option may be the best protein powder choice for dairy intolerant people or vegans.
The maker, OptiNutra, also claims that it's an excellent choice for appetite suppression, which quite a few users confirm.
The only thing I would say is that I agree with some reviews that say it's the easiest complete protein powder to shake up with water since it's brown rice protein.
Pros
20 grams of brown rice protein
Organic protein powder with vegan-friendly ingredients
Low fat and minimal carbs to not mess with your diet
Claims to reduce appetite for easier fasting
Cons
Some reports that it may need to be blended for a smooth consistency
What Should Influence Your Decision For Protein Powders?
Here are the factors that should influence your protein powder buying decision.
1. Protein Source
Protein powders are available from many different animal and plant sources, and your choice may come down to your diet or some allergies. Whey isolate is the most common dairy protein powder, but you'll also find soy, rice, hemp, and pea protein powder products are becoming more common [2].
2. Nutritional Values
Some of the best protein powders we found were low in carbs and fat. It is an excellent feature because it won't mess with your diet, making it easy to plan your protein intake. Get a brown rice protein supplement to fulfill your daily protein intake.
3. Essential Amino Acids
If you're trying to build some lean muscle, you have to ensure that your chosen protein powder has all nine essential amino acids listed in the contents. One of the best ways to ensure this is by choosing whey protein powder [3]. If you want to make the most out of your protein powder, consider getting whey isolate since it has more amino acids.
If you are an athlete or highly active person attempting to lose body fat while preserving lean muscle mass, a daily intake of 1.5-2.2g/kg body weight (0.68-1g/lb bodyweight) is a good goal.

- Kamal Patel, Nutrition Researcher
4. Texture
You would think that every protein powder has the same kind of consistency. However, pretty much all protein shakes are pretty unique. You'll also notice a very different texture dependent on whether you use water, milk, or juice.
5. Suitability For Combining With Other Foods
Some athletes combine their protein powder with other foods to create a kind of meal replacement.
For breakfast or an in-between snack, chocolate and vanilla-flavored powders may be the best for a delicious combination. 
6. Does It Mix Easily?
Every best tasting protein powder differs in how easy it is to mix them. If it's easy in a shaker, that's a great indicator that you could end up with something that tastes like a chocolate milkshake.
FAQs

Which Flavor Is Best for Protein Powder?
Chocolate protein powder is the best, with vanilla protein powders being a close second. The main reason for this is that when you find a product with natural flavors, then you won't get that fake and disgusting taste.
​Is Flavored Whey Protein Powder Bad?
No, flavored whey protein powder is not bad as long as it doesn't have artificial sweeteners and flavors added. You should always check the nutritional content label, and if it's not all-natural, then you may be looking at something that won't have a great taste.
What Can I Mix With Protein Powder to Make It Taste Better?
You can mix almond milk or fruit juice with protein powder to make it taste better. Another alternative is adding natural cooking flavors like vanilla essence to unflavored pea protein powders. You can also add yogurt to give it an extra bit of depth, nutrients, and probiotics.
Do Protein Powders Cause Weight Gain?
No, protein powder supplements do not cause weight gain as long as you follow the recommended serving per day, eat a healthy, well-balanced diet, and maintain an active lifestyle.
Our #1 Chocolate-Flavored Protein Powder
If you aim to build muscle or improve your recovery times, I would recommend Transparent Labs as the best chocolate protein powder on the list. I have struggled to find a better option for quality and nutritional values.
The company does live up to its name by only including valuable ingredients in its protein shakes for muscle growth.
If you've found some other chocolate protein powder products that taste great, let us know on social media, and we can research them.
Our #1 Best-Tasting Chocolate-Flavored Protein Powder
Transparent Labs Whey Protein Isolate
Click For Best Price

Pros
24 grams of grass-fed whey protein isolate per serving
Contains no sugar or artificial sweeteners
A popular choice for weight loss as it contains no carbs
Certified gluten and GMO-free for extra peace of mind
Get the BEST PRICE until the end of September
Cons
Currently not available in larger tubs
Was this article helpful?