18
Products
Considered
145
Hours
of Research
31
Reviews
Examined
5
Experts
Interviewed
With the wide selection of dumbbell racks in the market, it can be hard to choose which one will best fit your home gym.
To help you pick the one that will meet your needs, our team searched the stores for the best dumbbell racks and put them to the test.
We evaluated them based on several criteria—capacity, safety, and durability—and reviewed tons of user feedback to come up with the top 10 best options.
I hope your weights will find their home in one of the dumbbell racks in this guide.
Here are our recommendations.
Table of Contents
Editor's Choice
Marcy
Check Current Price
#2nd Best Choice
XMark
Check Current Price
#3rd Best Choice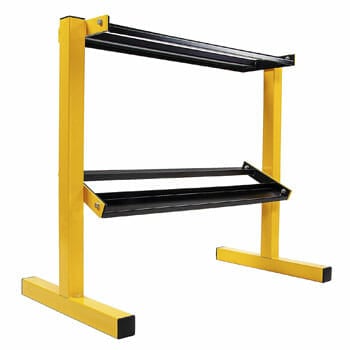 BalanceFrom
Check Current Price
Our Top Dumbbell Racks
1 - Marcy 3 Tier Dumbbell Rack (Editor's Choice)
This dumbbell rack has a durable frame built from commercial-grade steel that can accommodate heavy loads.
If you're particular about keeping your gym equipment looking nice, you'd be glad to know that this rack is reinforced with a powder coating finish that can prevent tarnishing.
Its matted surface is also scratch and scuff-resistant.
Its rubberized feet act as a shock absorber so it can remain stable while you're re-stacking your weights. It also doubles as a barrier to prevent any scratches on the floor.
We also appreciate how compact and space-saving it is, with three angled tiers that can accommodate dumbbells of all sizes.
Pros
Easy to assemble
Heavy-duty rack maintains stability even when fully loaded
Many users say the quality of this storage exceeds the price
Angled design provides ease of access to weights
Cons
Some users said the nuts and bolts that came with the box don't fit
You're certain that it can house all your heaviest dumbbells with a total weight capacity of 1,000 pounds.
2 - XMark 4 Foot 3 Tier Dumbbell Rack
Weighing 75 pounds, XMark claims this rack is one of the heaviest racks on the market.
It has angled shelves for easy loading and reloading of weights and enough shelf space to prevent overcrowding.
It comes with rubber feet so you don't need to worry about scratching your floor space.
With its tall shelf lip, this rack can hold your dumbbells more securely while lessening instances of slippage.
This heavy-duty three-tier dumbbell rack can handle a complete set of 5 to 50-pound dumbbells (10 pairs).
Pros
Solid construction and super stable
Each tier has 48 inches of usable space
Great price-quality ratio
Cons
Some users say the shelf lips might be too shallow for weights above 50 pounds
What we liked most about it is its thick shelving which helps keep the dumbbells in place.
You can purchase this rack on its own or in a bundle that includes a 550-pound set of rubber-coated hex dumbbells.
3 - BalanceFrom 2-Tier Dumbbell Rack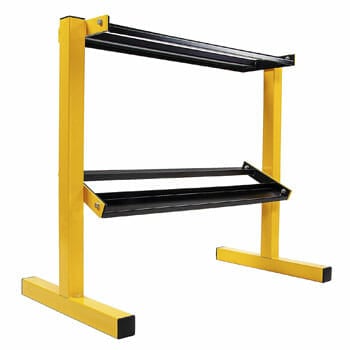 This two-tier dumbbell rack features angled shelves and plenty of room to work around, which means you're less likely to scratch your hands while retrieving and returning dumbbells.
This professional looking rack is made with heavy-duty commercial-grade steel with spacious shelves that give enough space between weights.
What's great about this product is that it's covered by a friendly 100% BalanceFrom satisfaction support and 2-year BalanceFrom support.
This rack is designed to hold standard-sized hexagon dumbbells and a total weight of 600 pounds.
Pros
Provides plenty of room to store dumbbells and space underneath for other equipment
Sturdy and good design
The yellow, powder-coated finish provides a nice touch and professional look
Cons
The angle of the lower shelf might be too steep and might not be able to handle heavier dumbbells
If you only have a small workout room or a handful of weights, this could be the ideal rack for you.
4 - Marcy Compact Dumbbell Rack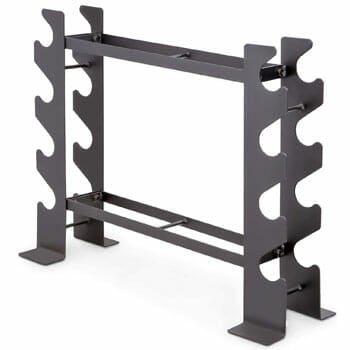 The Marcy Compact Dumbbell rack features a durable frame made from commercial-grade steel.
Just by looking at its framework, you can already tell that this rack can easily hold multiple dumbbells of all sizes and styles, as well as other fitness equipment.
It has an attractive powder coating and a hammered finish, which means this rack will most likely evade rusting for a long time.
This dumbbell rack's rectangular frame and ergonomic structure make it easy to store anywhere. This one has no rubber on its feet, though, so you might want to put it on a mat.
Pros
Efficient design can accommodate multiple weights and other fitness equipment
Compact, space-saving design
Sturdy and remains stable, even on a carpet
Cons
Some users say the side slots might not be able to hold all types of dumbbells
Even with a slim design, it can handle a maximum of 400 pounds. Just make sure to place the heavier pairs of dumbbells at the bottom row to improve sturdiness.
I have read reviews where some users say that the side slots might not be able to fit certain types and designs of dumbbells.
5 - Bonnlo 3 Tier Dumbbell Rack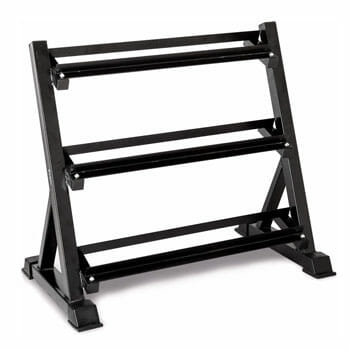 Like most dumbbell racks we reviewed so far, this one features angled tiers that allow for easy access.
This dumbbell rack's commercial-grade steel and durable welded construction give it the ability to withstand heavy loads. Its surface is also scratch and scuff-resistant.
The brand claims this organizer can accommodate dumbbells of varying sizes and styles.
It has rubberized feet that can protect your floor space from scratches and prevent sliding during restocking.
Pros
Great price-quality ratio
Easy to assemble
Excellent and sturdy construction
Cons
Some users say there's a risk of pinching your fingers when restocking the weights
It can store up to 10 pairs of hex dumbbells from 5-50 pounds and can hold a maximum weight of 660 pounds.
With a mid-level quality at a reasonable price, this is one of the decent dumbbell racks you can find that can fit any budget.
6 - Papababe 2-Tier Dumbbell Rack
The most remarkable feature of this two-tier dumbbell storage is its ultra-spacious, 72-inch long racks.
If you want a space-saving organizer that provides excellent capacity, I believe this one might be the perfect dumbbell rack for you.
With its durable steel construction and reliable welding, this rack can accommodate hex dumbbells of considerable weight.
Each rack also has an "M" design in the middle, so retrieving weights might be easier with this one.
Pros
Extremely sturdy construction
Great compact design with a significant capacity
Extended lower rack makes retrieval of heavier weights easier
Cons
Some customers say other parts might arrive with some kind of damage
This rack comes in two variants: one with a 600-pound capacity and another that can handle up to 1,200 pounds.
Although this weight rack has only two tiers, I can say that its quality and weight capacity is at par with most three-tier dumbbell racks.
7 - CAP Barbell Heavy-Duty Dumbbell Rack
When CAP Barbell said their vertical dumbbell rack is heavy-duty, they really meant it.
This 60-inch rack is made from 11-gauge steel and boasts of welded gussets. The bolts in this organizer are Grade 8, which is the strongest commercial-quality bolt [1].
Like most dumbbell racks on this list, this one from CAP Barbell has angled shelves, a scratch-resistant feature, a powder-coated finish, and secure rubber feet.
The CAP Barbell Heavy-Duty Dumbbell Rack can hold pairs of dumbbells from 5-50 pounds and can handle a maximum of 1,050 pounds.
Pros
Easy to assemble
Great product for the price
Solid construction
Cons
Some customers complained the product came in poor packaging
It also has a three-tier version that can carry 5-35 pounds with a total weight capacity of 1,000 pounds.
8 - IRON COMPANY Body-Solid 3-Tier Dumbbell Rack
This dumbbell rack is as straightforward as it gets.
Its heavy-duty mainframe features a reversed pitch design that allows for easier access to all three tiers.
Each level is also slanted for unrestricted access to the weights.
This Body Solid 3-Tier Rack can easily hold one pair each of 5-70 pound hex dumbbells.
Pros
Easy to assemble
Extremely sturdy
Great capacity
Cons
The weight rack's design poses a risk of pinching when restocking smaller weights
Some users comment on how it sturdy it is, even with 100 lb dumbbells on the top row.
9 - Deltech Fitness 3 Tier Dumbbell Rack
This dumbbell organizer from Deltech Fitness is another simple rack that does the job.
It's made with a strong gauge steel tubing and features an attractive powder coat paint.
It can hold a 5-pound to 65-pound (13 pairs) hex dumbbell set while leaving room underneath for larger pairs of dumbbells.
This dumbbell rack is welded to American Welding Society (AWS) specifications and is constructed with reliable, zinc-plated hardware with lock nuts for extra durability.
It can hold a maximum of 800 pounds.
Pros
Easy to assemble
Extremely sturdy
Can hold a great number of weights
Cons
Black and white powder coat paint might be prone to chipping over time
Users says that you shouldn't be fooled with the low price of this weight rack because the sturdiness and weight capacity is quite impressive.
10 - Body-Solid Dumbbell and Kettlebell Rack
What makes this one unique from all the other dumbbell racks above is its configurable shelves, which can be flipped to hold dumbbells or kettlebells.
Each tray is 11 inches deep and 39 inches long, providing ample space for your weights and other fitness accessories such as medicine balls.
It's made with heavy-gauge steel with tubing welded on all four sides to ensure durability. The metal is also deburred inside and out to guarantee user safety.
Pros
Easy to assemble
Versatile rack for storing kettlebells, dumbbells, and other equipment such as medicine balls
Well-engineered and sturdy
Cons
Lack of durable powder coat means the rack might attract scratches more easily
Its open design means you can place it against a wall or in the middle of a room.
Factors to Consider When Choosing a Dumbbell Rack

1. Space
Before shopping for the best dumbbell rack for your home gym, you must first determine how much space you have available.
From there, you get to decide if a vertical dumbbell rack, a compact one, or a full-size one will be better for your home gym.
If you have limited space, then a compact one might be a more suitable option. However, this means it won't have as much carrying capacity as a full-size rack would.
It's important to always consider this size-capacity tradeoff before purchasing so you get a rack that can truly accommodate your needs.
2. Capacity
Note that carrying capacity means two things: how many pairs of dumbbells a rack can hold and how much weight it can handle.
Therefore, you have to think about how many dumbbells you currently have or how many more you're planning to buy when shopping for a rack. If you use free weights, it's also best to check if the rack has a designated space for it.
Make sure to always check the dimensions and weight capacity before clicking checkout to avoid the hassle of returns.
3. Material and Durability
Almost all best dumbbell racks in the market are made of steel, but they're not all created equally.
To spot the sturdiest ones, determine the steel's gauge, which refers to how thick the steel is and how much weight the rack can handle.
I believe a frame with a 14 gauge steel is already reasonable, as that can hold a considerable number of weights.
"What seems impossible today will one day become your warm-up."

- Shelly Eichas, Fitness Trainer
Another thing to look for is the coating.
Even steel racks can rust, so many organizers will have a durable powder coat to prevent corrosion.
Aside from evading wear and tear, a powder finish can also make dumbbell racks look more professionally-made.
4. Weight Types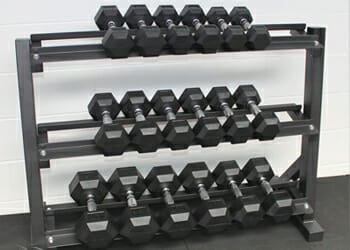 Lastly, you also need to consider the type of equipment you will store in your rack.
If you need space for storing plates or kettlebells, then go for something with a provision for these tools.
The best dumbbell racks should be able to hold all your fitness accessories. After all, the reason you're getting one is to keep your workout space organized, right?
You don't want any equipment lying on the floor anymore, so it's essential to get a dumbbell rack that can hold dumbbells, free weights, and other equipment.
FAQs
What are the benefits of having dumbbell racks?
One of the top benefits of having a dumbbell rack is its space-saving potential which would make your home gym more organized.
If your dumbbells are organized, your workout space would be a lot safer without random weights or equipment laying all over the floor.
And lastly, it can prolong the life and quality of your dumbbells as they are less likely to get damaged with everyday use. You can get all of these benefits with any of the best dumbbell racks listed above.
But first, it's important to check how much space you have before buying a dumbbell rack to make sure that it fits your space (literally) and needs.
Do I need to bolt down my dumbbell rack?
No, you don't need to bolt down your dumbbell rack, especially if it is sturdy enough to hold all of your weights.
Most, if not all, of the best dumbbell racks listed above are stable, sturdy, and true to its declared capacity with the help of the rubber feet, heavy gauge steel frame, and the weight of the dumbbell rack itself.
If the dumbbell rack you have doesn't seem to store all your weights safe, then you can try placing the heavier dumbbells at the bottom row to provide stability. If it still doesn't work, then you might have to bolt it on the floor, or just a buy a new one from our list of the best dumbbell racks.
What is the Best Dumbbell Rack for 2021?
After careful evaluation, our team has chosen the Marcy Three-Tier Dumbbell Rack as the best dumbbell rack for 2021.
Many users said they got so much more than what they paid for with this rack, and I have to agree.
With its welded construction, tough powder-coated finish, and compact three-tier design, this organizer just screams durability and reliability.
If you're looking for a rack that could last you for a long time, the Marcy Three-Tier Dumbbell Rack might just be the perfect weight storage for your home gym.
Our #1 Recommendation
Marcy 3 Tier Dumbbell Rack
Check Current Price

Pros
Easy to assemble
Heavy-duty rack maintains stability even when fully loaded
Many users say the quality of this storage exceeds the price
Angled design provides ease of access to weights
Cons
Some users said the nuts and bolts that came with the box don't fit
About the author
You may also like