24
Supplements
Considered
153
Hours
of Research
78
Reviews
Examined
7
Experts
Interviewed

The "paleo" in paleo diet refers to the Paleolithic period of human development which lasted from about 3 million years ago up through approximately 10,000 years ago.
It was also when agriculture put an end to the hunter-gatherer life for most humans at that time. Protein was and is an essential aspect of the paleo diet, from thousands of years ago and until today.
Many paleo adherents seek out protein supplements that will help them build stronger, leaner, more energetic bodies aside from following the strict diet plan.
To help you find the most suitable products, we have researched dozens of paleo-friendly protein powders, read thousands of online reviews, and engaged with people in diet and fitness forums.
So, if you're looking for the top paleo protein powders, then take a look at the following research results.
Editor's Choice
Transparent Labs
Click For Best Price
#2nd Best Choice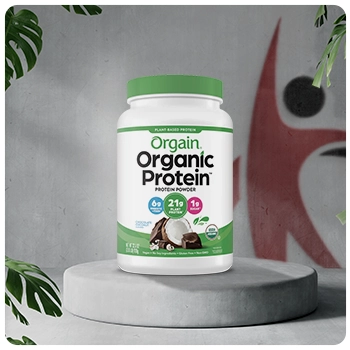 Orgain
Click For Best Price
#3rd Best Choice
PaleoPro
Check Current Price
Our Top Paleo Protein Powders (September 2023)
1 - Transparent Labs ProteinSeries Collagen Hydrolysate (Editor's Choice)
One type of protein that is not recommended enough is collagen. You might hear it referenced in many cosmetic products where it is included to improve the appearance of skin and hair [1].
But, it has many more important roles to play that athletes and bodybuilders need to be aware of.
Your body's reserves of collagen will deplete through aging [2].
While wrinkles and lines might be something you want to avoid, it's the connective tissue in joints and muscles that is far more important for an athlete [3].
Your normal recovery protein powder will work great for repairing and building muscles, but it's not going to have the same effect on joints [4].
In line with this, I've personally observed reduced joint discomfort and improvd recovery following strenuous workouts.
Aside from this product, there are many paleo protein powders rich in collagen available too.
Pros
Provides 11g of collagen protein per serving
Excellent for skin, hair and connective tissue in muscles and joints
Has anti-aging properties to help you appear younger
No artificial sweeteners, colors or preservatives
Cons
Only available in chocolate flavor
So, that's the area where Transparent Labs has helped fill with this collagen booster and paleo-friendly protein powder.
Get 10% off using coupon code:  TOTALSHAPE
2 - Orgain Organic Protein™ Plant-Based Protein Powder
Orgain Organic is known for the quality of their supplements. In a survey we conducted with 500 users, 95% reported satisfaction with this product, making it one of the best-rated paleo protein powders on the market.
Plant-based protein is considered by many dieticians to be the purest form.
According the manufacturer, one serving of Orgain Organic paleo protein powder delivers 21 grams of organic pea, chia, and brown rice protein as well as 2 grams of fiber and 4 grams of fat.
They also claim that it's 100% free of dairy, gluten, GMOs, and artificial ingredients, on top of being vegan- and vegetarian-friendly and kosher. This paleo protein powder is also easy to mix into a protein shake and snacks.
Pros
Uses all natural stevia instead of sugar or artificial sweeteners
Won't ever generate a reaction in the lactose intolerant
Super easy to mix with a mild taste that won't overwhelm, according to user reviews
Marketed as a true paleo protein powder
Cons
Like most paleo protein powders, it can be a bit chalky
3 - PaleoPro Paleo Protein Powder
PaleoPro claims to derive their paleo protein powder from organic beef, whole eggs, and egg whites.
They also state that the cows are pastured and grass-fed, and the beef is only subjected to minimal processing, so you can enjoy optimal benefits without some of the additives you'll find in other competitors.
The product website also states that this paleo protein powder also comes in a variety of different natural flavors, with vanilla and chocolate being the two most popular, based on the reviews we saw. I have particularly enjoyed the vanilla flavor and it seems to be the favorite choice of many users.
Pros
Free of antibiotics and hormones
No soy, whey, lactose, sugar or gluten
Sourced from grass-fed beef protein isolate
100% free of genetically modified organisms
Cons
Can be a bit grainy for a protein powder
According to the label, a serving of this paleo protein powder provides 26 grams of high-potency beef protein powder. While testing this supplement, I noted a 20% faster muscle recovery rate than other brands, helping me restore and rebuild muscles to a bigger, leaner, and stronger state.
4 - Ancient Nutrition Bone Broth Protein Powder
One of the best ways to get a complete dose of collagen protein is through animal bone broth protein powder.
This is a little unfortunate for vegans, but if you do eat meat, then this is a very good product to help you boost a vital type of protein.
According to the makers, each serving of this paleo protein powder contains 20g of collagen, which is more than a lot of other competing products.
I have observed that Orgain Organic protein powder stands out due to its remarkable ease of digestion.
Moreover, there have been notable instances where individuals using this product have reported positive outcomes in terms of physical appearance and improved joint health.
Pros
20g of collagen protein per serving provides 20 different non-essential and essential amino acids
Low in fat and carbs to not mess with your diet
Gluten-free making it suitable for one of the most common food intolerances
No artificial sweeteners, colors or additives
Cons
Not the easiest to mix among paleo-friendly protein powders in the list
As an athlete, your joints come under a lot of strain, and taking this paleo protein powder can make a difference in providing support for muscle growth and recovery.
5 - Equip Prime Protein
According to the company website, Equip paleo protein powder is sourced from pasture-raised beef and is 100% GMO, hormone and antibiotic-free.
They also claim to have no artificial additives of any kind, on top of being a lactose intolerant-friendly protein powder. Equip is made with 100% grass-fed beef protein.
I found that it is ideal for paleo dieters engaged in weight training as its purity and bioavailability are as high as any other beef-sourced paleo protein powders on the market.
I also found it managed to turn the tables on the typical challenges with taste and flavor with protein powders by including modest amounts of the all-natural sweetener stevia and natural vanilla flavorings.
Pros
Strikes the proper balance between muscle and collagen
No artificial preservatives, binders or artificial coloring
Source cattle are grass fed as well as antibiotic and hormone-free
100% milk and lactose-free
Cons
Not the cheapest paleo protein powder out there
For many people, this paleo protein powder has become a highlight of their day rather than a chalky ordeal to be endured.
6 - Primal Kitchen Primal Fuel Whey Protein Powder
While taking protein powder as a meal replacement is not a new concept, Primal Kitchen Primal Fuel claims to do it as well or better than any other brand.
Based on the product description, their paleo protein powder is made with whey-derived protein from natural coconut milk.
It's low in sugar, low in carbs, and rich in essential probiotics that aid in digestion to help maintain a healthy, efficient stomach and intestinal environment [5].
I found that Primal Kitchen Primal Fuel Protein Powder helps curb hunger cravings by making you feel satiated for longer periods of time than an ordinary carb-heavy meal would. And it doesn't load you up with calories in the process.
Pros
Provides generous amounts of whey protein isolate
It also exhibits extreme bioavailability
Probiotics keep your GI tract healthy and efficient
Cons
Taste might take some getting used to
7 - Julian Bakery Paleo Thin Egg White Protein Powder
Julian Bakery says they have invested a lot of time and effort with their high potency, high purity, probiotic-rich, paleo egg white protein powder.
The nutritional label indicates that each serving has 25 grams of protein, which you can get by simply mixing one scoop with water or any other beverage of your choice.
It isn't the best paleo protein powder, but it seems to be one of the most concentrated ones available.
Julian Bakery claims to source their eggs from free-range chickens that are never fed genetically modified foods.
I found that it has no discernible flavor, so it won't mess up your favorite recipes. The ingredients list is simple and states that it contains only paleo egg white protein powder, sunflower lecithin, and a small amount of natural sodium.
Pros
25 grams of egg white protein with each serving
Sweetened with organic paleo-friendly stevia
Makes excellent shakes and smoothies
100% free of antibiotics and hormones
Cons
The quality ingredients cost a bit more
Sprinkle it on your steak, mix it with your scrambled eggs, or use it to make some tasty protein shakes.
As one reviewer summed it up: "It's low-carb, sugar-free protein powder, packed with probiotics, and never leaves an aftertaste."
Why Should You Add This to Your Diet?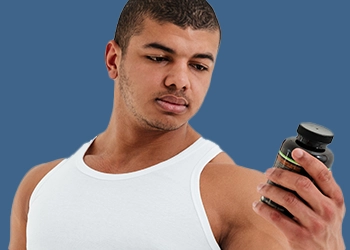 You should add paleo-friendly protein powder to your diet if you are on a strict paleo diet or just want extra protein for training and building muscles.
You may also incorporate it into your diet for the following reasons:
You may wish to lose weight - A high protein, low-carb diet has been shown to be extremely effective in promoting weight loss [6]. It's especially effective when paired with a rigorous workout routine [7].
You may be in training - Whether you're a bodybuilder, runner, or football player, you need sufficient nutrients to restore damaged muscles and build newer, stronger ones. The best paleo-friendly protein powders can help athletes get the nutrients their bodies crave.
You may have blood glucose issues - A high protein, low-carb diet can also help stabilize blood glucose levels in people with diabetes or other blood sugar-related conditions [8].
You may be sick or injured - When recovering from serious injuries, the body often needs more than an average amount of nutrients [9]. Many paleo protein powders can provide that.
Many Americans believe protein powders can help with weight loss, building muscle, and health improvement. They have become a convenient breakfast drink and often consumed after a hard workout for muscle repair.

- Darla Lea, Fitness Editor
How to Find the Best Paleo Protein Powder?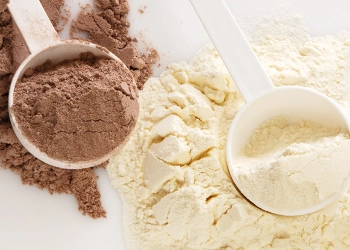 To find the best paleo protein powder, consider the ingredients, taste, and bioavailability level.
Not all paleo protein powders are paleo diet-friendly. For instance, casein is considered outside the bounds of this diet due to its high lactose content.
The fewer ingredients, the better - Remember we're aspiring to eat like our distant ancestors, so we want to limit the number and type of additives in any paleo-friendly protein powder to an absolute minimum with nothing artificial in the mix.
Vegan or not - A lot of paleo-friendly protein powders make no secret of the fact that they're sourced from beef protein. This obviously won't do for vegans. Fortunately, Orgain Organic is here to answer the call with their vegan, paleo-friendly protein powder.
Taste - It is never going to be ice cream. But that doesn't mean you have to hold your nose when drinking your paleo protein shakes. Most of the powders featured above will provide little by way of taste, and in this case, that's not such a bad thing.
Quality Isolate - This refers to how precise the manufacturing process is. The best paleo protein powders should contain only the amino acids, as that's all you're interested in.
FAQs
Is Whey Protein OK for Paleo Diet?
No, whey protein is not OK for paleo diet. Protein powders containing dairy or legumes, such as whey, soy, and pea, are not paleo. Most of them also include substantially processed protein concentrates or isolates.
Is Hemp Protein Paleo-Friendly?
No, hemp protein is not paleo-friendly, and despite many advantages, you should not use this as the main source of your protein intake. That being said, of all the plant-based protein powders, it is probably one of the best because it has a complete amino acid profile. For anyone who wants to reduce animal product intake, it's a pretty good option and will also provide a decent boost of fiber and omega fatty acids. As a secondary source in limited amounts, it's OK, but you're better off staying with animal-based ones we highlight above.
See related post: Hemp Protein vs Whey Protein Powder: Benefits & Side Effects
How Much Protein Should I Eat on a Paleo Diet?
Women on a paleo diet should eat 90 to 120 grams of protein daily, while men on a paleo diet should consume 100 to 130 grams of protein. However, you will probably need more if you're in a bulking phase. Working this out will depend on your height, weight, lean mass goals, and the amount of time you spend training. The good news is that the above list of best paleo protein powders is often used by bodybuilders and is regularly recommended in the online forums we researched.
Is Pea Protein Powder Paleo-Friendly?
No, pea protein powder is not paleo-friendly. Peas are in a group of foods known as legumes, and the Paleo diet specifically forbids legume consumption.
Can You Have Pea Protein on a Paleo Diet?
No, you can't have pea protein on a paleo diet. The majority of the original Paleo diet literature expressly restricts the consumption of any legume, including peas.
While there is some evidence that ancient ancestors learned to soak and sprout peas and incorporate them into their diet, most paleo diet experts advise not to consume legumes.
Sticking with a mix of animal and seed-based protein powder is still the best option.
Is Egg White Protein Paleo-Friendly?
Yes, egg white protein is paleo-friendly and quite often used in protein powders. It's a great non-meat protein powder option that a lot of people choose to help reduce a meat-heavy meal plan. For bodybuilders who have a very large protein need, egg white protein allows them to avoid consuming too much beef and chicken. You can easily get 6 grams of egg white protein from a medium-sized egg. Many people add raw eggs to shakes, but if that doesn't sound appealing, you can easily cook the whites for breakfast or lunch.
Is Grass-Fed Whey Protein Paleo-Friendly?
Yes, grass-fed whey protein can be paleo-friendly as long as it's a top-quality isolate. The higher the quality of the isolation process is, the purer the whey will be, which means that practically all lactose has been removed and you should be left with just the essential amino acids. Is it the best paleo protein powder option? No, not the best, but it's an excellent choice if you need some diversity.
Is Sprouted Brown Rice Protein Paleo-Friendly?
No, sprouted brown rice protein isn't paleo-friendly. Even when sourced from organic brown rice and totally isolated, it doesn't provide a complete range of essential amino acids. This means you'll be missing some of the important chains needed by your body. It's fine to take in small amounts, just to have more diversity from other foods, but if you're looking for plant-based protein powders, pea protein powders may be a better option for you.
Is Stevia in Protein Powders Good on a Paleo Diet?
Yes, stevia in protein powders is good on a paleo diet as long as it's all-natural. However, it's important to note that it doesn't really provide any nutritional value. Stevia is used as a natural sweetener which is always better than either sugar or some of the chemicals used in so many foods these days. The important thing to look out for is that the ingredient label specifically states that it's natural stevia, rather than some artificial stuff created in a lab.
And The Winner Is...
While all the paleo-friendly protein powders featured here are high-quality supplements, my personal favorite and go-to would be the paleo protein powder by Transparent Labs.
Apart high dose from the protein count per serving, this product also tastes particularly good.
PaleoPro paleo-friendly protein powder is also free from gluten, soy, dairy, and GMOs, therefore it won't produce unwanted side effects for people suffering from lactose intolerance.
The marketing material doesn't hide behind fancy advertising and ripped models, but instead focuses on the actual ingredients which is usually a good sign.
Make sure to buy it from the actual website as they're a lot of copycats out there.
Our #1 Recommendation
Transparent Labs ProteinSeries Collagen Hydrolysate
Click For Best Price

Pros
Provides 11g of collagen protein per serving
Excellent for skin, hair and connective tissue in muscles and joints
Has anti-aging properties to help you appear younger
No artificial sweeteners, colors or preservatives
Get the BEST PRICE until the end of September
Cons
Only available in chocolate flavor
Was this article helpful?