34
Supplements
Considered
123
Hours
of Research
48
Reviews
Examined
6
Experts
Interviewed

Bodybuilders consume tons of egg whites as one of their main protein sources.
It's cheap, and most importantly, it contains all important amino acid nutrients your muscles need to recover and rebuild.
Egg protein is also fat-free, lactose-free, and generally low in calories. This is one of the reasons why many people prefer it over whey protein.
As a certified dietitian with 10 years of experience in the field, I bought the most popular egg protein powders on the market and tested them myself. I also examined each product's ingredients, benefits, and special features with the help of my trusted dietitian.
Keep reading until the end of this guide to discover our top pick.
Editor's Choice
Jay Robb
Check Current Price
#2nd Best Choice
PaleoPro
Check Current Price
#3rd Best Choice
BulkSupplements
Check Current Price
Our Top Egg White Protein Powders (September 2023)
1 - Jay Robb Egg White Protein Powder (Editor's Choice)
Nutrition and diet specialist Jay Robb catapults to the top of our supplement list with his egg protein powder.
The company that produced this egg protein powder is not sullied by hormones slipped into the chicken feed or by cheap fillers designed to make it look better or mix smoother.
It also contains zero fat, zero sugar and no gluten, casein, fructose, MSG or flavorings.
Women will be happy to hear a typical serving contains 40 mg of calcium to help support the bone structure onto which they'll be hanging their new, stronger muscles.
The Jay Robb protein powder is manufactured in a gluten-free facility, so there's no chance that gluten residue from other products will slip into this product.
The packet says it's "the best-tasting protein on the planet," and while that sounds like an exaggeration, I'd say the statement holds some truth. Out of all the protein powders I've tried, this one had by far the most delicious strawberry, vanilla, and choco flavors.
While some may find it expensive, I believe this product is worth every penny.
Pros
Available as all-natural chocolate or vanilla
​Each serving contains 24 grams of high potency egg protein
​Ideal for those who are lactose intolerant​
Mixes well with all types of liquids or batters
Mix it with all types of liquids, with your yogurt, pancakes or muffins or create some of the tastiest egg white protein shakes you ever had. The best part is that doing this won't affect the naturalness of the other ingredients.
2 - PaleoPro Protein Powder
One thing that egg protein powders cannot provide is a healthy dose of collagen [1]. About 30% of the body's protein requirement comes down to collagen, and that's why PaleoPro has created this egg and beef-based product to supplement your diet.
Yes, it's not exactly vegan-friendly, but if you eat meat and need to get some extra collagen, then this is likely one of the better options available.
Online customer reviews are very positive about the effects it has on muscle building and keeping joints healthy. This protein powder is easily absorbed as it is sourced from egg whites and 100% grass-fed pasture cows.
PaleoPro perfectly suited my palate and curbed my hunger so much that I didn't even feel the need to snack in the afternoons. It's also very lightly sweetened and has absolutely no aftertaste, which is a welcome deviation from most protein powders found on the market.
Pros
26g of protein from eggs and beef
Boost collagen to help repair and maintain connective tissue
Dairy and soy-free option
Great selection of flavors
Cons
​Slight grainy consistency
You also have a great selection of flavors, but you may want to blend it as it can be a little grainy in a shaker.
3 - BulkSupplements Egg White Protein Powder
BulkSupplements is a fixture on "best of" lists because their focus is on quality instead of fancy packaging.
They don't try to dazzle you with graphics or outrageous claims but instead, they make highly effective supplements for those who want to enjoy better overall health.
This egg protein powder is yet another example of the many things they do right.
Each serving provides 24 grams of egg white protein with no carbs and no fat.
They leave out the fillers and additives that compromise so many egg protein powders and instead deliver an unsullied supplement that's ideal for anyone.
I used it to make protein bread, and it turned out beautifully as the fine powder was very easy to work with [2]. It's also flavorless, so you can't go wrong with adding it to any food or beverage of your choice.
This product is really just pure, unflavored egg whites—nothing more. If that level of simplicity is what you're looking for in a protein powder, then this supplement is the ideal choice.
Pros
100% fat and carbohydrate-free
​Free of sugar, fructose or other sweeteners
120 calories per average-sized serving
No GMOs, gluten, soy or dairy
Cons
Packaging doesn't always stay closed
Whether you're lactose intolerant, on the keto diet, or have blood glucose issues (there's no added sugar or fructose) BulkSupplements Egg White Protein Powder will provide the protein you need.
4 - Naked Egg White Protein Powder
Other manufacturers load their egg protein powders with all kinds of fillers, additives, and artificial ingredients in an attempt to make them more appealing.
Naked sticks by their name and produces a product that includes only two ingredients: egg white protein and sunflower lecithin [3].
Sunflower lecithin provides this egg protein powder with the ability to mix easily with a variety of mediums and also helps lower cholesterol levels while providing muscle, heart, and brain benefits.
There's also naturally occurring calcium and magnesium, and the chickens are never fed hormones or GMOs in their diet.
Naked is a very clean product. However, I would have to agree with some comments saying that it tastes salty. But I adjusted to it pretty quickly. The consistency is also top-notch as it's easy to mix and doesn't clump at all.
I also like that it didn't make me feel bloated like other protein powders do.
This product is a little pricey, but it's a very clean and easy source of protein. With that, I and many customers agree that it's all worth it.
Pros
100% free of GMOs, dairy, soy, gluten, and sugar
A scant 2 grams of carbs per serving
5.8 grams of beneficial branched chain amino acids per serving
Sourced from US farms under strict supervision
Cons
Some might find the taste a bit salty
Containing muscle-friendly BCAAs, Naked Egg White Protein Powder is the right way to obtain the lean, strong, resilient physique you're after.
5 - Optimum Nutrition 100% Egg Protein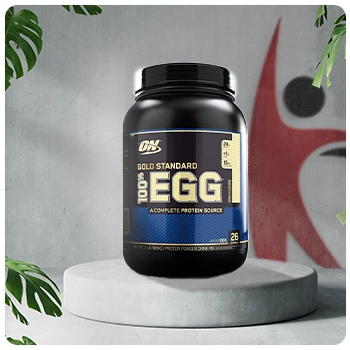 Optimum Nutrition provides you with a pure, unadulterated version of 100% egg protein powder. There are no genetically modified organisms used in the production process or in the feeding of the source chickens.
This egg white protein powder doesn't contain artificial sweeteners which are used to try and make it more appealing to a wider audience, and there are no trans fats and less than 1 gram of sugar per serving [4].
Each serving provides 24 grams of pure egg white protein and all of the essential amino acids your body needs to recover quickly after a strenuous workout or sports session and build new, more responsive, and durable muscles.
Each egg white protein powder serving is also low in calories and contains only 15 mg of cholesterol.
This protein powder makes for a wonderful smoothie, but it doesn't mix easily with a spoon, so you might want to use a blender. I also did have some minor gas when I first started taking this as my morning shake, but that side effect soon went away after a few days of taking it.
Customers say that in terms of muscle gain, this protein gave them comparable results to whey protein.
Pros
Each serving contains 24 grams of pure egg white protein
​All the BCAAs an active body needs
Rich in probiotics that help promote digestive health
No artificial fillers, GMOs, gluten, ​or lactose
Cons
Contains some artificial flavors
If you're looking to up your weight loss and muscle building game, Optimum Nutrition offers one of the best choices of egg protein powders to consider on your list.
6 - NOW Foods
NOW Foods Egg White Protein Powder is a high potency supplement that has a wide range of essential amino acids without the odious side effects of lactose and without including artificial ingredients.
Each serving of NOW Egg White Protein Powder provides your recommended daily allowance of this vital nutrient with zero fat and only 80 calories.
NOW Foods is a family-owned company that has been in the business since 1968, and they remain one of the most reliable suppliers of health supplements out there.
Their products are made in a GMP-certified facility and packaged in the USA, so you're assured that every aspect of their manufacturing process has been thoroughly examined.
This protein powder blends very well and doesn't leave a gritty texture, making it a great addition to your smoothies.
Pros
No artificial colors or preservatives
2 grams of carbohydrates per serving
Can be versatile
​More affordable egg white ​protein powder
There are no flavorings of any kind here, and it's gluten, corn, lactose, tree nuts, wheat, and soy-free - just pure, unflavored protein powder that will help the physically active obtain better, more satisfying results from their egg white protein shake.
How to Choose the Best Egg White Protein Powder
Below are some things to consider when choosing the best egg white protein powder.
Purity and Ingredients
Ensure the protein powder is made from 100% pure egg whites without additives or fillers. Check the ingredient list for any unnecessary components or potential allergens.
Protein Content
Look for a product that offers a high protein content per serving. Ideally, a single serving should provide at least 20-25 grams of protein.
Amino Acid Profile
A quality egg white protein powder should have a complete amino acid profile, ensuring you get all the essential amino acids your body needs [5].
Taste and Mixability
Opt for a product that mixes well and has a neutral or pleasant taste without clumping. Some powders can be chalky, so reading user reviews can give insight into the product's texture and flavor.
Brand Reputation
Choose a reputable brand known for its quality and transparency. Check for third-party testing or certifications to ensure product purity and quality.
What is Egg White Protein?
Egg white protein is the powdered form of the primary protein in egg white, also called ovalbumin. Eggs are one of the richest sources of protein available, and taking egg white protein powder allows you to enjoy the benefits of this important nutrient.
To make egg protein powders, egg whites are separated from the yolks, dried, and then ground into a fine powder that may or may not be combined with other ingredients (vitamins, minerals, sweeteners, etc.) to produce the final product.
The best egg white protein powder can be mixed into a shake or added to cake, muffin, or pancake batter.
You can produce nutritious meals with this type of protein ​​if you wish to lose weight and enhance ​your overall conditioning.
Egg white protein powder has been a favored food supplement among health enthusiasts even before whey protein or casein protein powder became more popular back in the 90s. Though similar products have since become available, egg white protein powder remains to be an excellent source of protein as well as other crucial nutrients.

- Ben Greenfield, Superhuman Coach
Who Needs ​Egg White Protein Powder?
Anyone who wants to consume high-quality protein needs an egg white protein powder, but the people who tend to use it most are:
Athletes, those engaged in regular strenuous exercise
Dieters who are looking to curb their appetite in order to bolster their weight loss efforts
​​Vegetarians who are averse to consuming products derived directly from meat
Anyone who is lactose intolerant
See r​elated post on: Protein powders for lactose intolerant
Benefits of Egg White Protein Powder
The benefits of egg white protein powder is that it is a highly pure form of this nutrient since it contains all nine essential amino acids the body itself cannot produce.
These amino acids are also used by the body to repair stressed muscle tissue and build new, vibrant muscles.
When quantifying it, a protein's quality is assessed using the PDCAAS, or Protein Digestibility-Corrected Amino Acid Score.
Egg white protein powder has a perfect PDCAAS of 1.00, making it a veritable source for all the amino acids your body requires.
When it comes to egg protein vs whey protein, the former has the edge because it's lactose-free, whereas the source of whey protein is obviously dairy.
That means it will pay excellent dividends for those who are lactose intolerant or anyone else trying to lose weight and get in shape.
Another benefit of egg white protein to address, especially in comparison to whey protein, is the PER, or protein efficiency ratio [6]. The protein efficiency ratio is based on a subject's weight gain divided by the intake of a specific food protein in a given time period.
While the PER of egg white protein powder is 3.9, the PER of whey protein is 3.2, making egg white protein powder the optimum choice.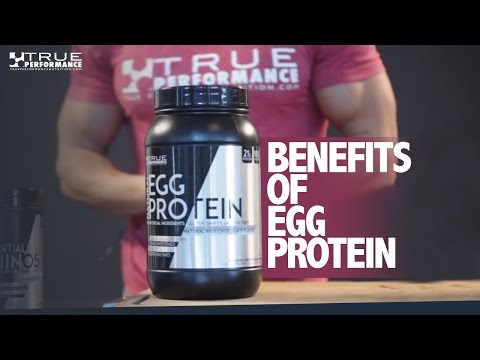 Side Effects of Egg White Protein Powder
Side effects are usually rare. When they do occur, they're typically the result of a lactose intolerant person using the wrong type of egg white protein powder.
Either that or they have to do with reactions caused by various additives or fillers. To avoid getting inconvenienced, research your chosen egg white protein powders to determine the ingredients they contain. You can even ask a licensed medical professional for advice if you want to make sure.
These will not cause side effects, except of course in those who are allergic to eggs.
Needless to say, such individuals should not be taking a supplement that states it is made from eggs to begin with.
FAQs
Is Egg White Protein Powder Good?
Yes, egg white protein powder is good. This is because this type of protein naturally contains B1, B2, B3, B5, B6, B8, B9, and B12.
Is Egg White Powder High in Protein?
Yes, egg white protein powder is high in protein. It will naturally help you grow your muscles and increase your strength.
Is Egg White Powder Better Than Whey Protein?
No, egg white protein powder isn't better than whey protein. Whey protein enters the bloodstream fasters and delivers essential nutrients to the body to recover faster.
The Best Egg White Protein Powder
Of all the products reviewed, Jay Robb Egg White Protein Powder was one of the best egg white protein powders we've tried.
It is rich in calcium and magnesium and is free of gluten, soy, fructose, and a laundry list of other additives. The fact that it tastes amazing and mixes well with all types of liquids is another added benefit.
Jay Robb egg whites protein is the smart choice if you're looking to up your weight loss and get in shape, and you appreciate quality supplements produced to strict quality assurance standards.
Our #1 Recommendation
Jay Robb Egg White Protein Powder
Check Current Price

Pros
Available as all-natural chocolate or vanilla
​Each serving contains 24 grams of high potency egg protein
​Ideal for those who are lactose intolerant​
Mixes well with all types of liquids or batters
Was this article helpful?