Dietary supplements that aim to help with weight loss have become increasingly common, and the Burn XT thermogenic fat burner is one that we have seen advertised a lot.
Over the years, we have tested over 50 of these supplements, and in most cases, they fall way short of the mark.
So, our team got together with a few clients to go through our usual supplement testing routine.
And in this Burn XT thermogenic fat burner review, we'll give you a load of details about what's actually in it, the science behind it, and whether we would recommend it.
​What is Burn XT?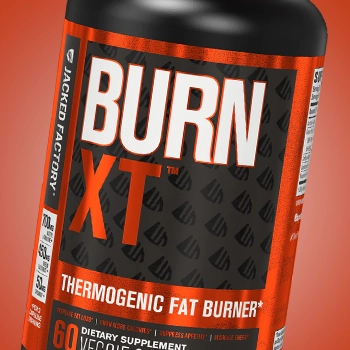 Burn XT is a weight loss supplement that falls under the thermogenic fat burner category. It's based on a formula that uses natural and powerful fat-burning ingredients to boost fat metabolism. It may also helo suppress appetite and hunger cravings by making you feel full for longer.
Made by a company called Jacked Factory, this fat burner should also result in an energy boost from releasing those fat reserves. Jacked Factory is known for a range of fat burners and weight loss supplements in the Burn product line.
Those are great claims to make, but do they actually live up to the scrutiny of a dietitian? Let's have a closer look at the Burn XT thermogenic fat burner ingredients.
SUITABLE FOR MEN AND WOMEN
​Burn XT Ingredients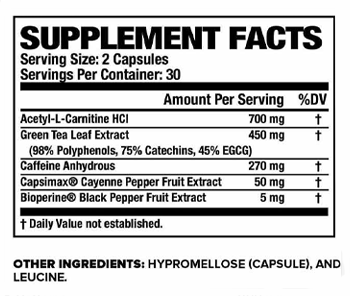 We got together with a dietitian to take a closer look at not only the ingredients but the dosage as well. We've seen it too often that the per day recommended dose is just too weak to properly trigger fat burning and appetite suppression.
Let's see what she found out about the Burn XT thermogenic fat burner.
1 - Acetyl L-Carnitine (700 mg)
Jacked Factory claims Burn XT thermogenic fat burner contains an effective dose of Acetyl L-carnitine, which I was aware of as an ingredient in many recovery shakes.
But it does seem like there would be some evidence that it also plays a role in fat oxidation [1]. Whether Acetyl L-carnitine is the most effective way to burn fat is still being debated in the nutrition science community.
If you want to know more about Acetyl L-carnitine, check out the 10 best L-carnitine supplements.
2 - Green Tea Leaf Extract (450 mg)
Believe it or not, but green tea extract is actually one of the best known fat-burning ingredients available.
Most people just think of it as a good source of antioxidants. But there's way more to it.
Our dietitian pointed us to quite an extensive study that had noted positive effects on weight loss from green tea leaf extract [2].
And the dose of 450 mg per day seems to be good enough to trigger thermogenesis.
Related product: Universal Nutrition Ripped Fast Review
​3 - Caffeine Anhydrous (270 mg)
Caffeine anhydrous is also a well known thermogenic fat burner.
Yes, that means that your morning coffee could actually be helping you burn off some of that stubborn body fat.
Now, I would point out that the average cup of coffee has about 100 mg of caffeine. That means that Burn XT could be giving you two and a half times as much per serving.
While it could increase fat loss, it might be a bit much for a lot of folks.
More on the possible side effects later.
4 - Capsimax Cayenne Pepper Fruit Extract (50 mg)
The cayenne pepper fruit extract has been extensively tested, and one recent study was able to establish good results with increased fat loss in men and women [3].
The same study also commented it seemed to suppress appetite as well.
However, you should note that the study applied a 2.5 mg dose of the active ingredient called capsaicin.
But Burn XT thermogenic fat burner would only provide less than half of that amount.
​A study published in PloS One found that consuming cayenne pepper for breakfast creates less appetite, so people eat fewer calories during the day.

 

​- Christine Ruggeri, Staff Writer at DrAxe.com
5 - Bioperine Black Pepper Fruit Extract (5 mg)
This doesn't directly burn fat, but instead, it has been shown to help with nutrient absorption. It could essentially contribute to getting the other weight loss  ingredients into your body faster [4].
It could even help with the digestion of your regular meals as well.
Spreading Out Your Intake

Make sure you spread out the two capsules, especially when you're getting started. This would allow you to assess how your body reacts to fat burners.
Also, keep in mind that you may want to take the Burn XT thermogenic fat burner capsules just before a meal. I would suggest before breakfast and lunch and avoid taking it later in the day.
This is because the regular dose contains too much caffeine that could affect your sleep.
I also have a few clients who like to take fat burner pills before they start their regular exercise routine. It seems like the mental energy boost from caffeine helps with training motivation.
Other fat burner reviews:
Burn XT Pros and Cons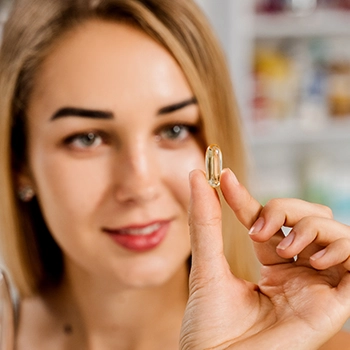 OK, let's start the positives. This thermogenic fat burner does seem to contain the right ingredients to help with weight loss.
A lot of online reviews highlighted that they were able to drop a fair bit of abdominal fat.
There are also positive reports about increased energy levels, which in part is probably due to the high dose of stimulants.
But for some people, this might be too high a boost that could lead to jitters and sleepless nights.
And the last thing we noted during our testing is that taking this product in the morning didn't seem to suppress our appetite enough to extend fasting periods.
I also think that Jacked Factory could change the dosage a bit. You're recommended to take one capsule in the morning and one at lunchtime.
However, if women wanted to take a smaller dose, then that would be impossible.
Check out our article on the supplements that will get you shredded.
SUITABLE FOR MEN AND WOMEN
Pros
Claims to provide physical and mental energy
​Seems to work well for fat burning
Contains no fillers or additives to mess up your diet
Cons
Has a very high dose of stimulants
The product doesn't seem to help with hunger cravings
The daily dose is limited to two capsules
Burn XT ​Side Effects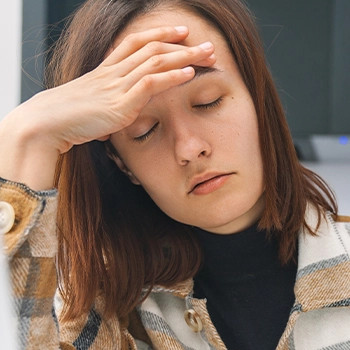 Side effects in supplements are always a risk, even when Burn XT ingredients are completely natural.
There are two common side effects that we noted with this Jacked Factory thermogenic fat burners.
First of all, some people seemed to get some cramping after taking the capsule on an empty stomach.
This may be linked to some intolerance or allergy, so be careful with your timing.
The second issue is the rather high dose of caffeine. It's not a major health issue, but you certainly have to avoid taking it later in the day if you want to avoid staring at the ceiling all night.
Want a caffeine-free fat burner instead? Check out our Stimulant Free Fat Burner Reviews.
Where Should You Buy It?
You can buy Burn XT on Amazon or the official Jacked Factory website. The former might be the best option if you're signed up to Amazon Prime for same or next-day delivery.
But the important thing to avoid is places like eBay or other marketplaces where you might increase your risk of a counterfeit product.
In the supplement industry, this has unfortunately become quite common, and you could expose yourself to health risks if you start taking dodgy supplements.
There are also platforms out there selling legitimate products. However, these might be expired, making your fat-burning purchase worthless and a scam.
Burn XT User Reviews

To give you a bit more perspective on what other people are saying, we took a look at Burn XT reviews on Amazon as well as some forums and Facebook groups.
The biggest problem she initially had was with a high dose of caffeine. It did help her with weight loss, but she ended up switching to caffeine-free supplements instead.

 

- Letitia from Houston
Karen experienced 20 pounds of fat loss in 2 months and found an increase in energy for physical and mental activities to be quite helpful as well.

 

- Karen from Boston
He had mixed results. It did seem to trigger weight loss effects, but after a few weeks, the cramping didn't settle down, so he had to stop taking this supplement.

 

- Charlie from Vancouver
Rob seems to be a bodybuilder, and he wasn't specifically trying to lose weight. But during a cutting phase to get more ripped, he did report some positive effects from the ingredients.

 

- Rob from London
Thermogenic Fat Burner Alternatives
PhenQ
PhenQ is a potent fat burner that targets weight loss from five angles including fat burning, food cravings, fat accumulation, mood, and energy.
Unlike Burn XT, it contains natural stimulants that increase insulin sensitivity, which reduces your sugar cravings. It does a better job in suppressing appetite helping you feel full for longer, thus reducing your calorie intake.
It is suitable for both men and women looking to lose weight especially combined with a regular exercise, diet, and sufficient sleep.
LeanBean
After reviewing LeanBean, our team found out that it's a female fat burner that promises accelerated fat metabolism and reduced cravings.
It has better ingredients such as Glucomannan which suppresses appetite and contains green coffee bean extract, which gets natural caffeine into your system without causing jitters and sleepless nights, unlike Burn XT, which has a high dose of stimulants.
Instant Knockout
This fat burner by Roar Ambition contains potent ingredients, that support weight management, including glucomannan, that suppress cravings and vitamin B6, that promotes fat metabolism resulting in significant weight loss.
Unlike Burn XT, it contains L-Theanine, which promotes relaxation preventing energy crashes from caffeine.
Also, Instant Knockout does a better job controlling hunger cravings and our clients reported noticeable weight loss.
FAQs
​Yes, Burn XT is safe, as all its ingredients are generally safe. However, there is always a chance of negative effects whenever you take a dietary supplement, so take a smaller dose of the product when starting out.
Other safe fat burners: LeanBean Fat Burner Review
​​​Does Burn XT Make You Poop?
No, Burn XT doesn't make you poop. The ingredients included may support your digestive system by absorbing nutrients faster, but the thermogenic fat burner is not known for making you poop more as a result.
You may also like: Instant Knockout Fat Burner Review
​​​Is Burn XT Thermogenic?
​Yes, Burn XT is thermogenic. With ingredients like green tea extract and caffeine, it has been proven to be an effective supplement to boost metabolism and help you lose weight.
Thermogenic fat burner we recommend: Phen375 Fat Burner Review
​​​How Do You Use Burn Xt?
You use Burn XT by taking two pills during the day. One should be taken first thing in the morning with breakfast and the second at around lunchtime. It's best to avoid them later in the day as the stimulants could impact your sleep quality.
Is Burn XT The Right Investment To Make?
So, we do believe that this product works well as a thermogenic fat burner. However, because there were quite a few reviews about side effects, we were a bit concerned.
It also seems to be lacking a bit when it comes to suppressing hunger cravings.
What we would actually recommend  is PhenQ, as I've seen it drive the most significant effects on weight loss for my clients. Users have reported it helped them achieve a healthy lifestyle by burning more calories and extending fasting periods.
It also works to replenish electrolytes so it's a good option whether you're doing regular exercise or some intensive fat burning workouts.
Other users have also found it effective for fat loss. The images here speak for themselves: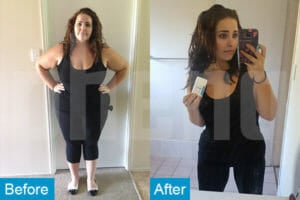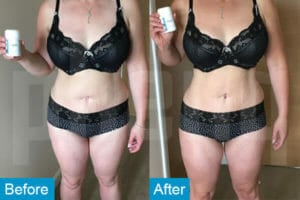 We Recommend This Instead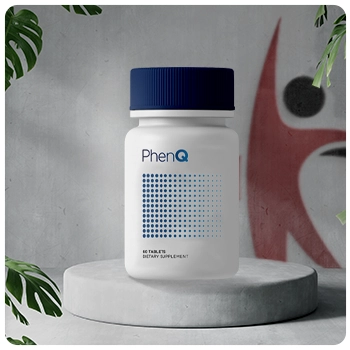 Pros
Boosts energy for better gym performance
Suppresses appetite
Improves overall mood and brain function
Replenishes body's lost electrolytes
Get the BEST PRICE until the end of September
Cons
Can be only purchased through the company website
Was this article helpful?