There has been a lot of heated debate over Hydroxycut in the past couple of years, and it keeps popping up in forums and Facebook groups.
As a fitness trainer who only trusts science-backed products, I wanted to give our clients and readers evidence of the product's claimed efficacy.
Because the fat burner market is full of dodgy snake oil, we thought it was time to team up with a nutritionist and do some more research.
Here's our full Hydroxycut Hardcore Elite review.
What Is Hydroxycut Hardcore Elite?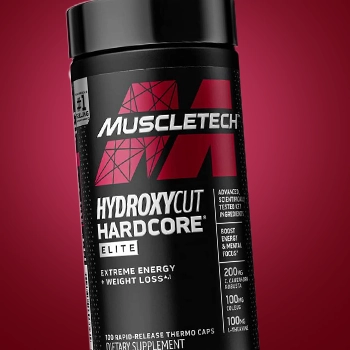 Hydroxycut Hardcore Elite is a powerful fat burner that uses natural ingredients to support maximum weight loss. The claimed energy release is another valuable benefit for bodybuilders in a cutting phase.
Now, it doesn't claim to be a magic pill that allows you to binge-watch TV shows all day while eating piles of junk food.
The company does highlight that it should be combined with a low-calorie diet.
Apparently, this fat burner should support enhanced mental focus and better endurance in the gym.
This all sounds great, but only someone with a background in food science can speak to the effectiveness of its fat-burning ingredients.
So, let's take a look at what our nutritionist had to say.
Hydroxycut Hardcore Elite Active Ingredients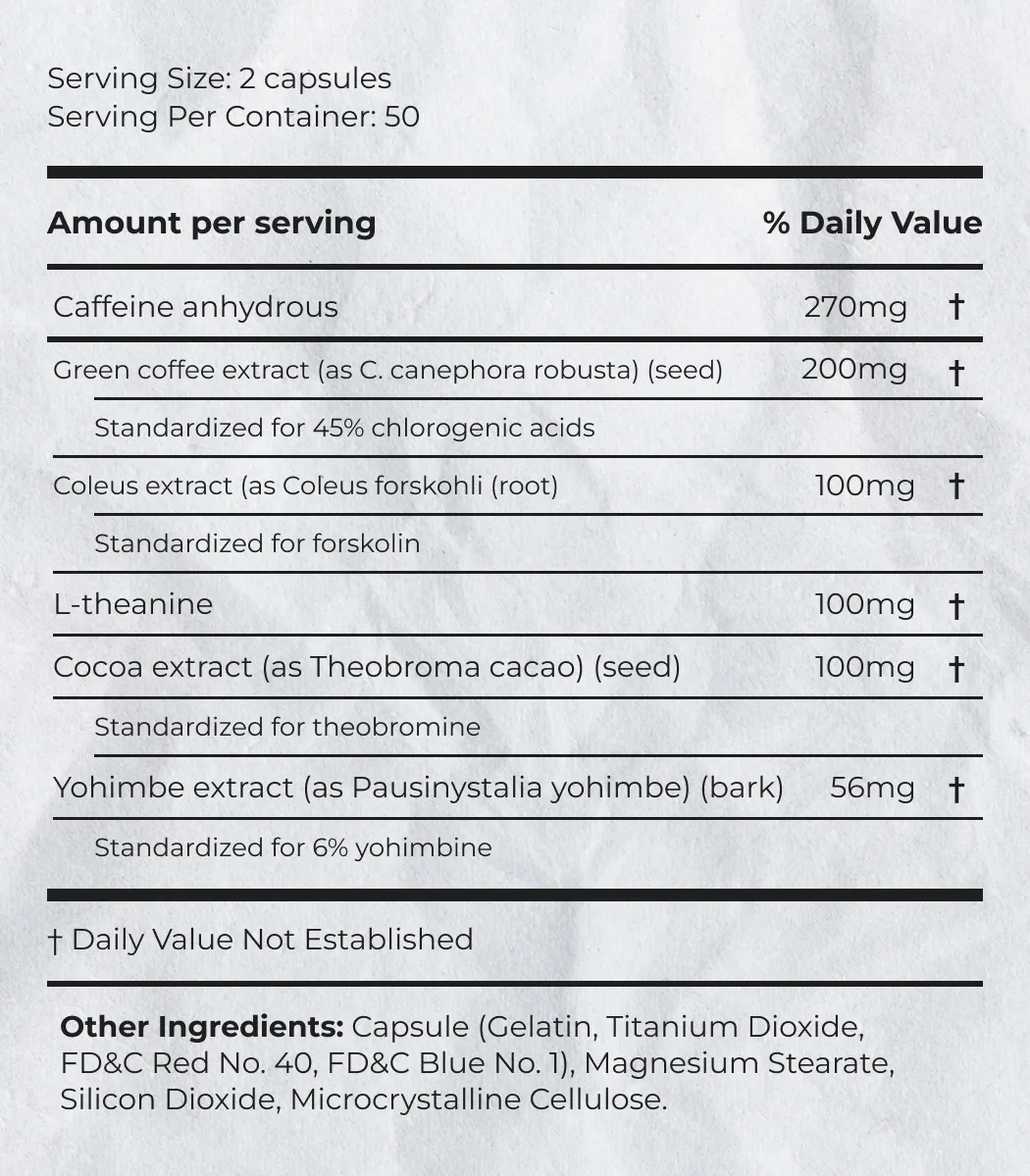 This is what the company has listed as its active ingredients.
1. Caffeine Anhydrous (270 mg)
Caffeine anhydrous is a known stimulant and thermogenic commonly found in weight loss supplements [1]. It may slightly raise your body temperature to burn fat and lose weight in the process.
The 270 mg of caffeine per serving is equivalent to around three cups of coffee, which might be on the strong side. However, this amount might help suppress appetite, enhance athletic performance, and support muscle recovery.
2. Green Coffee Extract (200 mg)
Green coffee extract is rich in antioxidants called polyphenols. An article from Today suggests that it may stop your body from storing more fat [2].
Green coffee extract also contains chlorogenic acid that can lower sugar absorption into the body, which stabilizes your blood sugar levels throughout the day.
3. Coleus Forskohlii (100 mg)
The active ingredient in Coleus forskohlii is a supplement called forskolin. Due to its possible use in weight loss, it has been one of the most commonly added ingredients in weight loss supplements.
However, according to Women's Health Mag, nutritionists are divided on the effectiveness of this ingredient [3]. Without a proven and solid link to help with weight loss, we think it might be a wasted ingredient.
4. L-Theanine (100 mg)
There have been several positive studies supporting the use of this amino acid for weight management [4]. However, they all used significantly higher doses, which may make the dosage in Hydroxycut less effective.
"L-Theanine is an amino acid which we don't usually get in our diet. It is not one of the essential amino acids or even one of the common non-essential amino acids. It is found in meaningful amounts in tea, but otherwise, supplementation is the main source of it."

 

- Kamal Patel, Co-founder of Examine.com.
5. Cocoa Extract (100 mg)
No, you won't get a chocolate treat, but cocoa extract has been linked to boosting metabolic rates and fat oxidation due to its caffeine and theobromine content [5]. Theobromine works similarly to caffeine, but it can also potentially reduce cravings.
Again, we found an issue with this product's low cacao dosage, which might not be enough to make a difference.
6. Yohimbe Extract (56 mg)
Hydroxycut Hardcore Elite also makes a big deal about this ingredient. It has been marketed as an effective fat-burning ingredient, so it is common in several fat-burners and weight-loss supplements.
Some evidence suggests that it may help release fat cells quicker and improve body composition, but some studies show it makes no difference [6] [7].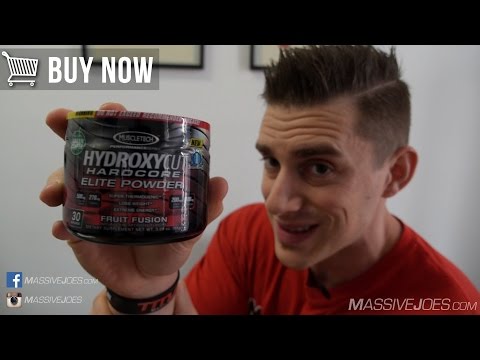 How Does Hydroxycut Hardcore Elite Work?
Hydroxycut Hardcore Elite works by boosting your body's ability to release more energy stored in body fat. This thermogenic effect triggers a slight increase in body temperature and helps burn off fat.
By taking this product for at least 60 days, you should start noticing your weight loss speeding up.
While we did see quite a few positive comments that the product improved energy levels, our nutritionist suggested a lot of this might be down to the stimulants.
This would explain why in a 24-hour period where we took 2 capsules, we got a bit of a buzzing sensory experience.
Pros and Cons
Here's a summary of our research so far, which is a bit mixed based on test results and feedback from our nutritionist.
Pros
Some positive comments that it may boost motivation, focus, and concentration
Might help extend fasting periods with boosted metabolism and energy levels
Can reduce physical and mental fatigue
Pill form may make daily consumption easier
Cons
Need to take different serving amounts on different days of the week
Limited weight loss results based on customer reviews
Might mess up your diet due to high dose of caffeine
Might not help reduce user appetite levels
Are There Any Side Effects?
Yes, one side effect of Hydroxycut Hardcore Elite is jitters related to its high caffeine dose. Depending on the severity of caffeine sensitivity, you might not fall asleep at night after taking this supplement, making it difficult to get the most out of its health benefits.
That's why you should start with one capsule to assess your tolerance to caffeine and other ingredients.
I would even say you should spend a whole week on just one capsule a day, as sometimes the jitters take a while to build up. If the caffeine in this weight loss supplement doesn't work for you, opt for a stim-free fat-burner instead.
Read More: Do Hydroxycut Products Have Side Effects?
Hydroxycut Hardcore Elite Reviews
We looked up Hydroxycut Hardcore Elite review comments online to see if our test results aligned with what other people are saying.
Shaun had to stop taking it after 5 days as it made him feel very jittery. He couldn't say whether it worked for cutting because he didn't take it long enough.

 

-Shaun, Ontario
Conor has used it for several months and finds the mental boost helpful for both the gym and studying for college exams.

 

- Connor, San Diego
This bodybuilder took it for a while, but the stimulants overlapped too much with some other supplements, which meant it had limited benefits for him.

 

- Angel, Austin
Matthew was impressed with the results he got and found that it helped him stay motivated during trips to the gym.

 

- Matthew, New Jersey
Related Articles:
Fat Burner Alternatives
Want to know how Hydroxycut Hardcore Elite compares to the competition?
We tested it against three popular fat-burning supplements. Let's take a look.
PhenQ
PhenQ takes a unique approach to weight loss by targeting fat-burning in multiple ways. The product promises to reduce stored fat, inhibit new fat deposits, suppress appetite, and boost energy.
As a fitness trainer, I appreciate PhenQ's holistic approach to weight loss. Many of my conversations with clients have revolved around weight loss requiring more than a one-dimensional approach.
Our test group saw impressive results after several weeks of use, supported by before-and-after measurements.
It's worth noting that PhenQ doesn't use any animal-derived ingredients, like gelatin, for its capsules as Hydroxycut Hardcore Elite does, making it suitable for plant-based diets.
While PhenQ may be more expensive, you will get a 60-day money-back guarantee that you don't get with Hydroxycut Hardcore Elite, making it a risk-free purchase.
Vintage Burn
Old School Labs manufactures Vintage Burn, a fat burner targeting athletes that can help them shed weight without sacrificing hard-earned muscle mass.
Vintage Burn contains a blend of thermogenic ingredients, including green tea leaf extract, green coffee beans, and caffeine, to help burn fat and boost energy levels.
While it may sound like a lot of stimulant ingredients, users in our test group didn't experience jitters with Vintage Burn as they did with Hydroxycut Hardcore Elite.
I appreciated the transparent labels on Vintage Burn and Hydroxycut Hardcore Elite, offering exact ingredient amounts, so I know what I am ingesting. With just two pills daily, Vintage Burn was easy to work into my daily routines.
While Vintage Burn is more expensive than Hydroxycut Hardcore Elite, its official website offers a 20% discount for the subscription service and free shipping with minimum purchases.
Transparent Labs Fat Burner
Transparent Labs brings you a thermogenic fat burner to boost metabolism, promoting fat burning with increased energy levels,
Our test group reported improved focus and reduced cravings, leaving them energized and motivated. Comparing before and after body measurements showed moderate improvement.
Transparent Labs Fat Burner contains less caffeine anhydrous at 180 mg versus Hyrdoxycut Hardcore Elite's 270 mg. I like that Transparent Labs offers a stim-free fat burner for those who don't tolerate stimulants well.
Both fat burners have a two-capsule daily dose taken in the morning to avoid sleep disturbances from the stimulant ingredients.
Transparent Labs is more expensive than Hydroxycut Hardcore Elite, but like many other fat burners, ordering from the official website will get you a discount for subscribing to auto-delivery.
FAQs
How Fast Does Hydroxycut Hardcore Elite Work?
Hydroxycut Hardcore Elite works within eight weeks of taking it. On day one, you might notice that the product gives a mental boost from caffeine, but the difference it makes in your weight will take longer to see.
How Does Hydroxycut Hardcore Elite Make You Feel?
Hydroxycut Hardcore Elite may make you feel a bit jittery if you are sensitive to stimulants. It contains as much caffeine as two cups of coffee. On some days, the recommended dosage is more than one capsule.
What Are Key Ingredients of Hydroxycut Hardcore Elite?
The key ingredients of Hydroxycut Hardcore Elite are caffeine anhydrous, green coffee extract, Coleus extract, L-Theanine, cocoa extract, and Yohimbe extract.
Our Verdict: Should You Buy Hydroxycut Hardcore Elite?
After talking to several people who spent at least two months taking Hydroxycut, we learned that the product didn't make much of a difference.
You might get a good mental boost from the caffeine, but it didn't seem the most effective for losing weight and burning fat.
The product that still gives our team and clients the best results for weight management and cutting is PhenQ.
With a lower volume of stimulants per serving, it should also be more suitable for taking later in the day.
Order yours today and check out our full test results.
We Recommend This Instead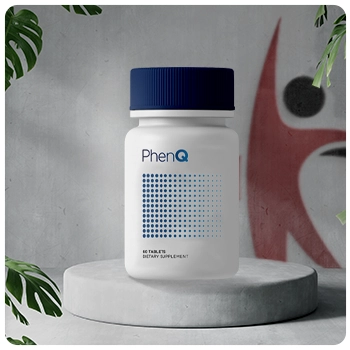 Click For Best Price

Pros
Suppress your appetite
Block body fat production to stop weight gain
Improve your mood and energy levels
High quality formula
Get the BEST PRICE until the end of December
Cons
Can be only purchased through the company website
Was this article helpful?