There has been a lot of heated debate over Hydroxycut in the past couple of years, and it keeps popping up in forums and Facebook groups.
The problem that our clients and readers had is that there really didn't seem to be extensive research and test results.
And because the fat burner market is full of dodgy snake oil, we thought it was time to team up with a nutritionist and do some more research.
Here's our full Hydroxycut Hardcore Elite review.
What Is Hydroxycut Hardcore Elite?
Hydroxycut Hardcore Elite is a powerful fat burner that claims to use a natural ingredient formula for maximum weight loss.
Now, it doesn't claim to be a magic pill that allows you to binge-watch TV shows all day while eating piles of junk food.
The company does highlight that it should be combined with a low-calorie diet.
Another helpful benefit for bodybuilders in a cutting phase is the claimed energy release. Apparently, this should support more mental focus and better endurance in the gym.
This all sounds great, but only someone with a background in food science can speak to the effectiveness of the ingredients.
Let's take a look at what our nutritionist had to say.
Other Fat Burners We've Reviewed:
Ingredients
This is what the company has listed as active ingredients.
1. Caffeine Anhydrous (270 mg)
Caffeine anhydrous is a known stimulant and thermogenic [1]. It may slightly raise your body temperature and burns some fat in the process.
Also read: Genius Burn Review
2. Green Coffee Bean Extract (200 mg)
Green coffee extract contains an antioxidant called polyphenol. There is some anecdotal evidence that this may stop your body from storing more fat [2].
3. Coleus Forskohlii (100 mg)
Nutritionists are divided on the effectiveness of this ingredient [3]. But without a proven link to help with losing weight, it might be a wasted ingredient.
Similar product: Cellucor SuperHD Review
4. L-Theanine (100 mg)
There have been several positive studies supporting the use of this amino acid for weight management. But they all used significantly higher doses, which may make this one less effective.
"L-Theanine is an amino acid that is not common in the diet and not one of the essential amino acids or even one of the common nonessential amino acids. It is found in meaningful amounts in tea, but otherwise, supplementation is the main source of it."

- Kamal Patel, Co-founder of Examine.com.
5. Cocoa Extract (100 mg)
No, you won't get a chocolate treat, but the extract has been linked to boosting metabolic rates. Again, the problem is the low dosage that this product contains, which might not be enough to make a difference.
6. Yohimbe Extract (56.2 mg)
Hydroxycut also makes a big deal about this ingredient. There is some evidence that it may help release fat cells quicker, and we have noticed this in several weight supplements.
How Does Hydroxycut Hardcore Elite Work?
Hydroxycut Hardcore Elite claims to work by raising your body's ability to release more energy stored in body fat.
The main process is thermogenic, which burns off fat to trigger a slight increase in body temperature.
By taking this product for at least 60 days, you should start noticing your weight loss speeding up.
While we did see quite a few positive comments that the product improved energy levels, our nutritionist suggested a lot of this might be down to the stimulants.
This would explain why in a 24 hour period where we took 2 capsules, we got a bit of a buzzing sensory experience.
Pros and Cons
Here's a summary of our research so far, which is a bit mixed based on test results and feedback from our nutritionist.
Pros
Some positive comments that it may boost focus on motivation
It might help you extend fasting periods with boosted energy
Comes as pills, which may make taking them throughout the day easier
Cons
You need to take different serving amounts on different days of the week
Limited weight loss results based on customer reviews
Might mess up your diet due to high dose of caffeine
Are There Any Side Effects?
One of the main side effects we noticed with Hydroxycut Hardcore Elite is related to the caffeine. It has quite a high dose, and you might end up feeling a bit jittery like Tweek from South Park.
That's why you should start to take 1 capsule to assess your tolerance to the caffeine and other ingredients.
I would even say that you should spend a whole week on just one capsule a day, as sometimes the jitters take a while to build up or perhaps opt for a stim-free fat-burner instead.
Other fat burners you might want to check out: Ab Cuts CLA Belly Fat Formula Review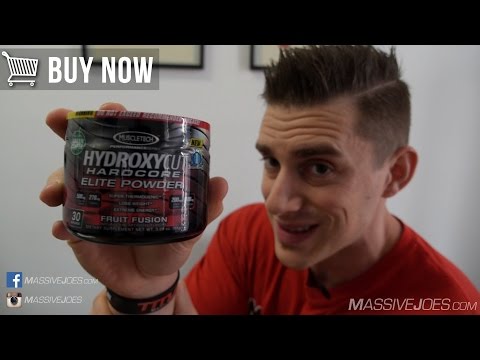 Hydroxycut Hardcore Elite Reviews
We looked up Hydroxycut Hardcore Elite review comments online to see if our test results aligned with what other people are saying.
Shaun had to stop taking it after 5 days as it made him feel very jittery. He couldn't say whether it worked for cutting because he didn't take it long enough.

-Shaun, Ontario
Conor has used it for several months and finds the mental boost helpful for both the gym and studying for college exams.

- Connor, San Diego
This bodybuilder took it for a while, but the stimulants overlapped too much with some other supplements, which meant it had limited benefits for him.

- Angel, Austin
Matthew was impressed with the results he got and found that it helped him stay motivated during trips to the gym.

- Matthew, New Jersey
Other fat burners we've reviewed: Hydroxycut Max For Women Review
FAQs
How fast does Hydroxycut Hardcore Elite work?
Hydroxycut Hardcore Elite claims to work within 8 weeks of taking it. On day 1, you might notice that the product gives a mental boost from caffeine, but the difference on the weighing scales will take quite a while longer.
How does Hydroxycut Hardcore Elite make you feel?
Hydroxycut Hardcore Elite may make you feel a bit jittery if you are sensitive to stimulants. It contains as much caffeine as 2 cups of coffee, and on some days, the recommended dosage is more than one capsule.
Should You Buy Hydroxycut Hardcore Elite?
We talked to several people who spent at least 2 months taking it, and they didn't think that it made enough of a difference.
You might get a good mental boost from the caffeine, but it doesn't seem to be the most effective for burning fat.
The product that still gives our team and clients the best results for weight management and cutting is PhenQ.
With a lower volume of stimulants per serving, it should also be more suitable for taking later in the day.
Order yours today and check out our full test results.
PhenQ
Our #1 Recommendation
Suppress your appetite
Block body fat production to stop weight gain
Improve your mood and energy levels
High quality formula
Get the BEST PRICE until the end of July
Click For Best Price

HAVE QUESTIONS OR COMMENTS?
Join the discussion here on Facebook.
About the author
You may also like