As a personal fitness coach, I deal with many different supplement companies and products. And one of the dietary supplements I generally recommend for my clients going through a cutting phase is a good quality fat burner.
Unfortunately, many companies spend more on marketing than on a solid fat-burning formula. And when some of my clients started using a hyped-up Steel Supplements product, I had to look into it and analyze the available data.
I got together with my dietitian and seven clients to research and test this fat burner to see if it actually works.
Here's what I found out for this Shredded AF review.
What Is Shredded AF?
Shredded AF is a fat burner created by Steel Supplements. It claims to work as a thermogenic fat burner, which means that it triggers a natural metabolic process that burns off excess white and brown fat [1].
The weight loss supplement has a very long list of ingredients which include Vitamin B6 5mg, Vitamin B9 400mcg, Vitamin B12 500mcg, Beta Phenylethylamine 250mg, N-Acetyl-L-Tyrosine 150mg, N-Penethyl Dimethylamine 150mg, and Dynamine 75mg.
Some of them have been reliably shown to increase your metabolic rate.
For example, caffeine can trigger thermogenesis and help you burn off excess calories to help you lose weight more consistently [2].
However, other ingredients like N-acetyl-L-tyrosine seem more suitable for a pre-workout supplement [3].
Other recommended fat burners:
Our Rating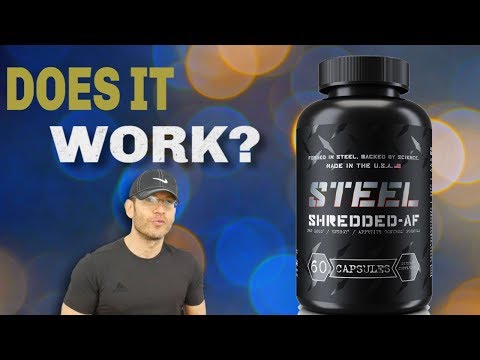 Benefits And Highlights

I got my dietitian to carefully analyze the Shredded AF ingredients, and we compared her research to the actual test results.
Here's what we found.
Fat Burner Effect
To test this out, I had a few clients go through a cutting or weight loss phase for a couple of weeks without any supplements.
We then went through another two weeks with Shredded AF and compared the impact on BMI measured accurately with body fat calipers.
What we found is that Shredded AF does provide fat burning, but it seems to be a bit limited.
We didn't see the off-the-charts effect promised in the marketing materials.
Appetite Suppression
Appetite control is an important part of weight loss, and the only ingredient with enough reliable evidence that it can impact your appetite is N-methyltyramine.
One study showed that it's linked to a slower breakdown of fat molecules in the stomach [4].
During our testing, we didn't find that it helped much with extended fasting periods, especially in the morning if you plan to exercise before breakfast.
Energy Boosting
Overall, we found that there was a decent boost in physical energy and mental clarity. It's something you would expect more from pre-workout supplements.
Our conclusion was that this is mainly down to the very strong dose of caffeine anhydrous. It contains 300 mg, which is about the same as 3-4 cups of coffee, and that can make you jittery [5].
You'll also want to avoid taking it later in the day as it could increase energy levels at a time when you're trying to wind down.
Pros
Helps with some extra fat loss through thermogenesis
Shredded AF comes in convenient and easy to swallow capsules
Contains ingredients that make it suitable as a pre-workout
Cons
It has way too much caffeine to be suitable for taking later in the day
Does It Have Downsides?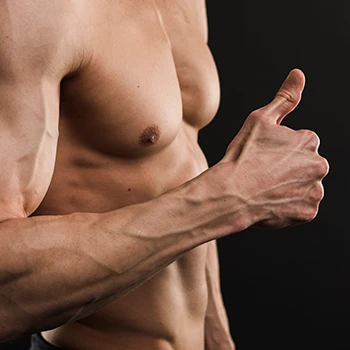 Steel Shredded AF claims that it's perfectly safe to take and that there are no side effects. Overall, the ingredients are generally classed as safe.
But our test group did mention a few side effects.
First of all, two of our clients reported that they felt a bit nauseated after taking it. This didn't last long and only happened with the full dose of two capsules.
Also, one of our clients reported slightly higher blood pressure, which could be down to the high caffeine contact that Steel Supplements has chosen to add [6].
"Caffeine may cause a short, but dramatic increase in your blood pressure, even if you don't have high blood pressure. It's unclear what causes this spike in blood pressure. The blood pressure response to caffeine differs from person to person."

- Francisco Lopez-Jimenez, M.D., MayoClinic.org
How Does It Compare To Other Products?
As part of this Steel Shredded AF review, we also had a look at our testing data from other fat burners to see how it compares.
I've picked three fat burners to show some important differences.
One of the most effective weight loss supplements that we have tested in the past couple of years is PhenQ. It has a much simpler formula with less caffeine to avoid jitters.
But one thing that seems to work very well in the formula is the added chromium. Studies have shown that this has an impact on the amount of food intake [7]. And eating less is a key part of losing some excess fat.
The second product that we advise clients to take is Instant Knockout. While it does have a similar amount of caffeine as Shredded AF, it also has other components and suppresses hunger cravings.
Many bodybuilding clients of mine have significantly reduced their cutting phases with this supplement.
And for women, we've seen the best results with Lean Bean. It's a caffeine-free option and the combination of glucomannan and choline, which have been shown to have an impact on weight loss and appetite [8].
Who Should Take Steel Shredded AF?
Athletes who are looking for moderate weight loss and decent mental energy boost might consider taking Steel Shredded AF.
The reason I say modest is that if you have an aggressive plan to lose fat and gain muscle mass, then Shredded AF isn't going to deliver what you might expect.
Who Shouldn't Take Steel Shredded AF?
Anybody with a serious medical condition shouldn't take Steel Shredded AF.
It contains strong stimulants that can impact your heart rate, and if you have underlying health issues, then you need to get professional medical advice from your healthcare provider.
I would also advise that anybody who is sensitive to caffeine and tends to get jittery should also avoid Shredded AF.
The high dose of caffeine is not something you should underestimate.
And if you need to boost your thermogenic fat-burning as much as possible, then I wouldn't suggest using Shredded AF either, as it's not the most effective supplement.
Our Rating
Other User Reviews
We also pulled some Shredded AF reviews from the Steel Supplements website.
"It's okay Great caffeine boost, still felt hungry while using it."

- Kelly F
"I tried this product for a month back in December, & I only lost bout 5lbs in 30days. The first two weeks I stocked with taking only 1 pill a day during my lunch, & didn't take any other supplements/pre workouts that was caffeinated. After the first 2 weeks I was taking 2 pills a day during lunch, yet I still didn't get a lot of "Energy" or "Clarity" during the day. That is with including going to the gym 3-4 times a week and eating healthier.  I was hoping after a month I would've lost at least 10lbs but didn't."

- Antonio B
"Product aint all hyped up to be like people are saying. Its not a magic pill but you do feel like you are burning fat. I take it with a empty stomach. I feel like if you took it with food, possible chance you can throw up. Make sure you have plenty of fluids near by"

- Mark M
FAQs
Can You Take Steel Shredded AF Every Day?
The Steel Shredded AF recommendation is not to take it every day. Ideally, you should take one or two days off each week so that you get a break from the stimulants and don't let your body get too used to the ingredients.
Does Steel Shredded AF Contain Stimulants?
Yes, Steel Shredded AF contains stimulants in the form of caffeine anhydrous. It has a very strong dose, and if you're a coffee drinker or tend to get jittery, then you might need to take a lower dose.
Should You Buy This Steel Supplements Product?
No, I wouldn't recommend that you buy Shredded AF if you want to gain control over your body fat. Our research and testing results have shown that it doesn't provide consistent results compared to other fat burners.
The most effective weight loss supplement that we advise our clients to take is PhenQ.
It has a great formula with all ingredients backed by reliable scientific studies. And our testing has shown that you can shed a lot more fat with about the same amount of effort.
We Recommend This Instead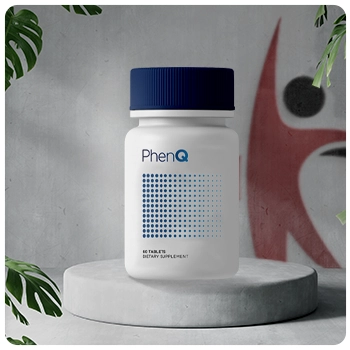 Click For Best Price

Pros
Suppresses your appetite
Blocks body fat production to stop weight gain
Improves your mood and energy levels
High-quality, all-natural formula
Get the BEST PRICE until the end of September
Cons
Can be only purchased through the company website
Was this article helpful?