39
Products
Considered
187
Hours
of Research
43
Reviews
Examined
11
Experts
Interviewed

As a certified fitness trainer, I've seen most clients use different weightlifting belts. Some use them for fewer periods and then change due to the low quality.
To recommend the best weightlifting belts, I teamed up with a few colleagues, tested over 40 belts, and came up with a list of the best ten that stood out.
Below, we will closely examine the best weightlifting belts on the market today and provide some guidance that will help you get the right weightlifting belt for you.
Editor's Choice
Rogue
Click For Best Price
#2nd Best Choice
Dark Iron Fitness
Check Current Price
#3rd Best Choice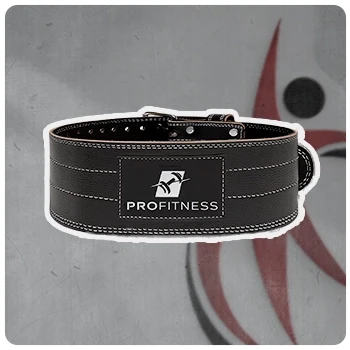 ProFitness
Check Current Price
Our Top Weightlifting Belts (September 2023)
1 - Rogue (Editor's Choice)
After putting dozens of weightlifting belts under the microscope, our testers settled on this as the best overall weightlifting belt out there.
And here's why.
First of all, the Rogue USA Nylon Lifting Belt provided lots of support not only for the back but for the often-overlooked abdomen.
Many also felt it was either the most comfortable belt or among the most comfortable belts they tested.
In addition, while most of our testers prefer traditional buckles to Velcro, the length and quality of the Velcro strap here alleviated many of their concerns about such closures.
Pros
5-inch panel tapers to 4 inches at the front.
Best-in-class Velcro closure provides a custom-style fit.
Stainless steel loop has plenty of strength
Manufactured with pride in the USA.
Cons
The branding is a bit over the top.
And finally, materials and stitching were first-rate throughout and reinforced the feelings of comfort and stability as the reps added up. And, as seven-time Mr. Olympia Arnold Schwarzenegger says "The last three or four reps is what makes the muscle grow."
If that muscle growth is what you're after, then the Rogue USA belt is simply too good to ignore.
2 - Dark Iron Fitness
According to four-time World's Strongest Man champion Jon Pall Sigmarsson, "There is no reason to be alive if you can't do the deadlift!"
Deadlift is one of the oldest known forms of weightlifting but many believe it also puts the greatest stress on the back and abdomen.
The Dark Iron Fitness belt is a solid leather weightlifting belt that holds you fast when stresses are at their worst.
It's 4 inches wide all the way around and features a robust double-prong metal buckle.
The belt is fashioned from buffalo hide leather which impressed our test group with its comfortable, supple feel.
Pros
Fashioned from high-quality buffalo hide.
The 4-inch width provides optimal lumbar support.
Feels broken-in almost from the first lift.
Cons
It's not going to win any fashion awards.
While we put this belt through its paces in a variety of lifts there was no doubt that it shined particularly bright during the deadlifts. It provided an elevated sense of confidence and safety that helped put minds at ease, which is crucial when settling in over the bar.
This belt also holds your mid-section firmly every time so you can get on with setting new personal bests.
3 - ProFitness Workout Belt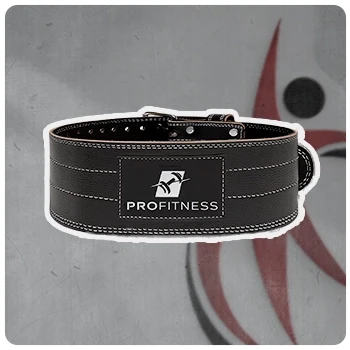 Because CrossFit makes unique demands on a person and their equipment you need a comfortable, versatile, reliable weightlifting belt to get the most from your time in the box.
The ProFitness Genuine Leather Belt is marketed as a "workout" belt, not a "weightlifting" belt.
That should provide some indication that the designers here were focusing on versatility.
Pros
100-percent genuine cowhide leather.
Double-prong steel buckle provides a rock-solid hold.
The width provides plenty of support without impeding movement.
Cons
Quality of riveting can sometimes be an issue.
Everyone in our test group agreed the belt provided lots of lumbar and abdominal support and that little or no adjustment was needed when moving from lift to lift.
"You don't train to picture yourself second place on the podium."

- Mat Fraser, Two-time CrossFit Champion
At the same time, the belt in no way impeded movement which is really important in CrossFit.
4 - Steel Sweat
The Steel Sweat Weightlifting Belt is a big belt for big guys that wraps your midsection with authority.
It's 4 inches wide all the way around and fashioned from premium full-grain cowhide. The single-prong buckle is made of stainless steel and the belt has a soft, comfortable suede lining.
The job of the belt is to supply abdominal and lumbar support.
Pros
High quality full-grain genuine leather.
Comfortable after a short break-in period.
High durability single-prong roller buckle.
Reasonable price point.
Cons
Lack of any color options.
May have overdone it a bit with the logo.
Lumbar support is particularly important because without it, you could easily wind up with chronic back pain, which could put an end to your weightlifting career in short order.
Our testers reported that wearing the Steel Sweat belt felt like having an extra layer of muscle enveloping their midsection.
It allowed them to pursue deadlifts and squats with more aggression and confidence and several reported new personal bests when wearing this belt.
5 - Fire Team Fit
The Fire Team Fit Weightlifting Belt is one of the most comfortable we tried.
The contour shape allows it to accommodate a range of moves without ever imposing itself, and for this reason, it captured our Best Belt for Olympic Lifting designation.
Fire Team Fit takes its lead from soft fabric belts of yesteryear. And while this isn't exactly a "fabric" belt, it is incredibly pliable and fits more like a compression wrap than a weightlifting belt.
Pros
Very light and extremely comfortable.
Won't impede your movements no matter how aggressive.
Velcro and stainless steel closure mechanism.
Fortified support in the lower back area.
Cons
Tends to run a bit small.
Not as durable as a padded leather belt.
The lumbar support is superb and the abdominal support is firm without binding. The belt is also very light by weight belt standards so at times you're going to forget you have it on.
Whether you're banging out deadlifts, clean and jerks, back squats or snatches, the Fire Team Fit Weightlifting belt is a smarter choice.
6 - Harbinger 4-Inch Nylon Belt
For the novice lifter or one on a budget, you really won't find a better value than the Harbinger 4-Inch Nylon Weightlifting Belt.
While it doesn't have the cache of a top-of-the-line leather weightlifting belt, who really cares as long as it does what it's supposed to do?
And the Harbinger 4-Inch does that. Our testers noted that it provides solid, dependable lumbar and abdominal support, and a better-than-average hold for a Velcro/roller buckle lever system.
Pros
4 inches wide with a 3-inch support band.
Stainless steel roller buckle for simple adjustments.
Only weighs about a pound.
Cons
Lining can be a little abrasive when you sweat.
Also, the high-quality ripstop nylon fabrication means it will be around for a while. It's not going to set the weightlifting fashion world on fire but it doesn't have to. It just has to save your back and abs from injury.
7 - RitFit
Core stabilization is crucial especially during weight training, and our testers felt that the RitFit Weightlifting Belt did the best job of retaining stability as they moved from lift to lift.
There was very little adjustment needed and never a sense that the belt wasn't up to the task.
At 6 inches wide, this is one of the widest belts around. That, and the ergonomic design that's contoured to your physique helps to explain how it goes about providing that remarkable stability.
Pros
Soft, comfortable tricot lining.
6 inches at its widest for full midsection coverage.
Reduces spinal flexion and provides outstanding abdominal support.
Great for all of your weightlifting exercises.
Cons
We weren't thrilled with the Velcro closure.
Weight training is more than just deadlifts. In order to achieve all-around results, you need to mix things up and it's a pain if you have to change belts or keep adjusting to achieve midsection stability. With the RitFit belt, you won't have to.
8 - Iron Bull Strength
The Iron Bull is the undisputed king of no-nonsense weightlifting belts.
It's 4 inches wide all the way around with bold double stitching and a strong stainless steel double prong buckle. And that's about it.
Members of our test group were impressed with how the belt enhanced their stability and overall performance during squats, bench presses and deadlifts, which earned this our Top Belt for Powerlifting designation.
Pros
Fabricated from a single 10 mm thick piece of suede.
Stainless steel double-prong buckle and rock-solid rivets.
10 different adjustments.
Cons
Sizing can sometimes be an issue.
At first glance, this looks like it would be more punishment than pleasure but you shouldn't judge this particular book by its cover.
It's a single piece of high-quality, tough but supple suede that actually feels great when you put it on.
9 - Master of Muscle
The Master of Muscle Weightlifting Belt nearly went home with our Best Belt for the Money designation but wound up taking the cake as our Best Belt for Adjustability.
While "adjustability" might seem like a contrived category, tell that to weightlifters who need to adjust on the fly during competitions and CrossFitters who need to keep things moving in the box.
With the Master of Muscle Weightlifting Belt, you just pull or release the Velcro strap to achieve your desired tension and that's it. You're ready to rumble.
Pros
Spares your sides from nasty abrasions.
Stabilizes all aspects of your core front and back.
Remarkably affordable for such a versatile belt.
A solid majority of our testers commented on how easily the belt adjusted and how firmly it reset.
10 - Harbinger Weightlifting Belt
This is the second entry from Harbinger on our list and this one - like its predecessor, the 4-inch nylon belt - is a well-made, highly functional and extremely affordable weightlifting belt that will satisfy novices, bargain hunters and experienced lifters who don't need frills.
Our testers appreciated the 5-inch width, the light weight of the belt, the foam core that allows the belt to give a bit during squats.
The simple but effective Velcro and stainless steel roller buckle that makes adjustments fast and convenient.
Pros
The foam core and tricot lining provide above-average comfort.
The 5-inch width and firm Velcro closure provide lumbar and abdominal support.
High-quality stitching throughout.
Cons
Customer service of Harbinger isn't that great.
One minor sticking point is that while the tricot lining is nice and soft, that effect is somewhat undermined by the rough stitching along the top and bottom that can be pretty abrasive.
Types of Lifting Belts
In general, weightlifting belts tend to fit into the following categories.
1. The Cardio Belt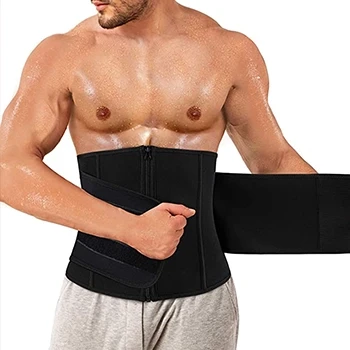 This type of belt is typically used by those looking to shed pounds by way of weightlifting.
On the plus side, this type of belt is very light and flexible and helps lifters achieve and maintain proper posture.
On the downside, they're not going to provide the lumbar support extreme lifters require.
The cardio belt user is one who:
Often practices a wide range of free weight exercises and sports.
Is looking to gain not only muscle but also cardio benefits.
Is often looking to improve their lifting posture.
You usually won't find someone wearing this type of belt to perform deadlifts.
2. The Supportive Belt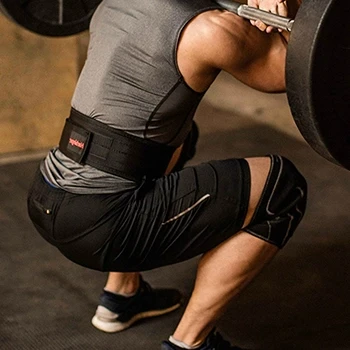 Although weight training has been shown to be beneficial in treating back pain, those who come to the sport with a history of back injury will want to consider wearing a supportive belt.
These belts have a lot in common with heavy leather belts in that they're thick and they often have a core of memory foam that contours to your body, which mimics the way leather conforms to your body over time.
On the upside, they usually have a Velcro closure that allows for a more precise fit. On the downside, that Velcro closure means these belts aren't great for hardcore lifting.
People who could benefit from this type of belt are those who:
Have back issues but wish to explore weightlifting.
Have a difficult time maintaining proper form.
Participate in strength training using free weights.
3. The Strength Belt
These are belts for people engaged in the upper echelons of weight training.
Strength belts are almost always leather or padded leather belts with single or double-prong stainless steel closures.
As the leather breaks in, the belt conforms to your body's contours which makes for outstanding support both in the lumbar region and the abdomen.
On the upside, these leather contoured belts will be there for you as you push the performance envelope. On the downside, they may be too cumbersome for CrossFit or other, more active types of workout.
People who could benefit from this type of belt are:
Those with well-established form.
Those with an eye on competitive lifting.
Those who regularly engage in serious powerlifting.
What to Look for in a Weightlifting Belt?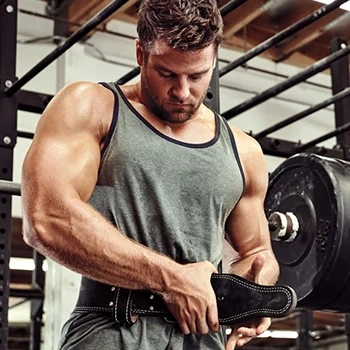 Look for a weightlifting belt that gives you confidence and fits nicely on your body.
If you choose a leather weightlifting belt, remember that it will need time to be broken in. During this time, you may endure chafing and bruising.
You must also pay attention to the following:
1. Width
In the most general sense, the wider the belt, the better the lumbar support and overall stability.
Six inches is about as wide as any weightlifting belt has any business being because it runs the risk of crimping the lower ribs and creating unintended problems. Most of the best weightlifting belts will be around 4 or 5 inches wide.
Most of the best weightlifting belts will be around 4 or 5 inches wide.
2. Thickness
Thickness will also be a function of what you intend to use the belt for. If you want it for CrossFit, a thinner, cardio-style belt should do fine.
If, however, you want a belt for powerlifting, you'll want one that's 12 or 13 mm thick (approximately 1/2 inch) and is made of genuine leather with a single or double prong buckle.
3. Adjustability
Different lifters have different reasons for wanting different degrees of adjustability. For those with back or posture issues, it's often important that their belt offers precise adjustability. And for that, Velcro is the only way.
Others have their lifting routine and posture down. To them, the belt is essentially a backup, not a primary component of the weightlifting process. So single or double-prong buckles will do the trick.
4. Material
Weightlifting belts are made from either nylon or leather. While there's plenty of room for variation within those categories, they are the two most common materials used for this type of belt.
5. Leather
Leather weightlifting belts normally have a more conical shape in that the width of the belt is more or less the same all the way around.
Leather is normally used by experienced lifters for powerlifting because it helps keep everything properly aligned when stresses are at their worst. It's not usually as comfortable as nylon but you're not buying it because you want to be comfy (more on that in a moment).
6. Nylon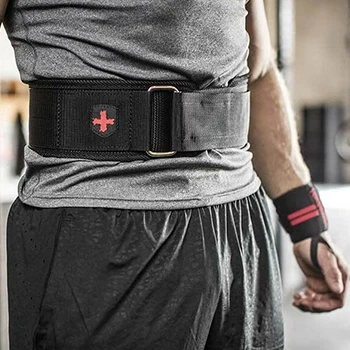 Nylon belts are lightweight, affordable and great for those into recreational lifting.
They're more comfortable right out of the box and, if they have a Velcro closure, adjust faster and more precisely than leather belts.
You won't see many powerlifters wearing nylon belts just because their material strength isn't always sufficient to buttress form when pushing the performance envelope [1].
7. Comfort
When it comes to weightlifting belts, "comfort" is a relative term.
You can't reasonably expect to wrap a 4 to 6-inch wide strap of nylon or leather around your midsection and expect it to be as comfortable as the belt you use to hold up your suit pants.
Leather belts, in particular, start off very stiff and might even produce some bruising in the waist at the beginning.
So if comfort is one of your prime concerns, you'll want to consider a nylon belt to start with. Even then, however, temper your comfort expectations.
FAQs
What Are the Benefits of Weightlifting Belts?
The benefits of weightlifting belts are increased stability, lumbar and abdominal support, and assistance with maintaining proper form throughout the lift.
In addition, the best weightlifting belts reduce stress on the lower back and also help to minimize vertebral compression. In turn, all these benefits help the lifter go about their business in a safe and productive manner.
When Should You Use a Weightlifting Belt?
You should use a weightlifting belt if you are serious about getting into strength training. Once you've decided to get serious yourself, the type of belt you get will depend on which kind of lifting you want to focus on.
The benefits of lifting are well established, so it's no wonder more people are taking up weight training.
If you plan to use dumbbells, do bench presses, and throw in the occasional power lift to add a bit of an edge to your routine, then a nylon belt should be fine.
However, if your goal is to engage in competitive weightlifting ultimately, you might start with a nylon belt, but you'll eventually want to lever up to leather.
Our #1 Weightlifting Belt
The best weightlifting belts are recognized for their ability to enhance safety and performance in the weight room. Not all such belts are created equal, however.
If we had to recommend only one belt for any experience level, it would be the Rogue USA Nylon Lifting Belt.
The Rogue Nylon Belt is comfortable, versatile, durable and affordable. It rides the line between a first-class leather belt and a first-class nylon belt and is going to help you improve your performance regardless of the type of weight-related exercises you engage in.
Beautifully made and convenient, it came near the top of all the categories we tested for, which made it our best weightlifting belt.
Our #1 Weightlifting Belt
Click For Best Price

Pros
5-inch panel tapers to 4 inches at the front.
Best-in-class Velcro closure provides a custom-style fit.
Stainless steel loop has plenty of strength
Manufactured with pride in the USA.
Get the BEST PRICE until the end of September
Cons
The branding is a bit over the top.
Was this article helpful?