If you've worked in the fitness industry as long as I have, you'd have noticed that fat burners are a dime-a-dozen. And sadly, most of them tend to be lemons.
So, when I came across Trimetone, I decided to check it out and see if it was worth the hype.
As a certified personal trainer with growing female clients, I have spent months researching and analyzing Trimtone's if Trimetone could help my clients burn more fat and lose weight faster.
In this review, I'll share the results of my research and analysis. Let's begin.
Total Shape's Score : 4.8/5
Uses all-natural, clinically proven ingredients

No chemicals or fillers

Contains a heavy dose of stimulants

Not suitable for vegans and vegetarians

Comes with a 100-day money-back guarantee

Provides 24/7 customer support
Glucomannan

Caffeine Anhydrous

Green Coffee Bean Extract

Green Tea Extract

Grains of Paradise
Stimulates thermogenesis

Assists in calorie burning and fat loss

Boosts up metabolism and energy levels

Reduces appetite
What Is Trimtone?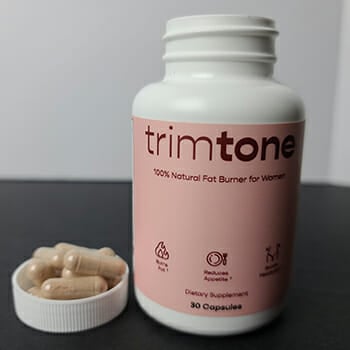 Trimtone is a popular all-natural fat burner for women that promises to aid weight loss by triggering thermogenesis and boosting metabolism. It may also help burn stubborn fat and convert it into energy.
According to the brand, this fat burner helps reduce your appetite, preventing you from gaining extra calories from snacking.
According to consumer reports on Trimetone, some women have lost significant weight after taking it for some months, allowing them to dress more revealingly, feel better about themselves, and approach life more confidently.*
Let me state the obvious here: you won't get your desired results overnight, especially if you don't combine this weight-loss supplement with moderate workouts and a healthy meal plan.
When trying the product ourselves, I team up with our in-house dietician to unpack the science behind Trimetone's ingredients.
Trimtone Ingredients
Here's a list of ingredients that comprise Trimtone. We'll cover how each works in the fat-burning process.
1. Glucomannan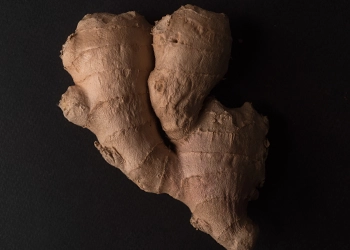 Glucomannan is a dietary fiber, which, according to a review on Obesity Medicine, may aid weight loss and appetite suppression, especially in obese and overweight adults [1].
As an appetite suppressant, glucomannan expands in your stomach as it comes into contact with water to make you feel full longer and prevent overeating.
It also helps control your blood pressure, glucose, and cholesterol levels, which can prevent weight gain [2].
During their first week of using Trimtone, clients felt fuller after taking it every day, which helped reduce late-night cravings and snacking in between meals.*
2. Caffeine Anhydrous
Caffeine is a widely used thermogenic ingredient.
Many supplements use caffeine owing to its ability to increase resting metabolism and burn calories and energy, leading to fat loss and weight reduction.
Research from the National Library of Medicine and PubMed shows that caffeine promotes thermogenesis (heat product and calorie burn) and the breakdown of fat called lipolysis, which helps you lose weight [3] [4].
Our dietician explained that the energy burst clients experienced after taking Trimetone could be attributed to the caffeine.
With a modest 120 mg of caffeine, I could take Trimtone with my cup of morning coffee, get an energy boost in my workouts, and not experience any jitters afterward.
However, if you're caffeine-sensitive, you might want to avoid taking Trimtone with coffee or any caffeine-dense product.
3. Green Coffee Extract
Raw and unroasted green coffee beans are rich in antioxidants like chlorogenic acid, which is believed to reduce fat absorption, lower insulin levels, and improve metabolism [5].
The caffeine in green coffee extract triggers thermogenesis, revving up your metabolism to enhance the fat-burning process in your body to support weight loss.
Also, green coffee bean extract provides energy and helps improve your physical performance, fight fatigue, and reduce inflammation [6].
With 100 mg of green coffee bean extract, Trimtone provides a gentle boost of natural energy throughout the day.
According to what our dietician found, combining Trimtone (with its 400 mg of green coffee bean) with energy-restricted diets could help you lose weight faster [7].
4. Green Tea Extract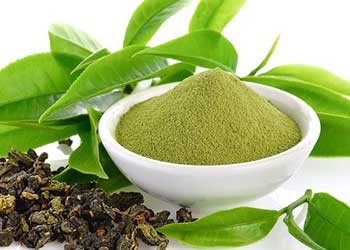 Brimming with antioxidants, particularly catechins, green tea extract plays a vital role in reducing the absorption of carbs and storing them as fats, directly promoting weight loss.
Thanks to its caffeine content, green tea extract also speeds up your metabolism and helps stabilize the hormones responsible for breaking down fats [8].
Some thermogenic weight loss supplements contain green coffee instead of green tea extract owing to its less aggressive effects.
Regardless, our findings show that it's the dietary supplements' caffeine content that makes them effective in helping the body burn more calories and lose body fat.
5. Grains of Paradise
Also known as Aframomum Melegueta, Grains of Paradise is a potent thermogenic herb from the ginger family that comes with a host of benefits [9].
This ingredient can help:
Activate brown adipose tissue (BAT) - types of body fat cells that need to be destroyed
Increase energy expenditure
Burn more calories and
Reduce visceral body fat
Our investigation revealed a 2014 study that showed women who took 30 mg of grains of paradise extract daily for a month lost a significant amount of abdominal fat [10].
My clients experienced a gradual weight reduction during the first month of trying Trimtone, which our dietician attributed to the 40 mg grains of paradise in the supplement.*
Benefits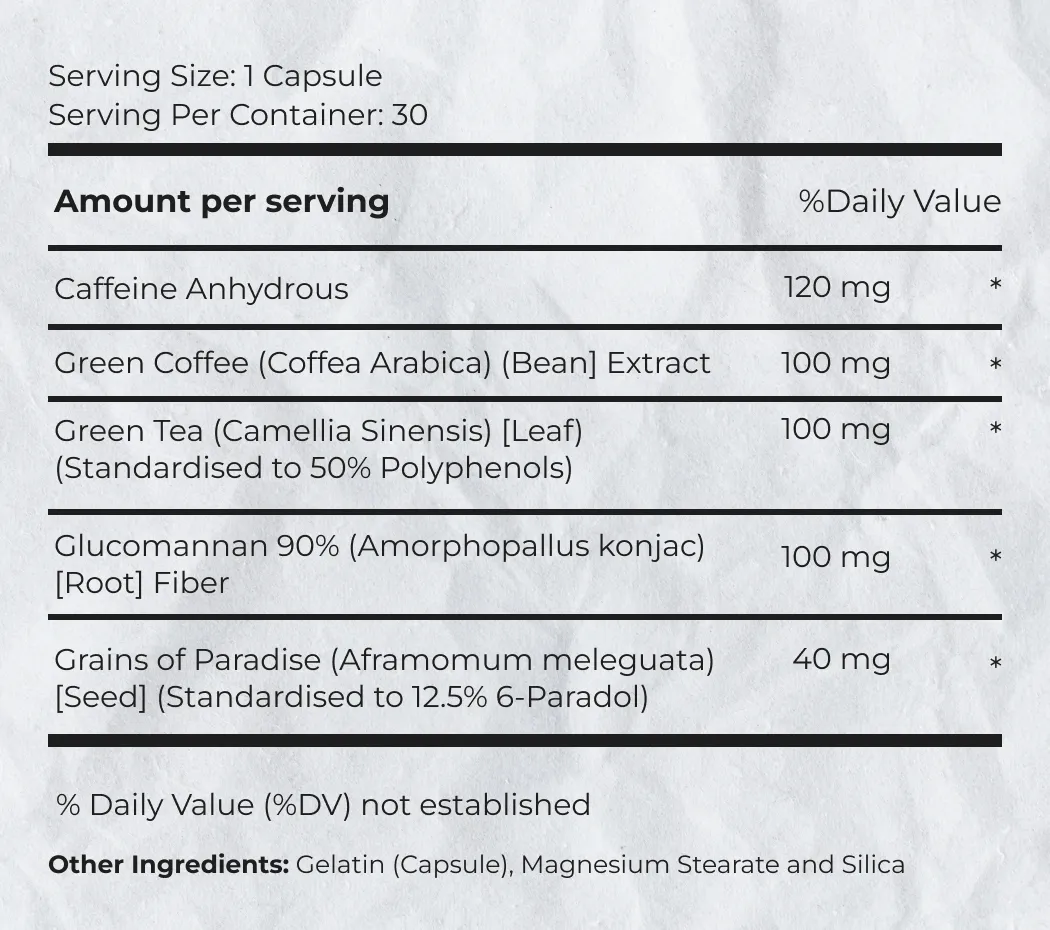 Trimtone's all-natural ingredients may help you lose weight safely, making it one of the most preferred weight loss supplements for women today.
According to the brand, Trimtone claims to:
Stimulate thermogenesis
Burn body fat
Boost metabolism
Reduce appetite
Many Trimtone users showed positive results in boosting metabolism and energy levels, which helped them during their workouts.
I would say that I was most impressed with its appetite-suppressing benefits because I felt fuller for longer and could easily avoid snacking.
After two months of usage, my clients also reported an average weight loss of 5 pounds and a 10% increase in metabolism.
While these results may vary depending on individual factors, such as diet and exercise, they provide a good indication of the supplement's effectiveness.*
Pros
Contains clinically proven, highly potent, 100% natural ingredients with thermogenic effects, without chemicals or fillers
Enhances rapid fat and calorie burning, suppresses your appetite, lowers your blood sugar levels, and increases energy levels*
Straightforward to use
Made in the USA and GMP certified
Comes with a 100-day money-back guarantee
Free and fast worldwide shipping
Cons
Not the most affordable
Relies heavily on stimulants
Unsuitable for vegans, vegetarians, individuals with diabetes, pregnant, or lactating women
Side Effects

If you read the weight loss product label carefully, pay attention to the health warnings.
If you don't exceed the recommended dosage, you should be safe, as the Trimtone fat burner formula consists of 100% organic and natural ingredients.
However, our experience with this Trimtone review also found that it could make more caffeine-sensitive users a bit jittery.
"While the response to caffeine varies, 400mg or above is generally the amount considered excessive for adults."

 

- Arun Sridhar, M.B.B.S., M.P.H., Cardiac Electrophysiologist
My clients and I agreed that the dose works perfectly for us, even with a morning cup of coffee. We believe it's enough to get the boost we need for the day without any side effects.
Where Can You Buy Trimtone?
You can buy Trimtone only from the manufacturer's official website, where you can enjoy a 100-day full refund guarantee if you're unhappy with your results.
You can purchase supplies for one, two, or three months. The more bottles you buy, the more money you'll save and lose weight.
If you ever see Trimtone being sold on other platforms, be careful. These unscrupulous outlets might be selling fake or expired products that will do nothing to your brown adipose tissue.
Trimtone Cost
Trimtone is one of the most expensive body fat burners on the market.
So, keep an eye out for any offers on the official website.
At the time of writing this article, here's what Trimtone is offering:
One month supply (with one free bottle) — $59.99
Three months supply (with one free bottle) — $119.98
Five months supply (with one free bottle) — $179.97
Shipping and Returns
Trimtone ships to most countries except the ones on this list, and customers who order three bottles or more get free worldwide fast shipping.
We got the 3+2 package to try the weight loss product out, which came with free shipping. Our order arrived within three days, which is relatively faster than other brands.
How To Use Trimtone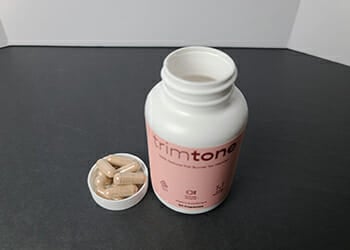 Take one capsule of Trimtone with plain water first thing in the morning or 30 minutes before eating breakfast for the best results.
The best thing about Trimtone is that taking one capsule in the morning is enough to safely fuel them for the entire day, allowing active women to focus on work or household needs and lose weight.*
You can also use Trimtone as a pre-workout supplement for a gym or home workout to boost energy levels, mental alertness, and physical performance for an extra calorie burn to lose weight.
Trimtone Customer Reviews
Since this weight loss product is newly-launched, there aren't many customer reviews to prove previous users' impressive fat loss results. Here's a couple of them:
"The world of diet pills has many, but still, I would like all women to try Trimtone in some part of their lives.

 

It is healthy, accurate and the appetite suppression effects are something you really want. I had a bigger butt and floating stomach, so far my weight is reduced from 150-130 pounds.*"

 

- Martha, 34
"I've always had issues with my belly fat, hips, and thighs. I'm glad that Trimtone helped me get fitter and thinner. It's the one product that helped me lose fat on my problem areas."

 

- I.L, Verified User, 31 
The only surefire way to find out how this fat loss solution works for you is to give it a try and post your weight loss product review online.
Fat Burner Alternatives
There are plenty of choices when shopping for fat burners, so we tried out three other well-known supplements to see how Trimtone stacks up.
PhenQ
Wolfson Berg Limited offers a weight-loss supplement in PhenQ that sets itself apart from other fat burners with its unique promise to help you lose fat in five distinct ways, including boosting energy and burning stored fat.
PhenQ formula seems to support its claims with ingredients that Trimtone lacks, like capsicum extract and L-carnitine to boost metabolism and caffeine to suppress hunger cravings and increase energy and focus.
Based on their firsthand experience, our testers gave feedback for enhanced physical energy levels and mental focus, which helps push through intense workouts.* These observations closely align with the feedback from Trimtone users.
Instead of using the fiber Glucomannan like Trimtone and many other weight-loss supplements, PhenQ adds Nopal, which our dietician says works similarly.
LeanBean
Like Trimtone, Leanbean is a fat-burning supplement designed with women in mind to help achieve long-term health goals.
With a formula akin to Trimtone, it encompasses natural ingredients such as Glucomannan, green coffee bean extract, and acai berry, complemented by Bioprene® for optimal absorption into the body. This combination provides an efficient solution for fat loss by reducing food cravings and boosting metabolism.
While Leanbean's recommended daily dose consists of six capsules, some users during our testing period found this quantity to be more demanding compared to Trimtone's unique single-capsule dosage.
Nevertheless, several individuals expressed favorable feedback regarding Leanbean's dosing regimen, perceiving it as providing continuous benefits throughout the day.
Instant Knockout
Instant Knockout is a highly regarded and dependable weight loss supplement. Like many fat burners, it contains stimulants, specifically Caffeine Anhydrous, and a good amount of it at 300 mg, surpassing Trimtone by 180 mg.
The Instant Knockout formula helps promote thermogenesis with its combination of green tea extract and cayenne pepper and appetite suppression through Glucomannan. Many people in our test group reported feeling more satiated after taking Instant Knockout for a couple of weeks.
However, it's worth noting that the recommended dosing schedule could pose challenges for individuals with busy daily routines when compared to Trimtone. The manufacturer advises taking one capsule with a full glass of water four times throughout the day.
Unlike Trimtone, which has a gelatin capsule, Instant Knockout is suitable for vegan and vegetarian users because of its vegetable capsule.
You'll find many purchasing options on the Instant Knockout website, including bulk purchase discounts, freebies, and stacking bundles.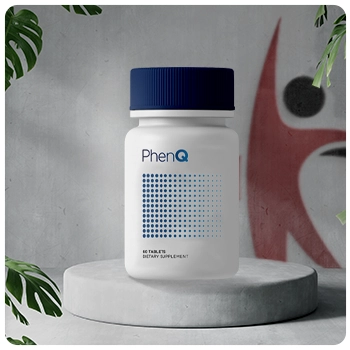 PhenQ
Click For Best Price
Pros
Increases metabolism to help lose weight
Suppresses appetite
Speeds up fat-burning
Aids muscle-building
Boosts mental clarity and focus
Cons
Only available on the company website
A bit pricy compared to other fat burners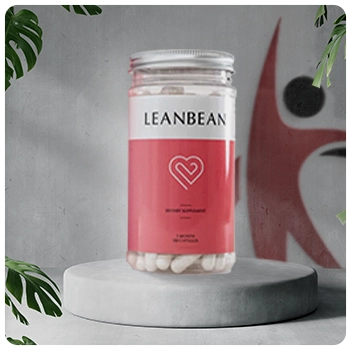 Leanbean
Click For Best Price
Pros
Reduces appetite
Boosts fat metabolism
Increases energy levels
Improves endurance
Enhances digestion
Cons
Dosage is six capsules a day
Can only be purchased through the company website
Instant Knockout
Click For Best Price
Pros
Helps users achieve defined muscles
Regulates appetite
Boosts metabolism
Aids fat-burning and weight management
Increases energy levels
Cons
Need to take four diet pills a day
High caffeine content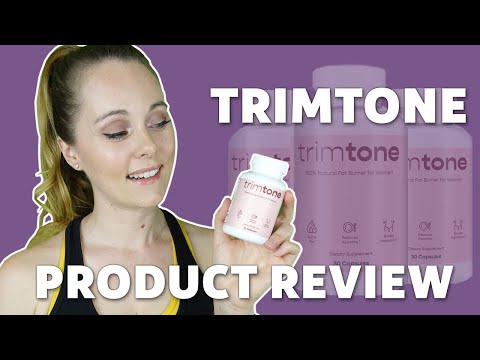 FAQs
Do I Have To Diet and Exercise While Using Trimtone?
Yes, you have to diet and exercise while using Trimtone to lose weight. This fat burner works best when coupled with an overall healthy lifestyle.
Can I Use Trimtone as a Pre-Workout Supplement?
You can use Trimtone as a pre-workout supplement to lose weight as it contains caffeine, but avoid taking it in the evening to prevent sleep disruption.
How Fast Can I Expect to See the Results of Trimtone?
You can expect to see results from Trimtone within a few weeks, but this will vary depending on your workout, diet, and lifestyle.*
How Long Will One Bottle of Trimtone Last?
One bottle of Trimtone will last for 30 days. Each contains 30 capsules, with the recommended dose of one capsule per day to help lose weight.
No, Trimtone is not vegan. The capsule covering is made from gelatin derived from animal ligaments and tendons.
Is Trimtone Safe for Breastfeeding or Pregnant Women?
Trimtone isn't safe for breastfeeding or pregnant women, although it contains safe ingredients to help lose weight. If you belong to this demographic, it's best to ask for your physician's advice before taking the pill.
Trimtone is for women who need help suppressing their appetite to lose weight and for a low calorie diet. This weight loss product has one of the most potent appetite suppression properties among similar weight loss supplements available on the market.
When Should I Not Take Trimtone?
You should not take Trimtone if you're pregnant, on a vegan or vegetarian diet, have other health issues, or are allergic to any ingredients.
Yes, Trimtone is safe for a healthy diet to lose weight. It's an effective fat burner supplement that contains 100% natural ingredients.
However, it's pretty heavy in stimulants, as evidenced by the 320 mg of concentrated caffeine per serving. If you're taking Trimtone, it's best to lower your coffee intake if you have caffeine sensitivity.
Does Trimtone Have Money-Back Guarantee?
Trimtone has a 100-day money-back guarantee for every unopened weight loss bottle.
Our Verdict: Is Trimtone Worth Buying?
After seeing how Trimtone helped my clients reach their weight loss goals, I'm convinced it's worth recommending.
After six months of using the product for this Trimtone review, my female clients could burn fat and maintain lean muscle mass, which allowed me, as their fitness instructor, to help them manage their weight loss more efficiently.*
With this fat-burning supplement, active women may increase their metabolic rate for energy, reduce fat and carb absorption, and avoid cravings to help stabilize blood sugar.*
Here is the link to their website, where you can get the best deal for a healthy diet.
WE APPROVE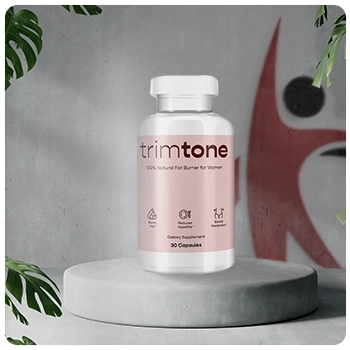 Pros
Contains clinically-proven, highly potent, 100% natural ingredients with thermogenic effects, without chemicals or fillers
Enhances rapid fat and calorie burning, suppresses your appetite, lowers your blood sugar levels, and increases energy levels
Straightforward to use
Made in the USA and GMP certified
Comes with a 100-day money-back guarantee
Free and fast worldwide shipping
Get the BEST PRICE until the end of December
Cons
Unsuitable for vegans, vegetarians, individuals with diabetes, pregnant, or lactating women
* individual results may vary
Was this article helpful?