A ton of fat burners on the market claim to provide miracle results in just X days. In reality, however, these results are often misleading and don't live up to company claims.
One of these dietary supplements is Modere Trim, whose formula claims to burn fat cells.
To determine whether or not it's worth your money, we've teamed up with medical experts to examine the effectiveness of the Trim's ingredients, effects, and results.
Read on for our take on the Modere Trim weight loss supplement review.
What is Modere Trim?
Modere Trim is an award-winning weight loss supplement whose several health benefits include weight loss and helping individuals undergo a full body transformation.
Modere is a company based in the United States, with Modere Trim being one of their flagship products.
Unlike other fat burners and weight loss supplements on the market that mainly come in pill form, Trim is available in liquid form and as a powder.
The company's patented collagen HA matrix technology results in the ability to accelerate weight loss and significantly improve muscle tone over time.
As a result, Modere Trim weight loss supplement claims to work on both ends of the fat loss process - burning excess fat while also preventing the deposition of more fats.
Health Benefits of Modere Trim
Modere Trim claims to deliver the following benefits using its innovative CLA and Liquid Biocell formula:
Supports fat metabolism
Inhibits fat storage
Improves muscle tone
Restores youthful skin
Promotes joint, muscle, and connective tissue health
Supports healthy hair, nails, eyes, and gums
Modere Trim Ingredients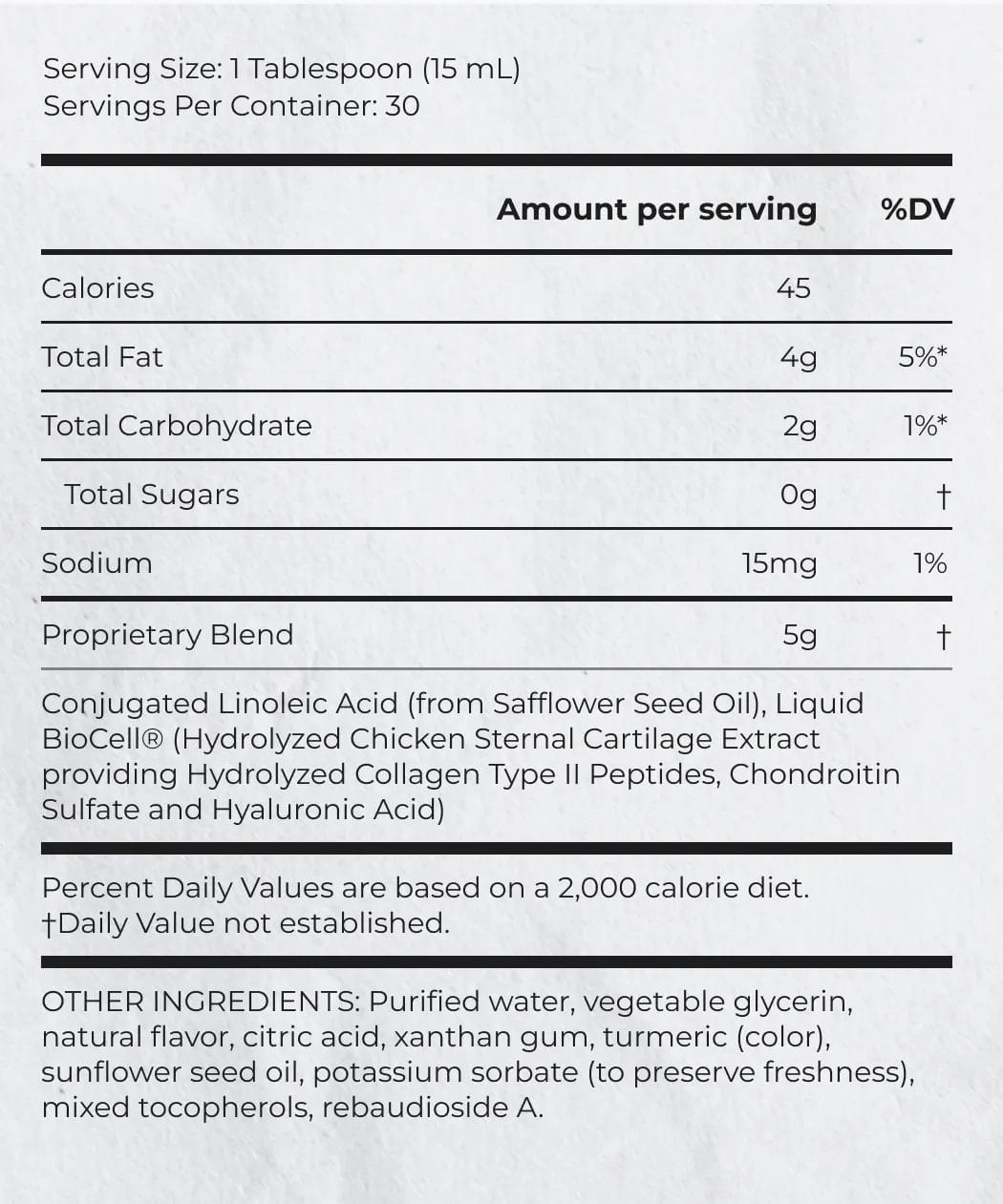 So does Modere Trim work? To determine how effective it is, let's take a deeper look at the ingredients in Modere Trim. The good news is that these ingredients are well-researched, making it a mark of quality for the supplement.
1 - Conjugated Linoleic Acid (CLA)
We aren't too impressed with the addition of their conjugated linoleic acid supplementation, considering it comes from added safflower seed oil which isn't that effective for preventing weight gain.
Additionally, conjugated linoleic acid is far more effective at reducing body fat cells in animals than humans, making us skeptical about whether it can help individuals lose weight [1].
2 - Liquid Biocell®
Modere Trim claims pride in their patented blend of compounds, a blend of hyaluronic acid, chondroitin sulfate, and collagen (ground-up chicken sternal cartilage extract).
Hyaluronic acid and collagen are supposedly essential nutrients that reverse the aging process while producing youthful skin.
However, studies indicate their Liquid Biocell effects are minimal at best on skin health [2].
3 - Vegetable Glycerin
We were definitely surprised by this ingredient, considering it's mainly found in body-care products like shampoo and toothpaste.
While it definitely could help get rid of water weight, it doesn't necessarily make a huge difference in shedding cellular fat storage or providing long-term effects on one's weight loss journey.
4 - Cocoa
We're not surprised to see cocoa in Modere Trim, considering how popular it is as a weight loss ingredient. It's an important ingredient for regulating energy levels and suppressing one's appetite, which assists individuals with their exercise routine and prevents cravings from adding a few pounds to the user's waistline.
5 - Xanthan Gum
We're a bit skeptical about this Modere Trim ingredient, especially since xanthan gum is often used in fat-free foods to help individuals feel fuller over time.
While it does play a role in appetite suppression by slowing down the digestion process, it's not necessarily something you'd want to put into your body as it can lead to stomach upset and diarrhea.
6 - Citric Acid
Yet another preservative agent, this ingredient gets a huge thumbs down from us, especially since it's most likely manufactured instead of all-natural.
7 - Mixed Tocopherols
Being good for human skin, this mixture of different sources of Vitamin E is derived from plant sources like olive and sunflower oil.
It also plays a role in clearing up clogged arteries, making it beneficial for cardiovascular health and the potential to restore youthful skin. It's an important ingredient if you have some heart problems, such as high blood pressure.
8 - Sunflower Seed Oil
This Modere Trim ingredient raises some definite red flags, as it's loaded with high-calorie fatty acids, which can actually hinder one's weight loss ability and even contribute to diseases like obesity.
9 - Rebaudioside A
This ingredient is extracted from the chrysanthemum plant and is mainly used as a calorie-free sweetener, making it a popular alternative to sugar. Studies also suggest it can lower cholesterol and keep blood sugar levels in check.
Modere Trim Pros
The biggest pros of Modere Trim are some of its ingredients that accelerate weight loss in different ways.
The product decreases your appetite by making you feel full for more extended periods and also increases fat metabolism in the body, resulting in fat reduction.
The addition of collagen and hyaluronic acid in Modere Trim also helps reduce visible signs of aging and improves skin elasticity, which is a bonus for combating the effects of saggy skin from fat loss.
The added collagen was something I liked most about Modere Trim and something other weight loss pills don't cater to.
Thanks to that, Modere Trim not only helped me with weight loss, but I also noticed more flexibility and healthier joints - something that's especially crucial when it comes to overall muscle tone and functionality.
Modere Trim Cons
The main drawback of the product is that it uses ingredients that are not necessarily scientifically backed.
Is Modere Trim safe? Yes, although some of these ingredients are not natural, such as preservatives that don't do anything beneficial for the body.
The product is also unsuitable for vegan individuals and is rather pricey for what it offers.
Personally, my biggest issue with Modere Trim is that it's simply not worth it. That Liquid Biocell ingredient mainly contains blended chicken cartilage, which could be sourced from other sources at a much lower price.
Pros
Highlights weight loss efforts by improving skin appearance
Prevents further fats from accumulating by increasing fat metabolism
Supports joint health and bones for better mobility and strength
Powdered product is easily absorbed by the body
Cons
Modere trim cost is higher in comparison to ingredients offered
Contains preservatives like potassium sorbate
Potential Side Effects
With only two ingredients, the risk of side effects from using Modere Trim is minimal. However, there are a few side effects associated with CLA and collagen.
CLA may cause symptoms such as [1]:
Nausea
Upset stomach
Diarrhea
Collagen is generally safe but may cause symptoms such as [2]:
Bloating
Indigestion
Unpleasant aftertaste in the mouth
If you experience these side effects, stop using the product and immediately consult your doctor.
Modere Trim vs Other Dietary Supplements
To give you a complete picture of how Modere Trim performs, we tested it against three leading fat-burning supplements. Here's what we learned.
With a comprehensive approach to weight loss that targets stored fat, blocks new fat production, suppresses appetite, boosts energy, and enhances focus, PhenQ is among the trusted fat-burning supplements today, and with good reason.
In fact, our test group volunteers saw increased energy, reduced hunger cravings, and noticeable weight loss while using PhenQ alongside our tailored diet and workout plan. We confirmed their feedback by comparing before and after body measurements.
Unlike Modere Trim, PhenQ clearly lists all its ingredients and their amount on the label. As a fitness trainer, this is important to me, particularly when recommending supplements to my clients, as I want them to know precisely what they are getting to support their weight loss goals.
Our dietitians have confirmed that PhenQ's powerful blend includes optimal levels of thermogenic and appetite-suppressing ingredients like capsimax powder, nopal, L-carnitine, and caffeine, as well as the proven a-Lacys-Reset® formula.
Leanbean
Our study shows that Leanbean is a vegan-friendly, all-natural fat burner specifically designed for women's weight loss needs.
The formula combines caffeine, although a very minimal amount, and other thermogenic ingredients like green coffee beans and turmeric.
Many Leanbean reviews found it targets appetite suppression with Glucomannan, chromium, and B vitamins to reduce fatigue. Our test group reported significantly reduced snacking while taking Leanbean over several weeks.
While some in our test group found Leanbean's six-pill daily dose to be too much, many expressed feeling the benefits around the clock. Modere Trim offers a simple one-scoop daily serving that may appeal to some.
Again, Leanbean uses a clear ingredient label with no proprietary blend, a critical feature for me as a fitness trainer.
For our testing, I ordered Leanbean direct from the official website, where I was able to take advantage of a bulk-order discount and free shipping.
Instant Knockout, initially designed for professional bodybuilders and athletes, is now widespread in gyms everywhere.
This potent supplement delivers a combination of caffeine and green tea extract to enhance metabolism, key ingredients not found in Modere Trim's proprietary blend.
Instant Knockout contains vital components, including cayenne to boost thermogenesis, Glucomannan to suppress appetite, L-theanine to improve focus, and essential vitamins to minimize fatigue.
It is worth noting that Instant Knockout is vegan-friendly due to its veggie capsule.
The 300 mg of caffeine was too much for some in our test group, while others loved the increased energy that helped them power through workouts and the entire day.
The price of Instant Knockout is comparable to similar fat burners, and the official website offers valuable incentives. I enjoyed going through some of the complimentary training and nutrition e-guides with some of my clients.
Other fat burners we've reviewed:
Where To Buy Modere Trim?
You can buy Modere Trim from the Modere official website or from trusted sellers on Amazon. Using the former is more favorable since you can take advantage of Modere's shipping and returns policy.
Furthermore, you won't have to worry about receiving a counterfeit or expired product if you buy from the official website.
Shipping and Returns
The company offers worldwide shipping with a 30-day 100% refund policy for Modere Trim (minus shipping charges). There is also a flat shipping fee applied to all products.
My fat cells burner product arrived ten days after being ordered, mainly because of their processing delay, which can take around 2 - 4 days to complete.
Despite this, their customer service was very helpful in keeping me updated on the Modere Trim product's status.
What Customers Had To Say
Here are a few comments that we found from customers and the results they saw from Modere Trim.
Jesie highlights how she lost 6 lbs within her first week of using the product, with 4 lbs in the week after. She thinks the chocolate taste is amazing, with Modere earning her continued support as it doesn't trigger side effects like migraines.

- Jesie from Arizona
Popp complains about seeing zero results despite using the product for nearly two months. Despite exercising more and eating healthier, she struggles to see any significant improvement in her body composition and would not consider buying it again.

- C. Popp from Michigan
Should You Purchase Modere Trim?
You should purchase Modere Trim weight loss supplements if you are looking for a combination of a fat-burning formula alongside the addition of collagen that helps promote the 'beauty' aspect of what it aims to provide.
However, if you're looking for a weight loss supplement that will accelerate the process of losing weight, I'd personally recommend PhenQ as an alternative.
PhenQ offers the same benefits as Modere Trim, like inhibiting fat production and boosting energy, but with higher quality ingredients and more reputable evidence behind those ingredients to support the claims.
Order yours today and see the effects for yourself.
We Recommend This Instead
Click For Best Price
Pros
Suppresses your appetite
Blocks body fat production to stop weight gain
Improves your mood and energy levels
High-quality, all-natural formula
Get the BEST PRICE until the end of June
Cons
Can be only purchased through the company website
Was this article helpful?