For many years, I have worked as a fitness trainer to help women with their wellness journey. Many of my clients have asked me to advise them on choosing the right supplement to help achieve their fat-burning goals.
I reached out to my dietician and we spent months researching fat burners for women, so we looked up Hydroxycut Max, one of the best-selling US brands despite its questionable ingredients, legal issues, and proven risks of serious health complications.
In this Hydroxycut Max review, you will find everything you need to know to figure out whether this fat burner really does what the manufacturer claims, or it falls flat.
What Is Hydroxycut Max for Women?
Hydroxycut Max for Women is a female fat burner formula with multiple health and weight loss benefits. It provides metabolism and energy boost, appetite control, healthy hair, skin, and nails, and radiant, youthful looks.
Hydroxycut Max seems like an all-in-one supplement containing everything women could want and need to lose weight, stay healthy, and look beautiful.
But is it so?
A closer look at its ingredients will reveal.
Hydroxycut Max Ingredients
Besides vitamins and minerals, Hydroxycut Max contains the Pro Clinical Hydroxycut Max! Blend, consisting of three different combinations of ingredients in hidden doses.
"Ingredients varied in different forms of the Hydroxycut products, but they generally included caffeine, green tea extract and proprietary mixtures of botanicals of undeclared concentration, source and purity." NCBI
Here's all the content:
Folic Acid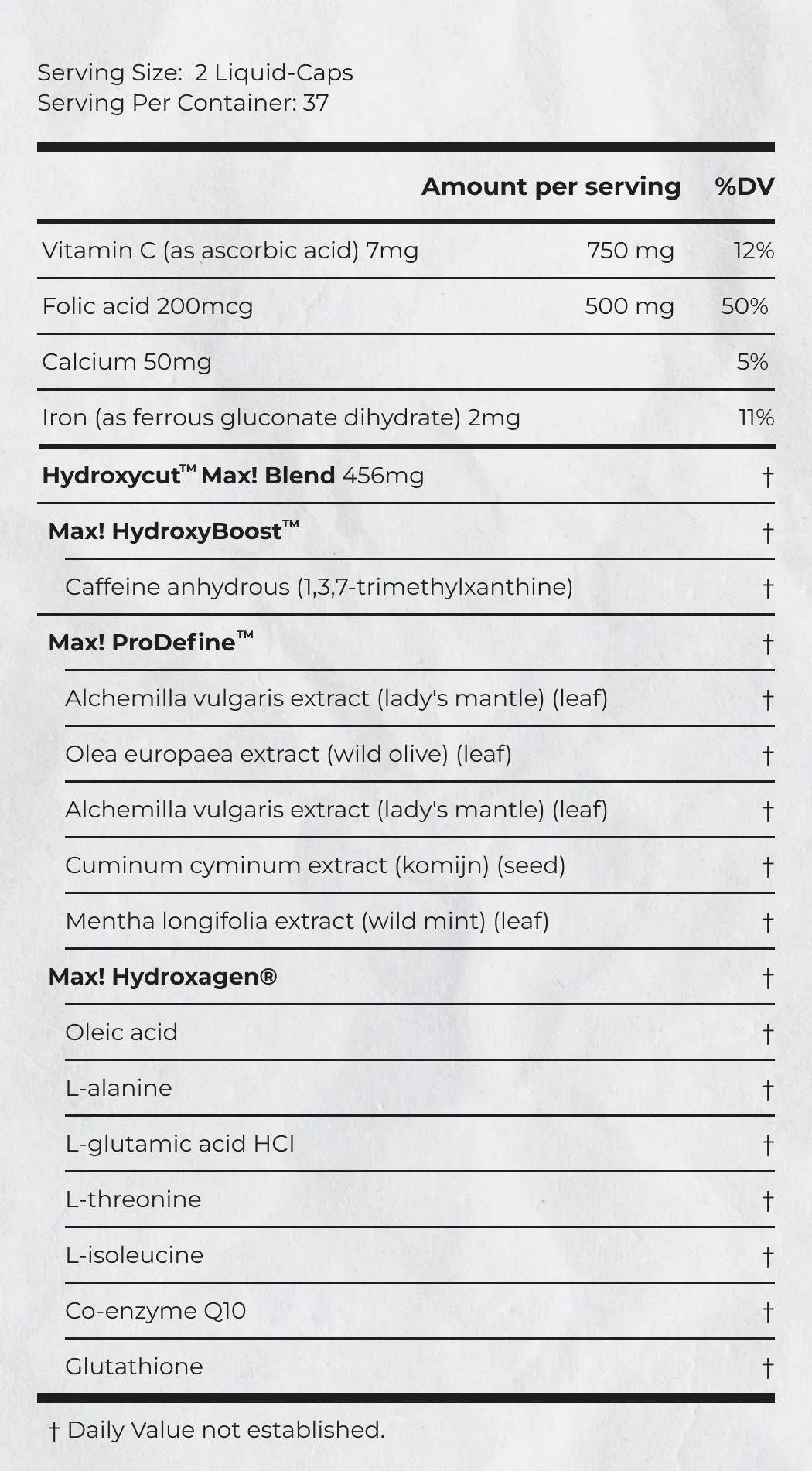 Folic Acid, Vitamin B9, or Folate supports your immune system's normal function and homocysteine metabolism, helping improve fertility, cognitive function, mood, and overall wellbeing. [1]
As a result, you can feel better motivated to exercise, break bad, and adopt healthy eating habits to lose weight.
Biotin
Another B vitamin (B7), Biotin, helps keep your macronutrient metabolism and energy release normal, prevent hair loss and promote hair growth, and keep your skin healthy and nails strong, which women find important. [2] [3] [4]
Max! HydroxyBoost Blend

Caffeine Anhydrous (225mg)
Caffeine Anhydrous (powdered, lab-created Caffeine) works as a Central Nervous System stimulant that may trigger thermogenesis, increase your metabolic rate, calorie burn, and energy, improve endurance and sports performance. [7] [8]
However, many experts and institutions have warned about its possible modest effects on body weight, yet significant safety concerns when consuming higher amounts (this product also contains). [9]
"Be cautious about using caffeine products to help with weight loss. When used in moderation (400 milligrams or less) by healthy adults, caffeine is generally safe. But too much caffeine might cause nervousness, insomnia, nausea, increased blood pressure and other problems." Katherine Zeratsky, R.D., L.D. Mayo Clinic
Mango
Rich in antioxidants, vitamins, and minerals, Mango may have anti-inflammatory and anti-aging properties.
Kiwi
Kiwi contains antioxidants and dietary fiber to help improve your gut health and support weight loss, but I'm not sure whether this plain, non-extract compound form can do much.
Avocado Oil
Avocado Oil contains fatty acids and may aid in collagen production, teeth and gum health, regulating cholesterol and circulation but in substantial doses (which I doubt are included here).
Besides possibly helping you fight free radicals, diseases, reducing oxidative stress, and slowing down aging, I'm not sure what Hydroxycut Max intends to achieve with these ingredients as it seems they're not proven to help with weight loss.
Max! ProDefine Blend

Robusta Coffee Extract (as C. canephora robusta)
Hydroxycut Max highlights Robusta Coffee Extract as a powerful weight loss ingredient. The company claims that taking C. canephora robusta, i.e. these unroasted green coffee beans rich in Chlorogenic Acids, is proven to promote weight loss. [10]
However, there are ambiguous findings, suggesting further research about the full effects of this coffee extract. [11]
Few clinical trials of poor methodological quality with reported adverse effects don't sound fun, right? [12]
Prickly Pear Extract
Prickly Pear Extract is high in antioxidants. It may help reduce cholesterol, severe hangover symptoms, balance blood glucose levels, and protect nerves. [13]
Max! Radiance Complex

Hydrolyzed Collagen
Hydrolyzed Collagen might help enhance skin hydration and elasticity, smoothen out your wrinkles, and relieve joint pain. [14]
Argan Oil
Argan Oil is rich in vitamin E, CoQ10, and other antioxidants that may help various disease prevention, reduce the visible signs of skin aging, improve your hair, eyes, and heart health, etc. [15] [16]
Silicon Dioxide
This food additive of questionable safety is commonly used in supplements to prevent clumping of other ingredients, and there isn't much research clarifying its role in the human body.
Call me stupid, but I don't get what it has to do with radiance, not to mention weight loss.
L-Cysteine
This amino acid is critical for building keratin, which helps make your hair stronger and longer. It works best when combined with vitamin B6, enhancing the absorption of Iron, Zinc, and other nutrients essential for hair growth.
It also has antioxidant properties, promotes liver detoxification, but the scientific evidence of its effects is still weak, and its high doses can be toxic.
L-Methionine
Another amino acid that functions as an antioxidant and a building block of proteins is included in this formula to slow down aging and nourish your hair, skin, and nails. Again, overdose can be fatal, and we can't see the exact amount in these capsules.
Pros
America's popular weight loss brand
Liquid capsules with rapid-release technology promising fast-acting energy and metabolism boost
Contains Chlorogenic Acid, Caffeine, and other ingredients that may help burn fat when combined with a healthy diet and exercise
Contains added Folic acid, Biotin, and Iron
Claimed to support the health of your hair, skin, and nails
Advertised as a scientifically-backed, third-party tested formula made in the USA, tailored to women
Affordable
Cons
Many reported and proven serious side effects (including death)
Contains proprietary blends without transparent doses
Too high in Caffeine (may easily lead to dangerous overdosing)
No real money-back guarantee (you can only return unopened/unused bottles)
Contains allergens
Contains some fruit components that don't seem to bring about the product purpose
Not vegan friendly
One bottle (with 60 capsules) lasts only two weeks if you take four capsules per day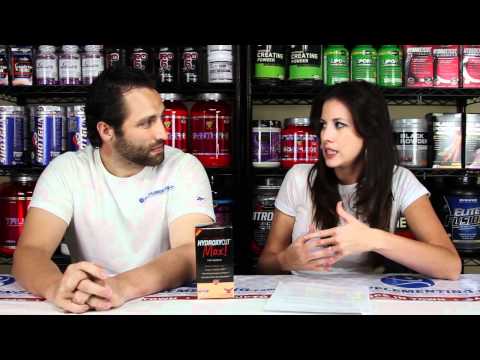 Any Side Effects?
The side effects of Hydroxycut Max for Women and other products from the same brand can be severe and include:
Fatigue
Weakness
Insomnia
Headaches
Acne
Nausea
Abdominal pain
Vomiting
Brown urine
Jaundice [17]
Caffeine overdose (causing nervousness, anxiety, irregular/raised heart rate, high blood pressure, shortness of breath, jitters, etc.) [23]
Heart disease [24]
Seizures
Ischemic Colitis [25]
Ulcerative Colitis [26]
Kidney failure
Manic episodes [27]
Exertional Rhabdomyolysis (a muscle problem leading to liver, blood, and metabolic issues) [28]
Death
According to many studies, these and other side effects continued occurring even after the early product formulations from this brand containing Ephedra were banned by the FDA and reformulated. [29] [30] [31]
I'd stay away from such risky products, especially when there are so many safe and effective options on the market.
Read More: Hydroxycut Products Potential Side Effects
How Do You Take It?
You take one capsule of Hydroxycut Max for Women twice per day with a glass of water 30 to 60 minutes before your two largest meals. If everything goes well, you can take two capsules twice per day from day four.
The manufacturer advises users to consume the pills for at least 60 days paired with regular moderate exercise and a low-calorie diet without snacking between meals.
You shouldn't take the capsules a few hours before or after taking other medications, at least five hours before bedtime, or overdose with more than two pills in four hours, i.e. four pills within a 24-hour period.
Who Should Not Take Hydroxycut?
You should not take Hydroxycut if you are a minor, pregnant or nursing, taking any medications, or are oversensitive and allergic to certain ingredients.
Carefully read the entire label before use, follow the directions provided, and consult your doctor before using this product.
Fat burners we recommend checking out:
Where to Buy It?
You can buy Hydroxycut Max and the other weight loss products from that brand directly on the company website, but they're also available via other online retail stores.
Customer Reviews

In the latest Hydroxycut Max for Women customer reviews, few users said this product helped them shed a few pounds, avoid overeating, and provided "an insane amount of nervous energy" (which mostly faded away soon after their body adjusted to high caffeine amounts).
Most comments boil down to these:
"This is basically a strong caffeine pill! Seriously this is just going to jump up your heart rate, which will just make you feel jittery and slightly crazy and shaky. Overall I guess it could help your metabolism, but it's not worth the side effects for me personally. Also you can buy just caffeine pills for a very similar effect at a fraction of the cost."
"After reading other reviews it is obvious that this product works very differently for everybody. Some people get brain zaps or feel nauseated while others have no side effects at all. As for me, while taking Hydroxycut I get extremely nauseated and tired. I can feel my heart beating very loud and quickly in my chest. The way it works for me is that it basically makes me feel too sick to eat. [...] I recommend using it if you want something to curb your hunger and are ok with putting up with some possibly uncomfortable side effects. Basically, it does work but it comes with some consequences."
Fat Burner Alternatives
We tested Hydroxycut Max against three leading competitors to provide a complete review.
LeanBean
LeanBean, a fat-burner formulated for women, has become a favorite for many of my clients due to its benefits in burning fat and preventing the formation of new belly fat deposits easily.
Compared to Hydroxycut Max, LeanBean is better for suppressing appetite, especially on long nights when you crave food due to its concentration of garcinia cambogia and glucomannan.
It contains green coffee bean extract, which provides the right amount of caffeine in the body, unlike the hidden doses of caffeine in Hydroxycut Max that have resulted in side effects.
As a fitness trainer, I insist on transparent labelling to users, like my clients, to know how much of each ingredient we put into our bodies.
PhenQ
PhenQ is an effective fat-burner from what we gathered in our research. I worked with our dietician to evaluate its fat-burning benefits.
First, we discovered that it uses potent ingredients to accelerate thermogenesis and increase metabolism. Unlike HydroxyCut Max blend, which comes in hidden doses, I could confirm that the PhenQ ingredients list was transparent and at effective dosing.
It also provides strong appetite suppression due to its chromium and nopal utilization. Most of my clients reported a significant reduction in snacking after several weeks.
Hourglass Fit
Hourglass Fit is a stimulant-free fat burner for women that works with a 2 in 1 formula.
First, it comes with fat-burning ingredients, including black pepper extract, cayenne pepper and vitamins.
Secondly, it is an appetite suppressant that utilizes Glucomannan which expands in your stomach to prevent you from overeating.
Compared to Hydroxycut Max, Hourglass Fit is a stimulant-free fat-burning supplement that does not cause energy crashes.
FAQs
How Much Weight Can You Lose on Hydroxycut Max?
You can lose around 2-3 lbs per week or 10.95 lbs in 60 days on Hydroxycut Max, Hydroxycut Hardcore, and their other supplements containing C if you combine it with a low-calorie diet and exercise.
How Long Does It Take to See Results from Hydroxycut?
It takes a few weeks to see results from Hydroxycut. Some studies on the company's website mention people have lost an average of 3.7 lbs in 8 weeks with Hydroxycut supplements, unlike those from the placebo group who lost only 1.25 lbs.
Why Is Hydroxycut Banned?
Hydroxycut is not banned. But in 2004, Hydroxycut was withdrawn from the US market because it contained Ephedra and other harmful components proven to impose serious health risks, even death.
The safe alternative worth checking out: Hydroxycut Hardcore Elite Review
Is Hydroxycut Bad for Your Heart?
Hydroxycut may be bad for your heart. Although it doesn't have ephedra, it contains high and imprecisely defined amounts of caffeine that can cause fast or irregular heartbeats and high blood pressure, increasing the risk of heart attack, stroke, and other cardiovascular diseases.
The alternative we highly recommend: Powher Fat Burner Review
Does Hydroxycut Raise Blood Sugar?
Yes, Hydroxycut may raise blood sugar levels if paired with a high-fat diet. If you're worried about raising blood sugar levels, you should opt for Transparent Labs fat burner instead.
Does Hydroxycut Cause Acne?
Yes, Hydroxycut may cause acne on the face, jawline, and chest area. For some, the acne cleared up after they stopped taking the supplement.
Does Hydroxycut Max Really Work for Weight Loss?
Hydroxycut Max might work for weight loss in some individuals, but it may seriously endanger your health.
There isn't substantial scientific evidence to back up the Hydroxycut significant weight reduction claims of caffeine, the key (only) ingredient this product relies on.
Plus, the remaining ingredients wouldn't do much for women's wellbeing or beauty, let alone fat burning.
Why would you gamble with your health, then?
If you need a fat burner to enhance weight loss, choose a safer, natural alternative proven to work without harmful ingredients and with a refund guarantee.
I'd recommend Leanbean. It's stim-free and contains all natural fat burning ingredients, thus safer and much more effective for weight loss.
We Recommend This Instead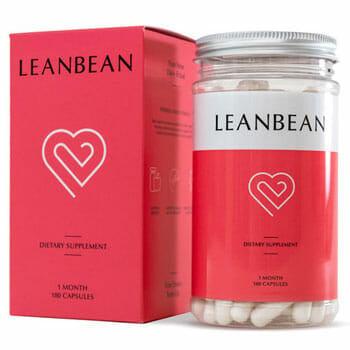 Click For Best Price

Pros
​Contains no stimulants to help women avoid the jitters
No known side effects from natural herbs and minerals
Online review comments highlight that it may suppress hunger quite effectively
Full money-back guarantee up to 90 days if you're not satisfied
Get the BEST PRICE until the end of September
Cons
Dosage is 6 capsules per day
Was this article helpful?