23
Products
Considered
72
Hours
of Research
65
Reviews
Examined
10
Experts
Interviewed

From my years of training, I've seen that parallettes aren't just for professional gymnasts. They offer benefits for everyone, enhancing workouts and flexibility.
Having personally trained with a quality pair of parallette bars, I can attest to their versatility in any workout routine, allowing you to teach effectively wherever you are.
Drawing from my background as a certified fitness trainer, my team and I collaborated with fellow experts to rigorously test a variety of parallette bars.
Based on extensive testing and feedback from our team and clients, here's an in-depth review of the top 10 parallettes for CrossFit, calisthenics, or enhancing a home gym.
The Best Parallette Bars for Calisthenics
Editor's Choice
Lebert
Check Current Price
#2nd Best Choice
Juperbsky
Check Current Price
#3rd Best Choice
XTEK Gym
Check Current Price
Our Top Parallettes Recommendations (December 2023)
1 - Lebert Fitness Equalizer
(Best Overall)
Having personally used and benefited from them, I must highlight this exceptional multi-purpose product. It's not just a parallette; it's a tool for core strengthening, lean muscle building, and effective fat-burning.
I believe that it may be best for beginner to intermediate calisthenics and gymnastics enthusiasts.
Its solid construction supports over 400 pounds and provides you with safety even when performing advanced exercises and bodyweight movements. Plus, the rubber feet edges ensure superior stability.
It also features a durable solid foam grip, which increases friction for firmer gripping and minimizes your hand and arm fatigue.
Its easy and rapid assembly feature makes it portable, without ever needing to use tools. No more excuses to skip your workouts.
Product facts:
Material: Stainless steel
Dimensions: 28.5'' high, 25'' wide, 1.8" diameter bars
Weight: 16 lbs
Pros
Super heavy duty yet lightweight
Provides fabulous ground clearance
Available in different colors and sizes
Comes with a strength training DVD
2 - Juperbsky Push-up Stand Bars
(Best Sturdy)
I remember the first time I tried the Juperbsky Push-up Stand Bars. Like many of our clients, I was thrilled with how sturdy they were. They didn't shake or slide on the floor, even when I attempted a press-up handstand. No wonder they're trustworthy when their maximum weight capacity is 2,200 pounds.
The TPR cover on the handles makes them abrasion-resistant and provides a stable and comfortable grip.
Compact and lightweight, this product can be easily stored and transported. Also, it's available in several sizes and colors.
Product facts:
Material: Steel
Dimensions: 12'' long, 5.5'' high, 7'' wide
Weight: 3.3 lbs
Pros
Solid with outstanding weight capacity
Reasonable price
Long-lasting and rustproof
Cons
The height might not be ideal for specific exercises such as dips, but they're undoubtedly suitable for many other bodyweight exercises
3 - XTEK Gym XL Parallette Bars
(Best for Intensive Workouts)
When I first got my hands on the XTEK Gym XL Parallette Bars, I was impressed by their sturdiness. Holding up to 300 pounds, they provided a reliable platform for my upper body workouts, strengthening my muscles and abs.
The wide base with thick rubber feet provides exceptional stability, so there's no wobbling during intensive CrossFit, HIIT, gymnastics, calisthenics, or any other type of training.
It's easy to see why users consider it one of the best parallettes.
Although the handles on this model are thinner when compared to most others, rest assured that it doesn't compromise safety.
Also, the solid steel powder-coated frame allows better gripping. Still, it's metal and can become slippery when you're sweaty, so my advice is to be careful.
Product facts:
Material: 2mm industrial gauge steel
Dimensions: 19'' long, 14.5'' high, 1.25" diameter bars
Weight: 21.5 lbs
Pros
Super reliable and easy to assemble
Dimensions suitable for many types of exercises
Comes with a training e-guide
Cons
Not portable because they're bulky and heavy
4 - JFit Pro Push Up Bar Stand
(Best for Improved Body Posture)
I've used the JFit Pro Push-Up Bar Stand in my routines, and it's been a game-changer. It's helped me improve my push-ups, L-sits, and other advanced movements, not to mention the noticeable improvement in my body posture and overall strength.
Its maximum weight capacity exceeds 200 pounds to ensure enough safety.
It's designed to be easy on your wrists and allow a full range of motions. The soft, U-shaped foam padded handles can absorb sweat and ensure non-slip grips.
We liked that it is lightweight and easy to assemble, so you can take it anywhere. Plus, it's inexpensive and comes with a 2-year warranty.
Product facts:
Material: heavy-duty metal frame with neoprene handles
Dimensions: 16'' long, 9'' high, 10'' base length, 1.5" diameter bars
Weight: 4.3 lbs
Pros
High-quality sturdy and durable
Extra deep clearance allows for a wider range of motion
Anti-slip feet make the product more reliable on all types of floors
Cons
Some users say they don't feel confident because the screws may get loose, so the bars tend to swivel, and the handles can slightly bend when doing lots of handstand push-ups
5 - Tumbl Trak Portable Parallettes
(Best Portable)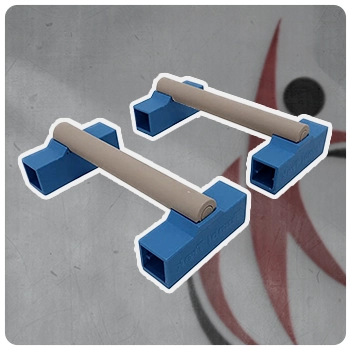 A few clients mentioned they've traveled with the Tumbl Trak Portable Parallettes on several occasions, and their unique design and size have been a lifesaver. They're so easy to pack and transport, and I can assemble them in seconds without any tools.
It enables you to exercise anytime on the go, whether on a vacation or a business trip.
However, I didn't like this affordable item because it may limit the number of exercises you can do and make them more challenging because it's too low.
Although super light, it's still sturdy, durable, and can hold 250 pounds.
Product facts:
Material: Aluminum core with polymer covering
Dimensions: 12'' long, 4'' high, 6'' base length, 1.5" diameter bars
Weight: 3 lbs
Pros
A firm, non-slip rubber base which ensures better stability on different surfaces
Extremely lightweight and compact design perfect for travel and storage
A travel bag also provided
Cons
Handles can be slippery because the material doesn't absorb sweat
6 - Body Power Parallettes
(Best Versatile)
Whether you're a fan of yoga, pilates, gymnastics, HIIT, bodyweight training, or any other type of training, I believe you could benefit from complementing your home workout equipment with this amazingly versatile set.
The heavy-duty carbon steel base with strong welds may ensure extra stability and safety for all fitness enthusiasts as it can withstand body weight up to 380 pounds.
It allows enough space above the ground for various advanced calisthenics progressions, whereas the powder-coated U-shaped handles are resistant to sweat and designed to provide a comfortable grip.
Although this model isn't very compact, it's surprisingly lightweight. In our tests, it took us no more than ten minutes to assemble, which means it's easy to take along for an outdoor workout.
Although this model may not be so compact, it's surprisingly light and doesn't take more than ten minutes to assemble, which means you can take it with you for a workout outside.
Product facts:
Material: Steel
Dimensions: 24.4'' long, 14.8'' high, 11.8'' base length, 1.5" diameter bars
Weight: 16.4 lbs
Pros
Super sturdy with increased stability thanks to the non-skid rubber feet
Extra durable and resistant to rust
Reasonably priced
Cons
Despite the integrated knurling grip options, a secure and confident grip may be tricky with clammy hands
7 - Vita Vibe Ultra Portable Mini Parallettes
(Cheapest Option)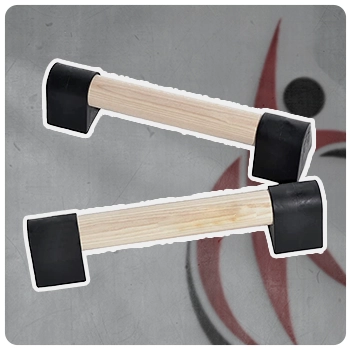 This compact product comes with a 10-year warranty.
According to the manufacturer and many users, it's very lightweight but sturdy enough to support a gymnast who weighs up to 250 pounds.
These portable push up bars could be an equally good addition to a workout kit for beginners and experienced users who perform basic to high-intensity gymnastics or calisthenics exercises.
They may work great for push-ups, L-sits, handstands, and planche practice in your very own home gym.
The non-slip smooth sanded wood handles provided us with a stable and comfortable grip even with sweaty palms. Their mini size makes them ideal for traveling as they easily fit into your backpack or gym bag.
Product facts:
Material: Natural ash wood
Dimensions: 12'' long, 2-5/8'' high, 1.5" diameter bars
Weight: 2 lbs
Pros
Super light
Good value for money
Non-slip rubber feet
Cons
Ground clearance may not be sufficient for those with larger hands
8 - Yogabody Birchwood Parallettes
(Best Wooden Parallette Bar)
These elegant wooden parallette bars are easy to put together and transport.
Many like their sturdiness and price and say they're stable and significant for basic calisthenics training.
Although their user weight limit is estimated at 200 pounds, some heavy users reported that the handles were bending while doing planches and handstand progressions.
Many others say the handles are comfortable to the grip.
In our sessions with these wooden parallettes, we noticed the importance of regularly checking the screws. Feedback from our clients has also highlighted concerns about the horizontal bars spinning when screws loosen, emphasizing the need for caution during dynamic workouts.
I'd be careful with these wooden parallettes because many users have criticized the quality of the screws, and complained that the horizontal bars spin when the screws come loose, which might compromise your safety during dynamic workouts.
Product facts:
Material: Birch wood
Dimensions: 15'' long, 5.3'' high, 7.3'' base length, 1.5" diameter bars
Weight: 5.2 lbs
Pros
Lightweight and easily transportable
Sleek design
Rubber feet
Cons
Too many complaints on weak screws to be neglected
9 - Garage Fit Steel Parallettes
These versatile parallette bars can empower you to confidently perform push-ups, dips, handstands, inverted press-ups, V-sits, tucks, and other similar exercises in your home gym.
However, they might be a bit heavier to carry around, and the safety connector might also bring about the portability inconvenience.
They're suitable for newbies because they allow enough ground clearance for a wide range of motion without swaying or shifting no matter your height.
Their perfectly sized powder-coated steel bars ensured a comfortable grip, but some of our clients say they could do with a pair of workout gloves because their hands hurt.
Product facts:
Material: Heavy-duty steel with reinforced welds
Dimensions: 24.5'' long, 12.5'' high, 23" wide, 13.75'' base length
Weight: 16 lbs
Pros
Sturdy construction
A safety connector bar available for better stability
Extra durable thanks to the added rust-resistant coating
Cons
No rubber feet to protect the floor, but users claim they don't slide on smooth surfaces
10 - The Beam Store Parallettes
The sturdy base paired with solid, level, comfy bars makes this piece stable and suitable for handstand push-ups and other similar fitness exercises.
Some users said there was no wobbling or flexing even when big guys performed other advanced inverted movements.
No wonder when its weight capacity is 250 pounds.
Others say that insufficient ground clearance might impose certain limitations on the range of motion when those with a longer torso try to do particular exercises like dips.
The non-slip rubber caps added on the bottom of the metal stands prevent sliding and protect the floor. We noticed many users say this is a good product, but more attention to detail wouldn't hurt because the metal corners might be sharp and look unfinished.
Product facts:
Material: Heavy-duty steel frame with hardwood handles
Dimensions: 24'' long, 9'' high, 1.5" diameter handles
Weight: 16 lbs
Pros
Sturdy and stable even during intense workouts
Compact and easily portable
Welded construction, no bolts needed
Cons
The shiny, smooth finish can make your grip slippery with sweaty hands
Buyer's Guide

How Do You Choose Parallettes?
You choose parallettes by considering their size, material, durability, and price. Here's what we mean.
Size
Parallettes come in different types and sizes, and they all have their advantages and drawbacks. When I say size, I mean the height, length, and width of parallel bars greatly matter.
The most common types are standard, which are over 8 inches high, and mini size, which are less than 6 inches high.
The standard diameter of the rail is typically 1.5 inches, whereas the most common length is between 12 and 24 inches, and the average width is 10 to 18 inches.
Higher and longer items with a large base may be more stable and better suitable for exercises that require more movements because they give you much more leeway between your body and the ground. Because of the freedom of movement they allow, you can do more different exercises on them, and the progressions are easier for beginners.
On the other hand, smaller ones may be harder to work on, but are usually good for many static holds. They can also make your progressions more challenging and are easy to carry around.
The dimensions you'll choose depend on your fitness level and exercise types you'll do on your push up bars.
Stability
Stability is particularly important if you've decided to buy parallettes higher than 6 inches because the higher they are, the easier it is for them to wobble or even overturn while you're exercising.
For better stability, the higher your parallettes, the longer their base has to be to support the weight and pressure of your moving body. The rubber on the base bottom brings about your equipment safety, too.
Material
As I've said, your parallettes need to support your whole body weight and force during the workout. That's why it's important to choose sturdy items made out of heavy duty and durable material.
Parallel bars are usually made out of metal (steel or aluminum), wood (usually pine, oak, or maple), plastic, or a combination of these.
Metal (typically steel) is exceptionally durable, which makes it good for longer parallettes, but some models might be heavy. Metal items may also require rubber handles so that you don't lose grip when your hands get sweaty.
Plastic is lightweight and easily portable, but some plastic parallettes might buckle under the strain of bigger sports enthusiasts.
Wood may be a good option because it's neither heavy nor slippery, and its weight capacity is satisfactory in most cases. Still, wooden parallettes with longer handles may not be the best as I'm afraid they would break under pressure, but it would be fine for shorter ones.
My two cents:
A model with a combination of a sturdy steel frame and wooden handles for a non-slip grip might be great because it makes the most out of both material types. 
But, the final decision depends on your requirements and preferences.
Durability
You want your parallettes to last for years, right?
To make a smart long-term purchase and ensure your equipment durability, I'd suggest that you pay attention to:
The material used (hopefully heavy duty)
The number of bolts used (preferably steel) if any
Whether the bolts holding the pieces in place are thick, long, and strong enough
Whether there's protective rubber at the bottom to prevent wobbling, which can cause breaks, and to protect your floors.
Weight Capacity
Weight capacity is critical for your safety. You don't want to risk injuries if your parallettes break in the middle of your training on them, do you?
That's why I don't think you should get a set with less than 250 pounds of weight capacity. Of course, the higher that number, the safer, more durable, and better quality your push up bars, which makes them worth the money.
Ease of Assembly and Portability
If you're often on the move, like to exercise outside, or you'll carry your parallettes around because you want the freedom to exercise wherever and whenever you feel like it, try to choose a light and portable parallettes that fits into your backpack.
Also, make sure you can quickly and easily (dis)assemble them with your bare hands so that you don't need to carry any assembly tools with you.
Still, my advice is to avoid models that come as a single piece. You don't have to assemble them, but most of them may not be of the right height, which makes them hard to use properly.
Price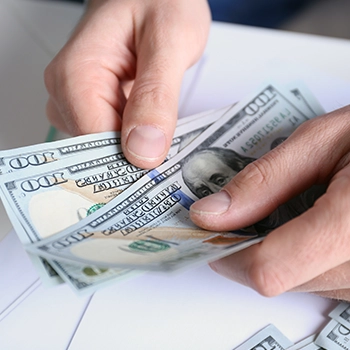 When compared to other useful pieces of calisthenics equipment such as a power tower, you've probably noticed that parallettes don't cost a fortune.
So, it's smarter to focus more on all the above factors than getting the lowest price because it's possible to find a decent set of inexpensive paralletes for under $100.
I believe it's better to spend a bit more money to buy a durable item than to go for just any poor-quality set and have to buy new models every season. Doing the latter is detrimental in the long run since the items wear out and break sooner, causing you to spend more as time passes.
Other Resources You Can Read:
If you really want to work all of your muscle groups and both your space and your bank account are limited, [parallel] bars are one of the best pieces of equipment.

-Faith Davis, Trainer
FAQs
What Muscles Do Parallettes Work?
Parallettes can work various large and small muscle groups, including your shoulders, arms, chest, back, hips, and core, depending on the types of exercises you're doing.
How Tall Should Parallettes Be?
Parallettes should be approximately 8 to 12 inches tall if they're standard size. On the other hand, mini parallettes are typically just around three inches off the ground.
The higher your parallettes are, the less demanding and challenging your progressions will be.
Are Handstands Easier on Parallettes?
Handstands are not necessarily easier on parallettes than on even hard floors, especially if you're still mastering the basics. However, many athletes say that handstands on parallete bars are easier on your wrists because they reduce the pressure and give you more control with a firm, comfortable grip.
Are PVC Parallettes Strong Enough?
Yes, PVC parallettes are strong enough, especially if they're made from a 1.5-inch-diameter stronger schedule 80 PVC pipe with thicker walls and about 12 inches long bars. Such parallete bars construction can withstand 1,225 lbs of tensile strength before it breaks, which is more than enough even if you're a big guy.
Should I Get Parallettes?
Yes, you should get parallettes as a powerful weapon in your home exercise kit arsenal. Whether you're a beginner or an advanced exerciser, many athletes and trainers claim that you can benefit from this highly versatile and cost-effective equipment.
Parallette bars can help you build muscle, increase strength, and improve your coordination and balance.
What's the Best Parallette?
If you ask me, one of the best parallette bars undoubtedly is Lebert Fitness Equalizer because they're heavy duty, yet lightweight, and have a good quality-price ratio. Also, their slip-resistant quality construction and handles offer a great grip and can stand high-intensity workouts.
The fantastic height makes them a good purchase for both beginners and seasoned athletes because this pair allows for enough ground clearance to make your movements easier or more challenging - whatever suits you best.
After all, it's up to you to choose the best parallettes for your home exercises because you know your needs and preferences the best.
Our #1 Recommendation
Lebert Fitness Equalizer (Best Overall)
Check Current Price

Pros
Super heavy duty yet lightweight
Provides fabulous ground clearance
Available in different colors and sizes
Comes with a strength training DVD
Was this article helpful?