32
Products
Considered
140
Hours
of Research
90
Reviews
Examined
10
Experts
Interviewed
Getting a pair of gymnastic rings could spice up your strength training and make it more effective, be it gymnastics, calisthenics, CrossFit, bodybuilding, or any other.
Let's dive into this in-depth guide on the best gymnastic rings on the market we've reviewed for you to help you choose your perfect set.
Table of Contents
Editor's Choice
FitBeast
Check Current Price
#2nd Best Choice
NAYOYA
Check Current Price
#3rd Best Choice
PACEARTH
Check Current Price
Our Top 10 Gymnastic Rings Recommendations
1 - FitBeast Wood Gymnastic Rings (Editor's Choice)
These wood gymnastic rings can enable you to train like an Olympics athlete with a professional coach effectively, improving your coordination and strength by doing a variety of ring exercises in a fun and secure way.
The sturdy construction of these best gymnastic rings, paired with smooth polishing of birch wood, ensures a soft non-slip grip.
They're convenient to store and transport so you can exercise safely anywhere by hooking them up to anything sturdy indoors or outdoors thanks to the long and wide straps and a strong foam door anchor.
The adjusting scale line at each foot of the straps enables you to align both rings quickly and easily adjust the strap length to your needs based on the exercises, while the alloy buckles lock the straps to prevent sliding during use, and Velcro strips to tie the loose ends.
Weight capacity: 1,600lbs
Material: Birchwood rings, 1000D high-strength polyester webbing straps
Ring thickness: 1.11in
Strap length and width: 15ft x 1.5in
Pros
Anti-sweat rings provide a secure, comfortable, and solid grip
Extra strong, durable, and adjustable straps and buckles
Comes with professional, effective total-body workout tutorials suitable for beginner and senior users
Best bang for your bucks
Cons
Not advisable to leave the wooden rings outside when not in use
2 - NAYOYA Gymnastic Rings
This set is among the strongest available rings made from durable polycarbonate plastic, so it may be a good choice for complete beginners or people with a tight budget who don't want to invest in more expensive options for wood rings right away.
Although plastic, Nayoya rings are well textured to prevent slipping and offer a secure grip even with sweaty hands, so that you can do your full-body workouts without fear of falling.
They're lightweight and can fit into a backpack, so they allow you to move your "gym" wherever you want. Highly adjustable, strong straps, and the instructions you get make these rings easy to set up.
Although the straps are on the shorter side, they're wide enough not to cut into your arms while exercising. Also, some users complained that the buckling system could be of better quality.
Weight capacity: 2,000lbs
Material: PC plastic rings
Ring thickness: 1.1in
Strap length and width: 12ft x 1.5in
Pros
Impressive load capacity
Weather-resistant so also suitable for outdoor use
Inexpensive
3 - PACEARTH Wood Gymnastic Rings
Convenient to store and transport, affordable, and robust, this set may be a great choice for your CrossFit, calisthenics, or any other type of training whether you're a student, office worker, parent or even a grandparent.
The thick wood rings provide an extra-wide yet comfortable grip and can help improve your grip strength.
Besides, the rings come with extra non-slip hand tapes to ensure better sweat absorption, safety, and comfort, although some users reported the blue tapes might not stay in place during workouts.
Wide, long, and durable straps with scale in combination with sturdy serrated cam buckles can enable easy height adjustability and secure fixing of the rings to reduce the risk of injury.
Weight capacity: 1,500lbs
Material: Birchwood rings, polyester straps
Ring thickness: 1.26in
Strap length and width: 14.76ft x 1.5in
Pros
The anti-sweat, non-slip, anti-dust ring surface
Heavy-duty, solid construction
Extremely high weight capacity
Cons
Might not be ideal for those with small hands
4 - REEHUT Gymnastics Rings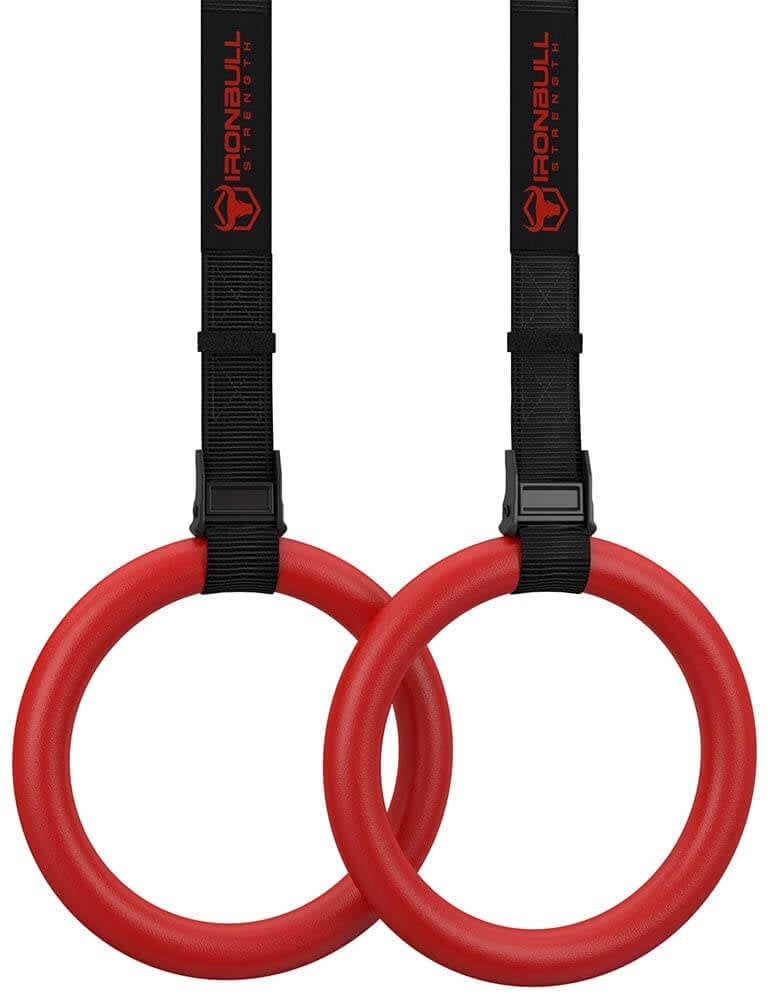 Available in different colors, these ABS plastic gym rings may not be as strong and durable as those made from PC plastic or wood rings.
Still, they can help engage and strengthen your upper body muscles with dips, rows, muscle-ups, pull-ups, push-ups, chest flies, and various other exercises in the comfort of your home gym.
The strong, long adjustable straps with metal buckles make the rings quick and easy to set up anywhere, inside or outside. Just make sure to read the instructions carefully to get the configuration right and ensure that it won't slip.
However, since the straps are quite narrow and the load-bearing capacity isn't huge, I wouldn't recommend these rings to heavy users.
Weight capacity: 300lbs
Material: ABS plastic rings, polycarbonate nylon straps, metal buckles
Ring thickness: 1in
Strap length and width: 15ft x 1in
Pros
Cheap
Two-year warranty, 30-day replacement/refund policy
16-page instructional eBook included
Cons
May be slippery when your hands are sweaty
5 - Iron Bull Strength Gymnastics Rings
The heavy-duty steel buckles and outstanding weight capacity may ensure the security and durability of these rings during intensive calisthenics, CrossFit, or other workouts.
You can pair them with these gloves made for CrossFit.
Similarly, thick, wide, and substantially long straps with the printed scales with incremental numbers every six inches can help quick height adjustment of both straps anywhere inside or outside.
Also, the solid plastic gym rings have a textured finish for a better, comfy grip (but they can't outperform wood rings). It might be uncomfortable for people with larger hands though since the rings are thinner than other brands.
Weight capacity: 2,000lbs
Material: ABS plastic rings, nylon straps, steel buckles
Ring thickness: 1.1in
Strap length and width: 15ft x 1.5in
Pros
Weatherproof construction and reliable buckling system
Budget-friendly
100% satisfaction guarantee
Cons
The rings might be too thin for people with larger hands
6 - Femor Gym Rings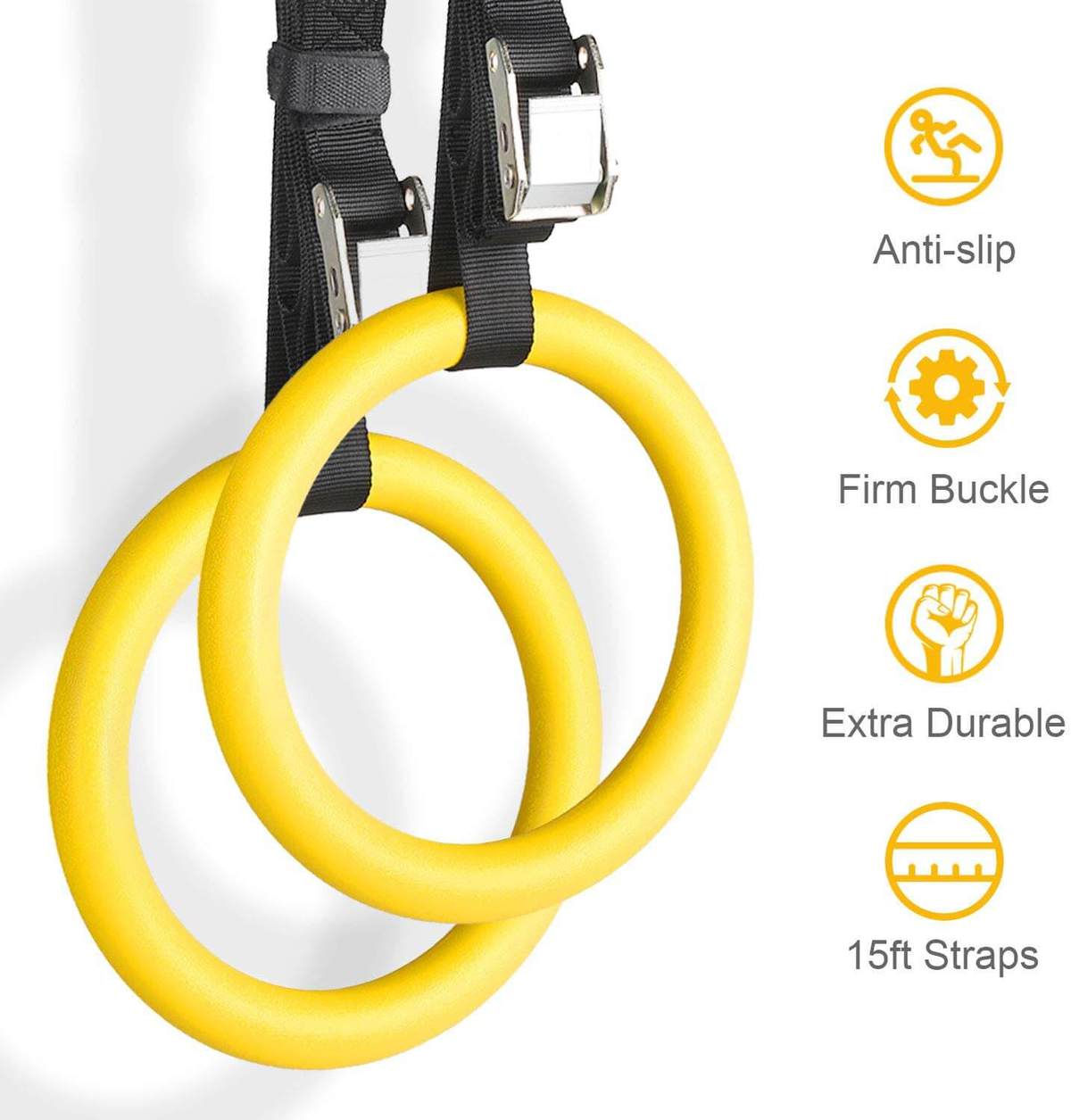 This pair of great wood gymnastic rings of high quality may also be a fantastic addition to building your muscle, increasing strength, and developing better mobility and balance in a fun way.
These wood rings might give you a sense of security because they're strong enough to withstand athletes of any body size. Many users claim that the birch construction feels soft and comfortable when gripping, although a few have said the sanding finish could be better.
The ring thickness is excellent for those with larger hands or who want to strengthen their grip. Even though some users say the numbering on each strap isn't 100% identical, it seems useful enough to help you quickly match the height of both rings when changing your workout, e.g. from muscle-ups to ring rows.
Weight capacity: 1,100lbs
Material: Birchwood rings, nylon straps, iron buckle
Ring thickness: 1.25in
Strap length and width: 15ft x 1in
Pros
Sturdy ring construction
Easy to set up and adjust
Excellent value for the price
Cons
Some users say the wood splinters slightly after a few years of use
7 - ZELUS Gymnastic Ring
According to the manufacturer, this high-density durable ABS construction enables you to safely perform a variety of exercises that can help you tone arm muscles, boost core strength, improve body coordination and balance.
They also say the threaded rings ensure outstanding comfort and prevent slippage even with sweaty palms leaving them blister-free.
The adjustable straps and buckles with serrated teeth for enhanced safety make these rings easy to install and portable, allowing for training on the go. But, some users say it might be tricky to change the height often.
Some users complain of their buckle strap is starting to slip, but it may be because of faulty installation as other users noted.
Weight capacity: 1,760lbs
Material: ABS plastic rings, polycarbonate nylon straps
Ring thickness: 1.2in
Strap length and width: 15ft x 1in
Pros
Weather-resistant, suitable for various spaces and user needs
Available in different colors
100% chemical-free and odorless
Cons
Might feel too rough for those with tender hands
8 - Hoocan Wood Gymnastics Rings
The solid construction of these heavy, thick wood gymnastics rings offers a great load-bearing capacity for maximum safety during intensive workouts. The wood laminations are of decent quality with a few small voids and fills.
The straps with a nice scale on these wood rings enable you to level the height of both rings without hassle, while the serrated locking buckles may give a feeling of increased safety.
The package comes with a set of hand tapes and stretch band, although some users didn't like the quality of the tapes. It has only one bit of tape to secure to ends, so it might be best to use it with some silicone tape for added safety.
Weight capacity: 1,500lbs
Material: Bich wood rings, polyester straps
Ring thickness: 1.26in
Strap length and width: 14.76ft x 1.5in
Pros
The stable construction and reliable locking system
Great price-quality ratio
Four blue non-slip anti-sweat hand tapes, plus one pre-exercise stretch band included as the giveaway
Cons
Might be too thick for people with smaller hands or weak grip
9 - Forcefree+ Wood Gymnastics Rings
The manufacturer claims that these nifty rings are designed for professional athletes, and the solid wood gymnastics rings material provides an excellent non-slip grip.
However, few users say the wood finish may become somewhat rough, but nothing some sanding can't help you fix to avoid splinters. Some parts of the wood rings also tend to chip overtime, but it's still usable overall.
The robust straps and iron buckles bring about security, although a few people reported that the heavy-duty straps started to fray after several workouts. Also, the straps are not numbered for more effortless height adjustment, but it's not a big deal for many users.
Weight capacity: around 770lbs
Material: Birchwood rings, straps made from nylon, iron buckles
Ring thickness: 1.26in
Strap length and width: 14.9ft x 1.5in
Pros
Sturdy, versatile set of high quality
Great price for wooden rings
100% money-back guarantee
Cons
Users warned that the instructions on the box on how to route the straps through the buckle are incorrect and may cause the straps to slip
10 - YISSVIC Professional Gymnastics Rings
These multifunctional rings may be a nice addition to your home or garage gym to help you put your bodyweight and strength training to a whole new level, as some users said.
The sturdy, durable buckles, adjustable straps, non-slip handles, and great weight capacity may be enough to make this set a safe exercise tool for athletes of all levels.
The textured plastic ring surface might offer a better grip even without chalk, but it can hardly be as firm and comfortable as wood rings.
It's important to push yourself further than you think you can go each and every day — as that is what separates the good from the great.

– Kerri Strug, USA gymnast and Olympic medalist
Weight capacity: 1,400lbs
Material: ABS plastic rings, nylon straps, metal buckle
Ring thickness: 1.25in
Strap length and width: 15ft x 0.98in
Pros
Suitable for outdoor and indoor use
Affordable
100% satisfaction refund policy
Cons
The straps might be wider for enhanced security and comfort
What to Look for When Buying Gymnastic Rings
There are thousands of gymnastic rings manufacturers on the market these days, and almost all the products look alike.
That's why you must know what to look out for and what sets apart quality gym rings from mediocre or poor ones before deciding which pair to buy for your home gym.
As much time as you put into it, that's what your achievements are going to be when you come out of it.

- Mary Lou Retton, USA gymnast and Olympic champion
Size and Weight Capacity
The gym rings size actually refers to their thickness, and there are two versions available:
Smaller - 1.11 inches (28mm) - The International Gymnastics Federation (FIG) official size professional gymnasts worldwide use
Bigger - 1.25 inches (31mm) - also known as standard or gym size typically used in gyms for CrossFit and other sport
The ideal ring size for you will depend on your preferences, and your fingers and hands size. In general, most people can securely and comfortably grip gym rings that are 1.11 to 1.25 inches thick, so no need to worry about the size.
More importantly, the minimum weight capacity of your gymnastic rings should be at least 600 pounds to ensure maximum security. Some rings can hold up even 2,000 pounds.
Ring Material and Construction Quality
When it comes to gymnastic ring construction, I always search for a high-quality, smooth, anti-slip finish that provides a secure and comfortable grip even with sweaty hands.
Gymnastic rings are typically made from wood, plastic, and metal (steel). And all these materials have their pros and cons. Let's tackle each one of them below.
1. Wooden Gymnastic Rings
Wooden gymnastic rings are my top choice here when compared to other options because they're usually made from birch wood, which is strong and can absorb sweat.
That's why Olympic athletes use them.
Besides a superior grip and warmer natural feel, wood rings are quite durable, lightweight, and skin-friendly.
Even though they tend to be more expensive and should not be left outside in bad weather, I dare say that wood rings are worth the investment.
2. Plastic Gymnastic Rings
Although they don't look so good as wood rings, plastic rings can also be a good choice as they're rather durable, cheaper, lightweight and easily portable, and can be hung outdoors.
However, they're often slippery, so you probably won't be able to use them without chalk. And some users say they're flimsy.
If you decide to get plastic gymnastic rings, I suggest going for polycarbonate plastic (PC), which is strong enough and may not cause so much skin damage.
3. Metal or Steel Gymnastics Rings
Metal gymnastic rings are also a less expensive, sturdier, and long-lasting option for outdoor use in not so cold and humid climates if they're rust-resistant.
But, they're also pretty heavy, slippery and harder to grip, plus may cause more blisters or calluses on sensitive skin.
You can find them in public parks, but I wouldn't recommend buying them for your home gym, especially if you're looking for your first pair of gymnastic rings. That's why we didn't include any metal or steel gymnastic rings on our list of best gymnastic rings above.
4. Straps and Buckles
The straps and buckles are by no means less important than the rings because they also hold your body weight and are often the first things to break down, which may be dangerous. That's why you need a reliable and well-built hanging system.
It's a good idea to find gymnastic rings that come with thick, sturdy, non-stretchy, and wide nylon ring straps, which are between 12 and 15 feet long and at least 1.5 inches wide.
Wider straps are usually made from thicker materials, providing more comfort during workouts as they don't cut into your arms. Also, they offer better stability, which is especially important for beginners.
For better safety, you'd also want a secure, durable, and adjustable buckling system to keep your rings fastened so that they don't slip down in the middle of your workout. [2]
Two commonly available options nowadays are:
Cam buckle system (narrow made for 0.98''/28mm straps and wider for 1.5''/38mm straps) - pretty safe and ideal for a high ceiling, but it might be time-consuming to adjust the buckles and align the height of both ring straps
Carabiner buckle system - typically pre-set, so it's much faster and easier to adjust and level the straps, which makes it ideal for outdoor use in parks and other public areas
Durability and Safety
To ensure durability and safety, your gymnastic rings should be made from heavy-duty, high-quality materials.
Not only the rings but the straps and the buckles need to support your body weight, constant stretching and pulling, and to endure harsh weather conditions if you use them outdoors.
You don't want your gym rings to snap while you're exercising, do you?
Then, it would be wise to go for a sturdy but light ring material paired with thick, wide, non-stretchy straps and a robust and adjustable buckling system.
Pricing
Plastic gymnastic rings are usually the cheapest option, even up to 30% cheaper than the others, while wooden and steel models are on the higher end when it comes to gymnastic ring pricing.
Still, I believe you should consider safety and quality first, and then think of the cost. So, before you buy yourself gym rings, ensure that your chosen pair meets all the above requirements.
Gymnastics uses every single part of your body, every little tiny muscle that you never even knew.

- Shannon Miller, USA Gymnast and Olympic medalist
Where Can You Hang Rings at Home?
Here are some ideas on where you can hang your gymnastic rings at home:
Wall-mounted pull-up bar
Ceiling mounted pull-up bar
A tightly screwed doorway pull-up bar
Any exposed rafters or beams in your garage, attic, basement, etc.
A training bar across your loft hatch or stairwell
A stable, thick tree branch in your backyard
Whichever place you choose, make sure it's safe and provides enough space for your free movement.
Our #1 Best Gymnastic Rings
I've tried different types of gymnastic rings over several years of training. My favorite pair is FitBeast wood gymnastic rings because they're incredibly reliable, durable, and made from heavy-duty materials.
I dare say that you can't go wrong with these rings if you want to add fun and versatility to your full-body workouts. They're easy to store and use indoors and outdoors, thanks to the long, high-quality straps, study alloy buckles, and a strong door anchor attachment.
Many users, both beginners and pros, also feel impressed with this set as it has improved their coordination and strength without compromising comfort and safety.
Which pair of rings is your favorite?
Hope the information in this guide has helped you find it.
Our #1 Recommendation
FitBeast Wood Gymnastic Rings
Check Current Price

Pros
Anti-sweat rings provide a secure, comfortable, and solid grip
Extra strong, durable, and adjustable straps and buckles
Comes with professional, effective total-body workout tutorials suitable for beginner and senior users
Best bang for your bucks
Cons
Not advisable to leave the wooden rings outside when not in use
About the author
You may also like