38
Supplements
Considered
185
Hours
of Research
69
Reviews
Examined
12
Experts
Interviewed

I have worked with quite a few people with diabetes (most of them have type 2), and through consistent work with a dietitian and my exercise programs, we've always been able to gain control of body weight.
But a lot of diabetics get to a stage where they also want to improve their fitness and build up some muscle mass. This is entirely possible without messing with blood sugar and insulin levels.
I have done countless hours of careful research and analysis with my dietitian to come up with a list of the best protein ​powders for diabetics.
Let's see which best protein powder gets on top of the list.
The Best Protein Powders for Diabetics
Editor's Choice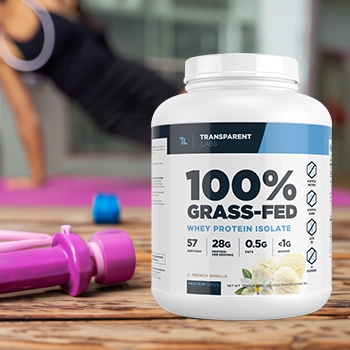 Transparent Labs
Click For Best Price
#2nd Best Choice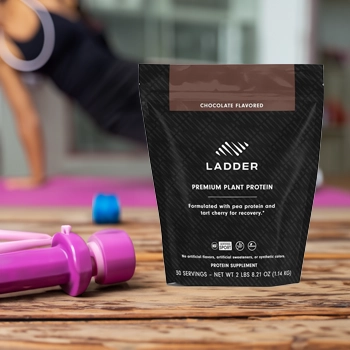 Ladder
Click For Best Price
#3rd Best Choice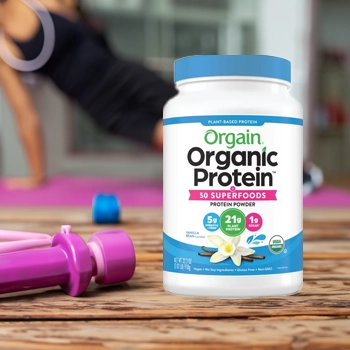 Orgain Organic
Click For Best Price
Top Protein Powders for Diabetics (December 2023)
1 - Transparent Labs Whey Protein Isolate
(Best Overall, Grass-Fed & Protein-Rich)
One of the biggest benefits of this whey protein shake is the total absence of anything other than actual healthy protein. Having tried it myself, I can vouch for its effectiveness.
The entire team, with our clients' feedback and in-depth research, considers this as the best protein powder for diabetics because of this.
This particular whey protein shake also contains less than 1 gram of carbohydrates in each serving, meaning that it won't cause havoc with your glucose and you won't have to adjust your diabetic meal plans. It helps maintain your calorie and carbohydrate intake.
Calories: 120
Protein: 28g
Carbs: 2g
Fat: 0.5g
Pros
28 g of whey protein from grass-fed cows (rBGH)
No whey protein additives or fillers to worry about
Significant savings available on bulk orders
Available in tasty flavor options
With no sugar or artificial sweetening agents, a lot of online reviews highlight that the flavors of this whey protein are natural and tasty, without compromising blood sugar.
Get 10% off using coupon code: TOTALSHAPE
2 - Plant Protein Powder by Ladder
(Best for Recovery)
If you're not into whey protein, Ladder offers a good alternative.
The Ladder supplement underwent a transformative journey spanning four years, during which a team comprising notable figures like LeBron James and Arnold Schwarzenegger invested their efforts.
This plant-based protein powder provides a higher dose of branched-chain amino acids, which is more than enough to fully repair your body after an intense workout [1,2].
While incorporating this supplement into my routine, I observed enhanced performance that allowed me to push myself further in the gym and recover faster. Beyond its delicious chocolate flavor, I particularly appreciate its easy digestion and smooth texture.
Check out our Ladder whey protein powder review here.
Calories: 130
Protein: 21g
Carbs: 7g
Fat: 2.5g
Pros
100% plant based protein powder
NSF-Certified
Contains a higher dose of EAAs and BAAs
Contains probiotics
Cons
May contain more sugars than other protein powders
What I love about this protein powder for diabetics is that it's completely plant-based, helping you reduce the risk of cardiovascular disease and improving your overall physical function [3].
3 - Orgain Organic Protein Powder
(Cheapest Option)
This protein powder blend is important as it provides the full range of amino acid nutrients needed for muscle growth and recovery [4].
It's a low-carb protein powder for diabetics with no added sugars that could lead to a blood sugar increase.
Having worked closely with clients with type 1 and type 2 diabetes, I've seen firsthand the positive impact of Orgain Organic Protein Powder. I remember one client, in particular, who reported significant improvements in energy levels and blood sugar management after incorporating this into their diet.
Calories: 150
Protein: 21g
Carbs: 15g
Fat: 4g
Pros
Based on pea, rice and chia seeds
Sugar-free to avoid glucose spikes
Contains fiber for digestive health
Low fat and carbs per serving, making it easy to support a diabetes diet
Cons
Currently only available as vanilla flavor
The only real downside to this protein powder is that you can only get it in vanilla flavor right now. If it's a flavor that you like, then this unsweetened protein powder is a solid choice to make, especially when you want to use it on baked goods like waffles or pancakes.
4 - Future Kind Organic Vegan Protein Powder
(Best Vegan & Low-Calorie)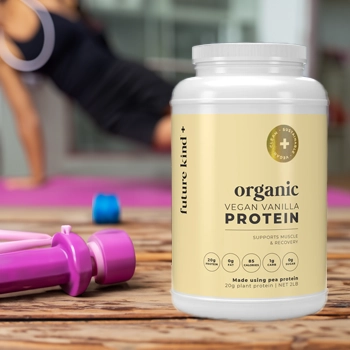 Future Kind whey protein is derived from 100% organic non-GMO yellow pea and contains the full spectrum of amino acid nutrients. You will get 20g of pure protein in one serving, which your muscles would love after the strenuous workout.
It has as little as 1g of carbs, and zero sugars added (organic stevia is used as artificial sweeteners).
I can personally attest to the delightful taste of Future Kind's protein powder. Having tried it myself, I was pleasantly surprised by its natural vanilla flavor. This is a refreshing departure from the artificial taste common in many other protein powders. That's why those looking for the strong chemical vanilla flavor may end up disappointed and find it a bit bland.
Calories: 85
Protein: 20g
Carbs: 1g
Fat: 0g
Pros
Contains 20 grams of clean, plant-based protein
Low carb and zero sugar for better blood sugar
Delicious vanilla flavor
No protein powder fillers and artificial flavors
Cons
More flavor options would be awesome
5 - Transparent Labs Organic Vegan Protein Powder
(Best Protein-Rich)
For many people, whey protein powder is not going to be an option due to lactose intolerance.
Vegans will also want to avoid all dairy sources, and Transparent Labs has created a great plant-based protein powder option based on rice and pea protein. It's what makes this protein powder a viable alternative to whey protein powders.
Not only is it free from any milk or other animal ingredients and artificial sweeteners, but it's also non-GMO and gluten-free.
I'm a fan of the flavors as they are subtle and not fake tasting, I also found that this protein powder is easy to mix and dissolve, unlike most similar products in the market.
Calories: 130
Protein: 24g
Carbs: 3g
Fat: 2g
Pros
24 g of pea and rice protein for a broad range of essential amino acids
Gluten-free and non-GMO protein powders
No added sugars, artificial sweeteners, or colors for better blood sugar levels
Chocolate and vanilla flavors mix easily
Cons
The chocolate version has 150 calories, 7 g of carbs, and 2.5 g of fat
6 - Slim Fast Protein Shake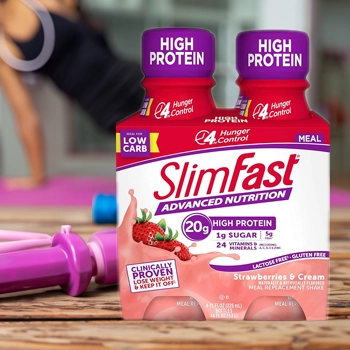 I still remember the day my dietitian first recommended Slim Fast products to me. I decided to give it a try, and to my surprise, it seamlessly fit into my low-sugar, low-carb lifestyle, becoming a staple in my diet.
This soy and whey protein powder for diabetics is available in two different flavors (chocolate and vanilla), which mix easily into meal replacement shakes.
This whey protein also makes it a great choice for weight loss efforts by helping you skip a meal or snack during the day.
Calories: 190
Protein: 10g
Carbs: 24g
Fat: 6g
Pros
Less than 1g of sugar when mixed with water, not milk
Many positive reviews about working as a light meal replacement
Good source of vitamins and minerals
Low-fat content supports most diets
Cons
Contains soy and whey protein which may not be suitable for certain allergies
While testing this supplement, I found that it elevated my energy levels and contributed to a gradual weight loss when used alongside a healthy diet and exercise regimen.
7 - Garden Of Life Protein Powder
(Best Tasting)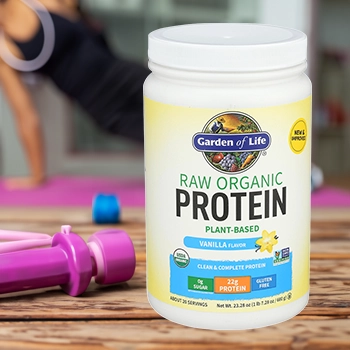 The nutrient profile of this best protein powder covers the full range of all essential amino acids by blending a wide variety of plant products.
From my own experience, Garden Of Life offers some of the best flavors I've tasted. I often find myself reaching for the unflavored option to mix into my morning smoothies, a testament to its versatility and quality.
Calories: 170
Protein: 28g
Carbs: 10g
Fat: 2g
Pros
No added sugars to help avoid blood sugar increase
Protein powder blend sourced from a wide range of plant products for best amino acid profile
Rich in vitamins for overall immune health
Includes probiotics and enzymes for digestive health
Cons
Some people have commented that it's not the easiest protein powder to mix
I did find the best protein powder flavors were good, and the unflavored option is great for mixing with smoothies. But there are several comments online that it's not the easiest to mix in a shaker.
How We Chose the Products
Here's an in-depth look at our meticulous selection process.
Comprehensive Research
Our journey began with exhaustive research, where we dived into available protein powders on the market. We scoured through scientific journals, nutritional studies, and expert analyses to create a foundational understanding of the specific needs of individuals with diabetes.
Ingredient Analysis
The ingredient profile is the soul of any protein powder. We meticulously examined the list of ingredients of countless products, focusing on their quality, sources, and potential impacts on blood sugar levels. Only those with clean, safe, and diabetic-friendly ingredients made the cut.
Price
To assess the price, we compared a range of protein powders marketed towards diabetics, looking at the cost per gram of pure protein and the number of servings per container.
We also considered the availability of discounts, bulk purchase options, and subscription services that could make regular purchases more affordable.
Our goal was to identify products that offered the best value for money without compromising on quality or the specific nutritional needs of diabetics.
Effectiveness
Effectiveness was gauged by how well the protein powders met the nutritional needs of diabetics, such as having a low glycemic index, being low in sugars, and providing a substantial amount of protein per serving.
We also looked at the absorption rate of the protein and how it supported muscle recovery and growth. Our panel of diabetics used the protein powders over a period of time, and their blood sugar levels were monitored to ensure that the product was having a positive impact on their glycemic control.
Feedback from nutritionists and fitness experts also played a crucial role in determining the effectiveness of each powder.
Taste
To evaluate taste, our panel of participants with diabetes sampled each protein powder in various forms - mixed with water, milk, and as an ingredient in smoothies.
We selected a range of flavors available for each product to ensure a comprehensive taste test. The participants provided feedback on the taste profile, aftertaste, mixability, and overall enjoyment of the product.
We aimed to find protein powders that were both enjoyable to consume and free of artificial sweeteners, flavors, or other additives that could be detrimental to diabetic health.
Nutritional Value
Every product was evaluated for its macro and micronutrient profile. We prioritized products that offer optimal protein content, minimal sugars, and additional nutritional benefits that support the overall health of individuals with diabetes.
Is Protein Powder Bad for Diabetes?
No, protein powder isn't bad for diabetes. However, it's essential to consider other ingredients, as added sugars or carbohydrates often found in sweetened or flavored protein powders can cause blood sugar spikes.
Diabetics should avoid sugar and carbs whether they have type 1 or type 2 diabetes. However, it's not enough to only look for "No Added Sugar" labels or avoid anything high in carbs when looking for the best protein powder.
A lot of sugar-free ​protein powders can still have a load of carbs listed in the content. And some protein powder supplements have added fiber, which increases the carb content but isn't absorbed by your body [5].
So, you need to check for the label of the protein powders or any protein supplement. Ideally, there should be no sugar and low in non-fiber carbs. Also, you should look for sodium in protein powders. High sodium intake can increase blood pressure, which complicates health issues for people with diabetes. Look for protein powders with less than 200 mg of sodium per serving.
In terms of protein powder, a healthcare journalist reiterated that there's no correlation between protein and blood glucose levels.
Protein itself does not have much of an effect on blood sugar, though the food the protein is in may. Typically, people with diabetes don't need any more protein than people who don't have diabetes.

- Shereen Lehman, Health Care Journalist
See related articles:
How Different Types of Protein Impact Blood Sugar Levels
Different types of protein impact blood sugar levels in various ways. Whey, casein, and plant-based proteins each have distinct effects on glucose metabolism.
Whey protein can aid in insulin sensitivity and immediate muscle recovery. Casein, with its slow digestion process, offers a steady release of amino acids, promoting prolonged satiety and stable blood sugar levels.
On the other hand, plant-based proteins, derived from sources like peas, rice, and hemp, are often accompanied by fiber and other nutrients that contribute to a balanced glycemic response.
By knowing the effects of these proteins, you can make informed choices, and align your protein intake with your unique metabolic responses and overall diabetes management goals.
How Protein Timing Impacts Blood Sugar Levels
The timing of protein powder plays a huge role in blood sugar levels. For example, starting the day with a protein-rich breakfast can set the tone for stable blood sugar levels throughout the day. Taking protein powder before and after your workout can also optimize blood sugar control.
A protein shake before bed can act as a safeguard. It ensures a steady release of glucose throughout the night, ensuring that you wake up with balanced blood sugar levels, ready to take on another day.
Overall, personalization is key, so experiment with taking protein powder at different times of the day to find what works best for you.
FAQs
Can Diabetics Drink Protein Shakes?
Yes, diabetics can drink protein shakes, but they need to pay close attention to the labels. Take note that diabetics can eat protein bars too. Anything high in sugar or non-fiber carbs in protein powders can cause blood sugar spikes.
Which Protein is Best for Diabetics?
Whey protein powder is best for diabetics, as long as they don't have any dairy intolerances. The advantage is that whey protein powder is absorbed faster and covers a full range of essential amino acids, especially as a smoothie. Absorbing the macronutrients faster is a great way of ensuring that you're pumped up and ready once you do your workout exercises.
Is Too Much Protein Bad for Diabetics?
Yes, too much protein powder is bad for diabetics since it could cause side effects like stomach upset. The more physically active you are, the more your body will be reliant on protein to repair muscle tissue, so keep that in mind before cutting down on your protein intake.
Does Protein Raise Blood Sugar Levels?
No, protein doesn't raise blood sugar levels in any significant way. It is dependent on insulin from a metabolic perspective, but it doesn't come with the same medical risk as carbs. The best protein powder products included in this best protein powder list are all low in carbs, thus ideal for controlling blood sugar levels.
Do Protein Powders Cause Weight Loss?
No, the protein powders do not cause weight loss or gain as long as you stay below the daily recommended amount of protein. For best results, take protein powder with cardio and weight lifting to help with weight loss while maintaining muscle mass.
Our Verdict on the Best Protein Powder For Diabetics
In my journey to find a protein powder that aligns with both weight management and muscle-building goals for diabetics, Transparent Labs Whey Protein has emerged as a clear frontrunner.
My clients, many of whom manage diabetes, have consistently reported excellent results. Its negligible carbohydrate content integrates seamlessly into a diabetic meal plan, simplifying nutrition without compromising blood sugar levels.
Through rigorous testing and real-world feedback, our team stands behind this product as the premier choice for diabetics. With 28 grams of pure whey protein, zero carbohydrates, and no additives, it supports a healthy lifestyle while keeping glucose spikes at bay.
Our #1 Protein Powder For Diabetics
Transparent Labs Whey Protein Isolate (Best Overall, Grass-Fed & Protein-Rich)
Click For Best Price

Pros
28 g of whey protein from grass-fed cows (rBGH)
No whey protein additives or fillers to worry about
Significant savings available on bulk orders
Available in tasty flavor options
Get 10% off using code:

TOTALSHAPE
Was this article helpful?