Looking to bulk up and get ripped? You'll need to ensure you're getting enough protein in your diet, or else you won't be making significant gains anytime soon.
That's where whey protein powder comes in to help you build muscle fast and get the most from your workouts.
If you're looking for a whey protein powder brand that won't leave a hole in your budget, we've teamed up with experts and personal trainers to give you a rundown of the 7 best protein powders currently on the market.
Editor's Choice
Transparent Labs
Click For Best Price
#2nd Best Choice
Ladder
Click For Best Price
#3rd Best Choice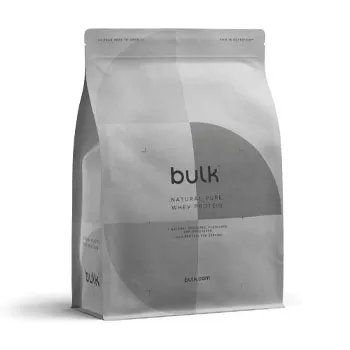 Bulk Powders
Check Current Price
7 Best Cheap Protein Powders
1 - Transparent Labs 100% Grass-Fed Whey Protein Isolate (Editor's Choice)
The top choice when it comes to the best protein powder that's also affordable is hands-down 100% GRASS-FED WHEY PROTEIN ISOLATE.
With one of the highest protein per serving ratios in the market, this organic whey protein isolate provides the most bang for your buck while also being completely natural.
As it's made from 100% naturally fed and hormone-free cows, it is excellent for individuals who are mindful of their health and wellbeing.
This means there's no worry about any negative repercussions of harmful toxins or preservatives going into your body, allowing you to get into shape in a healthy way.
Calories: 120
Protein: 28g
Carbs:1g
Fat: 0.5g
Pros
No artificial sweeteners, preservatives, or coloring
Gluten-free and non-GMO
100% grass-fed hormone-free protein
Company ships internationally
Cons
May have issues with packaging and shipping integrity
Some container shipments may have issues regarding advertised vs. actual size.
2 - Ladder Whey Protein
If you're looking to achieve world-class workout performance, Ladder Whey Protein is another top-quality option.
Founded by legends Arnold Schwarzenegger and LeBron James, Ladder Whey Protein was created specifically to provide the supplementation necessary to support their active lifestyles.
High standards are at the heart of what Ladder Whey Protein stands for - being NSF-Certified and third-party verified to ensure the quality of every single package.
It means that the protein is free from banned substances or contaminants, providing consumers with peace of mind, knowing that their health is being prioritized.
Calories: 130
Protein: 26g
Carbs: 6g
Fat: 1g
Pros
Free shipping with a 30-day money-back guarantee
Probiotics make it easy to digest
NSF Sport-Certified for guaranteed safety and quality
Cons
Taste and texture can be off-putting
In terms of flavor and overall taste quality, there's some room for improvement.
3 - Bulk Powders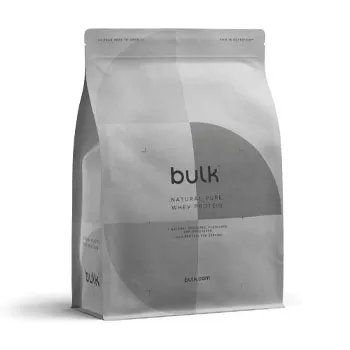 With no artificial colors or sweeteners, Bulk Powders whey protein provides 22g of protein per serving and is a perfect addition to any balanced diet.
Compared to most protein brands in plastic packaging, Bulk Powders is 100% compostable and especially popular amongst environmentally-conscious individuals.
Additionally, Bulk Powders is an organic whey concentrate product which means it contains less than 1% lactose. This makes it suitable for individuals that have bloating issues associated with dairy or sensitive stomachs.
Calories: 114
Protein: 22g
Carbs: 3.6g
Fat: 1.2g
Pros
An eco-friendly packaging
Mixes well
Great for sensitive stomachs
Cons
A smell can be quite strong
Individuals that are sensitive to scents may want to look for other options.
4 - Optimum Nutrition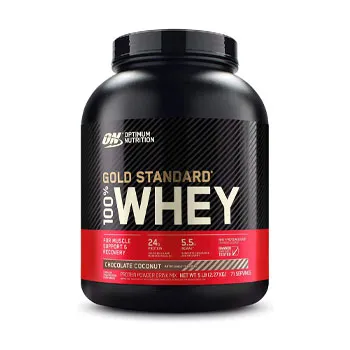 Made from 100% whey protein, Optimum Nutrition Gold Standard protein powder is known for being the world's #1 best-selling protein powder brand.
Optimum Nutrition Gold Standard provides 24 grams of protein and over 5 grams of branched-chain amino acids per serving (BCAAs), crucial for muscle growth and recovery [1].
With a blend of flavors such as strawberry, chocolate, cappuccino, and coffee, Optimum Nutrition Gold Standard is one of the best whey protein powder brands out there that taste great as well.
Other powders available from the company include supplements like creatine and casein protein, which nicely complement their protein powder blend.
Calories: 130
Protein: 24g
Carbs: 4g
Fat: 1.5g
Pros
A large variety of great tasting flavors to choose from
No clumping when mixing
Third-party tested for banned substances
Cons
Product may lack quality control such as outer and inner seals
If you're particular about the integrity of your product, be aware that some packages have been noticed to be missing seals.
5 - Syntha-6
Syntha-6 whey protein powder contains a whopping 10 grams of essential amino acids, making it one of the best protein brands to choose from for muscle growth and recovery.
This protein powder brand is tailored towards post-workout muscle repair, which helps athletes alleviate pains and sore muscles to get back into the game quickly.
If you're picky about taste, you'll also be pleased to know Syntha-6 whey protein powder is hands-down the best-tasting protein powder brand on the market.
The company's exclusive flavor technology has allowed them to create a milkshake-like protein powder that tastes just like vanilla ice cream - which can be consumed at any time of the day.
Calories: 200
Protein: 22g
Carbs: 14g
Fat: 6g
Pros
Best-tasting protein powder on the market
Differing variety of products for muscle growth, performance, energy, and focus
Whey protein isolate provides essential amino acids for recovery
Cons
Contains some artificial ingredients and flavorings
If you prioritize consuming only natural foods in your diet, note that the product contains some artificial ingredients.
6 - Dymatize ISO 100 Whey Protein Powder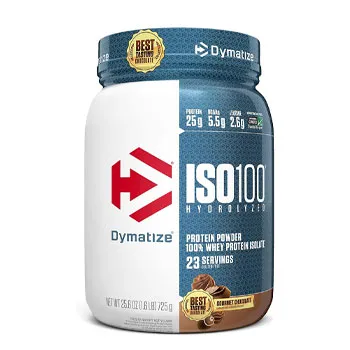 Those with sensitive stomachs or prone to bloating absolutely love Dymatize ISO 100 Whey Protein Powder for its easy-to-digest hydrolyzed formula.
Compared to ordinary whey protein powder, which contains minuscule amounts of lactose and fats, hydrolyzed whey protein powder completely eliminates all lactose and fat traces, which individuals with hypersensitivity love.
The hydrolyzation process also further breaks down the whey protein powders, which means your body absorbs Dymatize ISO 100 Whey Protein Powder's nutrients almost instantly the minute it's ingested.
On top of all that, this protein is gluten-free and comes in an award-winning gourmet chocolate flavor.
Calories: 120
Protein: 25g
Carbs: 2g
Fat: 0.5g
Pros
Gluten-free with no lactose
Hydrolyzed whey speeds up absorption and digestion
The certified best-tasting gourmet chocolate flavor
Individuals that are allergic to soy or milk should look towards other options.
7 - Naked Whey Vanilla Protein
Naked Whey Vanilla Protein is made from just three ingredients - grass-fed whey, organic coconut sugar, and raw organic cacao, making it well suited to individuals with certain allergy triggers.
The protein is made from naturally pasture-fed cows treated in humane conditions, which is a bonus for individuals concerned about animal welfare.
Run by family-owned dairy farms, Naked Whey Vanilla Protein prides themselves on authenticity and honesty compared to bigger corporations and brands.
Additionally, Naked Whey Vanilla Protein claims to be cold-processed, eliminating the possibility of chemicals, additives, and heavy metals added during the manufacturing process.
Calories: 160
Protein: 25g
Carbs: 8g
Fat: 3g
Pros
GMO, soy, and gluten-free
Minimal ingredients (only three)
Cows roam on open pastures 300 days a year
Cons
Clumps appear even after mixing
The protein powder's texture can become clumpy even after mixing or blending well.
Buyer's Guide

When looking for a complete protein powder brand that'll meet your needs, you'll want to keep a few things in mind.
Weight Loss
When it comes to losing weight, look for protein powder brands low in fat, sugars, and carbohydrates per serving.
The more carbs and sugars a protein powder has, the higher the likelihood of getting converted into excess fat.
Muscle Mass Gains
To maximize your muscle-building efforts, look for a protein powder that contains high protein levels per serving. The more amount of protein there is, the more of an impact it will have on your protein intake after a workout.
Whey protein concentrate is especially favored, as it contains an abundance of BCAAs, which play a crucial role in muscle growth.
Also read: Best Protein Powder for Muscle Gain
Digestion
Plant-based protein powder is more easily digested compared to other protein blend brands. Plant-based protein powders are typically made from vegan protein sources, such as brown rice, soy, hemp, or pea protein.
If you struggle with bloating or digestion issues, prioritize a plant-based protein source.
Lactose Intolerance
If you're lactose intolerant, make sure to check that the protein powder contains whey protein isolate.
While whey protein powder does contain dairy, whey protein isolate is a special type of whey protein that typically contains less than 1% lactose, making it relatively safe for those who suffer from lactose allergies.
We also have an article on the best protein powders for lactose intolerant people.
FAQs
What Are the Risks Associated with Taking Protein Powder?
The biggest risks associated with taking protein powder include heavy metal contamination, digestion issues, and whether or not manufacturers are honest in their claims.
Many protein powder brands are not FDA-certified, which means there's no credibility behind what companies state.
To ensure the integrity of a product, make sure it's third-party verified.
#1 Best Cheap Protein Powder
As a whey isolate protein powder that's grass-fed and offers 28g of protein per serving, 100% GRASS-FED WHEY ISOLATE is without a doubt the best budget option when it comes to quality protein powders.
It provides a huge amount of protein per serving and comes from humanely treated grass-fed cows, providing you with all the components you'll need to grow physically, mentally, and spiritually.
Order yours today, and see for yourself if it really is the best budget-friendly protein blend.
Our #1 Recommendation
Transparent Labs 100% Grass-Fed Whey Protein Isolate
Click For Best Price

Pros
No artificial sweeteners, preservatives, or coloring
Gluten-free and non-GMO
100% grass-fed hormone-free protein
Company ships internationally
Get the BEST PRICE until the end of May
Cons
May have issues with packaging and shipping integrity
Was this article helpful?
About The Author