Looking to bulk up and get ripped on a budget? You'll need to ensure you're getting enough quality protein in your diet, or else you won't be making significant gains anytime soon.
That's where whey protein isolate comes in to help you build muscle fast and get the most from your workouts.
If you're looking for an affordable brand, we've teamed up with experts and personal trainers to give you a rundown of the 7 best budget protein powder supplements that offer fantastic value.
The Best Cheap Protein Powders
Editor's Choice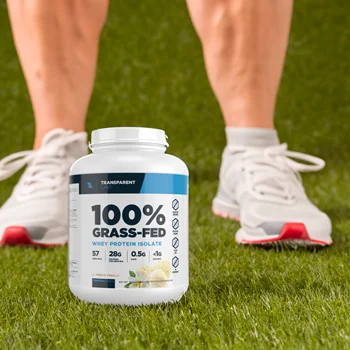 Transparent Labs
Click For Best Price
#2nd Best Choice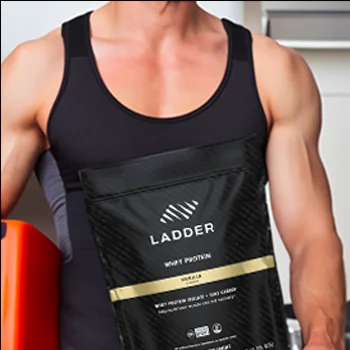 Ladder
Click For Best Price
#3rd Best Choice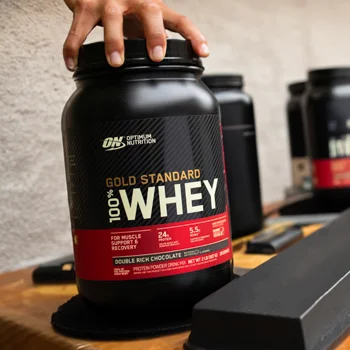 Optimum Nutrition
Check Current Price
7 Cheapest Whey Protein Powders (December 2023)
1 - Transparent Labs 100% Grass-Fed Whey Protein Isolate
(Best Overall & Gluten Free)
The top choice when it comes to the best protein powder that's also affordable is hands-down Transparent Labs Whey Protein Isolate.
I've used this organic whey isolate myself and can vouch for its smooth texture and how easy it was to blend with my post-workout shakes.
It's ideal for those with lactose intolerance due to its high protein (90-95%) and low fat and carb content, unlike protein concentrates (60-80% protein).
Sourced from 100% naturally fed, hormone-free cows, it's also health-conscious and toxin-free.
I've personally experienced improved workouts, faster recovery, and no stomach issues with this supplement. It's a game changer in the industry that has allowed me to get into shape healthily.
Calories: 120
Protein: 28g
Carbs: 1g
Fat: 0.5g
Pros
No artificial sweeteners, preservatives, or coloring per serving
Gluten-free and non-GMO
100% grass-fed hormone-free whey protein isolate
Highest protein per serving ratios
Get 10% off using coupon code:  TOTALSHAPE
2 - Ladder Whey Protein
(Best Whey Concentrate)
I was impressed when I tried Ladder Whey Protein. It's definitely another top option you should consider if you're on a budget.
Launched in 2018 by Arnold Schwarzenegger and LeBron James, Ladder Whey Protein caters to active lifestyles.
A key improvement is its elevated quality standards, proven by certification, ensuring servings are free of banned substances. I chose the chocolate flavor, using it for post-workout recovery and as a healthier evening dessert alternative, which significantly boosted my recovery.
Calories: 130
Protein: 26g
Carbs: 6g
Fat: 1g
Pros
Free shipping with a 30-day money-back guarantee
Probiotics per serving make it easy to digest
NSF Sport-Certified for guaranteed safety and quality
Cons
Taste and texture can be off-putting
In terms of flavor and overall taste quality per serving, there's some room for improvement for this protein concentrate.
3 - Optimum Nutrition
(Best Tasting)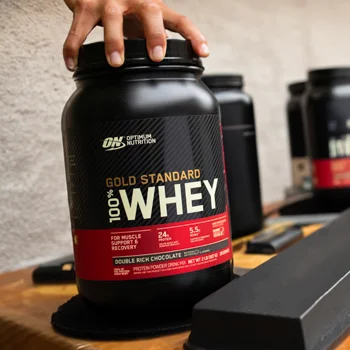 I've always heard about Optimum Nutrition Gold Standard protein powder from friends, colleagues, and athletes. I can see why it's the world's #1 best-selling protein powder brand.
It contains 24 grams of 100% whey protein and over 5 grams of BCAAs per serving which is crucial for muscle recovery as per studies published in the National Library of Medicine [1].
With flavors like strawberry, chocolate, and cappuccino, it's tasty without artificial sweeteners. I've noticed benefits like higher energy and quicker recovery.
The brand's commitment to quality is evident in their third-party testing, distinguishing them in a market often full of hype. They also have supplements like creatine and casein protein.
Calories: 130
Protein: 24g
Carbs: 4g
Fat: 1.5g
Pros
A large variety of great tasting flavors to choose from per serving
No clumping when mixing
Third-party tested for banned substances
Cons
Product may lack quality control such as outer and inner seals
If you're particular about the integrity of your product, be aware that some packages have been noticed to be missing seals.
4 - Bulk Powders
(Best Unflavored)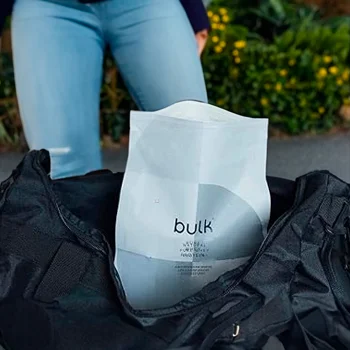 With no artificial sweeteners or colors, Bulk Powders whey protein concentrate provides 22g of protein each serving and is a perfect addition to any balanced diet. It's a clean, effective protein source.
Compared to most cheap protein powder brands in plastic packaging, Bulk Powders is 100% compostable and especially popular amongst environmentally-conscious individuals.
Additionally, Bulk Powders is an organic whey protein concentrate product which means it contains less than 1% lactose per serving; this explains why I didn't experience any bloating issues or sensitive stomach while trying this unflavored protein powder.
Calories: 114
Protein: 22g
Carbs: 3.6g
Fat: 1.2g
Pros
An eco-friendly packaging
Whey protein concentrate mixes well per serving
Great for sensitive stomachs
Cons
A smell can be quite strong
Individuals who are sensitive to scents may want to look for other whey protein concentrate options.
5 - Syntha-6
(Cheapest Option & Best for Bulking)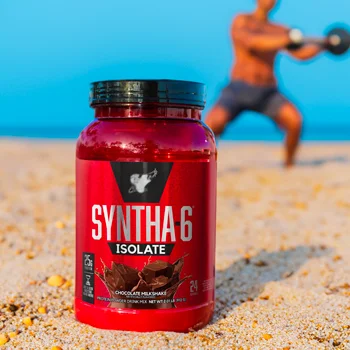 Syntha-6 budget protein powder contains a whopping 10 grams of essential amino acids, making it one of the best protein brands to choose from for muscle growth and recovery.
This high-quality protein powder brand is tailored towards post-workout muscle repair, which helps athletes alleviate pains and sore muscles to get back into the game quickly.
I've tried a variety of flavors from Syntha-6, including strawberry, chocolate, cappuccino, and coffee, and I can confidently say that they all taste great. I didn't get that artificial aftertaste that is common with some brands.
This product has also provided me with clear advantages, such as increased energy levels and faster recovery times.
Other protein powders available from the company include creatine and casein protein, which nicely complement their protein powder blend.
Calories: 200
Protein: 22g
Carbs: 14g
Fat: 6g
Pros
Best cheap protein powder on the market
Differing variety of products for muscle performance, energy, and focus
Whey isolate protein each serving provides essential amino acids for recovery
Cons
Contains some artificial flavors and ingredients per serving
If you prioritize consuming only natural foods in your diet, note that the product contains some artificial ingredients per serving.
6 - Dymatize ISO 100 Whey Protein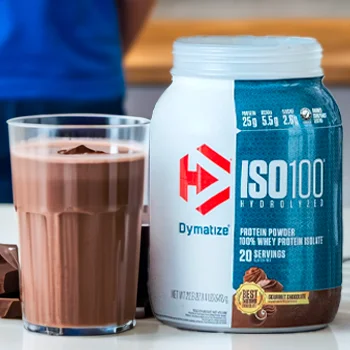 Those with sensitive stomachs or prone to bloating love Dymatize ISO 100 Whey Protein Powder for its easy-to-digest hydrolyzed formula. It's a gentle yet effective protein solution.
Compared to ordinary protein powder, which contains minuscule amounts of lactose and fats, hydrolyzed whey protein eliminates all lactose and fat traces, which individuals with hypersensitivity love.
The hydrolyzation process also further breaks down the whey protein, which means your body absorbs Dymatize ISO 100 Whey Protein's nutrients almost instantly the minute it's ingested.
This whey protein isolate is gluten-free and comes in a chocolate flavor.
This product has helped me feel satiated and sustained my energy levels. I've observed enhanced muscle firmness and notable strength improvements. Unlike some users who mentioned digestive problems, I personally haven't encountered any issues.
Calories: 120
Protein: 25g
Carbs: 2g
Fat: 0.5g
Pros
Gluten-free with no lactose per serving
Hydrolyzed whey speeds up absorption and digestion
The certified best-tasting gourmet chocolate flavor
Cons
Contains milk, soy, and rice protein
Individuals that are allergic to soy or milk should look towards other options.
7 - Naked Whey Vanilla Protein
(Best Organic)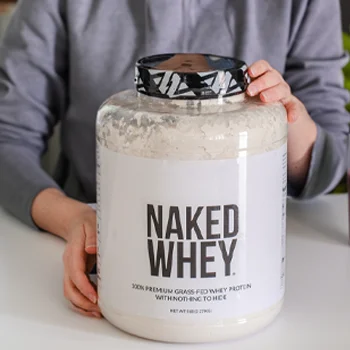 Naked Whey Vanilla Protein, made from grass-fed whey, organic coconut sugar, and raw organic cacao, is ideal for those with allergies.
Sourced from pasture-fed cows on family-owned farms, it emphasizes animal welfare and brand authenticity.
Additionally, Naked Whey Vanilla Protein claims to be cold-processed, eliminating the possibility of chemicals, additives, and heavy metals added during the manufacturing process.
This product has helped me in aiding muscle recovery, particularly when pushing myself to the limits during workouts. It also assists in curbing hunger and promoting a sense of fullness.
Nutritional content per serving includes:
Calories: 160
Protein: 25g
Carbs: 8g
Fat: 3g
Pros
GMO, soy, and gluten-free, with enough protein every serving
Minimal ingredients (only three)
Cows roam on open pastures 300 days a year
Cons
Clumps appear even after mixing
The protein powder's texture can become clumpy even after mixing or blending well.
How We Tested the Products
At Total Shape, our rigorous and data-driven selection process began with market research to identify the best affordable protein powders. We then purchased these powders anonymously, mirroring the customer experience. Our criteria included:
High Protein Content: We chose products with a high protein-per-serving ratio, crucial for muscle growth and recovery, by analyzing nutritional labels.
Digestibility and Side Effects: We tested each powder's digestibility and checked for side effects, ensuring effectiveness and stomach-friendliness.
Flavor and Taste: Through taste tests, we assessed each powder's flavor and palatability, identifying products that were both nutritious and tasty.
Price per Serving: Considering affordability, we calculated each powder's cost per serving to offer value without sacrificing quality.
Third-Party Testing: We preferred powders verified by third-party testing to ensure safety and reliability.
Additionally, we integrated feedback from our community, readers, fitness trainers, and industry experts to understand the wider user experience and ensure our recommendations suited a diverse audience.
How to Choose the Best Budget Whey Protein Powder Supplements?

Selecting the right budget protein powder depends on your goals. For weight loss, check the fat, sugar, and carb content. For muscle growth, prioritize high protein levels.
Remember, the price isn't the sole factor – quality matters, especially for muscle building or Olympic weightlifting. Ensure the protein supplement benefits outweigh any negatives.
Weight Loss
When it comes to losing weight, look for unflavored protein powder brands low in fat, sugars, and carbohydrates per serving. It applies even when you're searching for vegetarian supplements.
If you want to shed fat and build stronger muscles through exercise, research published in the Journal of the International Society of Sports Nutrition recommends picking high-quality whey protein low in carbohydrates [2].
Muscle Mass Gains
To maximize your muscle-building efforts, look for a cheap protein powder that contains enough protein per serving. Research published by the Journal of Obesity and Metabolic Syndrome has shown that high protein intake enhances fat loss while preserving fat-free mass [3].
Whey protein concentrate is especially favored, as it contains an abundance of BCAAs, which play a crucial role in muscle repair following muscle-damaging training, as per reports by the Multidisciplinary Digital Publishing Institute [4].
Also read: Best Protein Powder for Muscle Gain
Digestion
Plant-based protein powder is more easily digested compared to other protein blend brands. Plant-based protein powder products are typically made from vegan protein sources, such as brown rice, soy, hemp, or pea protein.
If you struggle with bloating or digestion issues, prioritize a plant-based protein source. Look for ones with Vanilla Stevia and avoid sucralose sweeteners for the best results.
Lactose Intolerance
If you're lactose intolerant, make sure to check that the protein powder contains whey isolate.
While protein powder does contain dairy per serving, whey protein isolate is a special type of whey protein that typically contains less than 1% lactose, making it relatively safe for those who suffer from lactose allergies.
We also have an article on the best protein powders for lactose-intolerant people.
FAQs
What Are the Risks Associated with Taking Protein Powder?
The risks associated with taking protein powder are heavy metal contamination, digestion issues, and whether or not manufacturers are honest in their claims. It's especially the case when taking whey isolate products.
Do Cheap Whey Protein Powders Work?
Yes, cheap whey protein powders work if they have a good formula. However, beware of low-quality ingredients, artificial flavors or colors, sweeteners, and thickeners. It's a critical concern if you have medical conditions such as diabetes. Consider browsing reputable websites or visiting reputable stores.
#1 Best Cheap Protein Powder
After thorough testing and comparison, our team at Total Shape confidently recommends Transparent Labs Whey Isolate as the best budget-friendly protein powder.
We personally tried it, experiencing its smooth texture and ease of blending. Its high protein-per-serving ratio, combined with being 100% natural, grass-fed, and hormone-free, makes it an exceptional choice.
Our team noticed more focused workouts and improved post-training recovery, without any stomach discomfort.
This product's commitment to quality and health makes it our number-one choice for anyone seeking effective and safe protein supplementation.
Our #1 Recommendation
Transparent Labs 100% Grass-Fed Whey Protein Isolate (Best Overall & Gluten Free)
Click For Best Price

Pros
No artificial sweeteners, preservatives, or coloring per serving
Gluten-free and non-GMO
100% grass-fed hormone-free whey protein isolate
Highest protein per serving ratios
Get 10% off using code:

TOTALSHAPE
Was this article helpful?