33
Supplements
Considered
179
Hours
of Research
92
Reviews
Examined
10
Experts
Interviewed
People want to get the most from their workouts and that's only natural.
In order to do so, many wind up employing their pre-workout in the form of a cup of coffee, espresso, or an energy drink.
Why? Because caffeine works.
Unfortunately, it also works when it comes to producing jitters, mood swings, and insomnia. So, the price for using it to jump start a workout can be unacceptably high.
Not to fear, because the top stimulant-free pre-workouts are here and many are every bit as effective as is.
But which is the right one for you among the best caffeine-free pre-workouts below? We'll take a look.
Our Top Caffeine-Free Pre-Workouts (2021 Updated)
1 - Performance Lab (Editor's Choice)
One ingredient I have been researching a lot is creatine, especially for its effective energy boost during high-intensity training.
The fact that Performance Lab Pre-Workout seems to have made this one of the main ingredients, does show that they have done extensive research to support their formulation.
This pre-workout also contains the amino acid L-citrulline, which has been scientifically proven to increase nitric oxide levels, which has a direct impact on flow of blood.
L-Citrulline: 2200mg
Creatine Monohydrate: 1250mg
Beta-Alanine: 800mg
Pros
Increases energy and pump
L-Citrulline added to boost nitric oxide levels for increased blood flow to muscles
Vegan-friendly and free from allergens and synthetic additives
Some bonus sodium electrolytes included to help with hydration
Cons
Each dose is made up of 4 capsules to swallow
My personal experience with this pre-workout has been positive, and I regularly stack it with Performance Lab BCAA, especially on those high-intensity days.
2 - Transparent Labs Stim-Free Pre-Workout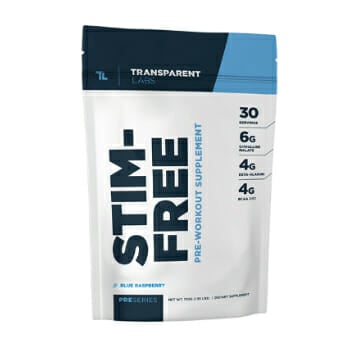 The PreSeries Stim-Free pre-workout supplement by Transparent Labs is what you might need to make the most of your workout.
It includes 13 active ingredients that help increase nitric oxide, enhance your mental focus, enhance your endurance, and help you gain lean muscles.
It also contains ingredients like citrulline malate, beta-alanine, betaine, creatine, and taurine so this pre-workout allows you to have continued energy without getting quickly tired.
On top of that, the PreSeries STIM-FREE pre-workout supplement does not contain artificial sweeteners, colors, or preservatives, and is gluten-free and non-GMO.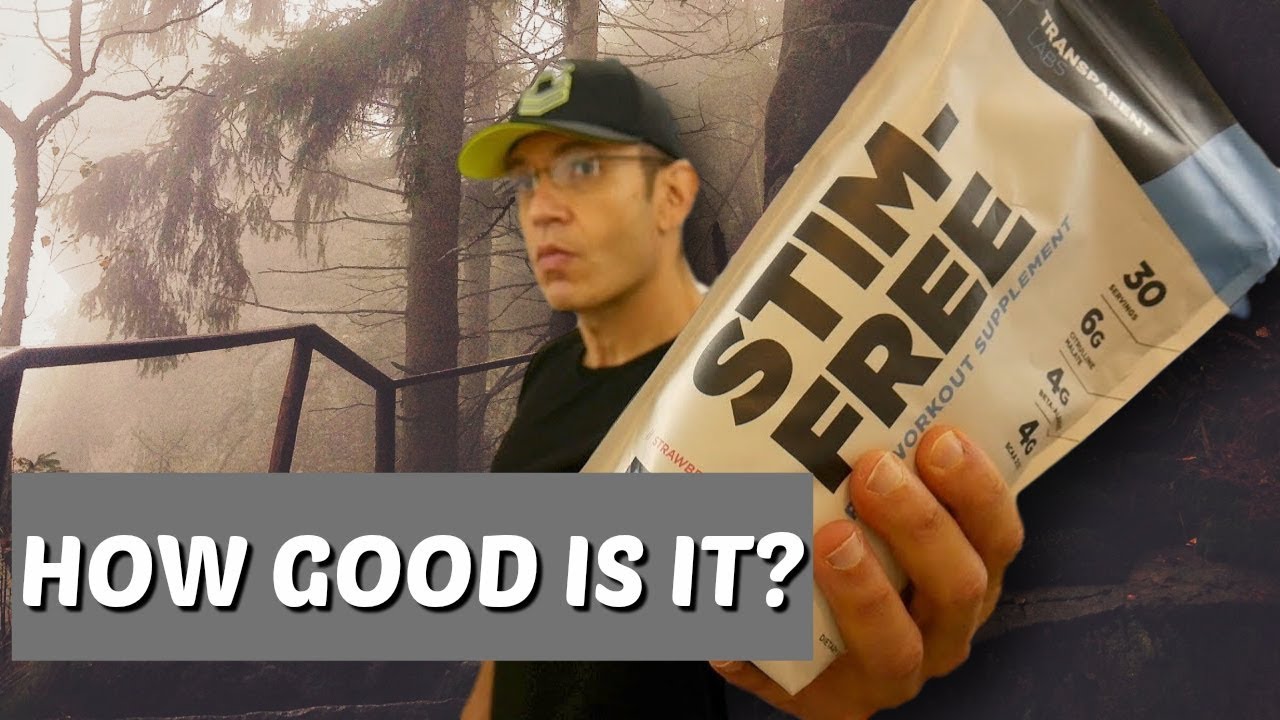 L-Citrulline: 6000mg
BCAAs: 4000mg
Beta-Alanine: 4000mg
Pros
Great for high-intensity workouts
Increases mental focus & endurance
Clean ingredients list
Great range of flavors
Cons
Flavor can be strong if not mixed with enough water
In essence, this pre-workout makes you lift more and workout longer without experiencing any of the nasty side-effects of caffeine with other pre-workouts.
Get 10% off using coupon code:  TOTALSHAPE
3 - PUMPSURGE Stim-Free Pre-Workout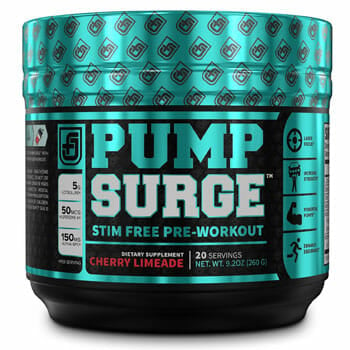 Pumpsurge takes the effectiveness of the top stim-free pre-workout to new levels. With L-citrulline, rhodiola, bioperine and glycerol, it gets into your muscles and gives them the kick they need to respond to your strength and efforts.
It is often inevitable during gym day that some of us reaches the point of muscle failure. Unfortunately for some, it reaches sooner than others.
With Pumpsurge, you'll get extra boost of energy for you to be able to blast through your workouts.
Pumpsurge stim-free pre-workout also recognizes the brain/brawn connection and provide nootropics that help stimulate mental acuity and focus.
L-Citrulline: 5g
Taurine: 2g
Pros
Boosts nitric oxide for energetic workouts
Promotes muscle growth & vascularity
Contains ingredients for added focus
No Artificial Food Dyes or Fillers
Great-tasting
Cons
Great taste, not so great texture
You'll also experience an increase in all-important flow of blood that will allow for greater pumps and faster recovery. No wonder it's considered one of the top stim-free pre-workouts choice for athletes.
4 - Evlution Nutrition Pump Mode
Evlution Nutrition Pump Mode provides a stim-free pre-workout which can help you achieve a good workout or improve your stamina for running.
It uses betaine nitrate to open the veins to accommodate greater blood circulation. It would mean that it can help you do better pumps, achieve an effective muscle response and faster recovery.
Also included here is vitamin C and D complex that provides powerful antioxidants which aid in the repair of stressed muscles and the creation of larger, harder, more durable muscles.
Creatine Monohydrate: 2000mg
Beta-Alanine: 1600mg
Pros
​Increases muscle blood circulation
Supports vascularity & endurance
Fuels up your performance to the next level
​Can be stacked with other pre-workouts or supplements
​Affordable
Cons
Some won't like that it's unflavored
Vitamin D, on the other hand, ensures proper muscle contraction while boosting the immune system. Again, this is to achieve good post workout and more effective muscle building efforts without caffeine.
5 - Organic Muscle Organic Pre-Workout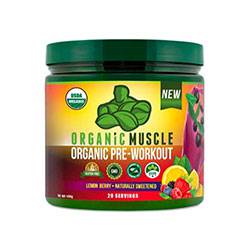 Say what you want about caffeine, but it's a naturally occurring compound.
One concern many people have with the best caffeine-free pre workout supplements is that some of them achieve their effects through artificial means. However, this isn't the case with this USDA Certified Organic Powder.
It will power you through your workout with its organic ingredients. Things like Maca root, ginseng, Eleuthero root, Yerba mate, and Rhodiola Rosea.
Calories: 25g
Carbs: 6g
Protein: 1g
Pros
Improves energy, focus, and stamina
Non-GMO and gluten-free
No crash & jitters
With this all-natural and stimulant-free pre-workout, you'll feel an elevated sense of energy throughout your workout with the metabolic boost provided by matcha green tea, organic raspberry, and niacin, helping you make the most of your gym time. On top of that, you probably won't have trouble sleeping at night as well.
6 - BSN N.O. Xplode
BSN N.O. Xplode is a caffeine-free pre-workout that provides all the vitamins and nutrients you need to power your way through your workout without hitting the performance wall.
The ingredient list includes known energy boosters and muscle builders including creatine and beta-alanine along with supporting nutrients like niacin, calcium and thiamin.
Xplode operates on the principle that it's not how pumped you are at the outset of your workout, but how much energy you have when you hit that part of your routine where you're trying to break through your new personal bests.
Caffeine often leaves you standing at the altar during this crucial phase but BSN N.O. Xplode helps you avoid that.
Pros
Loaded with essential nutrients
Enhances focus, maximizes power
​Comes in a variety of flavors
Easy on the wallet
Cons
Taste is nothing to write home about
If you want a dependable, affordable,caffeine-free pre-workout that will enable you to push yourself to new heights and recover faster, the consider Xplode from BSN.
7 - PEScience High Volume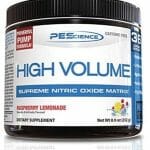 This product from PE Science is a stim-free pre-workout loaded with essential vitamins and minerals including Vitamin C and D as well as L-arginine to help increase blood circulation.
Getting in a great exercise is everyone's goal, but if the best caffeine-free pre-workout abandons you when you leave the gym what good is that?
You need a supplement that will not only help you achieve a dynamic pump but also help you recover faster and build new muscles as well.
Vitamin C: 250mg
L-Citrulline: 4000mg
Pros
Contains BCAAs to regulate muscle growth
Contains essential vitamins and minerals
Few if any side effects
Provides a jitter-free energy boost that lasts
Cons
Package size is unusually small
Like some similar products, the taste won't impress
PE Science High Volume will help you achieve that, without leaving you jittery or unable to sleep.
Pros and Cons of Caffeine-Free Pre-Workouts
The point of caffeine-free pre-workouts is to allow you to enjoy a more effective exercise without having to pay the price that often accompanies it.
Here are some pros and cons of such pre-workout supplements:
Pros
None of the common adverse side effects of caffeine
Better overall support both during and after your workout
Contains vitamins and other nutrients that improve circulation and muscle building
Cons
Some of the best caffeine-free pre-workout supplements are only marginally effective
Some can be pretty expensive
As a result [​of taking stim-free pre-workouts], you will be able to perform more repetitions as a given weight, increase your training density through decreased rest periods, and build more muscle.

- Steve Shaw, Fitness Editorial Director at Tiger Fitness
What Ingredients Should You Look For?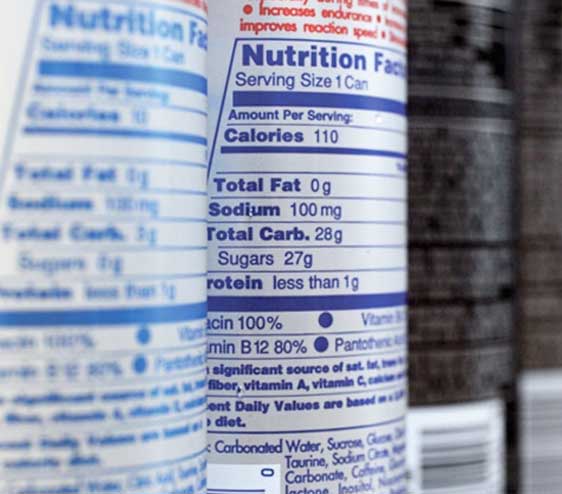 Some folks think that a good stim-free pre-workout is determined by its content. There are ingredients that should be in your pre-workout to ensure that yobu're getting the best out of it. [1]
In addition, it's often helpful if the product label includes certifications from consumer protection groups including Informed Choice, NSF or the BSCG. [2]
​If you see these certifications, you can have a high degree of confidence the product is safe and effective.​
​Informed Choice, BSCG, and NSF offer reputable supplement certification programs that test products for banned substances in sport and provide databases with products and lots that have been certified to be free of drugs.
As for the ingredients themselves, look for:
Beta-alanine - This amino acid helps prevent the buildup of lactic acid while also promoting greater endurance and muscle recovery.
Creatine - This is well known for its ability to promote lean muscle mass growth, enhance strength and endurance, and improve muscle recovery.
Magnesium - Magnesium is important when it comes to enabling proper muscle contraction, which can avoid tension and cramps.
Vitamin D - Vitamin D also helps enable proper muscle contraction and plays a key role in promoting faster recovery.
Beetroot - Beetroot provides for a better pump and longer endurance.
Alpha GPC - This is a brain booster that helps you improve your memory, clear your mind, and stay focused by increasing your dopamine levels.
Peak ATP - This is a patented form of ATP that improves lean muscle mass growth by enhancing blood flow and muscle recovery.
L-citrulline - This non-essential amino acid is a nitric oxide booster that works better than L-arginine in boosting nitric oxide levels to increase blood flow and promote muscle relaxation.
Your pre-workout doesn't have to include all of the above, but it should include most. Two or more ingredient combination is safe, in such case of creatine and beta-alanine.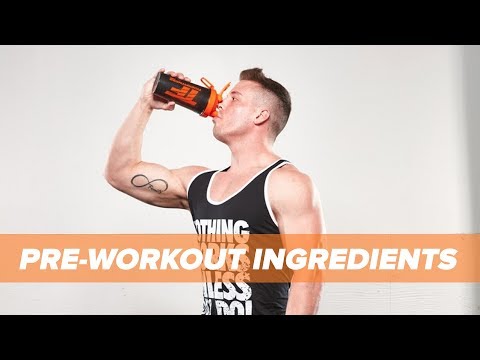 What Ingredients Should You Avoid?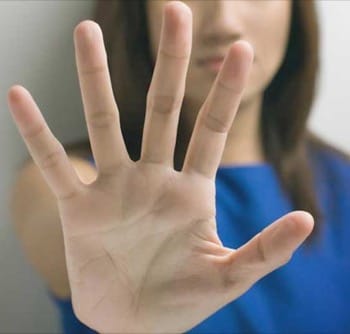 When looking for things that should not be in your stim-free pre workout, the first red flag should be the phrase "proprietary blend (PB)."
Manufacturers often invoke the proprietary blend when they have something to hide.
With the PB designation in place, they don't have to list how much of which ingredient is included.
Which means they can scrimp on more expensive (and more effective) ingredients without you knowing.
Beyond the proprietary blend, however, you'll also want to avoid in stim-free pre-workouts:
Synephrine - This is a fat burner that also happens to be a banned substance in most athletic circles. It also has the potential to cause serious health problems.
Yohimbe - Typically used for weight loss this is a stimulant with unpredictable side effects and questionable effectiveness.
DMAA - May result in shortness of breath or tightness in the chest that is a precursor of a heart attack. Also a no-no for people with high blood pressure. You can also read our article about DMAA pre-workout here.
Caffeine - Look for caffeine to be hiding in products that are cagey about their makeup and hide behind phrases like "all natural." Remember that it is a natural compound.
Other Resources You May Like:
FAQs
Is caffeine-free pre-workout healthier?
Yes, caffeine-free pre-workout can be healthier AND safer, especially if you're very sensitive to stimulants. Large amounts of caffeine can easily make you feel jittery and even cause anxiety and insomnia. If you can get the same results from caffeine-free or stim-free pre-workouts, then it's generally the healthier option.
Is caffeine-free pre-workout bad for your kidneys?
No, a caffeine-free pre-workout is not bad for your kidneys. Quite the opposite is actually the case, as excessive amounts of caffeine along with common ingredients like creatine can cause dehydration, high blood pressure, and problems with your kidney function. Look for pre-workout supplements without creatine if you want avoid these possible side effects.
Can you take caffeine-free pre-workout every day?
Yes, you can take caffeine-free pre-workout every day, as long as you stick to the recommended dose. Even with fewer stimulants included, there can be some side effects from taking too much of a good thing. Always stick to what's recommended on the label to avoid any problems even when you're taking stim-free pre-workout supplements.
Why choose caffeine-free pre-workout?
You should choose a caffeine-free pre-workout mainly to avoid overstimulation. If you're a coffee drinker, then it can quickly happen that you feel jittery and anxious. And for anyone who trains later in the evening, you'll want to avoid caffeine in your pre-workout that causes problems with your ability to get to and stay asleep.
Our ​#1 Caffeine-Free Pre-Workout Is...
It can be hard to find a pre-workout supplement that shows such great results without containing caffeine. While you can choose any of the best caffeine-free pre-workout supplements, I would recommend Performance Lab Pre-workout.
This product does not contain caffeine, artificial sweeteners, colors, and preservatives, making this one of the most natural, best caffeine-free pre-workouts out there - an ideal product for anybody looking to go the natural route, especially vegans.
Additionally, you won't experience the "crash" side effect like typical pre-workouts as it does not contain caffeine.
It's definitely worth trying out.
Our #1 ​Caffeine-Free Pre-Workout Supplement
Click For Best Price

Pros
Increases energy and pump
L-Citrulline added to boost nitric oxide levels for increased blood flow to muscles
Vegan-friendly and free from allergens and synthetic additives
Some bonus sodium electrolytes included to help with hydration
Cons
Each dose is made up of 4 capsules to swallow
About the author
You may also like