22
Supplements
Considered
175
Hours
of Research
40
Reviews
Examined
6
Experts
Interviewed
Let's face the truth:
Many multivitamin supplements on the market suck. Very often these multivitamin products fail to contain the nutrition values claimed on the labels, or these multivitamins use unsafe and toxic filler ingredients, which you definitely want to avoid [1].
That's why you need to know how to select the best multivitamins for bodybuilding so that you stay healthy and meet your fitness goals risk-free.
Luckily, you're in the right place to learn what complex vitamins and minerals are best for bodybuilding. Our fitness experts have gone through hundreds of reviews to make a comprehensive list of strong competitors on the market, so let's dive in, shall we?
Table of Contents
#3rd Best Choice
Animal Pak
Check Current Price
Our Top 10 Multivitamins For Bodybuilding
1 - Ritual Multivitamin (Editor's Choice)
The reason we have picked the Ritual Multivitamin (for men and women) is that it strikes a great balance between the most important vitamins and some critical minerals as well.
This should give you a great combination to maximize your energy levels, immune system functionality, bone health, and general wellbeing.
It's also available as a separate formula for both men and women to get the ideal amount of nutrients.
A+ 180mcg RAE
B12 8mcg
D+ 50mcg
E+ 6.7mg
K+ (K1 & K2) 90mcg
Pros
Available as a female and male-specific formula
Includes important minerals and trace nutrients for an overall health boost
Ideal for long-term use and boosted immunity throughout the year
Good dose of B12 for increased energy levels
Cons
It's not the cheapest option but worth the quality you get
2 - Performance Lab NutriGenesis Multi
This supplement would be my first choice when discussing the best multivitamins for bodybuilding.
These multivitamins enable you to top up your intake of a wide range of vital vitamins, minerals and other nutrients in the right dosages for the purpose of supporting your optimum nutrition goals and overall health.
Your body should be able to absorb these vitamins and minerals more easily because they replicate natural nutrients, thanks to the groundbreaking manufacturing process.
Vitamin content:
A 600 mcg RAE
C 60 mg
D 25 mcg
​E 20 mg
K (K1 & K2) 100 mcg
Pros
Doesn't contain synthetic or isolated nutrients
Specifically calibrated gender-specific formulas needed for muscle function, growth, and hormonal balance
Safe for long-term daily use
No additives, preservatives, artificial colorants, allergens, and GMOs
Cons
Available only at the official website with a hefty price-tag
3 - Animal Pak Multivitamin
Many professional bodybuilders use this supplement product and say it provides sufficient amounts of vitamins and minerals like zinc, amino acids, and antioxidants that every avid gym goer needs.
However, Animal Pak Multivitamin doesn't contain all the essential vitamins and minerals like iron, optimal forms of the B vitamin complex, and magnesium. It may also have exceeded doses of some vitamins, so check the ingredients list before you make any decisions.
The company and many bodybuilding users as well say it gives that extra boost in energy, performance, and muscle development while maintaining good liver health.
Vitamin content:
A 1,780 mcg
C 1 g
D 100 mcg
E 150 mg
Thiamin 76 mg
Pros
Almost all the necessary micronutrients included
Provides you with BCAAs, carnitine, carbs, and 3g of protein per serving
Supports your digestive and liver health
Cons
May be pricey and hard to take 11 large pills per one dose
4 - Garden of Life Vitamin Code Multivitamin
These comprehensive, raw, whole food multivitamins for men are particularly suitable for all the active vegetarians.
It is regarded as the best multivitamins for bodybuilding (and for men in general) because the added digestive enzymes and probiotics ensure your body absorbs most ingredients and keeps your stomach free of irritation. The digestive enzymes in these men's multivitamin packs provide benefits for the overall gut health.
The manufacturer claims that the product also includes zinc, selenium, and Vitamin E to help your prostate health, which is the best multivitamins selection for men's health .
People who tried it say they felt more energetic and focused after taking this multivitamin, but some also had trouble sleeping if they took it late in the evening. A 120 count pack provides one month's supply, and a separate women's formula is also available.
Vitamin content:
A 1,080 mcg
C 90 mg
D 20 mcg
E 15 mg
K 120 mcg
Pros
Contains raw, organic fruit and vegetable blend
Contains CoQ10, antioxidant and immune support complex to fight free radicals and help a speedy recovery
No GMOs, binders, or fillers
Cons
One serving includes four capsules, but their size is good
5 - MuscleTech Advanced Daily Multivitamin
This advanced complex of highly potent men's multivitamins contains some pre-workout and fat-burning ingredients. These include ingredients like green tea leaf extract, green coffee bean extract, saw palmetto, ginkgo, turmeric, creatine, and key amino acids for higher energy, better support, reduced inflammation, and many other health benefits.
However, the doses of minerals like copper and zinc may be slightly lower. The multivitamin product also misses vitamin K which supports bone health and building.
You get a 30-day supply in one package as three tablets per day is the recommended dosage for this multivitamin.
Vitamin content:
​A 3,000 mcg
C 135 mg
D 10 mcg
​E 40.5 mg
Thiamin 20 mg
Pros
Well-balanced content
A variety of excellent additional compounds and plant extracts for heavy lifters and athletes
Trusted brand and affordable
6 - Vintage Base Probiotic Multivitamin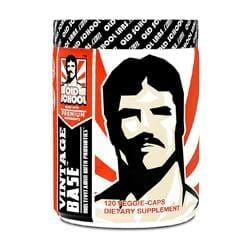 When compared to the reviewed products in recent posts, the variety and concentration of important vitamins and minerals in this multivitamin supplement aren't that high and well-balanced.
Actually, this fitness supplement is more of a mixture of vitamins and minerals, and probiotics. It's also a vegan- and keto-friendly multivitamin.
Vitamin content:
​A 1,500 mcg (RAE)
C 1,000 mg
D3 25 mcg
E 3.3 mg
K 100 mcg
Pros
Includes a methylcobalamin form of B12 in the formula for better absorption of the nutrients
Doesn't contain synthetic additives, preservatives, or other artificial substances
It's a vegetarian and keto-friendly product
Cons
You need four pills per one serving, which makes it a bit pricey, but at least they're small and easy-to-swallow.
7 - Evlution Nutrition VitaMode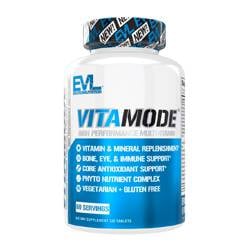 This trusted bodybuilding multi supplement provides users with well-balanced micronutrients, such as vitamins A, C, E, B complex, D3, zinc, copper, and other minerals for enhanced performance, better immune function, and improved overall health.
The core antioxidants, enzyme, and phytonutrient complexes included are great for supporting your metabolism, bone health, connective tissue health, nerve, skin, and eye health. This product is gluten-free, vegetarian, and provides 60 servings.
The downside: it falls short in magnesium, which is essential for building muscle mass.
Vitamin content:
A 1,800 mcg
​C 500 mg
D3 125 mcg
​E 13.5 mg
​K1 80 mcg
Pros
Includes Vitamin D3 (Cholecalciferol), which has a higher bioavailability than commonly used D2
Added bioperine enhances the overall bioavailability of the ingredients
Good value for money
Cons
Large tablets with an unpleasant smell as some users reported
8 - NOW Adam Men's Multivitamin
This quality multivitamin product from the popular brand NOW covers all the nutritional requirements of the active sportspeople. Besides standard ingredients usually found in a multivitamin for men, it boasts several unique components as well.
When it comes to finding the best multivitamin product, athletes are particularly interested in this one. For example, it contains antioxidants and anti-aging ingredients like CoQ10, lycopene, Alpha Lipoic Acid (ALA), ginseng, aloe vera, grape seed extracts, and saw palmetto. These important ingredients, found in the best multivitamins for men, are designed to help improve your prostate health and sexual function.
Vitamin content:
A 1,500 mcg
​C 125 mg
D 12.5 mcg
E 50 mg
​K 40 mcg
Pros
Contains great ingredient quality and balance
Also has high amounts of antioxidants and some unique anti-aging ingredients
Affordable
Cons
Big tablets contain soy, and some people reported bad taste as well as migraines and stomach issues
9 - Legion Triumph Daily Multivitamin
The company states that this daily multivitamin provides a wide range of essential micronutrients for both men and women, with optimal clinical doses for enhanced performance.
Secondary ingredients include CoQ10, as well as compounds like bacopa, ashwagandha, NAC, rhodiola, and lavender, which also help reduce anxiety.
The recommended daily dose of this bodybuilding multivitamin is eight tablets, which means you should take four tablets per serving.
Vitamin content:
A 1,500 IU
C 90 mg
D 2,000 IU
​E 25 IU
​K1 500 mcg
Pros
Contains methylated B vitamins which typically get better absorbed
Some experts believe that added Cissus Q promotes fat loss
Offers a nice combination of phytonutrients and antioxidants for optimal health benefits
Cons
The price may be higher, and it contains soy
10 - Life Extension Multivitamin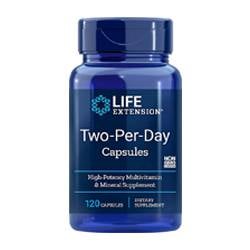 According to the manufacturer, this science-based multi-nutrient formula contains a great variety of well-dosed vitamins, minerals, carotenoids, tocopherols, and other antioxidants and useful substances.
For example, a natural methylated folate form is used instead of synthetic folic acid, added Quercetin to improve immunity functions, and bioactive chromium to keep your glucose levels healthy. Many people say it's easy to digest. One bottle provides a two-month supply of the multivitamin.
Vitamin content:
A 600 mcg
C 470 mg
D3 50 mcg
​E 67 mg
Thiamin 75 mg
Pros
Contains highly bioavailable forms of vitamin C, quercetin, vitamin B, carotenoids and other extras
No GMO or soy
Good price-quality ratio
Cons
No vitamin K needed for healthy bones and blood vessels
11 - JYM Sports Multivitamin
In this bodybuilding supplement, you'll find most essential micronutrients and vitamins, but no calcium, magnesium, and zinc, like in other similar products. However, instead of these minerals, bioperine might help your body better absorb the other nutrients and vitamins.
This multivitamin product includes beta-carotene, the safest form of Vitamin A in the right amount, as well as full amounts of chromium, selenium, and vitamin K forms crucial for high-training athletes.
My main concern about this multivitamin is the extremely high dose of vitamins B12 and B6, which can be toxic.
Vitamin content:
A 3,000 mcg
C 250 mg
E 268 mg
​100 mg
Riboflavin 100 mg
Pros
Contains 25 key ingredients in highly absorbable forms
Has a good supply and forms of vitamin K for those who train hard
Easy to swallow tablets
Cons
May be expensive and doesn't contain minerals to support vitamin absorption so you'll need another supplement with it
What Ingredients Should a Multivitamin for Bodybuilders Contain?
The best multivitamins for bodybuilding contain the key vitamins, minerals, and other ingredients listed below. But before we go through these multivitamins for bodybuilding list in detail, always keep in mind:
​​Supplements are never a substitute for a balanced, healthful diet.
- ​Dr. JoAnn Manson
Still, bodybuilders can't rely on food and diet only to get all the essential nutrients their body needs to stay in top shape, especially before competitions when they tend to skimp on foods (sugar from fruit or fat) to get better results. Optimum nutrition is key when it comes to diet and the health benefits.
B-complex vitamin consists of eight important vitamins, all found in the list below:
​B1 - thiamin
B2 - riboflavin
B3 - niacin
B5 - pantothenic acid
B6 - pyridoxine
B5 - pantothenic acid

B6 - pyridoxine
B7 - biotin
B9 - folic acid
B12 - cobalamin (cyanocobalamin is cheaper but methylcobalamin has a higher bioavailability)
B vitamins deliver oxygen to your muscles, aid in faster tissue repair, turn carbs and fats from foods into energy, support your nervous and immune system function, help you produce steroid hormones, and many more. [2] [3] [4]
Vegans are at risk of vitamin B12 deficiency as it's typically found in animal products, such as meat and dairy. [5] These vitamins below are water-soluble, so your body can't deposit them and you need to take them every day.
Vitamin C
This strong water-soluble antioxidant boosts your immune system and decreases oxidative stress caused by intense workouts. It's vital for the health of your connective tissue, joint support, as well as protein metabolism. [6]
The best vitamin C supplement we've found is from a brand called Nature's Bounty.
Vitamin D
This fat-soluble vitamin D typically derived from the sun is key to calcium and phosphorus absorption for healthy bones and your skeletal strength, and energy production. Vitamin D also helps cell growth and reduces inflammation. [7]
The best vitamin D supplement we've found is from a brand called Transparent Labs.
Also Read: Best Vitamin D Supplements
Vitamin E
This is another fat-soluble antioxidant that protects your immunity and keeps your heart, arteries, and skin healthy. It provides support for heart health, brain health, and immune function.
It commonly appears as alpha-tocopherol but it consists of seven more compounds and it would be best to find a mix of them in one product if possible. [8]
The best vitamin E supplement we've found is from a brand called Nature's Bounty.
Magnesium
Magnesium is vital for delivering oxygen to your tissues, reducing cramps, and increasing your endurance during heavy workouts and building muscle mass phase. Besides many other health benefits, it helps your body regulate hormone levels and metabolize fat and protein. [9]
The best magnesium supplement we've found is from a brand called Transparent Labs.
Also Read: Best Magnesium Supplements
Calcium
Calcium is critical for bone strength and repair, muscle maintenance, hormones, healthy blood vessels, metabolism, and more. [10]
The best calcium supplement we've found is from a brand called Nature's Bounty.
Zinc
This trace mineral does a lot for faster muscle recovery, stronger immunity, as well as energy and testosterone levels production. [11]
The best zinc supplement we've found is from a brand called Solgar.
Also Read: Best ZMA Supplements
Iron
Iron delivers oxygen to your muscles for improved endurance, higher energy, and stronger immunity. [12] Iron deficiency may lead to the red blood cells issues (inability to deliver enough oxygen through blood vessels), and other health issues.
The best iron supplement we've found is from a brand called MegaFood.
Selenium
This antioxidant has many health benefits for your thyroid gland, metabolism, cardiovascular system, and immune system. [13]
The best selenium supplement we've found is from a brand called Bronson.
Electrolytes
Sodium, potassium, and chloride are electrolytes particularly important for sportsmen who usually lose them through sweat. They regulate your body fluid level, blood pressure and pH balance, and help with muscle contraction. [14] [15]
The best electrolyte supplement we've found is from a brand called Key Nutrients.
Related Articles:
What to Look For in a Multivitamin for Bodybuilding?
Now that you know what makes a really good multivitamin for bodybuilding, let's take it a step further and see what else needs to be taken into consideration when choosing the best multivitamin supplement.
Essential Micronutrients
Try to get most if not all of the 25+ essential vitamins and minerals from your multivitamin product in substantial amounts. Most of them interact with one another so you need a nutrient variety for the best effect.
​​Despite their differences, vitamins and minerals often work together. For example, vitamin D enables your body to pluck calcium from food that is passing through your digestive tract, rather than harvesting it from your own bones. Vitamin C helps you absorb iron. However, the interplay of micronutrients isn't always cooperative. For example, too much vitamin C can block your body's ability to assimilate the essential mineral copper.
- ​Harvard Medical School
Goes without saying, it'd be wiser to aim at getting a variety of active ingredients over a higher concentration of particular compounds.
High Beneficial Compounds for Bodybuilders
Top-quality multivitamin supplements for bodybuilders and fitness enthusiasts shouldn't contain only vitamins. Make sure the list of ingredients contains other secondary yet equally essential compounds.
For instance, crucial minerals like magnesium or zinc are excellent for improving physical endurance and recovery. Omega-3s (like ones found in fish oil) and CoQ10 assist in fighting muscle inflammation [16] and decreasing fatigue and soreness [17] [18] with both men and women bodybuilders and athletes.
These highly beneficial compounds or even added creatine could separate decent supplements from the great ones.
Got the point? Good!
Read More: 7 Benefits of Taking Multivitamins for Bodybuilding
Concentration Relative to Recommended Dietary Allowance (RDA)
Many people check whether the important ingredients are listed on the product labels but forget about ensuring their proper concentration is also included.
You should primarily get the essential vitamins and minerals from a healthy diet, but not all of them get absorbed through foods and you may risk deficiency.
So, multivitamin supplements containing 50% to 100% of your daily nutrient intake for every vitamin would suffice. No need for 300% to 500% of daily amounts for every nutrient, except for those vitamins that don't absorb well like vitamin B12 or D. [19] [20]
Value vs. Pricing
Many fitness enthusiasts and athletes claim that you typically get what you pay for when you buy cheap multivitamins. So, they strongly advise avoiding such multivitamin products.
It doesn't mean you should go for overpriced branded products, of course. Just find a credible brand that experts and users recommend.
Try to find bodybuilding supplements that contain all the high-quality ingredients your body needs in optimal doses, while also making sure you get the most bang for your buck.
Yeah, I know it's challenging. That's why I've created this list of the best multivitamins for bodybuilding to help you make the right call.
How to Take Multivitamins
There's no general rule, really. It all depends on the instructions written on the product package that users should follow for optimal nutrition intake.
Some experts suggest taking multivitamins (especially fat-soluble ones - vitamins A, D, E, K) with meals to help avoid digestive discomfort. Unlike water-soluble vitamins, you may not need to take them every day as they're stored in your liver.
Others advise taking multivitamin supplements, such as complexes of vitamin B, on an empty stomach for better absorption in your digestive system.
It's highly recommended to consume your multivitamin pills or tablets with water.
Supplement powder should be well stirred into water, juice, or whey protein shake so that there's nothing left at the bottom of your glass.
Liquid, gummies, and chewables are self-explanatory and might be a great choice for those who aren't keen on capsules.
Remember to check side effects, and whether your multivitamin might interfere with other medications you're using.
If you're dealing with digestion issues, we advise you to check out the best probiotics on the market.
What's the Best Time to Take Multivitamins?
A specific time of day for taking your bodybuilding multivitamin doesn't matter much. Some people take it with the main meal or right after breakfast so that they don't forget it later and ensure enough nutrients and energy for the day ahead.
It may be a good idea to take your multivitamin supplement at the same time every day for a better effect. But, there's no general rule for all, so it's best to check and follow the labels.
FAQs
Are Multivitamins Worth Taking?
Yes, multivitamins for bodybuilding for men and women are worth taking. The right dosage and high-quality ingredients may enhance the proper functioning of your body and reduce overall health risks [21].
Multivitamins can help extremely active individuals quickly replenish the needed body supply and reduce cortisol buildup.
Other Resources:
Do Multivitamins Have Side Effects?
Yes, multivitamins can have side effects if you don't take them correctly. Although most of them are harmless, some can cause allergic reactions, headache, hair loss, diarrhea, nausea, stomach cramps, irregular heart rate, increased risk of kidney stones, nerve damage, bleeding in the stomach or brain, and other damages if taken excessively [22]. To avoid any of the possible side effects, make sure to read the label and instructions carefully.
Why Do Bodybuilders Take Vitamins?
Bodybuilders take vitamins to prevent weakness, cramps, injuries, low bone density, and vitamin deficiencies that every bodybuilder may experience,  as well as to make sure they get enough energy and all the essential antioxidants, and other nutrients critical for muscle growth and recovery.
​Are Multivitamins Good for Muscle Building?
Yes, multivitamins are good for muscle building.
Zinc plays an important role in testosterone support and production [23], and muscles need it to grow and stay firm whether you're a man or a woman. It's crucial for effective tissue repair after strenuous workouts and weight training [24].
Calcium regulates muscle contraction [25], copper strengthens your tendons [26], and biotin (B7) is vital for the metabolism of protein, carbs, and fats.
Many other vitamins and minerals can have a significant effect on your physical performance and well being [27].
​What Vitamins Are Good for Muscle Repair?
Some vitamins that are good for muscle repair and overall health include:
Vitamin A - supports protein synthesis, which is vital for muscle growth, strengthening, and repair.
Complexes of the vitamin B - aids in protein synthesis and processing amino acids, which is crucial for repairing tears.
Vitamin C - helps in collagen formation, which is important for connective tissue strengthening to prevent injuries.
Vitamin D - boosts tissue repair, and more.
Vitamin E - helps your body fight free radicals and reduces oxidative stress, damage, and soreness as a result of vigorous exercise [28].
​What's the Best Multivitamin for Bodybuilding?
Among the best multivitamins for bodybuilding reviewed here, my favorite is Ritual Multivitamin because it ticks lots of the boxes.
Also, many users claim they've experienced a significant improvement in mobility, flexibility, remarkable recovery, and other benefits of this high-quality natural product.
After my detailed guidelines and list of must-have vitamins and minerals, I hope you have a better idea of what to look for in multivitamin supplements to ensure optimum nutrition and supplies for YOUR health and wellness as bodybuilding enthusiasts.
Now, make a checklist to find your favorite brand and formula that matches your needs and budget.
Our #1 Recommendation
Click For Best Price

Pros
Available as a female and male-specific formula
Includes important minerals and trace nutrients for an overall health boost
Ideal for long-term use and boosted immunity throughout the year
Good dose of B12 for increased energy levels
Cons
It's not the cheapest option but worth the quality you get
About the author
You may also like