21
Supplements
Considered
185
Hours
of Research
82
Reviews
Examined
15
Experts
Interviewed
Try as we might, our kids don't always eat the food we give them.
Still, we need to be sure they're getting the nutrients they need to build healthy bones and muscles and to stave off problems as they grow into adults.
Protein intake is vital to a growing child's health, and yet they may not be getting enough and may need to supplement their diets.
So, I teamed up with a pediatric dietitian and spent several weeks of research to put together a list of the best protein powder for kids that can help you improve your child's protein intake quickly and won't take much work or convincing on your part.
Editor's Choice
Transparent Labs
Click For Best Price
#2nd Best Choice
Ladder
Click For Best Price
#3rd Best Choice
Ora Organic
Click For Best Price
Our Top Protein Powder for Kids (September 2023)
1 - Transparent Labs Grass-Fed Whey (Editor's Choice)
If you're looking for clean protein for the teens or kids, this is what we recommend.
It has no artificial sweeteners, food dyes, gluten, and preservatives. It's considered one of the cleanest proteins on the market.
With 28g of protein and 120 calories per serving, it's made from naturally fed, hormone-free cow whey. Additionally, it contains 0g of fat and 1g of carbs, so it's basically pure protein. All these features make it a good protein supplement for children to properly grow and develop [1].
Several parents have shared that this supplement has effectively helped their children feel fuller for longer periods, reducing the likelihood of unnecessary snacking.
Pros
28g of premium whey protein isolates per scoop
100% grass-fed whey
Comes in four flavors: chocolate, strawberry, french vanilla, and salted caramel
No artificial ingredients, sweeteners, or colors
Cons
May be pricey for some people
2 - Ladder Whey Protein
LeBron James and Arnold Schwarzenegger created Ladder Whey Protein due to a lack of clean and effective products. They developed a line of performance supplements over four years, prioritizing taste, quality, and safety.
When it comes to protein powders with great flavors, Ladder company will never go least.
The product comes in two flavors: chocolate and vanilla.
Ladder uses all-natural ingredients such as cocoa and vanilla beans, salt, and a little sweetener to bring out that awesome taste.
If you want a protein powder that tastes like dessert, then this is it.
You can also check out our review of the Ladder protein powder.
Pros
CFS Certified
All-natural ingredients
Contains Probiotics
Tastes good even without artificial sweeteners
Cons
Can be on the expensive side
I love that even if it's mixed with water, you can still taste the rich flavor of chocolate and vanilla. The taste seems more natural and not too sweet, making it a great product if you don't like artificial-tasting drinks.
The best thing about this is that it's not all about flavor. The product contains the optimal amount of essential amino acids and branched-chain amino acids to improve cognitive function and linear growth [2].
3 - Ora Organic So Lean & So Clean
If you're one of those parents who have kids that won't eat their greens, then you're not alone.
We have yet to meet a kid who loves eating vegetables wholeheartedly, even though they need those to get the proper amount of nutrients in their bodies. What's a parent to do?
Enter Ora Organic Vegan Protein Powder. Made with organic superfoods and packed with greens, this protein powder is a great way to get essential nutrients into your kids' bodies, even if you have a hard time getting them to eat vegetables.
Parents of children who have used this product have consistently noted that their kids experience sustained energy levels throughout the day, which in turn helps them remain attentive and alert in their classes.
Pros
21 g of organic protein
Only 120 calories per scoop
No fillers (only 1g of sugar)
Cons
May be a unique taste to your kid.
Since it tastes great even without added sugar, artificial flavors, sweeteners, or preservatives, kids will see it as a treat. Also, it mixes well with whole or almond milk.
A bonus is the added digestive enzymes in this protein powder that will help your kids say goodbye to tummy issues -- a welcome development for any parent anywhere.
4 - BPI Sports ISO HD
What's good about BPI Sports Best Protein is its perfect blend of whey isolates and hydrolysates.
It allows the protein to be easily absorbed into your kids' bodies so they can get the nutrients that they need right away.
Its muscle-building properties are also especially beneficial for their age because this is when they are most prone to growth disorders and nutrient deficiencies [3].
Also, we all know that kids are notoriously energetic, and they expend most of this energy by exploring the world around them and engaging in physical activities.
Parents of physically active children have reported that this supplement plays a valuable role in aiding post-exercise recovery and promoting a feeling of fullness. This, in turn, helps reduce the tendency to overeat and indulge in unhealthy snacking.
Pros
25g of 100% premium whey protein isolates
No fillers (only 2g of sugar)
Contains fast-absorbing protein
Wide range of delicious flavors
Cons
Your kids may binge on this delicious drink.
BPI ISO HD assists in muscle recovery so they can continue enjoying their playtime activities with their friends and playmates.
Add to that the fact that this protein powder also tastes good and that it contains no fillers, so your kids will probably enjoy it.
5 - Paradise Herbs Orac Energy
Paradise Herbs Orac Energy has beneficial probiotics, contains no artificial ingredients, and is gleaned from certified organic sources.
If you're concerned about the quality of the supplements your children consume, this Paradise Herbs powder should help you rest easy.
While not specifically designed as one of the protein drinks for kids, it's actually a natural fit given the purity of its composition and its overall effectiveness.
Parents noticed that the Orac Energy from Paradise Herbs assists their children in recovering more swiftly from physically demanding days without leading to bloating or gas issues.
Orac Energy from Paradise Herbs helps your kid recover faster from those days when they push themselves physically and won't cause them to experience bloating or gas.
Pros
Free of animal products and artificial fillers
Contains no artificial sweeteners
Does not cause bloating or gas
Makes delicious protein drinks for kids
Cons
Lacking in calcium and some other minerals
It's going to cost a bit more than some other brands, but it's worth it to know your children are getting the extra protein they need with none of the fillers, sugar and artificial additives they don't need.
6 - Optimum Nutrition Gold Standard
Optimum Nutrition 100% Gold Standard Whey protein powder for toddlers is high in branch chain amino acids that stimulate muscle recovery [4].
But, before you start thinking your child is going to be transformed into the Hulk, remember that kids' muscles are constantly growing and evolving [5].
In fact, kids and their boundless energy put far more stress on their muscles than adults ever will, which is why protein is so important for their health to begin with [6].
I personally tested this supplement and observed enhanced recovery following intense workouts. Unlike other brands, this protein powder mixes smoothly in a protein shaker without any clumps, which could be more appealing for kids.
This type of whey protein for kids has been shown to support a healthy immune system, support fat burning and promote the production of important antioxidants [7,8].
Pros
Highly effective for kids
High concentrations of protein and glutamine
5.5 grams of important branched-chain amino acids
Makes a great tasting shake
Cons
It's going to cost more than some others
7 - Pro JYM
Pro JYM contains slow, moderate and fast-digesting proteins that help promote long-term synthesis and healthy muscles.
Another great thing about Pro JYM is what it doesn't contain. There are no "spiking" ingredients. These are sometimes added to the powder because they're an inexpensive way to boost protein levels.
The problem is those spiking ingredients don't often provide any actual nutritional value.
So, we may be able to say that it's 15% concentrated but because it contains beta-alanine, creatine or other spiking agents, the effective percentage of protein is actually much lower.
Pros
Mixes well with shakes or other food
No spiking ingredients like creatine
3 types of protein for well-balanced digestion
One scoop per day should do it
Cons
Costs a bit more than some others
Includes non-dairy creamer for some reason
Pro JYM then is great for keeping track of just how much nutrients your kid is actually getting, which makes those drinks seem all the more sensible.
How Much Protein Do Kids Need?
While children are as physically different as adults, there are nonetheless some general conclusions that can be drawn about their need for protein:
For kids between 1 and 3 years of age, it's typically recommended that 5 to 20 percent of their total daily caloric intake be protein. Depending on their size, that would be somewhere between about 60 and 250 calories per day.
For kids between the ages of 4 and 8, the recommended amount rises a bit to between 10 and 30 percent of their caloric intake per day. In this case, it would mean anywhere from 150 to 450 calories per day, depending of course on their size.
For kids between 9 and 13 years of age, the percentage of their total dietary intake is unchanged at between 10 and 30 percent. But, because these kids are bigger, that means that anywhere from 175 to 550 calories per day should be protein.
When kids eat protein-rich foods, their bodies break the protein down into amino acids that they need to grow and function optimally. Taking in too much protein can cause weight gain, so kids get maximal nutritional benefits by staying within the recommended guidelines.
- Maia Appleby, SFGate
Can I Give My Kid Protein Powder?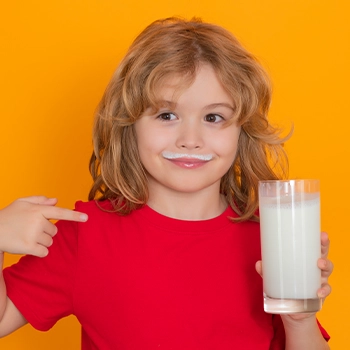 Yes, you can give your kid protein powder if they cannot get it from a healthy diet.
Some children are notoriously picky eaters, and as much as we may try to convince them to eat what's in front of them, the fact is their diet sometimes needs supplementation.
All parents can relate here, right?
As such, a protein powder for kids is an acceptable alternative, as long as it's not also packed with sugar or other harmful ingredients.
Here are 5 healthy protein shake recipes for kids.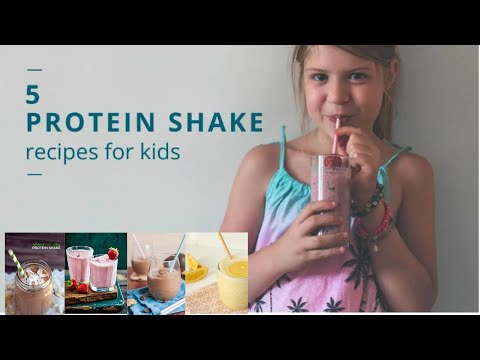 What Should You Look For When Choosing The Best Protein Powder for Your Child?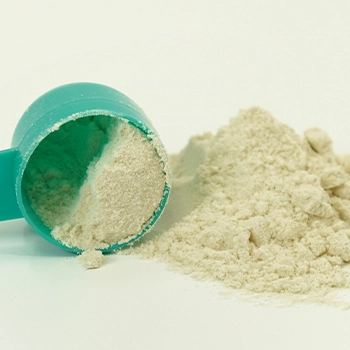 When choosing the best protein powder for your child, you should look for qualities such as sufficient protein content, the absence of excessive sugar or salt, and the exclusion of artificial flavors.
Other qualities you should look for in a child-friendly protein powder are:
That the powder has ample protein content
That the powder is low in fat (should not contain trans fats)
That it is generally low in carbs unless those carbs are fiber-based
That there are 200 calories or less per full serving
That there are no artificial flavors or other ingredients
That it isn't loaded with sugar or salt
It can also be helpful if any prospective kid's powder contains supporting minerals and other nutrients like calcium to help build strong bones. Though this isn't essential.

Related Articles:
FAQs
What is the Minimum Age for Protein Powder?
The minimum age for protein powder is age 1. Between ages 1 and 3, a daily protein intake of 13 grams is recommended. For 4 to 8-year-olds, the recommended protein consumption increases to 19 grams per day.
Is Whey Protein OK for Kids?
Yes, whey protein is OK for kids as long as they stick to the recommended amount. However, it could cause symptoms such as gas, bloating, and cramps.
Our Favorite Protein Powder for Kids
Supplements for kids are not intended to take the place of a healthy, well-balanced diet.
What they do is they allow you to make up for any shortfall that might result from your child being allergic to certain foods, or when they're simply overly picky that they tend to miss out on some of its important sources.
The ideal protein shake for kids is the one that meets all the above criteria, and one of that is Transparent Labs.
It provides high-quality whey protein for your kid, mixes well, and tastes good as well. It's a good quality product that can be a favorable addition to your child's diet.
Our #1 Protein Powder for Kids
Transparent Labs Grass-Fed Whey
Click For Best Price

Pros
28g of premium whey protein isolates per scoop
100% grass-fed whey
Comes in four flavors: chocolate, strawberry, french vanilla, and salted caramel
No artificial ingredients, sweeteners, or colors
Get the BEST PRICE until the end of September
Cons
May be pricey for some people
Was this article helpful?