I have been a fitness trainer for over a decade. My clients have run the gamut from experienced athletes to fitness newcomers wanting to invest in their routine, like using a pre-workout to give the extra edge to maximize workouts. It's tricky finding the right one.
Our review of Transparent Lab's pre-workout will include an assessment of the ingredients and product comparisons ending with a bottom-line conclusion on the product's efficacy.
We can do this because we have a pool of eager fitness enthusiasts who committed several weeks to test products, allow us to record results, and provide real-user feedback.
What Is PreSeries BULK?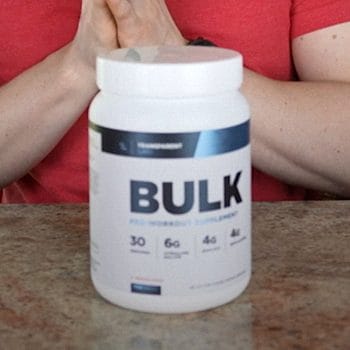 PreSeries BULK is a pre-workout supplement that is specifically formulated to support muscle mass growth. It contains ingredients that may help increase strength, endurance, physical and mental energy, muscle protein synthesis, and testosterone levels.
Unlike many other pre-workouts and supplements, it aims to have less of a chance of muscle wasting and weight loss.
If it had been any other company, I probably would have been more suspicious because that's quite a statement to make, and it's just one of the few things we'll cover in this review.
Nevertheless, our team did all the necessary research to look at the ingredient list and see what scientific support we could find for these pre-workouts.
Get 10% off using coupon code: TOTALSHAPE
What Are The BULK Pre-Workout Ingredients?
BULK Pre-Workout contains several scientifically proven ingredients. We created a list below to highlight each of their benefits.
1 - Citrulline Malate
With an impressive 6 g per serving, citrulline may help boost nitric oxide to increase blood flow for better absorption. The result could be better muscle growth, pumps, strength, and aerobic performance [1].
Citrulline bound to malate, an organic salt of malic acid, is an intermediate in the citric acid cycle. It is the most researched form of citrulline, and there is speculation about an independent role of malate in producing performance benefits

- Kamal Patel,

Co-founder of Examine.com
2 - L-tyrosine
This is one of the more interesting amino acids I found in this, with research suggesting that it may help with a reduction in stress levels and improved mental focus [2].
This amino acid also improves the absorption and effectiveness of other energy and focus ingredients of this pre-workout. Here are other recommended pre-workouts tailored to help you increase your focus.
3 - Theobromine
Known as the little brother of caffeine, theobromine is a compound found in cocoa beans that offers a longer-lasting and more relaxed energy boost without making you feel jittery.
It is a great alternative to caffeine as it does stimulate the central nervous system, therefore giving mild and gradual positive effects on pleasure, focus, and mood [3].
4 - Vitamin D3, Boron, & Zinc
This unique Testosterone Support Complex provides vitamins and minerals (especially zinc) that your body needs to create testosterone.
By adding these vitamins and minerals, you could be in a better position to increase your testosterone levels completely naturally [4].
5 - Taurine
With 1.3 g per serving, taurine is an important amino acid in pre-workout supplementation as it closely interacts with beta-alanine.
When used with branched-chain amino acids (BCAAs), it is scientifically proven to significantly reduce muscle soreness and muscle fatigue after a high-intensity exercise rather than taken on its own [5].
6 - Beta-Alanine
The interesting thing about this amino acid is that studies have shown that it may help reduce premature fatigue by increasing cellular carnosine levels which can pretty much go low during exercise [6]. With 4 g in each serving, beta-alanine may help bodybuilders to train just that little bit harder, allowing you to achieve your fitness goals faster.
7 - Caffeine Anhydrous
Caffeine anhydrous is a great stimulant, and it may provide two distinct benefits. With 180 mg per serving, you could gain some mental focus and motivation.
But it has also been shown to trigger thermogenesis to reduce body fat [7]. Speaking of, it's listed as one of the best thermogenic pre-workouts on the market.
However, you might need to watch out for this ingredient if you're caffeine-sensitive. Consider taking this during the morning or early afternoon to avoid sleeplessness later on.
8 - All-Natural Sweeteners And Flavors
The other standout feature on the ingredient list is that it only contains natural flavors and sweeteners. This doesn't just mean that you avoid potentially harmful chemicals, but flavors like strawberry lemonade and sour grape are a lot more natural.
You can also check out other top all-natural pre-workouts.
How Transparent Labs PreSeries BULK Evolved?
PreSeries BULK pre-workouts evolved by changing several ingredients and tuning its flavor profile. Here are some of the adjustments that were applied to the product.
The company removed Mucuna pruriens, synephrine HCl, hordenine, choline bitartrate, and L-norvaline and added Infinergy™ di-caffeine malate, AlphaSize® alpha-GPC, and theobromine, ingredients that have been proven to enhance mental performance.
They swapped acetylated L-tyrosine for native L-tyrosine, as recent research says that the latter is absorbed more effectively across the blood-brain barrier, leading to better dopamine synthesis.
Choline bitartrate was upgraded to AlphaSize® alpha-GPC to enhance choline's bioavailability. BioPerine® was replaced with Astragin™ for the same reason.
Vitamins B6 and B12 were added for proper blood flow and enhanced performance in the gym.
Lastly, sodium (150 mg) and potassium (100 mg) were included to support electrolyte balance and hydration while training.
As for the flavors, PreSeries BULK users could still choose among Blue Raspberry, Tropical Punch, Orange, and Strawberry Lemonade options, but the company refined each to make them the best-tasting version yet.
Pros
The quality formula and well-dosed ingredients make it a good investment
Increases mood and motivation by reducing stress
Reduces muscle soreness to help improve performance and endurance
It has high absorption properties due to piperine
Cons
Certain flavors were not well received by customers
What Does Transparent Labs PreSeries BULK Pre-Workout Do?
Transparent Labs BULK increases energy levels, improves strength, enhances endurance, and keeps you motivated. We explain each benefit in more detail below.
Energy: Once the ingredients are absorbed and enter your system, you may notice a more sustained energy level even with strenuous workout routines.
Strength:

Your muscles may receive more energy and oxygen to boost overall strength through increased blood flow. This may be noticeable by opting for heavier weights or more reps. On top of this, it may help to increase muscle mass to improve physical performance.

Endurance:

One of the main problems in high-intensity training sessions is fatigue. The more you can postpone feeling tired, the more lifting you'll be able to do.

Motivation:

Along with your muscles, your brain will also need to stay focused on the task. By raising mental energy levels, you may be able to stay motivated during a workout for longer.
I used Transparent Labs Pre-workout for several weeks and was pleasantly surprised that I didn't tire of the sour grape flavor. I felt a significant increase in energy levels and focus, likely from the generous amount of citrulline malate (6 g), allowing me to push my limits during each session.
Overall, I am very satisfied with its effectiveness and look forward to trying the other flavors.
Are There Any Side Effects?
There aren't any side effects to taking Transparent Labs BULK. Most people who have taken the pre-workout reported that it worked well for them and didn't cause any adverse reactions.
Nevertheless, our team did all the necessary research by checking the ingredient list and seeing what scientific support we could find.
Transparent Labs PreSeries BULK is a pre-workout supplement that is specifically formulated to support muscle growth. Unlike many other pre-workouts and supplements, it aims to have less of a chance of muscle wasting.
Transparent Labs claims that it has chosen ingredients that are scientifically proven to help increase strength, endurance, physical and mental energy, muscle protein synthesis, and a boost in testosterone so that you gain more from every single workout session.
If it had been any other company, I probably would have been more suspicious because that's quite a statement to make, and it's just one of the few things we'll cover in this review.
Usually, I experience not-so-pleasant side effects with pre-workout supplements when they contain artificial sweeteners or loads of caffeine. But both of those aren't present in this product, so it's well-tolerated. It means caffeine-sensitive people need not worry about losing sleep or jitters after taking this supplement.
Watch the video for a full review.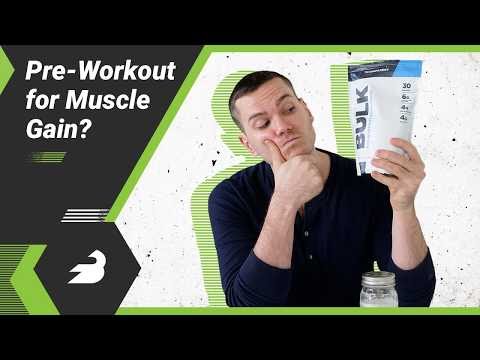 Who Should Use Transparent Labs PreSeries BULK?
People trying to bulk up their muscles and achieve a much more toned and ripped appearance should use Transparent Labs PreSeries BULK.
While it's critical to have the proper exercise routine with higher weight limits and lower reps to bulk, having the right dietary support is just as vital.
The real benefit from PreSeries BULK Pre-Workout comes from the ability to push yourself just that little bit further.
Related Article: BlackWolf Pre-Workout Review
Even if you just achieve a 5% improvement, when you add that up over a possible 6-week bulking phase, you could end up exceeding your goals or simply achieving them a lot sooner.
Most of my clients that take this product would generally already be in pretty good physical shape, and they just need a little bit of a boost for their workout sessions.
Other User Reviews
Transparent Labs PreSeries BULK has mixed reviews online, but I found a couple on the official website that echoed my experience.
"It works very well. I don't get tired for about 2-3 hours of workout when I use this, and I only take 1/8 scoop!" - Laura A.
"BULK gets me more focused than any other pre workout I've tried. My lifts have all increased since taking BULK. My focus and intensity are higher than ever, taste is awesome, and my gains have been awesome. And I never crash after my workout! Transparent Labs have the best products man. Would highly recommend." - Stefan I.
How To Get The Most Out Of Transparent Labs PreSeries BULK?
You can get the most out of Transparent Labs PreSeries BULK by first assessing your body's reaction to the supplement and measuring your results.
I always advise my clients to experiment with their intake time for about a week. We generally start off taking it about 30 minutes before the workout.
But if you'll be taking PreSeries BULK for the first time, you should spend about a week assessing your tolerance. For this, Transparent Labs suggests mixing ½ scoop of the powder with 8-12 fl. oz of water.
If your body responds well to Transparent Labs BULK, you can double the dose and mix one full scoop with 16-24 fl. oz of water.
Within a week of taking half a scoop of PreSeries Bulk, I already noticed an improvement in my physical energy and mental focus. My results were consistent with what other users have experienced, which we'll get to later.
Comparison to Other Pre-Workout Supplements
With a seemingly never-ending selection of pre-workout supplements, it's important to compare some of the most popular brands available. Let's see how Transparent Labs measures up against three successful competitors.
4 Gauge
The popular pre-workout supplement, 4 Gauge, was formulated with insights from dietitians, nutrition experts, and athletes to create a product with maximum effectiveness.
Users in our test group gave 4 Gauge a try over several weeks and recorded their workout sessions when they used 4 Gauge and when they didn't. Most users experienced increased focus and energy, allowing them to power through intense workouts.
After checking in with our nutritionists about our tester's feedback, I credit the hefty doses of L-Citrulline DL-malate (6000 mg) and creatine monohydrate (1000 mg). However, Transparent Labs offers even more Citrulline Malate at 8000 mg.
Ordering from the website will get you free shipping with a minimum purchase. For our testing, I ordered the Ultimate Flavor Crate, which consists of four tubs: Fruit Blast (2), Frozen Lemonade (1), and Pina Colada (1).
Gorilla Mode
Gorilla Mind delivers when you need a pre-workout for an extra boost during training. Users in our test group were impressed at how quickly they felt the effects.
This pre-workout provides maximum doses of effective ingredients like L-citrulline, creatine monohydrate, and betaine to help increase nitric oxide levels and support muscle strength and endurance.
The Gorilla Mind serving (15.245 g) is smaller than Transparent Lab's 20.6 g, so you're only getting 4500 mg of L-citrulline and no Malate instead of the 8000 mg of Citrulline Malate from Transparent Labs.
However, the Gorilla Mind ingredient label gives nutrition facts for one and two-scoop doses. Being in the fitness industry for some time, I'm pretty seasoned at using pre-workout, so I opted for the two-scoop dose to get 9000 mg of L-citrulline, a bit more than Transparent Labs.
Pricing is on par with other pre-workouts, and you'll find 13 fun flavor options like Tiger's Blood, Jungle Juice, and Firefly Lemonade.
C4 Original
Cellucor is a significant competitor in the pre-workout market, likely due to its original product, C4, first introduced in 2011.
Most pre-workouts rely on some sort of stimulant, usually caffeine, to boost focus and energy, and C4 is no different. However, I felt its 150 mg, which is lower than Transparent Lab's 200 mg, didn't give much of a kick.
C4 lacks some transparency on its label behind the Explosive Energy® proprietary blend; it lists other ingredients clearly. I also noted artificial sweeteners, flavors, and colorants on the label, which I tend to steer my clients away from as a fitness trainer.
Our test group reported some boost to energy and focus, which seemed dependent on caffeine tolerance. Many reported a tingling sensation that was quite noticeable but not bothersome, a common occurrence with pre-workouts containing beta-alanine.
C4 is cheaper than many pre-workouts, including Transparent Labs, and is readily available from several retailers.
Transparent Labs PreSeries BULK Pre-Workout Cost
With four flavors to choose from, a container of this Transparent Labs BULK Pre-Workout costs $49 for 30 servings or a month's supply.
While it's definitely on the pricey side of similar pre-workouts, you get what you pay for with its 100% formula transparency, vegan-friendly formula, and quality ingredients.
You can take advantage of their bulk order discounts which are priced at:
2 containers for $89
3 containers for $119
Transparent Labs also offers one of the best return policies on its pre-workouts and dietary supplements, wherein you can request for a refund within 90 days of purchase, provided that the supplement is placed in its original packaging and have not been completely used.
Take note that this refund option is only available for purchases made from the Transparent Labs website.
FAQs
Does Transparent Labs BULK Pre-Workout have creatine?
No, Transparent Labs BULK Pre-Workout doesn't have creatine. Adding it as an ingredient would be of no use as the caffeine in this product will only negate creatine's effects.
When should you take Transparent Labs BULK Pre-Workout?
You should take Transparent Labs BULK pre-workout about 30 minutes before your workout is due to start. Depending on how fast your digestive system may absorb the ingredients, it's good to try increasing and decreasing that time to find the ideal timing. Otherwise, you might end up wasting some of its benefits.
Do We Recommend Transparent Labs BULK Pre-Workout?
After three months of use, I would absolutely recommend Transparent Labs PreSeries BULK if you're looking for a pre-workout that delivers results.
Through its line-up of clean and science-backed ingredients, this supplement provides the energy boost, strength, and focus you need to enjoy better workouts, whether you're lifting weights or doing cardio.
PreSeries BULK also prevents muscle wasting, ensuring that every minute you spend in the gym is worth it.
Order yours today and try out the strawberry lemonade flavor first. It seems to be by far the most popular with my clients.
I'd also invite you to add your own BULK pre-workout review on our Facebook page so that others might see what actual results are being achieved.
Get 10% off using coupon code: TOTALSHAPE
Our #1 Recommendation
Transparent Labs BULK Pre-workout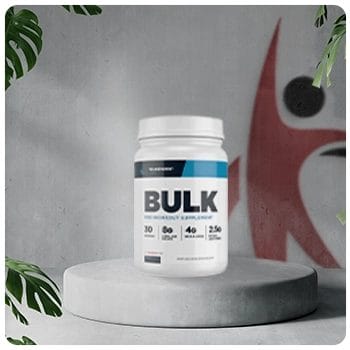 Pros
Modulates pain receptors so you can perform better
It helps reduce stress, resulting in improved mood
It contains piperine, which enhances absorption
The high dose of ingredients makes it a worthwhile health investment
Get 10% off using code:

TOTALSHAPE
Cons
Some customers dislike the taste of certain flavors
Was this article helpful?