Getting your protein fix for the day doesn't mean forcing down the same old protein shake after every workout.
If you're like me and you've been at this for long enough, you'll know that variety and just a little spice can keep you on the right path a lot better than a boring and bland regime will.
Today, we're going to look at some healthy protein baking. Below is a selection of our favorite recipes of protein donuts with minimal prep time from around the internet that are perfect for breakfast, dessert, or a midday snack.
As an added health bonus, t​hese recipes of protein donuts also happen to be low in sugar and calories, so read on and get stuck right in, and perhaps choose which among these recipes suit your needs.
Quick Summary
The banana protein donuts recipe is one of the healthiest protein donut recipes worth trying out.
Try out the low-cal protein donuts recipe if you are keen on watching your calorie intake.
The quick and easy vanilla protein donut recipe will boost nutrients in your body.
Clean-eating protein donuts recipe brings out delicious and healthy snacks.
The 89-cal double chocolate protein donuts recipe contains low calories and contains healthy nutrients.
1. 89-Cal Double Chocolate Protein Donuts
This one is an indulgent and delicious recipe for any of you with a sweet tooth or a real chocolate craving without worrying about excess sugar intake.
When baking with protein powder, it sometimes gives your recipes a springy or spongy texture, but when it comes to donuts, that will lean into their natural charm.
The frosting is ​one easy ​thing to add in extra protein in most donut recipes without adding too much by way of calories. It is an optional add-on, and you can of course tweak or substitute it out.
​These protein donuts make excellent use of the low-calorie and creamy ​texture of canned pumpkin, which is how it scores so big on flavor and low on fat content.
"If you're looking for a go-to ingredient for low-calorie recipes all year long, look no further than our orange friend. 120g of canned pumpkin only has 50 calories of creamy texture goodness."

- Mason Woodruff, Healthy Eating Chef
Ingredients
1 scoop of powdered protein (chocolate protein powder preferred)
​2 whole egg whites
​½ cup of canned pumpkin
¼ cup of all-purpose flour
3 ​tbsp of unsweetened cocoa powder
2 ​tbsp of zero-calorie sweetener
1 ​tablespoon of apple sauce
1 ​teaspoon baking soda
Frosting
1 scoop of protein powder
1 serving of fat-free cream cheese
​1 ​tablespoon of sugar-free chocolate syrup
Instructions
Preheat oven to 350 degrees Fahrenheit and coat your donut pan with a low-calorie cooking oil (you can also use a cooking spray), as this may result to delay in prep time if tended late
​Mix all of the donut batter ingredients in a bowl until smooth
Fill the donut pan evenly. Cook time is about 15 minutes
To make the frosting, combine the powdered protein, fat-free cream cheese, and sugar-free chocolate syrup at room temperature and mix until creamy
Let your protein donuts cool and then dip them face down into your frosting mixture
Nutrition
The protein donuts recipe above should yield 6 donuts. Depending on the powder you use, they will typically be about 89 calories for 11 grams of protein.
Recipe credit Mason Fit
2. Clean Eating Protein Donuts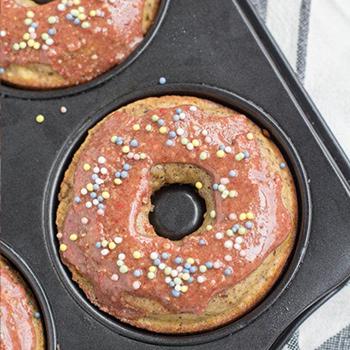 If watching your weight is less of a factor, or if you're looking for a donut with a bit more of a calorie-dense protein punch, then this protein donuts recipe is a delicious alternative.
It's a little more oily than others in this list, and that's reflected in its calorie count.
It's a great and easy recipe, with all whole ingredients that still come way under what a traditional donut would offer without compromising on taste or ​quality.
The coconut oil is an excellent healthy alternative to regular cooking ​oil but still feels delightfully naughty.
This is my personal favorite of a donut version ​-- a breakfast protein punch slathered in your favorite nut butter to increase the protein, healthy fats, and taste.
Ingredients
1 cup almond meal
½ cup oat flour
1 ​teaspoon baking powder
1 ​teaspoon baking soda
​2 eggs
3 tbsp honey
​4 tbsp coconut oil
½ cup almond milk​
4 tbsp nut butter
1 cup almond meal
½ cup oat flour
1 ​teaspoon baking powder
1 ​teaspoon baking soda
​2 eggs
3 tbsp honey
​4 tbsp coconut oil
½ cup almond milk​
Note: If baking for kids, you can use the protein powder kids will love.
Instructions
Preheat oven to 325 degrees Fahrenheit and coat your donut pan in a low-calorie cooking oil.
​Mix the dry ingredients in a bowl and then stir in the wet ​ones.
​The batter should be thick but if it is difficult to stir or clumpy then add more milk or water.
Spoon batter into a Ziploc bag and then cut the corner off to pipe the protein donuts into the pan.
​Bake for a total time of 10-15 minutes until golden brown.
'Frost' with nut butter of your choice, or add in some sprinkles.
Nutrition
The above recipe should be enough for 8 donuts, and each donut is a serving of 288 calories and 10g of protein.
Recipe credit Clean Eating Couple
3. Quick And Easy Vanilla Protein Donut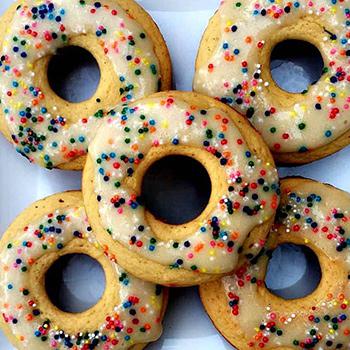 These donuts absolutely look the part.
If Homer Simpson dreamed up the perfect donut, it might look exactly like these easy to bake protein donuts do fresh out the ​microwave.
Simple ingredients and still big on flavor even an amateur baker can tackle this recipe.​
It manages to balance out the dense nature of the protein powder and provides a melt in your mouth texture that will make these a sweet dessert favorite.
The applesauce is the ingredient that makes the biggest impact here, not in flavor but in moistness.
​1 scoop of powdered protein
⅓ cup of coconut flour
½ cup of unsweetened almond milk
2 tbsp of stevia or low-calorie sweetener
2 tbsp of unsweetened applesauce
1 tsp of vanilla extract
2 tsp baking powder
2 egg whites
1 medium egg
Frosting
¾ scoop of protein powder
⅓ cup unsweetened almond milk
Sprinkles
Procedure
Preheat oven to 325 degrees Fahrenheit and coat your donut pan in a low-calorie cooking oil.
Whisk the egg whites and egg together and then stir in the other wet ingredients.
​Mix the dry ingredients in a separate bowl and then combine until smooth.
Spoon the batter into your donut pan evenly. Cook time is about 20-25 minutes.
​For the icing, mix the ​powdered protein and almond milk until smooth.
Coat the donuts and then top with ​bits of sprinkles. The sprinkles will surely be a treat!
Nutrition
The recipe should yield 6 donuts, each with shares of about 10g of protein and around 86 calories, depending on the specific protein powder you choose to use.
Recipe credit Stay Snatched
4. Banana Protein Donuts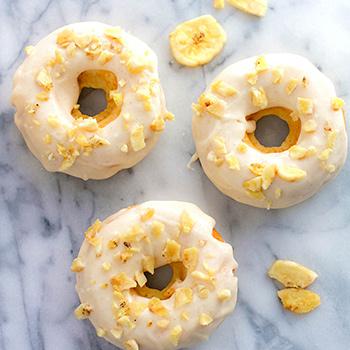 This delicious and healthy recipe is great on its own and unlike the recipes above, this doesn't even need any frosting.
Donuts without frosting, isn't it just bread?
The author recommends ​to make these donuts with a chocolate frosting, which you can borrow from one of the recipes above, but personally, I just drizzle and top them with some maple syrup and cinnamon for a ridiculously tasty treat.
The texture of these donuts is something that keeps me coming back for more.
The donuts are luxuriously moist and just the right amount of cakey, and an excellent way of getting a protein fix at any time of day.
But I personally prefer mine with a coffee at breakfast; it's an indulgent start to the day but surprisingly healthy.
Ingredients
2 bananas (very ripe)
2 eggs
​¼ cup of almond butter
2 tbsp of coconut oil
3 ​tablespoon of coconut flour
1 scoop of protein powder
½ tsp baking soda
½ tsp of leavening agent​
Instructions
Preheat to 325 degrees Fahrenheit and coat your donut pan in a low-calorie cooking oil.
Mix the bananas, egg, almond butter, and ​coco oil in a blender or food processor until smooth.
Pour the mixture into a bowl and stir in the remainder of the dry ingredients.
Spoon the batter evenly into the donut pan filling about ⅔ of the cavity.
Bake for 15-18 minutes until a toothpick comes out clean.
Nutrition
The recipe should yield about 9 donuts, with each serving up 5g of protein for 203 calories. If you want ​your donuts to be more protein-dense, make frosting using additional protein powder.
5. Low Cal Protein Donuts Recipe
Check out this donuts recipe by Zach Rocheleau where each donut is only 80 calories!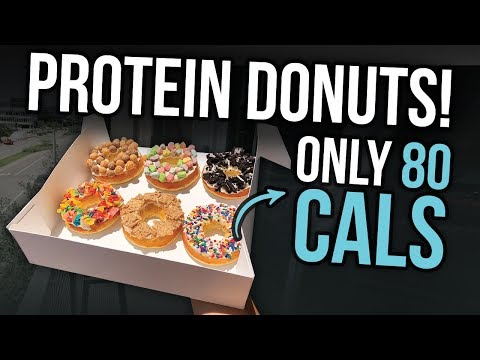 Are You Going To Try These Protein Donut Recipes?
Have you got a favorite protein donut recipe? Are you trying any of those on our list?
Feel free to leave a reply and let us know what you think ​about these recipes!
Make sure to check our recipes such as protein waffle and protein ice cream. Or if you're too lazy to make waffle, donuts, or ice cream, you can settle with protein bars. You'd be happy to know that there are diabetes bars and protein powders for diabetics.
Was this article helpful?