As a fitness trainer with years of experience, I've had my hands on countless weights, and for the longest time, I was skeptical about adjustable dumbbells.
I'd often suggest traditional sets to my clients, citing the cumbersome adjustment process and limited exercise range of the adjustable ones.
But Bowflex and Powerblocks changed my perspective. I spent several months testing these dumbbells, and I also had several of my clients compare them. Here's how they fare, from grip comfort to weight transition speed and more, so you can choose the best one for you.
What Are Bowflex Dumbbells?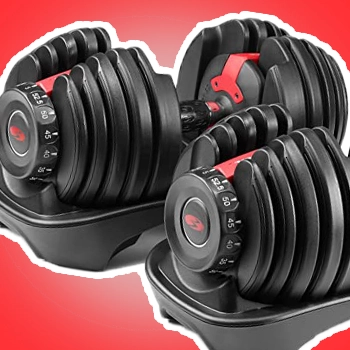 Bowflex SelectTech is adjustable dumbbells that use a unique dial system that allows you ​quick weight adjustment in just a few seconds.
The adjustable dumbbells feature a pair of metal handles with built-in dials on their end. These metal handles sit on platforms that house weight plates.
So, when you turn the dial on a certain resistance level, the handles lock there.
I remember the first time I tried the Bowflex SelectTech. The unique dial system amazed me with how quickly I could adjust the weight. It felt like a game-changer in my home workouts.
Bowflex comes as a set of two dumbbells, and there are a few models to choose from that allow for different amounts of weight ranges and increments.
There is also a compatible stand available with each Bowflex set, which I would encourage as it may help secure the weights more safely.
Our Rating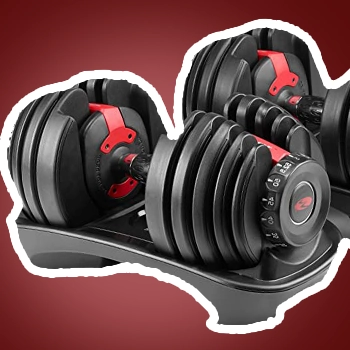 What are PowerBlock Dumbbells?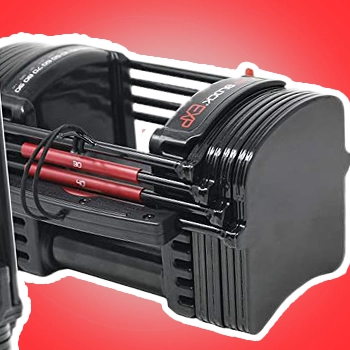 PowerBlock dumbbells are adjustable dumbbells, which use a weight plate that you are able to adjust through a pin system.
It's kind of like ​the weight system you see on some gym machines where the pins either engage or release certain weights.
When I first got my hands on the PowerBlock dumbbells, I was intrigued by their pin system. It's a different approach to adjustable weights, and after a few uses, I appreciated the simplicity and efficiency it brought to my sessions.
​​Like Bowflex, you can adjust ​the PowerBlock adjustable dumbbells pretty quickly, which means you might not end up cooling down in between sets as you select a different needed weight.
Our Rating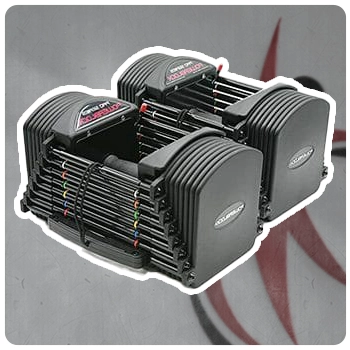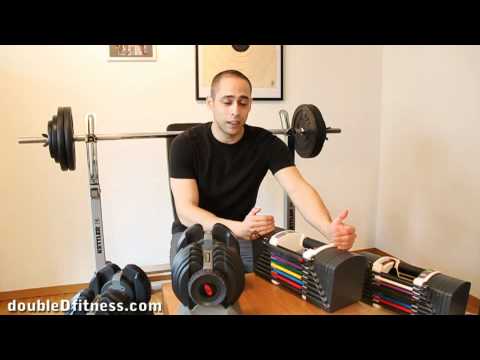 Our Test
I teamed up with a group of my clients to put these two adjustable dumbbells to the test. To ensure fairness and objectivity, I divided them into two distinct groups. Over the course of a month, each group exclusively used one set of dumbbells for their training routines.
Before diving into the test, I meticulously recorded their initial fitness metrics to gauge progress accurately.
At the end of the month, while both groups showed improvement, one group notably outperformed the other in terms of strength gains and adaptability to the equipment.
Let's get into the head to head comparison, and pros and cons of both dumbbells.
Bowflex SelectTech ​Pros And Cons
From my years of training, I've tried various dumbbells, but the Bowflex adjustable ones hold a special place. Their dial system, in my experience, is not just innovative but incredibly user-friendly, especially during intense sessions. I know some people prefer a selector pin, but I have found that after a few goes, you should be able to adjust them much faster.
Bowflex 552 vs. Bowflex 1090.
The Bowflex SelectTech 552 set gives you from 5 pounds all the way up to 52.5 weight range settings. That's quite impressive, thus many users consider ​this equipment the best adjustable dumbbell set. In comparison, a set of traditional dumbbells could cost you many times as much to get the same kind of range.
The weight range of ​Bowflex 552 is also great for a beginner.
There's also the Bowflex SelectTech 1090, which has the same features as the 552. The only difference, however, is that you can adjust it from 10 to 90 pounds. All you need is to adjust the built-in dial found on the sides.
This dumbbell is perfect for those who are looking for more weight that goes beyond the 552 weight range.
Durability and Safety of Bowflex Dumbbells
The Bowflex dumbbell's durability is also impressive. You won't even have to fear dropping them accidentally because there are no fragile or plastic parts that will break.
According to the article on the Harvard Health Publishing, safety should always come first [1].
I also like that the warranty lasts for two years, which gives you some added peace of mind in case things go wrong.
Pros
Each Bowflex dumbbell has a weight range of 5 to 52.5 pounds for the 552 model and 10 to 90 pounds for the 1090 model
​Up to 25 pounds you have weight increments of 2.5 lbs and 5 lbs after that
Comes in a rounded shape to make them feel like a standard dumbbell
Sturdy design and adjustment mechanism for more safety
Offset weight settings allow you to set a different weight on one side, and different on the other
Cons
The stand is extra but worth spending some extra dollars on
Due to their size and weight, it may not be the best companion
The only thing I would highlight about Bowflex is that the compatible stand isn't always available, and it's not the cheapest.
However, I do think it has an excellent ergonomic design that will keep your adjustable weights off the floor and within reach. It's surely worth the investment.
Reviews on Amazon are great on both of the products. You can check them out to see what others say.
Powerblock Dumbbells Pros And Cons

What I like most about the PowerBlock vs Bowflex is that these adjustable dumbbells come in a square shape.
PowerBlock dumbbells' distinct square shape was a refreshing change, and I found it added a unique stability to my workouts. Their stability is a big bonus, as according to a study in the National Library of Medicine, training with stable devices increases muscle mass and free testosterone [2].
PowerBlock Elite, Sport, and Pro
There are a few models of PowerBlock dumbbells available, with the most basic being the PowerBlock Sport. PowerBlock Elite is the mid-range ​model, which I have used most, and then there is the PowerBlock Pro.
The differences between the Elite, Sport, and Pro ​dumbbells are down to the minimum and maximum weight ranges as well as weight increments. With the adjustment system on all of them having the same design, you'd be able to switch between using any of them pretty quickly.
Durability and Quality of PowerBlock Dumbbells
The handle of each PowerBlock dumbbell is solid metal, and I felt comfortable lifting them without having to worry about them falling apart or becoming unbalanced. The durability and quality of the materials used in the making of this equipment are excellent.
Also note, ​PowerBlock dumbbell comes with a warranty of 5 years, which is better in comparison to Bowflex.
Pros
Uses a weight plate selector pin to switch out weights during your workout routine
The weight range for the PowerBlock Elite model is 5 to 50 pounds
​Square design to make them very stable on a flat surface
Uses high quality materials and made in the USA
Cons
The adjustment system isn't as quickly modified as the Bowflex dumbbell dial
Now, you'll probably adjust to the pin system quickly, which is quite similar to what you see on gym machines. But, PowerBlock's weight adjustment is not quite as fast and seamless a movement in comparison to the Bowflex.
There's also a PowerBlock Compact Weight Stand available if you wish to have convenient storage for stacking your PowerBlock adjustable dumbbells.
If you don't have a lot of money or space for gym gear, an adjustable dumbbell set could be a good investment, since it allows you to use several levels of weight with ​a piece of exercise equipment.

- Gabby Landsverk, Nutrition & Fitness Reporter
Make A Choice Based On Your Personal Needs
When you're trying to make a decision between PowerBlock vs ​Bowflex, I would suggest that you take a look at your personal workout program, goals, and needs before your purchase.
Here's what I recommend to my clients when it comes to the PowerBlock vs Bowflex brands dilemma.
Bowflex is excellent for quick weight changes during workouts and is more compact, making it suitable for smaller spaces.
PowerBlock, although slower in adjusting weights, offers stability and a comfortable grip, with the Elite model nearly matching Bowflex in terms of weight increments.
If speed is not a must-have, and you want to save a few dollars as well, the PowerBlock Elite might just be the best adjustable dumbbells on the market.
Both products are also excellent in terms of durability and quality. Unlike other adjustable dumbbells that have plastic parts, the Bowflex and Powerblock sets are made of metal.
If you are wondering where to store your dumbbells while you are not working out, we made a list of the best dumbbell racks.
Safety Precautions for Bowflex and Powerblocks Adjustable Dumbbells
The unique designs of these dumbbells have specific safety considerations:
Bowflex's dial system: Always ensure the dials are securely set to your desired weight before lifting. Misalignment can cause an uneven weight distribution or even cause plates to detach during exercises.
Powerblocks' magnetic pin system: Before each exercise, double-check that the pin is fully inserted and securely held by the magnet. An improperly placed pin can lead to weights dislodging during a workout.
Weight transition: For both dumbbells, adjust weights while they are on the ground or their respective stands. Lifting them during change increases the risk of dropping or misaligning the weights.
Regular maintenance: For Bowflex, ensure the dial turns smoothly without jamming. For Powerblocks, ensure the magnetic pin isn't worn out and retains its magnetic strength.
Avoid dropping: While traditional dumbbells might withstand drops, the intricate mechanisms in Bowflex and Powerblocks can be damaged by impact. Always set them down with care.
FAQs
​​​Can You Do Squats With a Bowflex Brand Dumbbell?
Yes, you can do squats with a Bowflex brand dumbbell. With an even weight distribution, you could grip one in each hand or use a single weight between your legs. And due to the high weight range, you should be able to do some powerlifting.
Are Bowflex Dumbbells Good for Building Muscle?
Yes, Bowflex dumbbells are good for building muscle, as the weight settings go all the way up to 52.5 lbs. Unless you're a professional bodybuilder, that should be enough for you to do certain exercises that would push yourself to the limit.
Which Is Better: Bowflex or Free Weights?
Bowflex SelectTech has become a better option than free weights for many people who want reliable home gym equipment. They are considerably cheaper than large dumbbell sets, and it makes it so much easier to store at your home gym as well.
Our Verdict on the PowerBlock vs BowFlex Adjustable Dumbbells
Having spent considerable time with both the PowerBlock and Bowflex dumbbells in my home gym, I've come to appreciate the unique features each brings to the table.
While both are top-notch in quality, my personal preference leans towards the Bowflex series.
The dial adjustment system, from my experience, offers a tad more convenience, especially during those high-intensity workouts where every second counts. It's all about finding what aligns with your routine and comfort, and I found the Bowflex provides more flexibility.
With their ease of use and excellent quality, Bowflex will have you excited to work out every day.
Our #1 Recommendation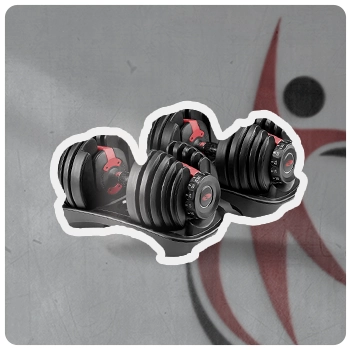 Check Current Price

Pros
Each dumbbell has a weight range of 5 to 52.5 pounds
​Up to 25 pounds you have increments of 2.5 lbs and 5 lbs after that
Comes in a rounded shape to make them feel like a standard dumbbell
Was this article helpful?