It's only in recent years that I have become convinced of using adjustable dumbbells for a home gym. They used to be wobbly, unbalanced, and really slow to change the weight settings.
The brands PowerBlock and Ironmaster claim to address both of these issues -- so I tried both to see who delivers.
Both of them have cool marketing, but which one should you pick?
I've done some extensive testing with the team here at Total Shape, and we're all set to give you our results and tips on this PowerBlock vs Ironmaster battle.
What Are PowerBlock Dumbbells?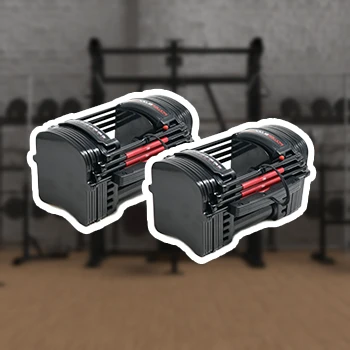 PowerBlock dumbbells are a set of adjustable dumbbells that use a simple pin quick-lock mechanism to make adjustments to the weight plates.
Since you should be able to adjust the pin within about 3 or 4 seconds, the PowerBlock Elite may be the most suitable adjustable dumbbells if you don't want your heart rate to drop too much in between sets.
Once you have set the dumbbell weights, you simply grab them by the handles as if they were completely traditional dumbbells.  Placing them back is also done easily, as the shape guides them perfectly into place.
We all have very different goals when it comes to working out, but for most people looking to improve their muscular fitness, it's best to rest for 30 to 90 seconds between sets of an exercise. You should feel energized to get after your next set, but not so relaxed that your heart rate drops and your body cools down.

 

​- Cory Stieg, Health and Fitness Writer
​We ​also have an article on PowerBlock vs Bowflex dumbbells, another popular product on the market.
You can also see our full review on Bowflex dumbbells if you want to see how good they really are.
What Are Ironmaster Adjustable Dumbbells?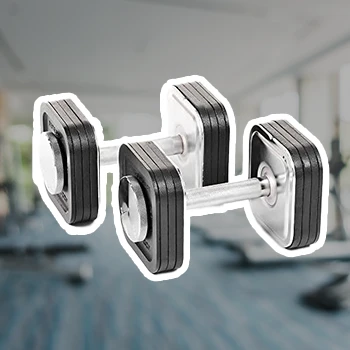 Ironmaster Adjustable Dumbbells are modifiable dumbbells that use a screw-in pin to change the weights. What makes them stand out is that they look like standard dumbbells. Weight plates are attached at each end by unscrewing a pin, which many reviews highlight as a solid and durable design.
In comparison to the PowerBlock adjustable dumbbells, the equipment is not as easy to adjust, but many people believe that they look and feel more like a traditional dumbbell.
At the same time, once you get a bit of practice, you'll be able to change the weights in less than 10 seconds.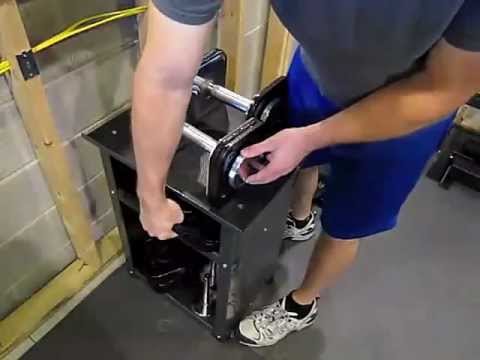 PowerBlocks Pros And Cons
My initial concern about the PowerBlock adjustable dumbbells was that when you grip the handle, your wrists are completely surrounded by other parts of the dumbbell structure. However, there seems to be plenty of space to allow for some wrist movement.
But what I like most about the Powerblock dumbbells is the ease in changing weights. Once you get used to the color chart for selecting the correct plates, it should take you less than 5 seconds to change the weights.
One thing you want to make sure with any home gym or fitness equipment is that it's solid and durable.
This is one of the most common problems with adjustable dumbbells. But after some extensive testing on the PowerBlock and reading hundreds of reviews, they don't seem loose or clanky.
Depending on your strength and fitness levels, you have the flexibility to order different weight range sets. At the lightest setting, they all start at 5 lbs. But you then have the choice of 50, 70, or 90 lbs for heavier weights.
Finally, they take up very little space, which may be ideal for home use. The sets should be compact enough to fit in the corner of a closet or bottom of a wardrobe.
Pros
Available as a 5-50 lbs, 5-70 lbs, and 5-90 lbs set
Fast release pin quick-lock system design to not interrupt your fitness training especially during drop sets
Features a welded steel construction to make them longer lasting
Great compact design with about 2 square feet of a footprint
Cons
There's no stand included
The one thing I would highlight in comparison to the Ironmaster is that the stand is an optional extra. It's worth spending a bit of money on, especially if you want fast changes between each set.
Ironmaster Pros And Cons

The first good news is that they aren't made of iron, which would be a bad thing as iron is prone to rust. Instead, Ironmaster adjustable dumbbells have been constructed using high-quality steel.
But it doesn't stop there.
You also won't find any plastic parts, which could break if not handled properly. Because all the materials seem to be hard-wearing, it also explains why these dumbbells come with a limited lifetime warranty.
Steel is a great material as it won't rust, but in the presence of salt, it can still stain on the surface. That means that all your body sweat could cause problems.
Another one of the great features of the Ironmaster is that the handles are chrome plated.
As a result, you should have a hard-wearing and stain-resistant surface.
What a lot of people also like is the weight range that goes from 5 to 75 lbs. That should cover most people's needs unless you're aiming for a strongman competition.
You'll also get a stand included, which takes up only a small amount of space. It should also be helpful to not have to bend down each time you adjust them.
Pros
No plastic parts that could easily snap off
Made of quality steel to avoid corrosion
Chrome-plated handles reduce the risk of staining
Includes a limited lifetime warranty for added peace of mind
Cons
In comparison to the Powerblock, adjusting the weights takes a bit more time
The one downside is that it's not as easy to change the weight unlike with PowerBlock. You have to unscrew a pin on each side, and then either add or remove plates.
It should still only take about 10 seconds on each dumbbell, but if speed is very important, then the PowerBlock Elite might be the best option.
How to Choose Between PowerBlock and Ironmaster?
To choose between PoweBlock and Ironmaster, consider factors such as the weight range, adjustable speed, quality, durability, and look and feel of the gym equipment.
If you need max weight all the way up to 90 lbs per dumbbell, then PowerBlock Elite is the way to go.
In my timed tests, I found that PowerBlock allows for weight adjustments in just under 5 seconds, making it the fastest option for those who need quick transitions between sets. Ironmaster, on the other hand, took around 10 seconds for the same weight change.
On the other hand, if you want to have dumbbell sets that look and feel the same as standard sets at the gym, then you'll struggle to pass on the Ironmaster.
The chrome handle of the Ironmaster is also a nice touch, which gave me the impression that they could also be longer-lasting. They look solid and dependable, a claim I can back up with a test I conducted, where the Ironmaster dumbbells showed no signs of wear. You'll definitely feel more at ease using them for longer and more intense workouts.
FAQs
Can You Drop Ironmaster Dumbbells?
Yes, you can drop Ironmaster dumbbells. However, this should only be done horizontally and from a low height. Generally speaking, though, I would avoid dropping any kind of adjustable dumbbells, as it could loosen the adjustment system and pose a safety concern.
Are Ironmaster Dumbbells Worth it?
Yes, Ironmaster dumbbells are worth it, as they possibly could replace a set of 28 dumbbells. With the compact design, they should take up minimal space in your home gym, making it easy to expand with other workout equipment.
PowerBlock vs Ironmaster Round-Up: Which Is Better?
You could probably have an endless debate over Ironmaster vs PowerBlock, and both of them are a great choice to make.
I have yet to find someone that has regretted investing in these adjustable dumbbells.
The only thing I would say is not to let the price tag be the deciding factor. If you need maximum and expandable weight ranges, then PowerBlock adjustable dumbbells is the most obvious choice.
But if you're a bit traditional when it comes to the shape like I am, then Ironmaster is probably going to be your better option.
Whichever way you decide, make sure you let us know on social media.
Was this article helpful?