Getting your protein fix doesn't have to be done with mountains of meat or by downing the same protein shake every morning.
There are lots of healthy and delicious recipes out there that are high in nutrition and low in calories, and what better way to get your protein than to mix it into your ice cream?
Well, there are some healthy protein ice cream recipes to choose from.
If there is one food I will never EVER get sick of, it is ice cream. If that means I need to incorporate it multiple times a day in various disguises, you bet I will do it…especially if it means replacing my post workout protein shake with it.

- Arman Liew, Chef and Healthy Living Expert
Here is a selection of some of the most delicious protein ice cream recipes for you to try at home.
Quick Summary
Blueberry mango protein ice cream is one of the protein-ice cream recipes worth trying out.
The protein ice cream recipe is one of the healthiest recipes as it contains nutrients.
The peanut butter cup protein ice cream recipe is delicious and nutritious at the same time.
The apricot protein ice cream recipe is an excellent choice for anyone who loves yogurt.
1. ​Protein Ice Cream (Paleo, Vegan, & Gluten-Free)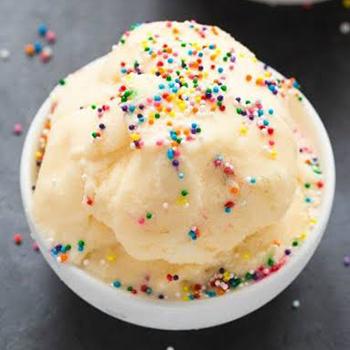 This is one the healthiest protein ice cream recipes is incredibly simple and straightforward to make.
​With just three ​things blended and frozen, you'll have a healthy ice cream that's vegan, paleo, gluten-free, ​and not reliant on sugar for flavor.
Any blender or your regular food processor can be used to mix the ingredients; you don't need an ice cream maker or any expensive equipment at all, just a big enough dish as it's so tasty you'll want to make it in bulk.
Ingredients
2 cans of 14 oz full-fat coconut milk
1-4 scoops of your favorite protein powder (32-34 grams per scoop)
½ cup Medjool dates
1 tsp vanilla extract (optional)
Instructions
Place a deep dish pan or container into the freezer
In a blender pour in the chilled coconut milk and blend until creamy
Add in the Medjool dates and protein powder and continue blending until a thick and creamy texture
Transfer the protein ice cream mix into the pan and put back into the freezer
For the first hour make sure to stir the mixture every 20-30 minutes to avoid the ice cream becoming too crystalized
Thaw for 10-15 minutes before eating. Wet your ice cream scoop to allow easy transfer into a bowl
Nutrition
Each serving should be about 67 calories, and the protein content will vary depending on how much powder you use.
Check this website for the recipe credit: The Big Mans World
2. Blueberry Mango Protein Ice Cream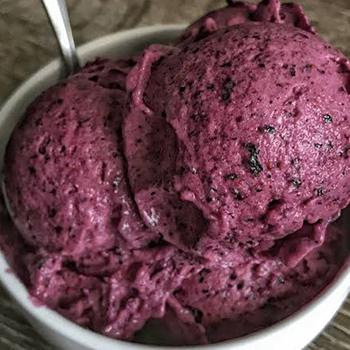 If you're feeling a little fruity, then using actual fruits is a great way to up the nutrition and flavor of a healthy protein ice cream recipe.
This blueberry mango ice cream is big on flavor and low in calories with a delicious creamy texture. Eat it pre or post workout for a quick and yummy protein fix.
The ingredients listed make for a single serving that is ready as soon as it comes out of the blender. If you want less, just tweak the recipe to taste and desired calorie content.
Ingredients
1 cup or 140g of frozen blueberries
1 cup or 140g of frozen mango chunks
1 scoop of your chosen vanilla protein powder
½ cup of unsweetened almond milk
Instructions
Add the chilled milk into the blender
Add in your fruit and protein powder
Blend until smooth and with a creamy texture
Serve and enjoy
The recipe and ingredients are simple, and there is lots of room to tweak it in terms of flavor and consistency. Play with it yourself.
Nutrition
This makes one large serving with 305 calories and however much protein you put in there. If adding more protein powder, just add a little more liquid and fruit to balance it out.
​​​​​​​​Recipe from this website: ​Mugs For Muscles
3. Peanut Butter Cup Protein Ice Cream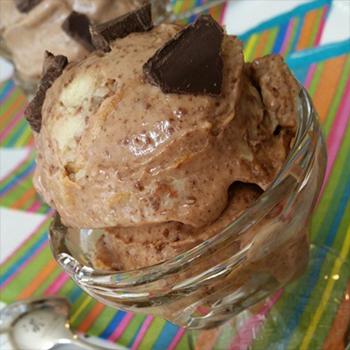 Peanut Butter is not only a delicious treat for any time of the day but is also a little protein punch itself, which makes it an ideal flavor to base a protein ice cream around.
The combination of peanut butter, banana, and chocolate balances the salty with the sweet just perfectly, and makes for a healthy snack that doesn't hold back on flavor or nutrition.
Ingredients
2 scoops chocolate protein powder
1 tbsp unsweetened cacao powder
6 tbsp unsweetened almond milk
4 tbsp all-natural peanut butter or almond butter
4 medium frozen chopped bananas
Instructions
Combine the powder and liquid first in a separate bowl and stir until completely combined with a smooth consistency.
Pour the mixture into a blender and add the bananas and peanut butter.
Mix well until a thick creamy consistency is achieved.
Serve immediately and enjoy it.
Nutrition
This recipe is intended to make about 4 servings, and you can freeze the remainder for a chocolate and banana flavored treat at a later date. Each serving should typically provide around 237 calories and 10g of protein, but you can tweak this yourself further by modifying the ingredients. Adding any fruit or flavoring of your choice should work alright.
Recipe credit: Clean Food Crush
Related Post: Does Banana cause Weight Loss?
4. Apricot Protein Ice Cream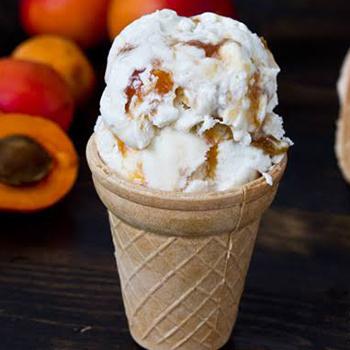 By a matter of chance, all the ice cream so far has been accidentally vegan, as long as you're not using whey or casein, at least.
So here's one for you cream heads out there that is full throttle moo milk - another perfectly simple recipe with just 4 ingredients, all whole foods that are healthy and delicious.
The apricot flavor really pops out of the yogurt to create a moreish and great tasting treat.
Ingredients
1 500g tub of 2% Total Greek Yoghurt
½ cup of vanilla whey protein powder
⅛ cup of coconut sugar
2 fresh apricots
Instructions
Place all of the ingredients into a blender and mix vigorously until a smooth and creamy consistency is achieved.
Pour the mixture into a shallow container to allow for even freezing.
Pop in the freezer for around 40 minutes.
Take it out and churn it to break up any ice crystals. Repeat this process until the desired consistency is achieved. (Churning at 40-minute intervals)
Enjoy.
Nutrition
This recipe should yield three servings all of about 217 calories for 25g of protein. You can substitute in a full-fat yogurt, but it will add calories, obviously. You can also choose a low-calorie protein powder to lessen the calorie content.
Recipe credit: Protein Pow
5. ​PB ​Ice Cream by IFBB Pro Arash Rahbar
Check out this video by IFBB Pro Arash Rahbar for another tasty ​dessert ...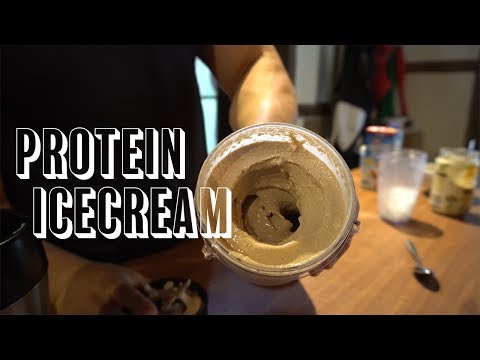 Pro tip: Make your own protein powder at home, Click here.
Are You Going To Try These Protein Ice Cream Recipes?
Was this article helpful?