Up for tasty and easy-to-make mass gainer shakes to help you gain more muscle? You got it!
The mass gainer protein shake is great for adding more calories and protein into your diet, plus it has carbohydrates for energy and some amino acids. In short, it is sweet and healthy!
I spent hours researching a fantastic homemade mass gainer shake recipe for you, and here is the complete step-by-step process.
How Do You Prepare a Mass Gainer Shake?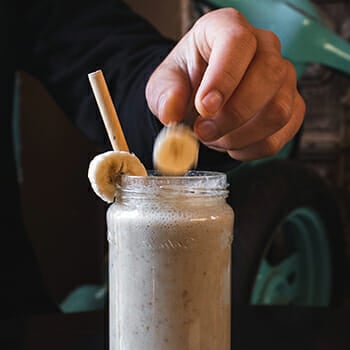 There is no one-size-fits-all mass gainer protein shake. But a few things to consider are the amount of your calorie intake and your body type.
Some body types burn fat quickly and can easily form lean muscles.
However, other body types have a difficult time gaining weight to build muscles.
If you want to gain weight for bulking, you must aim for 700-1000 calories per day.
Here is a simple recipe for you:
Ingredients
2 cups whole milk (can be almond milk or dairy) (474ml)
½ cup raw oats (40 grams)
1 banana
2 scoops of protein powder of any flavor
1 tbsp natural peanut butter
3 ice cubes
Instructions
Combine all ingredients in a blender. Blend until the texture is smooth and the ingredients are well mixed.
Servings: One serving;
Nutrition
Calories: 949kcal
Protein: 73g
Carbs: 92g
Fat: 32g
3 Delicious Protein Shake Recipes for Mass Gain
Here are other delicious smoothie recipes for more pounds of muscles.
1. Peanut Butter Chocolate Mass Gainer
Ingredients
2 cups whole milk (473ml)
2 scoops of chocolate protein powder
1/2 cup of peanut butter cup ice cream
2 tbsp peanut butter
Instruction
Put all ingredients in a blender and blend until smooth and powder lumps are dissolved.
Nutrition
Calories: 964kcal
Protein: 76g
Carbohydrates: 73g
Fat: 42g
2. Peanut Butter and Hazelnut Mass Gainer
Ingredients
⅔ cup milk (150 ml)
2 scoops of protein powder vanilla flavor
20g natural peanut powder
10g melted hazelnut spread
50g frozen banana
1 handful ice cubes
Instruction
Combine all ingredients in a blender. Blend until the texture is smooth and powder lumps are dissolved.
Nutrition
Calories: 504kcal
Protein: 28g
Carbohydrates: 50g
Fat: 18g
3. Creamy Chocolate Banana Mass Gainer
Ingredients
1 cup whole milk
1 cup egg whites
1 scoop of protein powder chocolate or vanilla flavor
50g oats
80g banana
2 tbsp chocolate syrup
Instructions
Combine all ingredients in a blender. Blend until the texture is smooth and powder lumps are dissolved.
Nutrition
Calories: 711kcal
Protein: 71g
Carbohydrates: 85g
Fat: 11g
Milk, protein powder, chocolate, banana, and some nuts in glass contains a full pack of macros and flavor perfect for a workout smoothie.
Feel free to customize your shake to match your nutritional needs and personal taste.
For example, some use cocoa powder, avocado, and other kinds of nut butter, such as almond butter, for the savory taste. Whey protein is also a good source of essential amino acids.
---
4 Benefits of Homemade Mass Gainers
It's important to note that these smoothies are not meant as a meal replacement – you still need to eat your carbs and protein balanced meal.
So, with that, here are a ton of benefits you may get from the good mass gainer shakes.
1. Speeding up Gain Weight for Increased Lean Muscles
If your goal is bulking, then the most important thing you must do is eat more calories than your body needs. This is because excess calories are stored in your body, helping you build muscle.
Mass gainer shakes increase your calorie intake up to 500-1000 calories per serving [1]. Not so skinny or underweight people who find gaining more pounds of muscles a problem may benefit from drinking these smoothies.
The increased calorie and carbs intake also means you have more supply of energy for your workout.
2. Supplying Your Protein Needs
Protein is an essential nutrient to help build muscles, improve muscle mass, and assist in faster recovery.
If you want to bulk up, milk is an excellent protein source rich in casein and whey protein.
3. Providing Balanced Nutrition
These gainer shakes are super healthy drinks! They contain a variety of food - fresh fruit, whole grains, dairy, and protein to meet the macros and essential nutrients you may need every day.
Mass gainer shakes also provide carbs for energy and some amino acids.
They are fantastic drinks for breakfast, before a workout, and some even suggest taking them during night time.
Avoid filling up on soda, coffee, and other drinks with few calories and little nutrition; instead, consume healthy shakes for weight gain to bulk up muscles.

- Katherine Zeratsky, R.D., L.D., Certified in Dietetics by the State of Minnesota & the American Dietetic Association
4. They are Easy to Make
Not only are these gainer shakes highly nutritious and great for gaining weight for muscle bulk, but they are also simple to create at home ‒ taking only a few minutes to make and easy to drink.
Unlike commercial products in a supplement store that are expensive and may contain a lot of sugar, you also have complete control over the taste and the nutrient content of your recipes.
And these shakes save you money and offer you wholesome drinks.
FAQs
What Do You Put in a Mass Gainer Shake?
Some of the ingredients you can put in your smoothie are milk, protein powder, raw oats, banana, some nut butter such as from peanuts or almonds, and chocolate for a flavorful taste.
Is Homemade Mass Gainer Good?
Homemade gainer shakes are made from different types of food such as fresh fruits, whole grains, protein, and dairy. So, they are a great source of a balanced diet packed with macros, vitamins, essential amino acids, and more calories than your body can burn.
Should I Take Mass Gainer With Milk or Water?
Milk is an excellent source of whey protein, helpful for loading protein for the muscles. However, if you are lactose intolerant, it may not be your best option. Going for water reduces the number of calories in your shake.
Is Mass Gainer Good For Skinny Guys?
High-calorie shakes are best for skinny or underweight individuals who struggle with muscle weight gain with their normal diet because these shakes increase their calorie intake.
Will Mass Gainers Make Me Fat?
A high-calorie mass protein shake helps in weight gain for bulking up your muscle. However, individuals who consume these shakes without a regular workout may have more body fat than muscles.
Will You Try a Mass Gainer Shake?
A smoothie made with mass gainer supplements can be your new on-the-go drink—just add the ingredients to a blender, blend them up, and voilà! You have yourself a homemade nutrient-full smoothie!
These smoothies are high in calories and protein, beneficial for those who want to gain muscle volume. These are also highly nutritious and super healthy drinks.
If you drink these shakes, do regular workouts, and eat a healthy diet, you will achieve the desired weight gain for stronger and bigger muscles.
Was this article helpful?