Testosterone is probably one of the most underrated and misunderstood hormones. As a health and performance coach, for most of my clients who are new to fitness, the first thing that comes to mind is dodgy hormone treatments or prescription drugs to increase their testosterone production.
However, they forget more natural ways to improve their testosterone count.
One of the latest products that came to our attention is Aphro-D, and we decided to test it with our clients.
Here's what the results from my team of testers, including myself, showed.
Total Shape's Score : 4.9/5
4.9/5
Product Effectiveness
Uses all-natural herb ingredients

Vegan-friendly

No fillers and sugar

Offers a 365-day 100% money-back guarantee

Formulated by a doctor
Tongkat Ali

Schisandra Berry

Pearl Powder

He Shou Wu
Increases natural ability to produce testosterone

Boosts energy levels

Improves physical performance

Enhances sexual performance
What Is Aphro-D?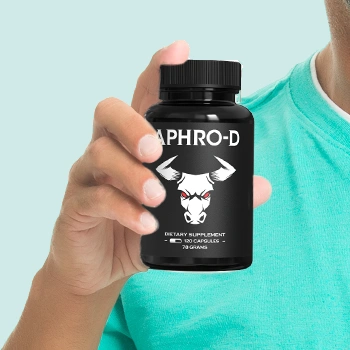 Aphro-D is an herbal testosterone booster, formulated by Dr. Farhan.
He used natural ingredients to aid in men's natural ability to produce testosterone while improving mental wellbeing, mood, male sexual function, and confidence.
Based on 1st hand experience, the knock-on effect of this male enhancement supplement would be better physical performance in the gym and some benefits in the bedroom too.
That might be particularly interesting for older men who have a higher chance of experiencing a natural drop in T-count, meaning their sexual performance declines naturally.
Aphro-D Ingredients - Completely Natural?

Aphro-D Ingredients use completely natural ingredients. Dr. Farhan spent over two years researching different herbal ingredients and testing them to formulate Aphro-D. Over time, he found a simple formula of natural ingredients, which he claims every male should take as their dietary supplement.
1 - Tongkat Ali
Tongkat Ali supplement has been researched a lot by scientists, and one study on the National Center of Biotechnology Information website found a significant impact on testosterone production in a test group of over 50 [1].
2 - Schisandra Berry
These berries have been used for centuries for fertility and are believed to improve overall blood flow, which supports sexual stamina. Some evidence suggests that this could help improve energy and stress levels [2].
3 - Pearl Powder
Some research points to pearl powder as a good option for getting more antioxidants into your system [3]. It may also work to improve sleep quality and lower stress levels.
4 - He Shou Wu
Dr. Farhan added this ingredient to Aphro-D to improve nutrient absorption and boost the immune system.
According to another study found on the National Center for Biotechnology Information website shows its potential toxicity and damage to livers raises concern [4].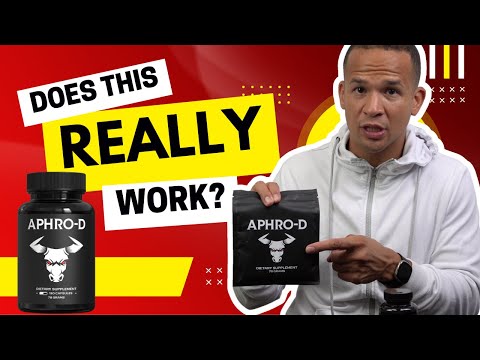 Benefits - What Can You Expect?
Through my own experience, you can expect the benefits linked to higher testosterone levels and vitality. As a natural testosterone booster, it claims to aid in men's natural ability to produce testosterone, especially for older men experiencing a natural drop in T-count.
But it also works to:
Increase energy levels
Boost physical performance
Improve sexual performance and sexual desire
It might take at least 30 days of consistent usage to experience these benefits, so give it some time. After all, once these benefits start kicking in, you'll have more ways to improve your lifestyle in the long run.
Are There Any Side Effects?

There aren't any side effects to taking Aphro-D. If you have a sensitive stomach, then you might want to take a smaller dose first, to check how your body reacts to Aphro-D.
Any product that increases testosterone production might lead to mood swings as your body adapts. But, most users also claim they didn't experience major adverse reactions. Regardless, ask for professional advice and be careful of fake reviews to avoid health issues.
Aphro-D claims to address key factors such as sexual desire and sexual stamina; however, it's crucial to note that individual results may vary, and it's important to consult a healthcare professional if you have a serious medical condition. Additionally, the effectiveness of the product's proprietary blend and its potential side effects should be thoroughly researched before use.
Pros And Cons
We spent a few months testing out Aphro-D with clients and found that it positively impacted measured free testosterone levels.
Our clients felt more energy and confidence, which seemed to improve motivation to get back to the gym.
The money-back guarantee gives you peace of mind in case you buy it and it does not work for you.
Pros
It may work well as a natural testosterone booster
Positive reviews about improved physical and mental energy
It seems to boost confidence levels
100% money-back guarantee if you're not satisfied
Doctor-formulated
Before/After blood test proof
Cons
Some of the benefits might take more than 30 days to kick in
My Personal Experience with Aphro-D
After months of testing out Aphro-D, my clients and I would agree when I say that it is an effective T-booster that improved both our physical and mental performance.
It resulted in higher measured free testosterone levels and increased energy and libido during the first few weeks.
My clients also seemed to have enhanced focus and confidence during our workout sessions.
As men age, maintaining healthy testosterone levels becomes increasingly important. Aphro-D claims to utilize all natural ingredients, including active ingredients that have been studied in clinical trials. These key ingredients differentiate it from other supplements on the market and aim to support healthy test levels. However, it's essential to consider individual variations and potential side effects before incorporating Aphro-D into your routine.
Where Can You Buy Aphro-D?
You can buy Aphro-D on the official website.
The supplement industry is full of fake and counterfeit products sold on hundreds of websites. They might look like legitimate sites, and even the product packaging looks real, but you could be taking serious risks with a supplement that you have no real idea what it contains. Worse, these outlets could sell real products, but they are way past their supposed expiration date.
Aphro-D used to come in a black minimalist resealable pouch. Now, the brand has changed its packaging into an all-black bottle featuring an image of a tough-looking bull with red eyes. Regardless, the best way to avoid this risk is to buy from the official website.
Aphro-D Cost - Does it Cost Too Much?
Aphro-D doesn't cost too much, as buying in bulk will give you a significant discount. However, the prices may vary depending on the subscription plan you choose.
Since Aphro-D is an auto-subscription service, you have the option to choose between these plans:
1-month auto-ship cycle — $80 (+$10 shipping fee)
3-month auto-ship cycle (buy 2, get 1 free) — $160 (free shipping)
9-month auto-ship cycle (buy 5, get 4 free) — $400 (free shipping)
Shipping and Returns
Aphro-D offers an auto-subscription service. This means that when you order the first time, you will automatically receive your Aphro-D supply every month, three months, or nine months.
But if you want to cancel or pause your Aphro-D subscription, email [email protected].
They also ship anywhere in the world, but it might take 14-24 working days if you live outside the US and UK.
For any reason you're not satisfied with Aphro-D, Dr. Farhan and his team are highly confident that they are offering a 365-day 100% money-back guarantee, no questions asked.
However, it is only valid for first-time customers and only for their first three bottles of Aphro-D.
Aphro-D Results: What Are People Saying About It?
Our clients have experienced excellent results with Aphro-D, but we tried looking for other users to get their feedback about the product to keep this review as unbiased as possible.
We came across the Aphro-D Academy group on Facebook, an exclusive community of over 5,000 Aphro-D users.
The following sums up what the group is all about:
"We have created the Aphro-D Academy so Dr. Farhan and his team of health professionals can answer all your questions, 24/7.
Our brotherhood is full of high-performing men who work together and hold each other accountable. They will guide you on your beautiful journey towards the highest levels of success."
Here's what they have to say about their Aphro-D experience: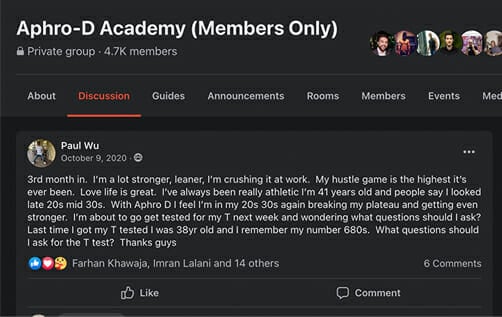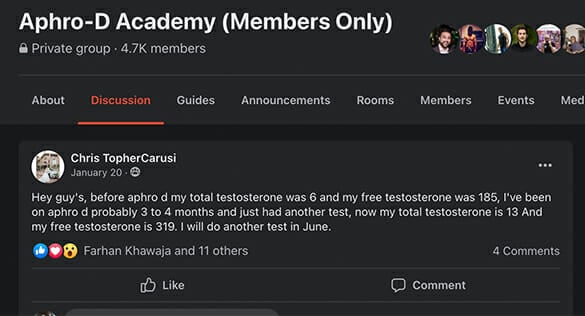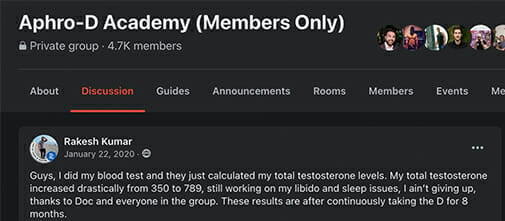 These guys aren't only experiencing significant increases in testosterone levels but improved sleep, better sexual performance, and a more muscular physique as well.
It's also refreshing to see how supportive the group is. Men are encouraged to share their struggles without judgment, and Doc Testosterone himself responds to the posts and gives them helpful advice.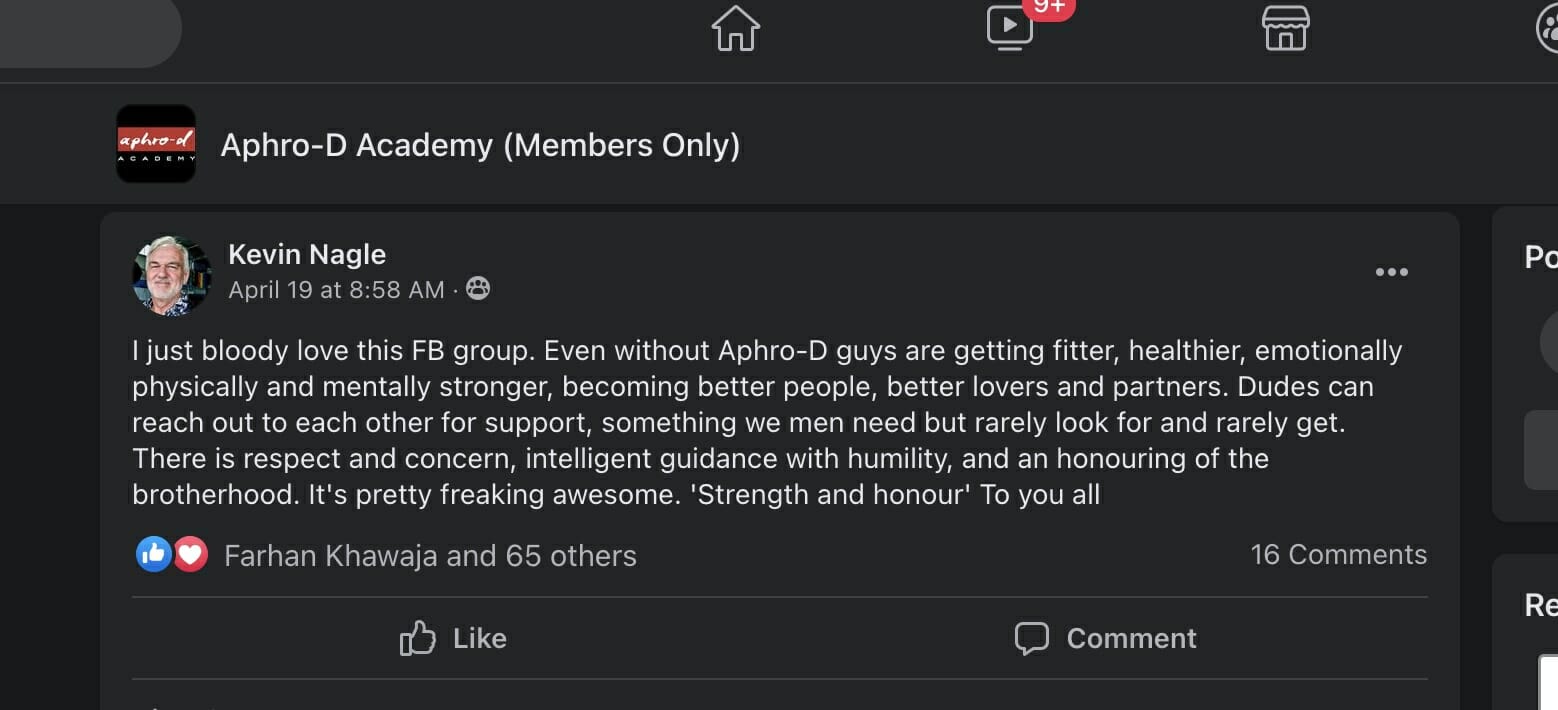 Other Alternatives
A quick look at Aphro-D, TestoPrime, Testogen, and Testofuel may lead you to conclude that they have the same goal: fitness. While this is mostly correct, it does not provide the entire picture.
Compared to Testoprime, Testogen, and Testofuel, which are meant to be taken by both men and women, Aphro-D was developed to be taken by men only.
Also, compared to the other products, there are certain ingredients, such as D-Aspartic acid, fenugreek extract, vitamin D, ginseng extract, and zinc, that are available in Tetstoprime, Testofuel, and Testogen that are not contained in Aphro-D supplements.
Testoprime
Click For Best Price
Pros
Increases blood supply to the body
Boosts energy levels
Improves sex drive
Helps fight stress
Promotes growth of lean muscle mass
Cons
A bit expensive for an everyday supplement
Need to take four pills daily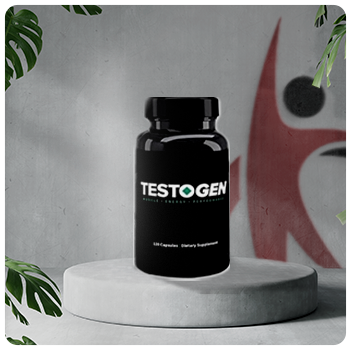 Testogen
Click For Best Price
Pros
Increases energy and stamina
Shortens recovery times
Enhances lean muscle mass
Improves libido and focus
Fights fatigue
Cons
A bit expensive for an everyday supplement
Need to take four pills daily
Testofuel
Click For Best Price
Pros
Aids muscle growth
Increases strength and endurance
Speeds up recovery times
Improves mood and motivation
Increases libido
Cons
Can be quite expensive if you only buy one bottle
Dosage is four pills a day
FAQs
When Should You Take Aphro-D?
You should take 4 capsules of Aphro-D first thing in the morning and make sure to take it on an empty stomach to get the best results.
Yes, Aphro-D is legitimate. It can naturally improve free and total testosterone levels, blood flow, and confidence. It has professional backing and third-party lab testing to ensure its quality.
Yes, Aphro-D is safe. It is made of natural ingredients that help increase free testosterone levels.
How Long Should I Take Aphro-D Before I See Results?
You should take Aphro-D for at least four weeks before you see results.
What Are the Specific Roles of the Four Main Ingredients in Aphro-D?
The four main ingredients in Aphro-D, including Tongkat Ali and He Shou Wu, are chosen for their roles in boosting testosterone, enhancing libido, and supporting overall male health. Each ingredient works uniquely, with Tongkat Ali known for increasing free testosterone levels and He Shou Wu traditionally used for revitalizing kidney health and indirectly supporting testosterone.
How Does Aphro-D Compare to Other Leading Testosterone Boosters?
Aphro-D differs from other leading testosterone boosters primarily in its ingredient composition, focusing on a more natural and holistic approach. While other products may include a broader range of ingredients, Aphro-D relies on a select few that are believed to be effective in enhancing testosterone levels and overall vitality.
What Do User Testimonials Say About the Long-Term Results of Using Aphro-D?
User testimonials about Aphro-D often highlight positive effects on energy levels, mood, and sexual health. These real-life experiences suggest that the supplement can be effective over the long term, especially in improving libido and overall vitality.
Are There Any Known Safety Concerns or Potential Side Effects of Using Aphro-D?
While Aphro-D is generally considered safe due to its natural ingredient profile, potential side effects, particularly with long-term use, are not extensively documented. Users should be aware of individual ingredient sensitivities and consult with a healthcare provider for personalized advice.
Is Aphro-D Cost-Effective Compared to Its Benefits and Other Market Alternatives?
Aphro-D's cost-effectiveness is a point of consideration, especially when compared to its benefits and other testosterone boosters on the market. While it may be priced higher than some alternatives, its unique natural formulation and positive user testimonials suggest it offers good value for those seeking a holistic approach to testosterone boosting.
Our Verdict on Aphro-D Supplement
Our test results and research indicate that Aphro-D is an effective product.
Many of our clients have continued to use it and have taken advantage of the significant bulk order discounts.
And if you order directly from the official site, you can always get a refund if it doesn't work for you.
Before taking Aphro-D or any supplement that claims to affect testosterone levels, it is essential to seek professional medical advice, as individual results may vary, and the product's efficacy and health benefits should be evaluated.
We Approve
Pros
May work well as a natural testosterone booster
Positive reviews about improved physical and mental energy
Seems to boost confidence levels
100% money-back guarantee if you're not satisfied
Get 10% off using code:

TOTALSHAPE10

Get the BEST PRICE until the end of December
Cons
You can only buy it on their website
Was this article helpful?