Fistfights, cars, sports, and facial hair - these are just some of the many things that can make men feel manly.
But admit it, nothing in this world can validate your masculinity more than hearing a woman say you're good in bed.
However, there are times when your confidence is lacking, and you feel like you're not up to the task.
One product that claims to help with that is the TestoUltra Testosterone Enhancer. It's said to give users an enhanced sex drive, longer erections, more intense orgasms.
Can this supplement really make you a king in bed?
Read on to find out.
What Is TestoUltra?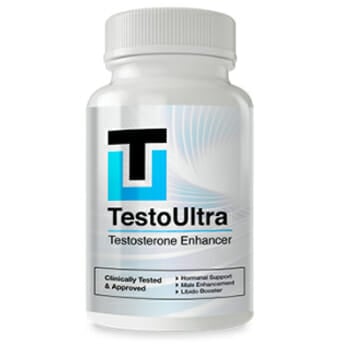 TestoUltra is a testosterone enhancer that promises to shake up your sex life by giving you stronger and longer-lasting erections. This supplement contains a blend of natural ingredients designed to increase your sexual appetite, improve your energy, and give you more intense orgasms.
Males who take two pills of this supplement daily are assured of more virility, power, and pleasure without the usual health risks associated with other male sexual enhancers.
The brand says this product is guaranteed natural and safe, that you don't even need a prescription to get one.
TestoUltra has been thoroughly tested in the laboratory and by thousands of men attest to its efficacy.
Its formula is approved by experts and has been verified to meet the highest international quality and safety standards.
If you're looking for a way to turn your lovemaking from average to mind-blowing, this supplement might be the answer to your bedroom woes.
Ingredient List
This testosterone booster product comprises four primary ingredients.
Horny Goat Weed
Horny goat weed is an herb used to make medicine.
This ingredient is noted to address sexual performance issues, such as erectile dysfunction and low libido.
Although there's limited research, new evidence suggests that a compound in the herb impedes the effects of an enzyme that blocks the flow of blood into the penis.
More blood circulation can help you have stronger erections. Therefore, this herb may have positive effects on sexual health and performance.
Additionally, the suspected active component of horny goat weed, epimedium, appears to mimic the functions of a phosphodiesterase inhibitor, which is a type of drug used to treat erectile dysfunction [1].
I haven't seen reviews about erectile dysfunction, but many users shared that it may have helped them get active to keep their libido at its peak.
Tongkat Ali Root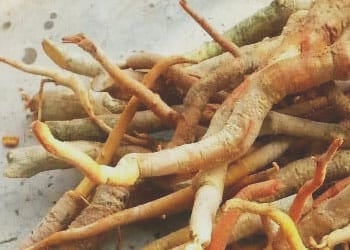 Tongkat Ali's literal translation is "Ali's walking stick," which is a reference to its aphrodisiac effect.
Some research suggests that this plant may enhance male fertility and sexual performance.
Studies performed in animals and humans showed that Tongkat Ali elevated semen levels and sperm count, motility, and viability. It also increased testosterone levels, helped with erectile dysfunction, and improved sexual capabilities.
Its aphrodisiac effects are attributed to the rise in testosterone levels and the boost of dopamine in the brain [2].
Along with higher libido, some studies show that it may help improve stress and energy levels. I felt slightly less fatigued during training sessions, even on days when I didn't get enough sleep.
Nettle Root
This tonic herb is a known treatment for prostate issues. It can also increase the free testosterone (usable testosterone) supply in your body.
Some males might have high testosterone levels, but it might not be circulating through the system where it can be used by the body.
This extract works by making the testosterone available for use by the body so its benefits such as vitality, youthfulness, and energy can be felt [3].
This is one of the more familiar ingredients I see in many T-boosters, and it may have helped provide the boost most users need to enjoy their sweet moments in bed.
Saw Palmetto
Also known as the American Dwarf Palm Tree, this natural ingredient is often sought by men of a certain age for its testosterone-boosting capabilities.
Testosterone levels decline with age, which means older males need more of this hormone to sustain their sex drive, maintain erectile function, and increase muscle mass.
Saw palmetto is known as an effective treatment for prostate enlargement. It's also noted for its ability to boost sexual appetite and fertility.
Indeed, I saw many online reviews that mention the effectiveness of the product in terms of boosting sexual desire, which may have been caused by the combination of these four ingredients.
Related article: Best Vegan Test-Boosters
How Does Testo Ultra Work?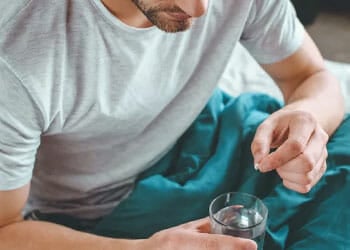 TestoUltra works by enhancing the health of the corpora cavernosa (the chamber-like parts inside the penis) by increasing blood flow into the site.
When there's optimal blood flow to the penis, you will feel stronger and longer-lasting erections.
The more blood these chambers can hold, the more powerful your erection will be.
However, this will only be possible if you have a healthy corpus cavernosum, an optimal blood flow, and a great balance of hormones that produce a sex drive.
"The Age-Related Hormone Deficiency-Dependent Quality of Life (A-RHDQoL) scale found that memory, energy, and physical capabilities, and sex-life were the factors most adversely affected by low testosterone levels."

- Ignacio Moncada, Department of Urology and Andrology, Hospital Gregorio Marañón, Madrid
This is where TestoUltra comes in.
This supplement may also help boost your testosterone, a hormone that plays a vital role in the male sexual appetite.
Testosterone influences the power of your erections and the quality of your orgasms.
Your body must generate new cells more quickly to maximize the corpora cavernosa's expansion.
Testo Ultra capsules have rich antioxidant content that aids in cell regeneration.
And when your body produces cells more quickly, the formation of new tissue in these chambers becomes easier.
Lastly, Testo Ultra may help increase your energy levels so that you can enjoy your newfound sexual virility and endurance for hours on end.
There are mixed opinions about the benefits of Testo Ultra, but many users were successful in getting their grooves back in the bedroom.
Pros
Requires no prescription
Made with all-natural ingredients
It may help increase your sexual appetite and energy
It may improve the quality of your orgasms
It may help support testosterone production
Cons
Lack of formula transparency
Insufficient product info; the company provided no list of allergens
Where To Buy and Price?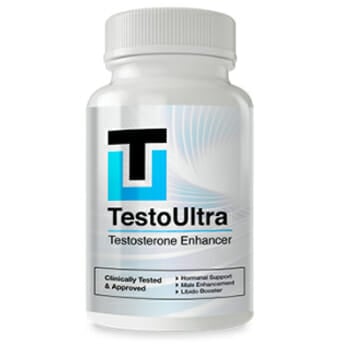 You can purchase the Testo Ultra from the manufacturer's official website and other third-party websites.
The price won't show on the official product page until you fill out the order form details.
If you ask me, this part is a bummer, but the company makes up for this slight inconvenience by offering free shipping on this supplement.
Other online retailers sell each bottle for around $60, which is honestly quite expensive for a supplement that has limited benefits.
Side Effects
Is TestoUltra safe?
While it offers a slew of benefits, there are possible side effects you may experience with this supplement based on its ingredients.
When taken for a long period, horny goat weed might cause dizziness, vomiting, dry mouth, thirst, and nosebleed. Taking large amounts of this herb may also cause spasms and severe breathing problems [4].
The common adverse effects of Tongkat Ali are less severe and fewer, including insomnia, irritability, and restlessness [5].
Saw palmetto reactions are usually mild and include dizziness, headache, nausea, vomiting, constipation, and diarrhea [6].
Nettle root may cause diarrhea, constipation, and upset stomach in some users [7].
When I first took Testo Ultra, I had some nausea, mild headaches, and a bit of bloating even though I followed the recommended dosage.
My clients had the same experience, which is disappointing for an all-natural formula.
To avoid these side effects, take this supplement within the recommended use. If you're a woman, we recommend you opt for the best female testosterone booster instead.
Other t-boosters we recommend:
What Do Customers Say?

There are limited TestoUltra reviews online, but here's what some customers say about the product:
"I've always had problems with erections and thought the issue was something in my head. I consulted psychologists, therapists, and even a physician who treats male health but to no avail. I tried TestoUltra from a friend's recommendation and while it worked in the beginning, I had to stop because I had some stomach issues with it. I wanted to continue using it if not for the severe constipation." - C.Y.
"I was tired of giving my wife the same excuses. Sometimes, I'd tell her I'm not in the mood or that I have a headache as a way to escape sex. That's when I tried TestoUltra. All the monotony, low sexual appetite, and fatigue went away! Now I am a man who makes love with his wife every single day. I couldn't be happier. Also, my wife says thank you!" - Lee Koh
"One of my friends recommended TestoUltra so I had to try it. This product gave me the virility and sexual pleasure that I've always dreamed of having. Just make sure you follow the instructions and wait until you see results!" - Abir Ong
Testosterone Booster Alternatives
TestoFuel is a testosterone booster and muscle-building supplement from Roar Ambition originally designed to keep athletes and bodybuilders at the top of their game.
Like Testo Ultra, it contains all-natural ingredients to boost testosterone production, but TestoFuel added in some vitamins and minerals to enhance muscle gains and support overall immunity.
It makes the product perfect for anyone looking to boost their T count, for those working their way to a leaner and more ripped physique, or both.
Aside from boosting your body's testosterone production, this all-natural testosterone booster claims to deliver the energy and physical strength you need to speed up your muscle gains.
It has a longer ingredient list than Testo Ultra, but it's packed with clinically proven testosterone and immune-boosting vitamins and minerals to take your workouts to the next level.
This product is suitable for anyone, not to mention vegans struggling to boost their testosterone levels and gain lean muscle mass.
Aphro D is an-all natural testosterone booster formulated by Dr. Farhan, containing only 4 herbal ingredients to cause a dramatic increase in testosterone levels.
This makes it very similar to Testo Ultra, which has only four ingredients, except that Aphro D contains ingredients that are specifically added to improve performance at the gym and support immunity.
It makes the product perfect for both older men who want to increase their testosterone levels and men over 30 looking to stay motivated at the gym to achieve a lean and solid look.
Related:
Do We Recommend TestoUltra?
Nowadays, it's rare to find a testosterone product that isn't full of chemicals and ingredients you can't even pronounce. While TestoUltra contains mostly natural ingredients, the side effects are still quite notable.
And what threw me off was it doesn't contain any essential vitamins and minerals to support overall health apart from the t-boosting.
If you're looking for a complete testosterone booster, I recommend checking out Testogen.
It's all-natural and safe, plus it also contains a good vitamin and mineral profile, including vitamin D, zinc, and magnesium that may help you improve your overall physical performance.
We Recommend This Instead
Click For Best Price

Pros
May work well as a natural testosterone booster
Positive reviews about improved physical and mental energy
Seems to boost confidence levels
100% money-back guarantee if you're not satisfied
Get the BEST PRICE until the end of February
Cons
You can only buy it on their website
Was this article helpful?