The majority of our clients fall into the general weight loss and lean muscle mass growth categories. And we do a lot of work with them to come up with a supportive diet and supplement stack.
One of the products we advise for all men is a testosterone booster, which often raises some eyebrows.
We're not talking about dodgy steroids or illegal drugs. There are completely natural products like Prime Male testosterone booster that may help a lot of men suffering from low testosterone levels that can cause erectile dysfunction.
So, our fitness experts picked 8 of our clients to run a trial to find out how well Prime Male works.
Let's start with the basics in this Prime Male review.
What Is Prime Male?
Prime Male is a vegan-friendly testosterone booster based on a formula of natural ingredients that include herbs, vitamins, and minerals.
The company refers to its formula as the A-team or anti-aging dirty dozen.
Anyway, they can call it whatever they want as long as the ingredients do what they claim to do. We'll get to those details in the next section.
What Roar Ambition Ltd. claims is that every single ingredient in the Prime Male supplement has been chosen because of scientific proof that it may increase testosterone levels.
During our testing phase, we made sure that our clients kept a journal on these topics so that we could come to a conclusion on those claims.
And we'll get to the results after we look at the ingredients.
Our #1 Recommendation
Prime Male Ingredients
The first thing we did is have a nutritionist look at the 12 natural ingredients on the Prime Male label and provide us with some feedback.
We also looked for studies to back up the claims and see how this formula might boost testosterone levels.
One thing to point out in this Prime Male review is that we liked that the label is completely transparent, which made our research a lot easier.
1 - D-Aspartic Acid Calcium Chelate
I had heard of D-aspartic acid calcium chelate but was a bit intimidated by the sound of it. Apparently, you could call it DAACC, and nutritionists would know what you're talking about.
This is a common ingredient in testosterone boosters, including a famous brand called TestoFuel.
Some studies have tied it to body functions that stimulate the testes to produce more sex hormones.
Many users over 30 had a massive increase in testosterone levels with Prime Male that they didn't get with testosterone shots and patches.
2 - BioPerine
This is an extract from black peppercorns, and several studies have concluded that it may help your digestive system absorb nutrients by as much as 30% [1].
It has been proven to enhance the bioavailability of vitamins and amino acids, which is how Prime Male works well as a testosterone booster.
Based on the online reviews I saw, several users doubled their free testosterone levels in just 2 months, with an evident increase in energy and drive.
3 - Boron
One interesting study we saw linked this mineral to a decrease in sex hormone-binding globulin (SHBG), which may lower free testosterone levels [2].
This should technically increase the testosterone floating around your body.
It's not surprising that many known T-booster brands also have this as their primary testosterone-boosting ingredient.
And Prime Male uses the most bioavailable form, the boron amino acid chelate.
4 - Korean Red Ginseng
Korean red ginseng is often called the gift from the Orient, where it has been used for centuries to improve fertility. But we generally don't rely on just traditional medicine opinion.
Our nutritionist pointed out that a study from 2013 found a positive relationship between this herb and its testosterone-boosting abilities [3].
"Practitioners of traditional Chinese medicine have used red ginseng to prepare a tonic designed to boost a person's energy. The ginseng plant contains compounds known as ginsenosides believed to have this beneficial effect on the human body."

- Rachel Nall, Freelance Medical Writer
Most users who are over 30 complain of extreme fatigue, poor sleep quality, and lower sex drive, which convinced them to take Prime Male as recommended by their friend or doctor.
And they were right to give it a try as they nearly felt their 20-year-old self again.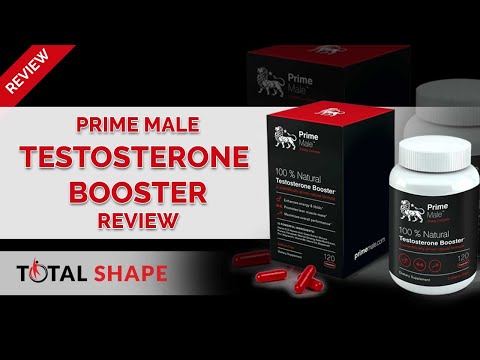 5 - Luteolin
This ingredient is extracted from citrus fruit, and a clinical study has revealed that it may be a powerful estrogen inhibitor [4].
Yes, even men produce it, and it could stop you from losing weight to getting a more ripped appearance.
We tested Prime Male with four of our clients for the first time. We measured the increase in their muscle mass during three bulking phases, and we were surprised by the results.
They exceeded their goals during each phase, and their accumulated gains were remarkable.
6 - Magnesium
This is an important mineral for all athletes, as it may play a role in your muscles' ability to process energy. It may also help with the recovery process.
But a less known fact is that it might help with processes that allow testosterone production to result in higher free testosterone levels that could trigger the right growth responses you're looking for.
It's quite common to see magnesium in all kinds of supplements, especially for athletes and bodybuilders.
I can say that the 100 mg per dose in Prime Male is highly effective because our clients had noticeably shorter recovery times and better performance at the gym.
7 - Ashwagandha Extract
This exotic herb that has been widely used in Ayurvedic medicine for hundreds of years has been associated with increased energy levels, reduced stress, and better concentration.
But recent studies point out its potential in boosting testosterone levels, even with men who have infertility. It may even improve muscle strength and body composition without major side effects.
We were able to see a slightly faster fat reduction with two of my weight management clients over a 6-week trial. They also mentioned a big lift in their mood that usually lasts the whole day.
8 - Nettle Root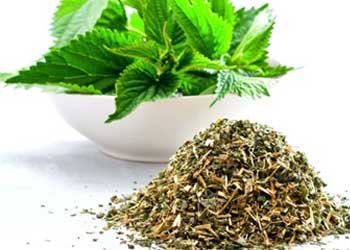 Nettle root is something that you might find in health food stores, but the company claims that it may also help with increasing the number of free T cells in your bloodstream.
We did find a few studies that seemed to support this, but some of the results were mixed.
My dietician noted that Prime Male only uses the roots because it has more potent effects than leaves and seeds.
9 - Vitamin B6
Most people may be aware that this vitamin plays a role in producing red blood cells. But medical science also suggests that it may be an important building block in testosterone production.
Aside from this, vitamin B6 enhances the bioavailability and absorption of two other testosterone-boosting ingredients in Prime Male: zinc and magnesium.
It's also worth noting that Prime Male uses P-5-P, the most active and bioavailable form of vitamin B6, which is an important aspect of evaluating ingredients, as my dietician would say.
10 - Vitamin D3
Vitamin D3 is a recommended form of vitamin D that is often called the sunshine vitamin as our skin produces it when exposed to sunlight.
Like other forms of vitamin D, it plays multiple roles in your immune system, overall health, and energy levels.
Prime Male supplement contains a good dose of vitamin D3, so if you're taking it as a standalone pill, then you could save on one less product.
11 - Vitamin K2
Vitamin K2 has only recently become a more common vitamin recommended by nutritionists.
Studies suggest that it may help other vitamins function better, but it is also tied to increases in T counts.
Specifically, it works together with vitamin D3 to speed up the body's testosterone production.
12 - Zinc
This is one mineral that has possibly been studied more than any other on this list. Countless trials have been conducted, and they have managed to directly link zinc to an increase in testosterone levels.
Zinc seems to combat common symptoms of low testosterone levels, such as erectile dysfunction and higher body fat and weight.
"Moderate zinc deficiency is associated with hypogonadism or testosterone deficiency."

- Dr. Mike Bohl, M.D.
Let us also just list out the non-active ingredients that make up Prime Male supplement:
Microcrystalline Cellulose
Dicalcium Phosphate
Stearic Acid
Croscarmellose Sodium Coating
Crospovidone
Silicon Dioxide
Magnesium Stearate
Prime Male Benefits
Prime Male claims that customers could expect these benefits:
Increased muscle mass
Improved sex drive
Burn away some belly fat
Reduced fatigue levels
Balanced mood
Better concentration
Regulated blood sugar levels
Based on our clients' trial, it's easy to tick off all the points listed above because they were quite satisfied with their experience, except for minor side effects.
But I noticed that comments on increased muscle mass, improved sex drive, and lower fatigue levels dominated hundreds of user reviews online.
Side Effects
Our nutritionist did some additional research into the Prime Male natural ingredients to determine if there were risks of side effects.
She commented that they are all generally classified as safe, and their allergies are rare.
Some of our clients experienced mood swings during the first few days, but it sorted itself out as they went on with our testing.
We then looked at reviews of Prime Male in forums and the official website.
Overall, people don't seem to have any stomach issues like cramping or bloating. It seems that spreading the dose of Prime Male testosterone booster throughout the day may also be helping to avoid a sudden spike.
But you still need to watch out for things like mood swings, as you may be more sensitive to increases in the male sex hormones, which is probably the case with some of our clients.
Here's a list of testosterone boosters you can try in case you experience certain side effects:
Pros And Cons
The first thing our research revealed is that there seem to be a lot of positive comments in forums about this natural testosterone booster.
Prime Male reviews also tend to say that it's easy on the stomach, and they liked that it's not reliant on stimulants.
Pros
Many positive reviews about noticeable changes within weeks
It contains Vitamin D3 and B6 for general health improvements
With 1.6 grams of D-aspartic acid, it may be strong enough to raise natural testosterone levels
Avoids the use of stimulants that could make you jittery
It comes with a 90-day money-back guarantee
Cons
You'll need to set a reminder to take it four times a day
The other negatives were the lack of estrogen blockers, except for a good dose of luteolin. But since it wasn't overly potent on the T count side, that might not be a real issue.
Also, if you struggle swallowing tablets, then you may need to break these in half as a few people mentioned that they tend to get stuck.
So far, our conclusion is fairly positive.
Where To Buy Prime Male?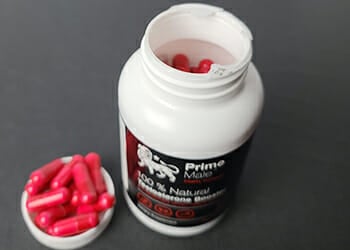 You can buy Prime Male on the company's official website.
It's the only way to make sure you avoid a counterfeit product. And it may be the best place to get great deals.
The four-month supply option seems to be the most favored by performance athletes.
Our #1 Recommendation
Prime Male Cost
A box of Prime Male which contains 120 capsules for a month's supply, costs $69.
It's more expensive than other similar supplements, but I can say that it's pretty decent for my clients' results.
The price gets affordable when you the 3+1 package, where you get 4 boxes for 3 ($207). That's 25% off the original price, which sounds like a good deal to me. It also comes with free worldwide shipping.
Shipping and Returns
Prime Male ships to most countries except the ones on this list.
If you're from the US or UK, you also get free shipping with orders of 2 boxes or more, while customers from anywhere in the world get free shipping with orders of 4 boxes or more.
Many users, our clients included, appreciate the same-day or next-day delivery (depending on location) offered by the company at no cost when you qualify for free shipping.
You can also return unwanted items within 7 days of receiving the order, provided that the items are still unopened.
Prime Male Reviews
So our test results were positive, but we also want to bring you some Prime Male reviews from around the world that we found interesting.
He says that Prime Male changed his life and physical shape. He went from a 48-inch waist to 42 inches within a year. And he also noted significant changes in his energy and sex drive.

- David from the UK
After several years of constantly feeling tired and struggling with physical activity and sleep, his doctors identified a T count that was lower than it should be for his age. His testosterone levels were up to normal, and he's back to working out within weeks of taking Prime Male.

- Tony from the US
Jarel's energy levels and libido had started dropping in his late 20s, and he was struggling to stay ripped. Prime Male seems to have turned things around for him with more energy at the gym and for life in general.

- Jarel from the US
His T count had started naturally dropping with age, but this meant he struggled to work out enough. He's noticed a boost in energy that allows him to train harder at the gym since taking Prime Male.

- Jordan from Canada
Testosterone Booster Alternatives
TestoFuel
TestoFuel is one of the best all-natural testosterone boosters available today. It's made by Roar Ambition not just to boost T counts but also to help athletes and bodybuilders get the most out of their training.
The ingredients used are almost identical with Prime Male with D-aspartic acid, nettle root extract, and ginseng to boost testosterone levels and several vitamins and minerals to improve muscle performance.
But it's a lot cheaper than many T-boosters, and unlike Prime Male, it's formulated for anyone above 18 who are either looking to increase their T-count as they get older or those wanting to build or sustain lean body mass.
Testogen
Another leading testosterone-boosting supplement in the market today is Testogen which is highly comparable to TestoFuel in terms of benefits, ingredients, and price.
It claims to boost your body's testosterone production and increase your energy, strength, focus, and motivation during workouts.
It also has higher doses of D-aspartic acid, magnesium, and vitamin B6, and the rest with slightly lower amounts when compared to Prime Male.
The main advantage of this product is that it's 100% vegan-friendly, even at a lower cost. TestoGen works extremely well with younger men looking to maximize their gains based on user reviews.
Aphro D
Aphro D is among the few natural testosterone boosters with a short ingredient list. Dr. Farhan created the four-ingredient formula to help transform the lives of a million men by increasing their testosterone levels.
The exact amounts of each ingredient are hidden in a proprietary blend, but it claims to help improve sex drive and enhance gym performance without a shred of side effects.
Out of thousands of online reviews, I can say that Aphro D is well-received by older men with a declining T count and men beyond 30 who want to perform like a beast at the gym.
FAQ
No, Prime Male isn't a steroid. It uses natural ingredients that trigger natural testosterone production in the body to prevent problems associated with low testosterone levels like erectile dysfunction. Men of all ages could benefit from such a boost for improved physical and mental health.
Can you take Prime Male every day?
Yes, you can take Prime Male every day. But you should also plan regular off-cycles that should last a week to 10 days. This should prevent your body from getting used to the ingredients, which would result in fewer positive effects like increased testosterone levels.
Is Prime Male vegan-friendly?
Yes, Prime Male is vegan-friendly. They switched to vegetable cellulose capsules, so the product suits people on a vegan diet.
Should You Buy Prime Male Testosterone Booster?
Yes, Prime Male has become the main testosterone supplement we recommend to our clients. Our nutritionist was impressed with the natural ingredients, and our clients confirmed that they got better results than using other supplements.
Many positive Prime Male review comments in forums and Facebook groups, which is an encouraging sign.
Order yours today, and then report to us on social media if you think Prime Male is the best testosterone booster.
Our #1 Recommendation
Pros
Many positive reviews about noticeable changes within weeks
Contains Vitamin D3 and B6 for general health improvements
Avoids the use of stimulants that could make you jittery
Comes with a 90-day money-back guarantee
Get the BEST PRICE until the end of September
Cons
You'll need to set a reminder to take it four times a day
Was this article helpful?