A lot of our clients ask us for advice on how to boost active free testosterone levels. In some cases, this is to counter the effects of natural aging.
But performance athletes and bodybuilders are the more common types of clients with such requests.
And let me be clear: I'm not talking about some illegal or banned hormone drugs.
Natural testosterone boosters like Six Star Testosterone Booster are perfectly legitimate products that may help you get more out of your exercise program.
However, a lot of these supplements are not all that effective, so we went and did some research and testing on Six Star to put together this Six Star Testosterone Booster review.
What Is Six Star Testosterone Booster?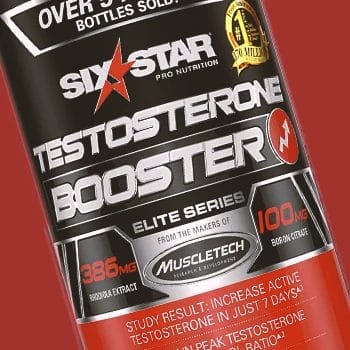 Six Star Testosterone Booster is a natural dietary supplement that may help your body's natural testosterone production with its key ingredient, boron. It aids strength gains and enhances gym performance.
Six Star delivers a simple pill that claims to be formulated with a precise dosage shown in the next section.
It's a way to encourage how your body makes testosterone. Studies have shown that certain ingredients stimulate testosterone production, especially in men
The company claims that this formula has been proven through a human clinical study that lasted 7 weeks.
What I would say is that you shouldn't interpret this men's testosterone booster as being some sort of magic pill. If your diet isn't supporting your training routine, and your workouts aren't designed for gains, then no amount of these pills will help you bulk up.
Six Star Testosterone Booster is one of the leading supplement companies in America, and we have recommended several of their products in the past.
But we had to get some input from a nutritionist before we could do the same for this one.
Six Star Testosterone Booster Ingredients
First of all, I'd like to highlight that the unique plant-based blend shown on the nutrition label is not hidden behind a proprietary blend.
It's very common these days and makes our research difficult because we struggle to figure out if they are included in a high enough dose to have any effect.
We asked one of our nutritionist friends to review each of the ingredients in Six Star Testosterone Booster and give us some feedback on whether there are studies to back up the claims on improving testosterone production.
1 - Boron Citrate
The key ingredient in the Six Star Testosterone Booster is boron, which is shown to be a useful trace mineral for regulating sex hormones [1].
Athletes may also be interested to know that boron has been tied to improving bone growth and maintenance, which could become more important as athletes grow older.
But what about the dose of the mineral?
We found one study where healthy male adults had a 30% increase in testosterone production after supplementing 10 mg of boron per day [2].
What I would say, though, is that the available amount of boron in Six Star Testosterone Booster is lower at 5 mg per day, so it may not give you that level of boost.
Testogen, another test booster we reviewed, also has this ingredient.
A daily dosage of 2.5 to 6 milligrams of boron has been administered in most studies for osteoarthritis and strength conditioning.

- Jillian Levy, Senior Writer at DrAxe.com
2 - Rhodiola Extract
This is a surprisingly interesting ingredient.
One study did some extensive testing on performance levels in athletes in a double-blind placebo trial [3]. But the interesting thing wasn't a boosted testosterone production within the body.
This testosterone booster seems to have a more important benefit.
The study showed that the group who received the supplement got to maintain peak testosterone to cortisol ratio.
Why is this ratio important?
An imbalance in this ratio towards cortisol is one of the main factors that might make you feel tired and fatigued.
This may affect both physical and mental endurance, but the ratio after an intense workout is what could end up limiting your training and muscle growth.
Rhodiola Rosea is a herb in the Rhodiola genera (Crassulaceae family) which has traditional usage as an anti-fatigue agent and adaptogen compound. Its main chemicals that are thought to be responsible for its effects are rosavin and salidroside.

- Kamal Patel, Co-Founder of Examine.com
3 - Ginkgo Extract
This is something that you'll regularly find in health food stores, and apparently, it has been used for centuries for male fertility.
That's probably why you'll find a lot of articles about its apparent impact on testosterone production.
But, we did find several reports that made reference to no increased free and total testosterone levels during clinical trials [4].
Those trials also used doses that were ten times stronger than what Six Star Testosterone Booster is providing, so we're a bit skeptical about it.
It seems to be included because it's so common in the herbal community. But we generally prefer seeing some scientific evidence as well.
Let us also just list out the non-active ingredients that make up the Six Star Testosterone Booster pills:
Microcrystalline Cellulose
Dicalcium Phosphate
Stearic Acid
Croscarmellose Sodium Coating
Crospovidone
Silicon Dioxide
Magnesium Stearate
They have no real impact on your body and are just part of the binding material to deliver the active ingredients into your stomach.
Convenient Pills
The majority of maintain peak testosterone levels these days come as a powder that you either mix into a shake or add to food.
The advantage is that it is absorbed a lot faster in your stomach. But this isn't always that convenient.
Timing plays a role in supplements. And you don't want to try and mix up a shake during your commute or at work.
Six Star Testosterone Booster is provided in a convenient pill form so you could just bring them with you in a bag or backpack.
The recommendation for this testosterone booster is to take one caplet with a glass of water two times a day. It should be safe to take 7 days a week, and the advice from the manufacturer is to continue using it for one month to allow the effects to build up.
Related Article: Best Female Testosterone Boosters
Six Star Testosterone Booster Pros And Cons
We teamed up with a few clients to test out the claims of this testosterone booster.
There seemed to be a mixed opinion in the online reviews, and with the feedback from our nutritionist, we weren't too convinced that it might help maintain peak testosterone levels.
During the test phase, we had our clients get their T count measured, and we took a close look at training capacity, endurance, and the impact on muscle mass.
The test results showed a slight increase in T count, but nothing close to what some clinical trials have achieved. It was more at the high end of the normal range for men
The training results also seemed to suggest that this testosterone booster didn't end up creating enough testosterone for muscle growth. At least not in a significant way.
Pros
The ingredients are generally classed as safe to use for muscle growth
Reasonably priced in the bulk order bottle
Some reports of improved training performance
Cons
Doesn't contain estrogen blocking ingredients
Some users found the pills difficult to swallow
Seems to lack more scientifically proven ingredients
The other negative of Six Star testosterone booster is the lack of estrogen blockers. But since it wasn't overly potent on the T count side, that might not be a real issue.
Also, if you struggle swallowing tablets, then you may need to break these in half as a few people mentioned that they tend to get stuck.
So far, our conclusion wasn't overly positive.
Side Effects
The ingredients of Six Star Testosterone Booster are generally classed as safe. That means that they aren't commonly found to cause allergies or intolerances.
We didn't encounter any immediate negative effects based on the feedback we got from clients and our own experience.
However, we did find a couple of online reviews where people didn't seem to react that well over a couple of weeks. Those side effects could be the result of sudden fluctuations or too many highs and lows.
In some cases, this could result in some acne outbreaks, especially if you're susceptible to outbreaks anyway.
But we also found that some people got quite irritable and anxious.
If you ever find such negative effects, then make sure you stop taking the pills immediately and possibly talk to your doctor as well.
You might also like to see other T-booster reviews:
Where To Buy?
You can buy Six Star Testosterone Booster directly from the manufacturer or Amazon to ensure that you get an original product and enjoy the refunds and return policies.
There have been too many reports of fake supplements on many different marketplaces. You don't want to take pills that could end up doing harm, so don't let money savings lure you into buying from these platforms.
Amazon is usually a good place to get the larger bottles of 90 pills, which might be good value when they are on offer.
User Reviews
Our own test results weren't great. But we understand that this was quite a small test group, and some more research was needed.
To do this, we always look at online user reviews on Amazon and user groups to check if we can find similar results in larger groups.
Here are four review summaries that seem to reflect what a lot of people are saying.
This was one of the reviews where someone seemed to have a negative reaction within ten days. Jason had sudden mood swings and felt constantly irritable even when taking a lower dose.

-Jason from Ontario
Jo had positive things to say and had been through several cycles. He did find that his body didn't trigger the same T count after about five weeks, which is why he took regular breaks.

-Jo from Fargo
Steve was also having good results when it came to increased stamina and endurance. He also didn't think he was as tired and exhausted after a trip to the gym.

-Steve from Seattle
Jose had some blood tests done before and after taking the pills for three weeks. When his results came back that it didn't seem to increase active free testosterone levels, he switched to a different product.

Jose from Colombia
FAQ
How Long Can You Take Six Star Testosterone Booster?
You can take Six Star Testosterone Booster indefinitely if you don't develop any side effects. However, your body may become used to the ingredients and not respond as effectively. That's why it's always good to plan regular off-cycles.
Does Six Star Testosterone Booster Have an Estrogen Blocker?
No, it doesn't have an estrogen blocker. This may be an issue for some high performance athletes and bodybuilders. There are some other supplements that could solve this problem, but it might be best to get advice from a nutritionist.
How Long Does It Take for Six Star Testosterone Booster to Work?
It takes about a week for Six Star Testosterone Booster to work. Some reports say that an increased T count was measured earlier, but most of these natural testosterone booster are designed to create a gradual boost rather than a sudden spike.
Is Six Star Testosterone Booster Natural?
Yes, Six Star Testosterone Booster is natural, and the herbal ingredients are generally classified as safe. The contents are also plant-based, which would make this testosterone booster suitable for vegans and vegetarians.
Should You Buy Six Star Testosterone Booster?
Our conclusion at the office has been that we won't be recommending it to our clients, based on our test results and the mixed reviews we've read online.
It's an affordable testosterone booster, but if you're looking for results, then it's generally best to spend a little extra and get a product with a proven track record.
We have seen much better results with a testosterone booster called Testogen. Our professional bodybuilders and athletes have seen measured increases in T count, and the muscle mass impact has looked positive as well.
We Recommend This Instead
Click For Best Price
Pros
May work well as a natural testosterone booster
Positive reviews about improved physical and mental energy
Seems to boost confidence levels
100% money-back guarantee if you're not satisfied
Get the BEST PRICE until the end of May
Cons
You can only buy it on their website
Was this article helpful?