18
Supplements
Considered
120
Hours
of Research
65
Reviews
Examined
5
Experts
Interviewed
The majority of people I work with will always look for advice on a high-quality post-workout protein supplement. And while it is the first thing I make sure they take after muscle-burning CrossFit workouts, I always try to encourage them to invest in a pre-workout supplement as well.
Yes, it's arguably more important to recover faster and help your muscles heal and rebuild, but so many of my clients are totally surprised by how much better they can perform during CrossFit classes.
Over the years, I have seen the good, the bad, and the awfully bad pre-workout supplements on the market.
So, our team here at Total Shape decided to put together a list of pre-workout supplements that we generally recommend our clients.
Our Top Pre-Workouts for Crossfit (2021)
1 - Performance Lab Pre-Workout (Editor's Choice)
This is the top product our team was able to agree on as one of the best pre-workout supplements for CrossFit training.
Due to the high intensity levels that you need to sustain for CrossFit, you need to make sure your muscles operate at maximum capacity.
One way to do that is through an increase in blood flow, which can be achieved through higher levels of nitric oxide (NO).
The good news is that Performance Lab Pre-Workout contains a good dose of L-citrulline which studies have confirmed can improve NO levels (1).
I see creatine monohydrate in a lot of the best pre-workouts due to the benefits of increased energy levels and endurance, as well as helping with muscle soreness.
Pros
Claims to raise NO for better pumps
Contains creatine to increase energy and speed up recovery
Stimulant free making it a good option for all times of day
Vegan-friendly pre-workout supplement with natural ingredients
Cons
You need to take 4 capsules rather than a pre-workout drink or shake
The one thing to be aware of is that this is not a pre-workout drink or powder that you mix and enjoy before you hit the gym. You'll need to swallow 4 capsules instead, which some review comments mentioned can be annoying.
2 - Jacked Factory Nitrosurge Pre-Workout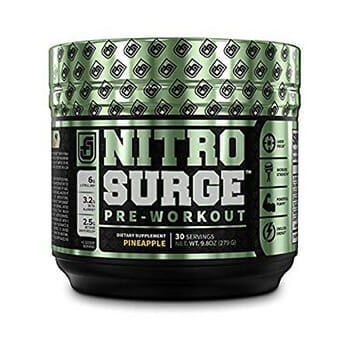 As the name suggests, Nitrosurge pre-workout promises to raise your NO levels with its 3 g of L-citrulline which has enough scientific backing to support the claim (2).
This brings more energy and oxygen to your muscles to provide better strength and impressive pumps.
Based on a lot of review comments, and Connor, our resident bodybuilder's experience, this is a feature that has a lot of supporting evidence.
Pros
The primary claim is that it can increase blood flow for better pumps
Includes beta-alanine for more power and less fatigue
Combination of caffeine and L-Theanine can help with weight management
Available in 3 tasty flavors (Cherry, Watermelon, Fruit Punch)
One ingredient that is generally ranked highly for CrossFit pre-workout is creatine. But the lack of creatine in this ​pre-workout powder is made up by the muscle pumps so many online review comments highlight.
Also, if you have any blood pressure or cardiac issues, then speak to your doctor before considering this pre-workout powder.
3 - Cellucor C4 Pre-Workout
Cellucor has been a very popular brand at my gym, and I see a lot of men and women use it as their standard post-training protein.
However, their pre-workout supplement is the product that stood out for me the most.
With the two main goals of CrossFit being muscle strength and fitness, Cellucor claims to address both of those through the inclusion of creatine in their pre-workout supplement.
One interesting study showed that creatine's effects build up over time, which is ideal for an aggressive training plan (3).
Pros
Designed for CrossFit athlete
Contains creatine for increased energy
A good boost of vitamins linked to muscle endurance
Possibly one of the largest selections of flavors
Very good subscription options at an affordable price
Cons
Some amounts of ingredients are hidden behind proprietary information
On the downside, it does have one of my pet-hates, which is hiding behind proprietary labels for some of the ingredients. Overall though, the positive review comments convinced us to put this pre-workout powder on this best-of list.
I would also suggest that you take a look at ​other Cellucor C4 Pre-Workout Supplements.
4 - PRE WOD Pre-Workout
What stands out the most about PRE WOD Pre-Workout from a CrossFit perspective is the amount of beta-alanine it contains. According to Driven Nutrition, this provides the best results for high-intensity training periods that last 1 to 4 minutes.
There are countless online comments in forums where people mention that they saw a significant increase in power. I did a test with my colleague Connor where we did the same training routine a few days apart.
The time he used PRE WOD Pre-Workout, he was able to lift more and do more reps than without it.
I would also agree with a lot of other user reviews that the available flavors are quite refreshing, and the powder is surprisingly easy to mix.
Pros
A strong dose of beta-alanine can boost performance and muscular endurance
Includes caffeine from natural sources for better mental focus
Vitamin C boost to help improve nutrition delivery to muscles
Many review comments say it's easy to mix
Cons
The amount of stimulants means you have to be careful taking it later in the day
While caffeine has a positive effect on your motivation for optimum performance, just avoid taking this pre-workout supplement later in the day. I'm speaking from experience with a sleepless night.
5 - Naked Energy Pre-Workout
Nope, this is not an invitation to strip off at the gym. Naked Energy is the clever brand name behind this pre-workout, which claims to deliver one of the cleanest supplements available.
Basically, this pre-workout has a short list of active ingredients without any of the artificial crap that is so common just to make things taste better.
The combination of beta-alanine and creatine is great for CrossFit and any other workout designed for muscle building goals. And these benefits are highlighted in a lot of online reviews.
Pros
Contains a protein blend of beta-alanine and creatine
Has no artificial or unnecessary ingredients
A large amount of caffeine for a mental boost
Good subscription discounts available
Cons
Has a slightly bitter taste
The reason I don't use this pre-workout powder too often is that it does have a bitter taste to it and I just found it a bit difficult to swallow.
6 - Genius Pre All-Natural Pre-Workout
The Genius Brand has become very popular in the health supplements industry, and they have managed to create a product range that covers a very wide range of benefits.
The main ingredients of its pre-workout are L-citrulline and beta-alanine, which are linked to improved lifting power and less muscle fatigue, especially when taking it over a period of several weeks (4).
I also like having this available for when I go training later in the day as it doesn't contain any caffeine that could end up in a sleepless night.
Pros
A good dose of L-citrulline and beta-alanine for muscular endurance and power
Claims to work well for physical and mental performance
Contains no caffeine or other stimulants
Comes with a 90-day money-back guarantee for a risk-free trial
Cons
Mixing it in a shaker can be difficult and may require blending
One thing I would agree with in some reviews is that it's not the easiest pre-workout powder to mix in a shaker.
Check this Genius Caffeine Review
7 - Battle Ready Fuel Pre-Workout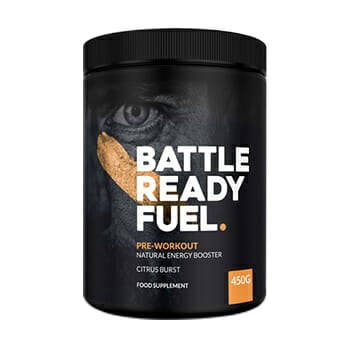 I'll admit, the name and labeling had me drawn in, but I was suspicious as fancy marketing usually means pre-workout supplements underdeliver.
However, Battle Ready Fuel Pre-Workout managed to surprise me when I started reading all the positive reviews.
Part of the official product description highlights that the "energy boost comes from amino acids beta-alanine and citrulline malate," and my dietitian was able to point me to a study (5) that confirmed a link to performance in aerobic exercises.
Pros
Claims to boost energy for workouts through a combination of citrulline malate and beta-alanine
An effective dose of caffeine to provide mental focus
Contains whey isolate and branched-chain amino acids (BCAAs)
The money-back-guarantee means you can try it risk-free
Cons
Strong dose of caffeine, so be careful with coffee intake
The only thing to be aware of this pre-workout supplement is the strong doses of caffeine. While this is effective for fat burning and motivation, you want to be careful not to take it too late in the day.
If you're looking for alternative options to take in the evening, check out our list of the top caffeine-free pre-workouts here.
Does Crossfit Require a Specific Diet?
Yes, CrossFit exercises require specific nutrition in order to help you get the most out of it. And, of course, you don't want to be the one guy who falls down in a heap from utter exhaustion after the warmup routine.
As a CrossFit athlete, you will need plenty of energy in order to boost your performance, and protein is going to be a key part of your recovery phase. This translates into plenty of healthy carbs and a protein shake to help repair and build new muscle fibers.
However, there is one type of protein that can help the most.
Creatine has been linked to increased ATP production, which essentially is the raw energy your muscles need. So, if you really want to improve your success rate and performance, then pick one of the above pre-workouts that contain creatine.
Adenosine triphosphate (ATP) is the most basic form of energy in your body's cells. It plays a fundamental role in metabolism and muscle function. Unfortunately, you can only store enough ATP for 8–10 seconds of high-intensity exercise. After this, your body must produce new ATP to match the demands of the activity.

- Rudy Mawer, Sports Nutritionist
Other Sources You May Like for All Pre-Workouts:
FAQs
What supplements do CrossFit athletes take?
The most common supplements that CrossFit athletes take are pre and post-workout drink and supplements, as well as some targeted branched-chain amino acids (BCAA). These help to increase performance and speed up recovery so that you have a better chance of sticking with the CrossFit program.
What should you eat before CrossFit workout?
You should eat healthy carb-rich foods to boost your energy levels, but keep an eye on your calorie intake if you have weight loss goals. It's also a good idea to get some extra magnesium into your diet to help with muscle performance and recovery.
What should you drink during a CrossFit workout?
You should aim to only drink water during a CrossFit workout and stay away from sugary energy and carbonated drinks. It's also a good idea to get some extra electrolytes in before your workout, as they are critical for hydration.
Our #1 Pre-Workout for Crossfit
Getting through a CrossFit program is highly rewarding, and it is one of the best ways to lose weight and improve your fitness levels. The product I recommend to all my CrossFit clients these days among the pre-workouts above is Performance Lab Pre-Workout.
It has the right balance of ingredients, is easy to digest, and is the most positively reviewed option today.
Check out the current deals and make sure you order yours in time for your next training session. And as always, make sure you let us know on social media how it works out for you.
Our #1 Pre Workout For Crossfit Athletes
Performance Lab Pre-Workout
Click For Best Price

Pros
Claims to raise NO for better pumps
Contains creatine to increase energy and speed up recovery
Stimulant free making it a good option for all times of day
Vegan-friendly pre-workout supplement with natural ingredients
Cons
You need to take 4 capsules rather than a pre-workout drink or shake
About the author
You may also like