Choosing the right supplement can make a big difference in the fitness world. As someone who has spent years studying and testing various products, I'm here to share my findings on the Cellucor C4 range.
Cellucor C4 isn't just another pre-workout option. It's a carefully designed series to support different fitness goals and workout intensities. Each product in this range has been made with clear goals in mind, backed by science.
If you're serious about your fitness journey and want to know more about what C4 can offer, this review will give you a clear and detailed look at its benefits and how it stands out.
Editor's Choice
C4 Original
Click For Best Price
#2nd Best Choice
C4 Sport
Click For Best Price
#3rd Best Choice
C4 Ripped
Click For Best Price
5 Top Cellucor C4 Pre-Workouts (September 2023)
1 - C4 Original (Editor's Choice)
This is probably one of the most popular and versatile pre-workouts in the Cellucor C4 supplement range.
With a formula that contains creatine that claims to make you experience more strength and better pumps, I have seen this make quite a difference to the average athlete.
Just keep in mind that if you regularly do high-intensity workouts, the amount of creatine in this C4 Original Pre-Workout may not be quite enough.
However, it has vitamin C and B vitamins to help with faster muscle recovery.
If you like C4, you can also check out our list of the recommended pre-workouts for better pumps.
Pros
Explosive energy blend ingredients are reportedly effective for power and endurance
Contains added vitamin C and B vitamins for lean muscle mass repair
150mg of caffeine to boost focus and motivation
Good selection of flavors to choose from
Cons
Slightly low on the creatine side
2 - C4 Sport
The C4 Sport Pre-Workout option is the cheapest in the range. It's most suitable for less intense workouts like running as it doesn't contain the more powerful ingredients like creatine and theacrine.
However, you could still get a boost from the beta-alanine, which could help in your average cardio session.
Here you can find other recommended pre-workouts tailored for runners.
If you need maximum energy and performance, this is not going to be your top choice.
Pros
Contains beta-alanine that has been shown to support endurance
Sugar-free option to avoid messing up your diet efforts
The small amount of creatine may support physical performance levels
Good value for money
Cons
It's only really suitable for less intense workout sessions
3 - C4 Ripped
A lot of newcomers to pre-workouts often mistake C4 Ripped as the product they need for increased muscle mass.
What it actually aims to do is provide a blend that supports fat loss to gain more muscle mass definition.
It means that this pre-workout supplement doesn't contain creatine to give you a strength boost. Instead, beta-alanine does the job to push you to complete more reps.
The only thing I would say is that there might be more powerful fat burners out there to consider.
Pros
Formulated to support cutting and body weight loss
Combination of L-carnitine, green coffee bean extract, and cayenne may boost thermogenesis
The reported explosive energy boost from beta-alanine to allow you to complete more reps
Comes in a nice selection of flavor options
Cons
Might not have a strong enough fat-burning effect
4 - C4 Ultimate
This is by far the strongest pre-workout supplement for each one of the ingredients.
It doesn't just provide creatine nitrate and beta-alanine, but also has a large dose of L-citrulline [1].This is known to boost levels of arginine alpha-ketoglutarate (AKG), which in turn increases nitric oxide.
The end result is a reported energy boost and improved pumps.
See also this article about another C4 Ultimate Shred Pre-workout.
Pros
The strong formula makes this more suitable for performance athletes
Contains 3.2 g of beta-alanine per serving to maximize endurance
6 g of L-citrulline malate per serving is the strongest we've found
Highly stimulating allowing for greater focus
Cons
The 300 mg of caffeine may be too much for some folks
Just keep in mind that a large amount of caffeine could cause jitters and insomnia.
5 - C4 Extreme
Despite the name, C4 Extreme is actually not stronger than the Ultimate option.
What it actually provides is a blend that is similar to the Original, but with some extra caffeine.
The big question is whether the added caffeine is actually worth it when the Original has you pretty much covered.
Pros
Good option due to extra stimulants compared to Original
2 g of beta-alanine claims to be enough to improve stamina
1 g citrulline malate could result in better pumps and blood flowF
Available in large tubs of 60 servings
No artificial flavors
Cons
The price difference to Original for added caffeine is a bit high
What Are The Common Ingredients?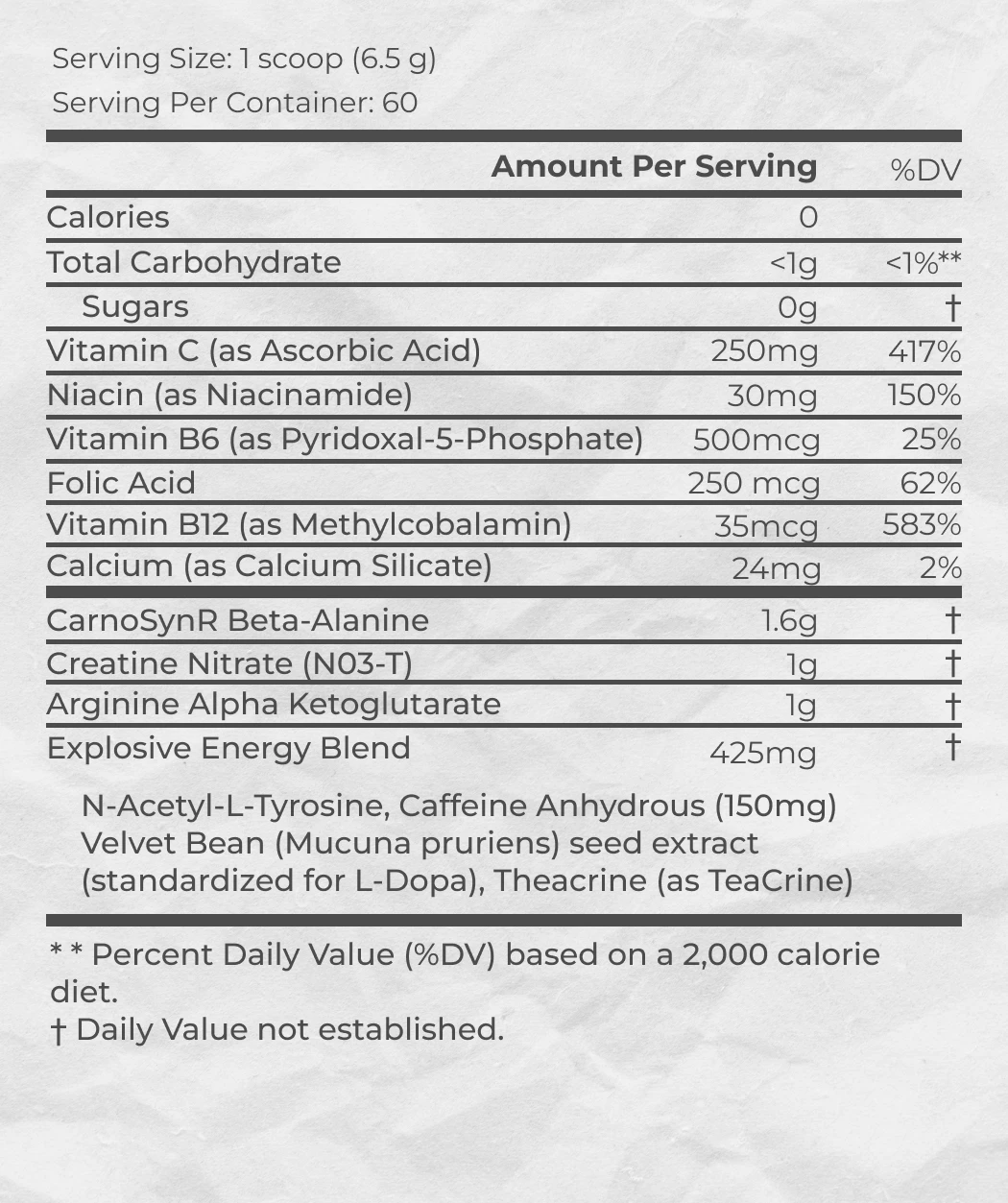 Each product in the Cellucor C4 range shares common ingredients such as amino acid, caffeine, beta-alanine, creatine, L-carnitine, and L-citrulline. Let's take a look at their benefits below:
1 - Caffeine
Caffeine comes with the commonly known benefit of providing mental energy and motivation. But it may also help you succeed in your fitness journey by triggering thermogenic effects [2]. This may cause additional fat oxidation to get you to a leaner appearance.
2 - Beta-Alanine
You probably won't find any serious bodybuilders who don't take beta-alanine. Studies have shown that beta-alanine may improve weight training performance energy when taken in concentrated supplement form [3].
3 - Creatine
Creatine is an ingredient that has been shown to impact muscle mass power and pump [4]. Based on all the review comments that we saw, this is one area where all the Cellucor C4 supplement options have a supportive formula.
Creatine nitrate is one of the newer supplement forms showing up in pre-workouts. Manufacturers claim that by binding the creatine molecule to a nitrate molecule, people will receive equal benefits from a smaller dose of creatine nitrate compared to creatine monohydrate.

- Nick Coker, Sports Nutritionist
4 - L-carnitine
The interesting thing about this ingredient is that studies have shown that it plays a key role in transporting energy stored in fat to muscles [5].
5 - L-citrulline
The benefit of this substance is that it may boost arginine AKG levels in your body, which in turn may impact nitric oxide levels. This may improve blood flow to bring more oxygen and energy to your muscles [6].
Benefits Of Using C4 Supplements
Our team here at Total Shape got together after 6 weeks of testing with clients, and we found some important benefits to highlight with the Cellucor C4 range.
First of all, we had some athletes on a daily training program who said that they had no issues taking it every day.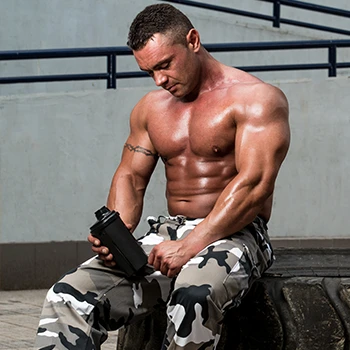 This may not be important for most folks, but it's reassuring that daily use didn't trigger negative effects.
Secondly, the powder dissolves quite easily, and you just need a mixer to create a tasty experience. That's not the case with a lot of other pre-workouts, so it's a plus from our perspective.
No other pre-workout supplements brand on the market has such a diverse ingredient range to cover different types of athletes. No matter what your fitness level is, you should find the right supplement for your needs.
How Long Does C4 Supplement Take To Work?
C4 supplements take about 20-30 minutes to work. This may depend on your digestive system, but we found that users report times between 20 and 40 minutes based on review comments.
I would suggest that you drink it before you leave home, aiming for that half-hour mark before you actually hit the gym for your warm-up routine. It may take a couple of days to fine-tune the timing, and I would suggest making 5-minute adjustments to get the perfect timing.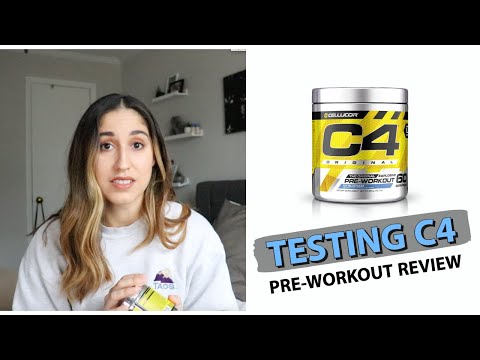 Can You Stack The C4 Supplements?
Yes, you can stack C4 supplements, as the company has modified the formula of each version to allow for easier stacking. Cellucor also has other well-known supplements on their website that may help you achieve your goals faster.
It would certainly be a good idea to stack your pre-workout with a recovery shake.
One thing I would say though, is that if you're planning a cutting phase, then rather than stacking the C4 Ripped, you may want to consider some of the other fat burners available that I have recommended before.
Other reviews on popular pre-workouts on the market:
Testimonials
"Excellent pre-workout for muscle growth and weight reduction. Including creatine moderates the taste, ensuring it's not too overpowering. I've purchased this multiple times and will continue to do so! I've lost approximately a total loss of 15 pounds so far! Cheers!" - Faith, from Kansas
"Reasonably priced. The pre-workout's potency seems to have diminished over time." - Dogparkdutch, from Florida
FAQs
What is the strongest Cellucor C4 Pre-Workout?
The strongest Cellucor C4 Pre-Workout is C4 Ultimate. For the main energy-boosting ingredients, it has the strongest dose, making it one of the favored options for professional athletes and bodybuilders.
Does Cellucor C4 Pre-Workout increase testosterone?
Cellucor C4 Pre-Workout does not increase testosterone. Only one version called C4 Ultimate Power contains ingredients that may boost testosterone levels.
Is Cellucor C4 Pre-Workout considered a steroid?
No, Cellucor C4 Pre-Workout is not considered a steroid. It contains natural amino acids to support an improved gym workout, making it an organic pre-workout supplement.
However, some versions may contain ingredients like Synephrine HCL, which would be classed as an adrenergic stimulator, which is banned in many sports.
Which Version Of C4 Supplement Should You Try First?
Based on all the online review comments and our team's test results, I think that in most cases, you will be best off with C4 Original Pre-Workout.
Yes, it's not the strongest one available, but unless you're constantly doing high-intensity training or you're a professional athlete, the blend may be strong enough for optimum results, like increased blood flow.
Order your C4 Original today and find out if it will give you the energy boost you're looking for. And don't forget to report back to us with your results.
Our #1 C4 Supplement
Click For Best Price

Pros
Explosive energy blend ingredients are reportedly effective for power and endurance
Contains added vitamin C and B vitamins for lean muscle mass repair
150mg of caffeine to boost focus and motivation
Good selection of flavors to choose from
Cons
Slightly low on the creatine side
Was this article helpful?