As a certified personal trainer, I look at all possible angles to ensure my clients achieve the best results from their fitness routines. And while diet and exercise are vital, healthy testosterone levels can play an increasingly important role as men age.
Fountain TRT is an online TRT clinic that I have seen good reports on. So, I decided to get the team together to do some in-depth research and test the service and product myself.
And now, after three months of testing, I can share my personal experience in this Fountain TRT review.
What Is Fountain TRT?
Fountain TRT is one of the best online TRT clinics that claims to offer one of the most comprehensive service options for men with low testosterone. Also, their approach to treating male hypogonadism is patient-centric.
Many have shared their experiences in a Fountain TRT review, highlighting the clinic's efficiency and professionalism.
The overall service includes everything from an in-depth health questionnaire to a lab blood test to check for low testosterone levels, a consultation with a leading medical doctor in the field of hormone replacement therapy, and different medical treatments.
If you are recommended the Fountain TRT products, you can begin tailored testosterone replacement therapy at home within weeks. Based on my experience, I'd recommend Fountain TRT because of its comprehensive approach.
The main reason I decided to invest time and money in this service is because there is an online Fountain TRT review with comments about how professional the service was.
I was drawn to it after reading numerous online reviews, with 45 out of 50 lauding their professionalism. Without a doctor's referral, it's an accessible way to find out if testosterone therapy is right for you.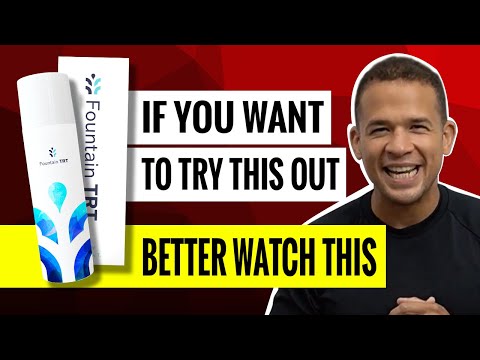 The Fountain Process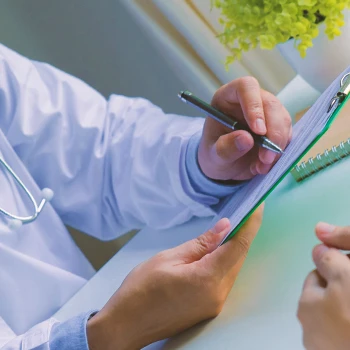 The first thing I did for this Fountain TRT review was take a look at how the company breaks down the overall process in relation to men's health.
And I could immediately see that they put a lot of effort into making it as easy as possible for patients suspecting they might have low T.
The first thing you do is go through a health questionnaire to get some high-level information about your testosterone levels and any signs of erectile dysfunction.
This assessment will determine whether or not you might be a good candidate for testosterone replacement therapy, especially if you have testosterone deficiency syndrome, its impact on muscle mass, and its relationship to men's health.
Then there are some additional medical questions to check for more serious underlying conditions like prostate cancer that could influence your options [1].
These questions will determine whether there are any reasons why you wouldn't be suitable for taking the next steps with Fountain TRT.
And that next step is a blood test at a lab near you. This test will check for serum and total T-levels, and this is used to determine the level of deficiency.
Leaving such a deficiency untreated, especially low T, could lead to reduced muscle mass, bone density, and even mental health issues [2], further affecting men's health.
"In males, the testosterone test can help find the reason for sexual problems, like reduced sex drive or erectile dysfunction. If you're having a hard time getting your partner pregnant, the test can tell if your blood testosterone level is low."

- Jennifer Robinson, MD.
Once the blood test results are ready, it's time to schedule a consultation with a doctor from Fountain TRT.
During this consultation, one of the company's specialist doctors in hormone treatment will provide you with recommendations for treating low T and enhancing your sex drive.
You then get to make the decision that best suits you, which comes down to choosing either a topical cream you can apply at home or testosterone injections.
What sets Fountain TRT apart from other online testosterone clinics is its commitment to ongoing care, a practice endorsed by medical experts. Fountain TRT review says follow-up consultations and blood tests are performed every 3–4 months, as recommended by the American Association of Clinical Endocrinologists.
I'll get into more detail in my personal experience section below.
Fountain Benefits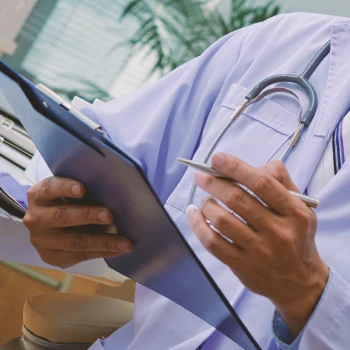 Fountain TRT is very easy to use when it comes to answering health questions, including those related to erectile dysfunction and muscle mass. These factors can significantly impact a man's sex drive.
These questions evaluate the effects of low testosterone on muscle mass, overall physical health, and, importantly, sex drive.
In addition, a testosterone replacement therapy tailored to improve one's sex drive will be recommended based on the results of the testosterone test.
Our experience with the Fountain TRT service was also extremely positive when it came to the telehealth consultation.
It's also great to see that the company has partnered with medical doctors who specialize in hormone treatments and helping men deal with erectile dysfunction.
In my Fountain TRT review, I also got some positive results for free testosterone levels after applying the cream for three months.
Pros
Fountain TRT provides an easy-to-follow t-level evaluation
Service includes a blood sample test to get the most accurate testosterone reading
Receive a consultation with a highly-experienced doctor specializing in TRT
Offers cream and injection treatments for more flexibility
Cons
Fountain TRT is not the cheapest option, but it offers the best consultation service
There can be a transfer to others with the topical cream
Are There Any Downsides?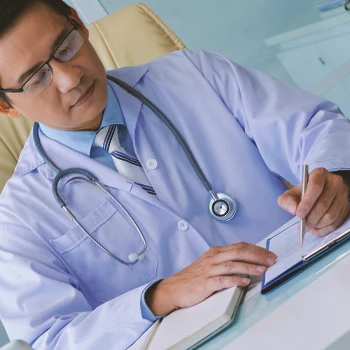 Fountain TRT is one of the more expensive online TRT providers, as mentioned in a Fountain TRT review.
However, when compared to Marek Health and Evolve Telemed, Fountain TRT stands out as one of the best online TRT clinics.
Compared to other clinics, they offer more comprehensive blood work and follow-up consultations.
Having low testosterone requires a very comprehensive treatment process that delivers great results.
Their treatment process is thorough and patient-centric, ensuring patients receive an initial consultation tailored to their needs.
Additionally, if you choose Fountain TRT injections, you must be comfortable poking those needles yourself, especially if you have low T.
Although, if I'm being fair, that service would not be included with any other online clinics, including Marek Health.
If that's something you need, then prepare yourself for a much more expensive service at a traditional local treatment clinic.
"Testosterone shots can help many men with low T. Still, this doesn't mean that these powerful injections are safe for all men. Be sure to tell your doctor about all health conditions you have before starting therapy."

- Zara Risoldi Cochrane, Pharm.D., M.S.
With the cream, there is a risk that some of it will transfer to someone else through close contact. I've personally experienced this, particularly with young children and pets. This concern was also echoed in another Fountain TRT review I found.
The way to reduce that risk is by applying it before you head out or go to work, where it's not likely to end up making contact with your partner.
What Are the Treatment Options?

Fountain TRT offers topical creams and injections as treatment options. Testosterone replacement therapy has many types.
Topical Cream
Testosterone cream is possibly the easiest option available. You simply rub a small amount of cream on your shoulder and let it soak in for a minute or two.
Your skin then absorbs the testosterone, and it gets distributed throughout your body [3].
My Fountain TRT experience was with testosterone cream since I didn't have extremely low testosterone levels. It was also the testosterone treatment recommended by the doctor I met, a sentiment echoed in various Fountain TRT reviews.
Learn More: Testosterone Boosting Gel: Benefits, Side Effects and Uses
Testosterone Injections
For those with testosterone deficiency syndrome, Fountain TRT offers injection treatments. The Fountain TRT team provides comprehensive solutions.
For people with very low testosterone levels, that might be the fastest way to address their low T issues, especially when compared to testosterone creams.
But it does require you to inject yourself or have someone else do it, which might be a consideration for those new to hormone treatment or testosterone therapy.
Our team member also uses this service, and after multiple blood tests, he chose the injections.
Related Posts:
My Personal Experience With This Testosterone Replacement Therapy

My colleague, Dan, here at Total Shape has been using Fountain TRT for six months to tackle male hypogonadism symptoms.
Under the careful yet sympathetic care of a knowledgeable physician, he's seen boosts in sex drive, sperm production, and bone density.
The ongoing support from Fountain TRT has been instrumental in his progress.
My experience with Fountain TRT began with an initial consultation to provide readers with a deeper understanding. The team's ongoing support and guidance gave me confidence.
As men age, a drop in testosterone can affect their sex drive and overall well-being.
The team at Fountain has a structured approach to addressing these concerns, as I have outlined below.
Going Through The Assessment
The first thing I had to do was go through a questionnaire that looked for input on things like weight management, sexual health, general mood, and overall health and fitness.
This very comfortable discussion took me about three minutes to complete, and it's based on multiple-choice answers, offering insights into the potential benefits of TRT.
And while I don't have any major fitness or health issues, I did expect my age to indicate that I could be dealing with low T-levels.
The good news I got from the ongoing support during the assessment and questionnaire was that Fountain TRT products would be suitable for me, especially for those like me who suspect they might have low T.
This very comfortable discussion during the assessment is crucial for individuals who feel they might be experiencing symptoms of low T, ensuring they understand the potential benefits.
Additional Health Questions
In my Fountain TRT review experience, I delved deeper into more health questions. As part of the entire process, all potential symptoms were acknowledged and addressed. The process was smooth due to their great communication.
The questionnaire was comprehensive, touching on underlying health conditions, including queries about blood pressure, clots, and cancer.
These questions are pivotal in determining if one might be treating low testosterone or if they're indicative of low T levels.
The reason these are so important is that they could be either the cause or symptom of testosterone deficiency [4].
Specialist doctors like oncologists should be consulted in these cases, since medication interactions are not to be taken lightly.
After I completed these questions, I got the go-ahead for a lab test.
Payment Processing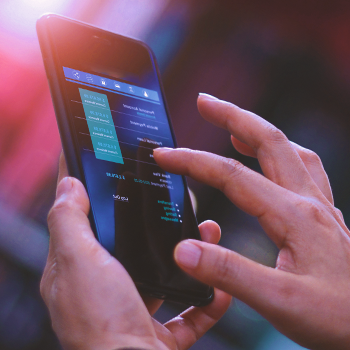 The next step that Fountain TRT brought me to is to confirm my preferred testing option. I could choose either a lab test or an at-home test.
I opted for the lab test and reached the payment page. It detailed costs for the test ($100), medical consultation ($150), and health assessment ($50).
Yet, I only paid $35 initially, without any immediate commitment. I found this approach by Fountain TRT commendable and proceeded with the payment.
Making the Lab Test Appointment
In my Fountain TRT review, I must commend their  great communication throughout the entire process. After making the payment, I received an email confirmation first.
After payment, I got an email receipt and a heads-up about an upcoming text. A Fountain TRT member texted to arrange the telehealth visit, offering nearby test slots.
After a few more text messages, I chose a date and time, and I got appointment confirmation details from Fountain TRT a short while later.
On my iPhone, I was then able to add the details to my personal online calendar to get a reminder.
Using the online calendar ensured I wouldn't miss an appointment. Without calendar reminders, I'd completely forget these types of appointments.
Getting the Lab Test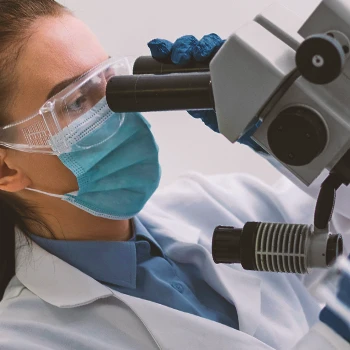 When the day came, I arrived at the lab a few minutes before my appointment, and I was called in on time.
The blood test itself takes just a few minutes, and the nurse got the blood sample ready, and I just had to sign a form.
Some other online clinics that I have seen rely on saliva tests [5].
While saliva test can provide reliable enough results, I was later told during my telehealth consultation that a blood test is the most accurate way to assess testosterone levels.
And considering that it only takes a few minutes, I was glad to see that Fountain TRT bases its recommendations on reliable tests.
Reviewing the Test Results
The next step for this Fountain TRT review involved waiting five days for the results to come through. I received a message from the lab and had to create an account to download the blood test details.
To be honest, most of the information on the test report didn't make much sense to me. There were multiple sections for PSA value, free testosterone and total testosterone, and luteinizing hormone [6].
There are a lot of numbers on the report that indicate the different hormone levels, and all this is needed by the doctor for the consultation process to determine the best options for TRT.
I was also informed that the details had been forwarded to the Fountain TRT clinic.
Scheduling the Telehealth Consultation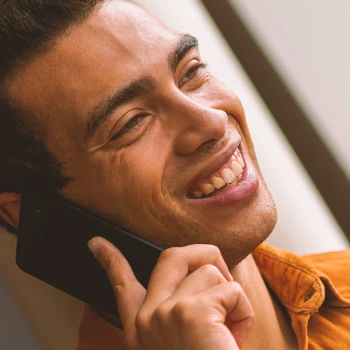 A few days after I got my test results about my testosterone levels, I received another text message and simply had to contact Fountain TRT to make an appointment.
I  recommend Fountain TRT to anyone considering a telehealth visit online, especially those seeking improved mental clarity and more energy.
This one allowed me to click on a link and choose an appointment time for a telehealth visit online with a Fountain TRT doctor over Skype.
The consultation was very well planned out and lasted about 40 minutes. They provided various treatment options and insights, including ways to enhance sexual function.
To be honest, I didn't expect it to be such an in-depth consultation that went into my whole medical history and some additional questions the doctor had.
Ultimately, this led to a personalized TRT evaluation, and I received a few different options from Fountain TRT.
This experience alone made me think that Fountain is one of the best online TRT clinics.
Choosing the Best Treatment Option
During my Fountain TRT consultation, after discussing my medical history and potential hair loss and reviewing the multiple blood tests and various treatment options, I was advised to go for the topical treatment.
The blood tests showed that my low T levels weren't extremely low, leading to my initial prescription being determined. This led to my initial prescription being determined.
Since I do not have underlying issues or major symptoms, and with the assurance of Fountain TRT's ongoing care, I decided to go with that option, trusting the ongoing medical support Fountain TRT provides.
Trusting the comprehensive treatment plans and ongoing medical support Fountain TRT provides made my decision easier.
I signed up for the monthly delivery, and just a week later, my first supply of Fountain TRT cream arrived.
This initial prescription was just the beginning of my journey in addressing low T levels with their treatment plan.
And this is where we get to the most important part of this experience with Fountain, especially appreciating their ongoing medical support.
Using the Cream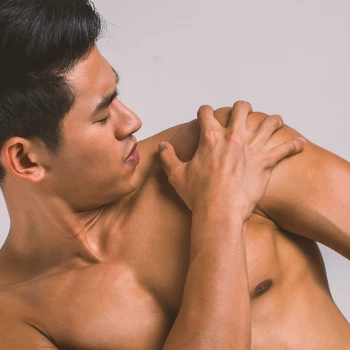 The next step in this Fountain TRT review involved actually using the testosterone creams. It comes in a bottle with a pump dispenser, which makes getting the right amount each day very easy.
Simply push down the top and squeeze out some cream onto your fingers.
You then gently rub it into your shoulder or lower back.
The reason for this is that there's less chance of it coming into contact with someone else.
As part of my daily routine, I do this after my morning workout and shower. I can also say that I haven't experienced any side effects like rashes or itchy skin with this Fountain TRT cream.
Results of Repeat Lab Test
Fountain TRT offers a repeat consultation and blood tests option after four months. My symptoms acknowledged a significant improvement as my low testosterone levels increased from 400 ng/dL to 500 ng/dL.
For this online assessment, driven by a knowledgeable physician, I wanted to track my progress in line with my health goals.
So, at the end of the first and second months, I ordered additional blood work in the form of a home testosterone test.
After one month, there was a 9.5% increase in free and total testosterone. And after two months, the improvement was up to 21.3%, aligning with the treatment plan.
For a cream that I apply about five days a week, that's a pretty impressive improvement. Another reason I think Fountain is one of the best online TRT clinics and I look forward to seeing more results in the near future.
"Testosterone replacement therapy is the process of replacing the testosterone that is lost as a result of an injury, a condition that is present at birth, or a disease that causes low testosterone levels."

- Jamin Brahmbhatt, MD
Who Should Consider Fountain TRT?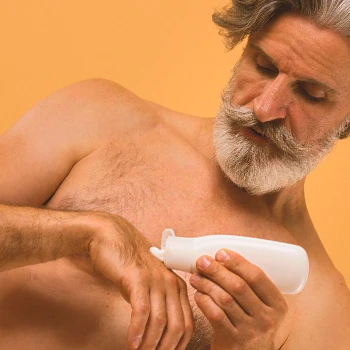 Men who suspect they have had a natural decline in testosterone, impacting their mental clarity and leading to excess fat, should consider signing up for an online assessment with Fountain TRT.
As highlighted in a Fountain TRT review, it's a trusted option among many TRT providers, known for their careful yet sympathetic care.
It's natural for men over 30 to slowly see a decrease in T-levels, affecting their sexual wellness, as that is part of natural aging. This decline often prompts the need for blood work to ascertain the exact levels.
But this can start to accelerate at age 40 [7].
Restoring healthy testosterone levels is sometimes possible with natural supplements. However, a comprehensive treatment plan is often required for more significant declines.
But for men whose testosterone has dropped significantly, the most effective way might be with focused medical treatment. This is where Fountain TRT's online assessment and subsequent treatment plan come into play.
As you can see from my personal experience with Fountain TRT above, it is an effective treatment, , backed by thorough blood work and a tailored approach.
Who Shouldn't Consider Fountain TRT?
Men who have significant underlying conditions like cancer, heart problems, strokes, or mental health issues should possibly not consider Fountain TRT.
It's quite possible that you would not be accepted by the company, as your treatment would likely require collaboration with other doctors specialized in men's health.
To ensure your sexual wellbeing and energy levels aren't compromised in the near future, it's important for you to see a specialist about those conditions.
Part of this analysis focused on medical consultation.
And I liked that the doctor I talked to spent a lot of time ensuring that I wasn't dealing with other medical issues that might influence natural testosterone production, keeping men's health in mind.
Where Can You Sign Up?
Qualified men can only sign up for Fountain TRT on the official company website. The process is very simple and involves going through a questionnaire,  which assesses symptoms like low energy, and setting up an account with a personalized approach.
After that, you receive all the instructions by email and text message. Additionally, there's an option for a two-way video visit to discuss any concerns or questions. In my experience, I didn't have any issues or confusion about what I needed to do next, thanks to their ongoing support.
Once I chose my preferred treatment, it took about five days for the first package to arrive.
And as I have continued with this treatment from Fountain TRT for three months now, I can say that each monthly shipment has been on time.
Other User Reviews
The next thing I did was look for some online reviews and comments. One place where you can find reliable reviews is on Trustpilot.
"This team of doctors is amazing. I have gained energy and improved my appearance. I would recommend these services to anyone looking to improve their overall wellbeing."

- Jim from Charlotte
"The team at Fountain TRT is great. I love how they send you tracking information for your shipment and if you have any questions, you can text them and they always respond. Anyone looking for TRT should consider Fountain."

- Chris Evans from Miami
Comparison to Other Products

In my review, I matched my blood test results from Fountain TRT with research on other products, especially in relation to hair loss and the best treatment options available.
This online assessment gave us a clear comparison of the overall service, especially for those experiencing symptoms like low energy.
I first examined Marek Health, comparing notes with a gym colleague. We discussed our respective health goals and how each service aimed to meet them with a personalized approach.
Marek Health often charges extra, like for blood work, making it pricier than Fountain TRT when considering the treatment plan and the ongoing support they offer.
Evolve Telemed is another well-known brand in this space, and one of our team members here at Total Shape signed up for it around the same time I joined Fountain TRT.
The big issue we identified is that Evolve doesn't have as many conveniently located labs as Fountain TRT.
Lastly,  Hone Health had feedback concerns about test accuracy, a significant issue when compared to Fountain TRT's reliability.
FAQs
How Much Does Fountain TRT Cost?
Fountain TRT costs $199 per month for an all-inclusive package that includes medication, ongoing follow-ups via video consultation, diagnostic labs, and 24/7 medical support via their HIPPA-secured texting app.
Testosterone levels are checked for $35 through a no-obligation diagnostic lab.
The monthly cost does not increase if your doctor determines you need a higher dosage after a follow-up t-level test.
Yes, TRT actually works to help men boost their testosterone levels. Both creams and injections deliver a synthetic hormone that your body absorbs and then circulates to trigger different responses.
Is TRT Safe and Effective?
Yes, TRT can be safe and effective. You should only undergo such treatment with the help of a medical doctor to determine the right amount and type, and monitor any side effects.
No, TRT doesn't damage sperm, but it can influence sperm count. High T levels signal the testicles to produce less hormone and sperm. This is important for men who want children.
Is Fountain TRT Legit And Would I Recommend It?
My overall conclusion for this Fountain TRT review is that I would recommend it to our readers. The company offers a personalized approach to testosterone replacement therapy, ensuring that each individual's needs are met.
One common question that arises is, Does Fountain TRT accept insurance? While they don't accept insurance, you can pay with an HSA or FSA card, if you have one. This makes the process more accessible for many. And it will help you achieve healthy testosterone levels within weeks.
More importantly, based on my personal experience of seeing over a 20% increase in T-levels in less than two months, I believe Fountain is the best online TRT clinic. Their ongoing support ensures that you're not just left to your own devices after starting the treatment.
From start to finish, my experience has been positive, and I plan to continue using the service.
Sign up with Fountain TRT by taking their 3 minute evaluation today and see how much of a difference it can make for your health and fitness.
Our Rating
Pros
Fountain TRT provides an easy-to-follow online health questionnaire
Service includes a blood sample test to get the most accurate testosterone reading
Receive a consultation with a highly-experienced doctor specializing in TRT
Offers cream and injection treatments for more flexibility
Get the BEST PRICE until the end of September
Cons
Fountain TRT is not the cheapest option, but it offers the best consultation service
There can be a transfer to others with the topical cream
Was this article helpful?