35
Supplements
Considered
134
Hours
of Research
90
Reviews
Examined
5
Experts
Interviewed
Getting enough protein per serving isn't something only bodybuilders and CrossFit fanatics need to be concerned about.
I've been a fitness trainer for several years, and one thing I've learned is that everyone needs to consume adequate levels of protein, especially if on a keto diet.
This nutrient is essential in helping you achieve your optimal weight, recover quickly after strenuous exercise, curb appetite, and build lean, resilient muscles.
Below, we've listed some of the best keto protein powder options that could help amplify this diet's benefits.
Editor's Choice
Transparent Labs
Click For Best Price
#2nd Best Choice
BPI Sports
Check Current Price
#3rd Best Choice
Perfect Keto
Check Current Price
Our Top Keto Protein Powders (September 2023)
1 - Transparent Labs 100% Grass-Fed Whey Protein Isolate (Editor's Choice)
This is what I recommend if you're looking for a clean protein powder low in carbs.
It's one of the cleanest protein powder supplements on the market as it's got no artificial sweeteners, food dyes, gluten, and preservatives. It means zero sugar, making it safe to consume even for people with diabetes.
With 28 grams of protein, 1 gram of net carbs, and 120 calories per serving of 32 grams, this protein shake contains one of the highest protein-by-weight ratios in the market. When you drink protein shakes from this brand, you can expect faster results with a proper diet and exercise.
Pros
1g carb content - perfect for the keto diet
Sourced from grass fed hormone-free American Cows
Tastes delicious with water or milk
No artificial sweeteners, food dyes, gluten, and preservatives,
Cons
Not available as an unflavored option
Get 10% off using coupon code:  TOTALSHAPE
2 - BPI Sports ISO-HD
BPI ISO-HD carries branched-chain amino acids (BCAAs) to where they're needed most, speeding up your recovery period and providing the energy you need for your next workout.
This keto protein powder is also low in calories and carbs and bristling with actionable protein per serving.
Pros
Contains 25 grams whey protein isolate per serving
Helps rebuild muscles if taken immediately after a workout
Likely one of the best keto protein powder products
Cons
Contains high fructose corn syrup
3 - Perfect Keto
Perfect Keto is devoid of artificial ingredients, uses natural sweeteners, and contains MCT oil powder (medium-chain triglycerides). Medium-chain triglycerides are well-known for their ability to raise blood ketone levels. It's also one of the few collagen protein powders on this list, making it perfect for maintaining skin health.
This keto protein powder also contains prebiotics that helps maintain healthy intestinal flora that helps promote proper digestion and rapid absorption.
This blood glucose neutral product has BCAAs that your body needs to help with proper muscle regeneration.
Pros
Won't raise blood sugar levels
No artificial sweeteners or fillers
Contains BCAAs for rapid muscle recovery
Flavored protein powder has lots of options
Cons
Most folks would like to see a larger container for this collagen protein powder
4 - Optimum Nutrition Platinum Hydrowhey
Platinum Hydrowhey from Optimum Nutrition (ON) is sourced from hydrolyzed whey protein isolates which minimize digestive system resistance and smooth the way for optimal absorption of the important nutrients within.
Pros
Hydrolyzed whey protein
Easy to digest and absorb
Contains only 1.2 grams of net carbs per serving
Cons
Costs a bit more than other keto protein powders
5 - Isopure Protein Powder
If you're looking for a keto-friendly protein powder that will also look after your other nutritional needs, then Isopure Zero Carb is possibly that product.
With Isopure Protein Powder, you not only get the BCAAs you need, but also vitamins A, C, B6 and B12 along with calcium, iron and niacin per serving.
The result is one of the most well-rounded keto friendly supplements on the market today.
Pros
Contains an array of beneficial vitamins and minerals
Has zero net carbs so it's perfect for your keto diet
Lactose, GMO, and gluten-free
Cons
Contains some artificial flavors
6 - Julian Bakery Paleo Thin Egg White Protein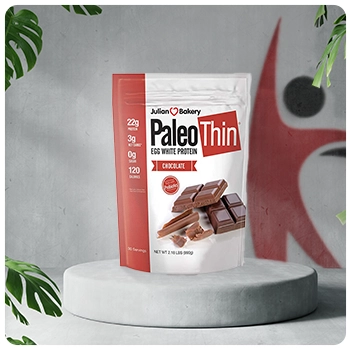 This keto-friendly protein powder is derived from hormone- and antibiotic-free eggs,.
They make sure the eggs they use to create their protein shake supplement are not from chickens subjected to the kind of hormone and antibiotic bombardment that most poultry do today.
Also, there are no artificial ingredients in this supplement.
Pros
Contains 5 grams of net carbs per serving
Sourced from hormone and antibiotic-free chickens
Completely free of GMOs, soy and lactose
Cons
Just make sure you mix it thoroughly
The Different Types of Keto Protein Powder Options
Whey - Whey protein powders digests quickly and is absorbed effectively, rushing much-needed nutrients to hurting muscles.
Egg - Egg protein powder is a very lean type of protein that contains virtually no healthy fats and no carbs and is great for those combining keto and weightlifting.
Collagen - Keto collagen protein powder is an excellent source for supplemental protein for keto dieters. It's low in carbs and fat and is essential for promoting healthy skin, bones, hair, nails, and muscles. Consider collagen protein powder if you want to keep your youthful appearance.
Vegan/plant-based protein powder - There are quite a few plant-based protein powder options out there, such as pea protein. Pea protein vegan supplements are typically very pure with high rates of bioavailability.
Many people following low-carb or ketogenic diets turn to protein powders to supplement their diet. However, choosing the right one to fit your low-carb or keto lifestyle can be challenging due to the countless forms and sources of protein powder.

- Healthline
How Much Protein Do You Need on ​Keto?
You need about 10% to 20% of protein from your total daily calories (about 75 g for a 2000-calorie diet) while on a ketogenic diet. It applies even when taking in a plant-based protein powder.
Everyone's protein requirements, even those who are not on the keto regimen, will differ depending on their age, weight, metabolism, goals, and whether or not there are any mitigating conditions [1].
To know your Recommended Dietary Allowance RDA for protein, multiply your body weight (in kilos) by 0.8 grams [2].
However, keep in mind that athletes are going to want to increase this amount by 50 to 100 percent [3].
Buyer's Guide: Choosing the Best Keto-Friendly Protein Powders
If you're following a keto diet and looking to supplement your protein intake, choosing the right keto-friendly protein powder is essential [4].
Keto-friendly protein powders can provide a convenient and effective way to meet your protein goals while staying within the confines of a low-carb, high-fat diet [5].
Here's a comprehensive buyer's guide to help you make an informed decision:
Protein Source
Look for protein powders from high-quality sources such as whey isolate, collagen, egg white, or plant-based options like pea protein [6].
These sources tend to have minimal carbs and are easily digestible.
Net Carbs Content
Check the nutrition label for the net carb content per serving. Net carbs are calculated by subtracting dietary fiber and sugar alcohols from total carbohydrates.
Aim for protein powders with low net carbs to fit your keto macros.
Sweeteners
Avoid protein powders with added sugars, high fructose corn syrup, or artificial sweeteners that might impact ketosis.
For a more keto-friendly option, look for products sweetened with stevia, monk fruit, or erythritol.
Fat Content
Keto diets emphasize healthy fats, so consider protein powders with healthy fats like MCT oil or coconut oil.
These fats can help keep you satiated and provide an energy boost.
Quality and Purity
Choose protein powders free from additives, fillers, and artificial ingredients.
Opt for products with minimal ingredients to ensure you're getting a clean protein source.
Flavor and Taste
Keto-friendly protein powders come in various flavors. Experiment to find flavors you enjoy and can easily incorporate into your diet.
Unsweetened or naturally flavored options are often best to avoid any hidden carbs.
Digestibility
Consider your digestive system's response to different protein sources.
Some individuals might experience digestive discomfort with certain types of protein, so choose a protein powder that agrees with your body.
Allergens
If you have allergies or sensitivities, be mindful of potential allergens in the protein powder.
For instance, whey protein might not be suitable for lactose intolerant.
Added Nutrients
Some keto-friendly protein powders also contain added nutrients like vitamins, minerals, and electrolytes that can support overall health while on a low-carb diet.
Reviews and Ratings
Before purchasing, read reviews and check ratings from other users.
Real user experiences can provide valuable insights into taste, texture, and overall satisfaction with the product.
Price and Value
Compare the cost per serving of different protein powders to determine which ones offer the best value for your budget.
Testing for Ketosis
Some protein powders claim to be keto-friendly, but testing your ketone levels is wise if you're trying a new product.
If your ketone levels drop significantly after consumption, the protein powder might not be as keto-friendly as advertised.
Consult a Healthcare Professional
If you have any underlying health conditions or concerns, it's always a good idea to consult a healthcare professional or registered dietitian before adding a new supplement.
Who Should Invest in Keto-Friendly Protein Powders?
Individuals following a ketogenic diet, athletes, busy individuals, weight management seekers, those with dietary restrictions, and those needing muscle preservation should invest in keto-friendly protein powders.
Who Shouldn't Invest in Keto-Friendly Protein Powders?
Individuals not on a low-carb diet, those not focused on protein intake, and those with allergies to ingredients in the protein powder shouldn't invest in keto-friendly protein powders.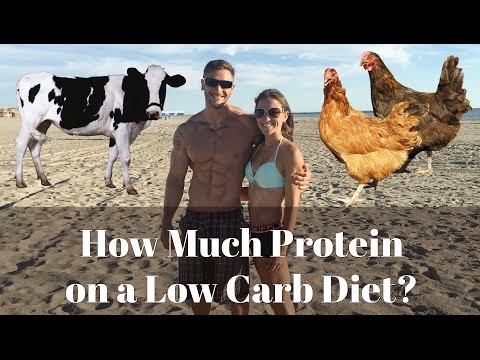 FAQs
What Is the Best Keto Protein Powder to Build Muscle?
The best keto protein powder to build muscle is whey protein powder. It is easily digested and contains one of the most complete ranges of amino acids that your muscles need to create new tissues.
Are Keto Protein Powder Products Bad for Your Kidneys?
These protein powders are not bad for your kidneys. However, if you have kidney disease, it might be best to consult with your doctor before using them.
Is It Okay to Take Keto-Friendly Protein Powder Every Day?
It is okay to take keto-friendly protein powder every day as long as you stick to the recommended dose on the label. You can even use collagen protein powders to maintain a younger appearance.
Should I Take Keto-Friendly Protein Powders on Rest Days?
You shouldn't take keto-friendly protein powder products on rest days. Doing so won't give you any added muscle recovery benefits. Worse, protein powder with stimulants could leave you jittery.
Are There Any Side Effects With Taking Keto Diet Protein Powders?
There may be side effects to taking protein powders for keto diets. However, these are mainly caused by taking excessive amounts of the supplement and food intolerances or allergies.
And ​Our #1 Keto Protein Powder Is...
Some of the best keto protein supplements will help ramp up your workouts, and the supplements profiled in this review all have what it takes to help. However, Transparent Labs Whey Protein had the most favorable results.
It contains 28 grams of protein per serving and has only 1 gram of carbs, allowing you to stay faithful to your daily carb limits.
Moreover, it has zero artificial sweeteners, food dyes, gluten, and preservatives, making it one of the cleanest protein powders on the market. The fact that it tastes good is another welcome bonus.
So, if you're into the low-carb lifestyle but would like to build strong and lean muscles, then Transparent Labs Whey Protein is definitely a product you should consider.
Our #1 ​Keto-Friendly Protein Powder
Transparent Labs 100% Grass-Fed Whey Protein Isolate
Click For Best Price

Pros
1g carb content - perfect for the keto diet
Sourced from grass fed hormone-free American Cows
Tastes delicious with water or milk
No artificial sweeteners, food dyes, gluten, and preservatives,
Get the BEST PRICE until the end of September
Cons
Not available as an unflavored option
Was this article helpful?