Protein is king when your goal is to build muscle, which is why you need to use a high-quality supplement from the very start of your fitness journey.
I took some time to talk to my clients and fellow gym-goers about their pain points when they were starting out in the gym and I learned that choosing the right protein powder was very difficult because there were so many options and so little reliable guidance available.
So I set out to make this quest easier for fitness newbies among our readers and after consulting with a dietician, I took several months to test a variety of protein powders and compiled a list of my top choices for beginners.
Here's what I found.
Editor's Choice
Transparent Labs
Click For Best Price
#2nd Best Choice
Naked
Check Current Price
#3rd Best Choice
Future Kind
Check Current Price
Our Review of the Best Protein Powders for Beginners (June 2023)
1 - Transparent Labs 100% Grass-Fed Whey Isolate (Editor's Choice)
"You are what you eat eats." is Transparent Labs' mantra for their protein powder and is backed up by its short list of natural ingredients.
Transparent Labs promises a high quality protein powder from 100% grass-fed cows not treated with Bovine Somatotropin (bST) or other steroid hormones [1].
I was pleased to see a simple list of 5 ingredients, meaning no additives or fillers: 100% grass-fed protein, cocoa powder, natural flavor, sodium chloride (salt), and stevia.
This simple and pure ingredient make-up makes it perfect for beginners because that lowers the chance of them experiencing stomach upset or some other common side effects with people who are introducing these supplements to their system for the first time.
When ordering directly from the Transparent Labs' website, the price point is reasonable, at approximately $0.88 for the protein per serving.
If you want to be more adventurous than the traditional vanilla and chocolate flavors, other flavors include cinnamon pastry, salted caramel, and cinnamon french toast.
One scoop (32 gram) serving of the milk chocolate flavor contains:
Protein : 28 g
Sodium : 160 mg
Carbs : 1 g
Fat : 0 g
Cholesterol : 0 mg
Calories : 120
Pros
Sweetened with Stevia, a natural calorie-free sweetener
No artificial preservatives, sweeteners, or colors
Bundle and save option on Transparent Labs website
Many positive reviews for a creamy texture and easy to mix
Cons
Must hit $150 order to receive free shipping
2 - Naked Protein
Naked Nutrition presents a protein supplement with whey protein concentrate, organic coconut sugar, and organic cacao powder.
Again, even shorter list of protein powder ingredients is something I find particularly suitable for people starting out because they can mix it and make protein shakes with daily drinks and adjust to it more easily.
Grass-fed cows from family-owned farms in California contribute to this soy, gluten, and GMO-free protein powder.
The protein powder ingredient list may be small, but the price is not. The most expensive protein powder in this review may be worth it because of the high-quality simple ingredients.
Naked Nutrition states the protein powder is cold-processed to avoid contamination from chemical detergents, synthetic additives or heavy metals.
Two scoop serving (38 gram) of the chocolate flavor contains:
Protein : 25 g
Sodium : 75 mg
Carbs : 8 g
Fat : 3 g
Cholesterol : 50 mg
Calories : 150
Pros
Three ingredients, no additives or fillers
Cold-processed to avoid contaminants
No artificial sweeteners, colors, or flavors
Cons
Premium price for protein per serving
3 - Future Kind Vegan Chocolate Protein Powder
If you are new to protein powder and unsure how your body will tolerate it, Future Kind offers a great-tasting, plant-based protein powder, which may be easier to digest than whey protein concentrate.
Each plant-based protein powders serving contains 20 grams of organic pea protein, which many users say is easy to digest and doesn't leave them bloated like other powders.
Many positive online reviews say the Future Kind protein shake texture is excellent, but many hope for some additional pea protein flavor choices in the future.
We found the plant protein price a tad high, but with discounts for buying multiple bottles or their automatic subscription service. However, paying a bit more for a product that is third-party tested for quality is worth it for the peace of mind.
One scoop serving (30 grams) of the chocolate flavor contains:
Protein : 20g
Sodium : 250mg
Carbs : 4g
Fat : 3g
Calories : 120
Pros
Pea protein may be easier to digest for some people.
Many positive reviews regarding texture
Third-party tested to ensure quality
Cons
250mg of sodium may be an issue for some
4 - Optimum Nutrition Gold Standard
Optimum Nutrition is a recognizable brand in sports nutrition and has been for more than 30 years.
To gain your trust, the back label states they regularly test for banned substances, and for me, this protein powder product has worked very nicely for many years and I really do think it can be considered a "gold standard" for beginners as well.
This protein powder contains a 24-gram blend of protein isolate, concentrate, and peptides in each serving. Why a blend?
The more whey is processed to get a higher protein concentration, the health benefits from the other ingredients are lost, like immune support and mineral absorption from lactose [2]. Having a mix may give you the best of both worlds.
I used to buy Optimum Nutrition Gold Standard on Amazon, and shipping was always fast. You get a pretty good deal on Amazon already, but you can bring the cost down even more with the "Subscribe and Save" program.
One scoop (32 gram) serving of the double rich chocolate flavor contains:
Protein : 24 g
Sodium : 50 mg
Carbs : 3 g
Fat : 1.5 g
Cholesterol : 35 mg
Calories : 120
Pros
Many flavors and package sizes to choose from
"Climate Pledge Friendly" certified by Amazon for "Compact By Design" packaging
5.5 grams of naturally occurring BCAAs - essential amino acids your body needs
Cons
It contains the artificial sweetener acesulfame potassium
5 - BSN SYNTHA-6 Protein Powder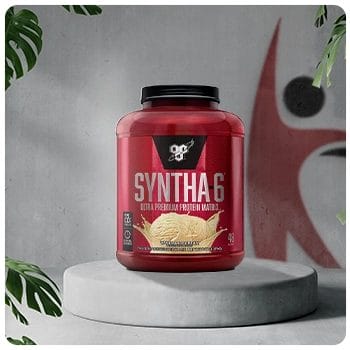 BSN states its SYNTHA-6 protein powder contains a combination of protein isolate and whey concentrate.
The label states it contains eggs, milk, soy, and wheat, so it would not be suitable for anyone whos vegan or sensitive to gluten or dairy.
But the protein powder comes in interesting flavors like Apple Pie which might make it easer for beginners to actually enjoy it and increase a chance of making it a daily habit.
It also contains certain digestive enzymes which should help avoid stomach upset with first-time dietary supplement takers.
I found it readily available on Amazon and received it fast with Prime shipping. "Subscribe and Save" is available for a 5-10% savings off the price.
One scoop (47 gram) serving of the chocolate cake batter flavor contains:
Protein : 22 g
Sodium : 170 mg
Carbs : 14 g
Fat : 6 g
Cholesterol : 60 mg
Calories : 200
Pros
Savings are available on Amazon through "Subscribe and Save"
Fun protein shake flavors like Apple Pie and Berry Berry Good
The addition of Aminogen® and papain may reduce stomach upset that can be common with protein powder intake
Cons
Protein powders contain two artificial sweeteners
6 - Isopure Whey Isolate Protein Powder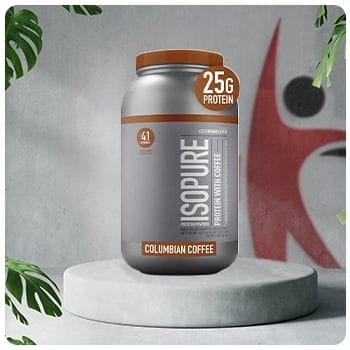 Isopure boasts a keto-friendly protein powder with a solid amount of protein and no carbs in each serving which makes it suitable for beginners who are not used to sweet sugary protein shakes. .
Though not officially on a Keto diet, I try to keep my carb intake low to meet and maintain my fitness goals, so zero carbs in a protein powder is a real plus for me.
Isopure protein powder has numerous additional ingredients including xanthan gum, a thickener, and sucralose, an artificial sweetener.
To the good, Isopure has added vitamin C and zinc to their formula for immune support.
Isopure is one of the more expensive protein powders in this review, though, like BSN, you can save a little through Amazon's "Subscribe and Save" program.
One scoop (33 gram) serving of the dutch chocolate flavor contains:
Protein : 25 g
Sodium : 240 mg
Carbs : 0 g
Fat : 0.5 g
Cholesterol : 10 mg
Calories : 100
Pros
Added vitamin C and zinc for immune support
100 calorie serving is among the lowest in this protein powder review
Keto-friendly protein powders for weight gain
Cons
Premium pricing compared to other protein powders
7 - Dymatize ISO 100 Protein
For this review, I purchased the 25.6-ounce package of gourmet chocolate.
The protein powder flavor was good, and it mixed well for my protein intake. I have spoken to clients who are committed to this brand and flavor and like that it is available in a five-pound sturdy, airtight tub.
Dymatize ISO 100 delivers a good amount of protein with a reasonable calorie count and low sugar to not upend your diet, which should suit protein powder beginners who usually don't have their macros locked in at the start.
Some may consider the price point a bit high, but considering the quality and other features, it might be worth it. .
One scoop (32 gram) serving of the chocolate flavor contains:
Protein : 25 g
Sodium : 160 mg
Carbs : 2 g
Fat : 0.5 g
Cholesterol : 0 mg
Calories : 120
Pros
Available in a sizeable five-pound tub for easy, airtight storage
Protein powders mix very well
A good amount of protein without high sugar and calories
Cons
Some may consider it very pricey for weight gain
Buyer's Guide
Here I will introduce you to some basic information regarding protein types that might be useful for beginners, and I will tell you what I think you should look for when choosing a whey powder for yourself.
Protein Powder Sources
Essential amino acids in protein powders play a vital role in muscle protein synthesis and they come from sources like meat, eggs, milk, and soy.
Whey is a complete milk protein which means it contains all nine essential amino acids that your body needs but can only get through your diet.
There are three common forms of whey powder you will see on ingredient labels, and it has to do with the processing.
Concentrate: The least processed protein powder contains fat and lactose and thus a lower protein concentration.
Isolate: This type is processed further than the concentrate to reduce the amount of lactose and fat. People with lactose intolerance may find this more easily digestible.
Hydrolysate: Processed even further than concentrate and isolate, breaking down the long protein chains into smaller ones.
If you don't have a milk protein allergy or intolerance, I recommend these protein powder supplements for their many health benefits and complete amino acid profile.
"Amino acids are important for many functions in the body, from building muscle to creating new immune cells."

- Maxine Smith, RD, LD
Besides muscle building, this protein powder supplement may have potential anti-inflammatory properties and possible cholesterol-reducing benefits. [3]. It is particularly high in an amino acid called Leucine, which is essential in muscle building [4].
Also, I recommend opting for a good protein powder isolate, because it's a purer product with more protein per gram of powder, and it is lactose-free which should help beginners avoid stomach upset and similar issues which might discourage them to continue.
There are some more alternatives like isolated casein protein from the milk, organic brown rice protein, soy protein, and many more, but whey remains the best choice in my opinion.
Related: Best Protein Powder For Muscle Gains
Flavor and Texture
I encourage my clients to avoid protein powders with additives and fillers, which can enhance the flavor and texture, but my advice is always less is more when it comes to ingredients. Consider an unflavored protein powder if you want to mix it with milk and the like.
Additives and Fillers
It is essential to read the protein powders' labels when choosing a powder to build muscle, whether it's casein protein or egg protein.
If your goal is to lose weight, it is critical to be mindful of any ingredients that could increase calories and work against your exercise efforts. Always do your research and see whether your protein powder has these and how much of these they contain. You can also ask your dietician for recommendations since they will know which ones work the best for you.
FAQs
What Is the Best Protein Powder for Weight Loss for Beginners?
The best protein powder for weight loss for beginners has high protein per serving and no carbs, additives or fillers. Including a protein powder with protein-rich foods in your diet can help you feel less hungry, boost metabolism, lose weight, and maintain and increase muscle mass.
Should Beginners Take Protein Powder?
Yes, beginners shoud take protein powder up to their daily protein intake, especially if the goal is to increase or build muscle mass, improve muscle recovery, or lose weight.
Our Pick for the Top Protein Powder for Beginners
Price, taste, ingredient quality, and how much protein was listed on the label are all important determinations when choosing the title of best beginner protein shake powder.
The short list of high-quality protein powder ingredients with the 28 grams of protein at a price point that far beats its competitors makes Transparent Labs our front-runner.
The fact that it's grass-fed and that it offers a wide variety of tasty options makes it one of the most popular choices among those starting out their fitness journey.
Order yours today and see if it suits you as it did many before you.
Our #1 Recommendation
Transparent Labs 100% Grass-Fed Whey Isolate
Click For Best Price
Pros
Sweetened with Stevia, a natural calorie-free sweetener
No artificial preservatives, sweeteners, or colors
Bundle and save option on Transparent Labs website
Many positive reviews for a creamy texture and easy to mix
Get the BEST PRICE until the end of June
Cons
Must hit $150 order to receive free shipping
Was this article helpful?